Last updated: April 2021
Task management is one of the must-have project management features that are currently missing from many tools. This shows just how much importance people place on doing task management right.
There is no time tracking and invoicing in Asana, which leaves you no choice but to connect it to another platform that provides the functions you need.
And believe it or not, keeping your tasks organized is extremely easy when you know the right hacks.
Right now, you're probably caught up with 20+ tasks and don't really know where to start. But it doesn't have to be like that.
This is exactly why I built this web-based task management software guide in the first place: to show you how to organize your tasks at work and help you balance your work with minimal effort, and to see what are the best task management software options available.
Here are the top project and task management tools that made our task list software, based on the users' review and the best value for small teams.
Paymo
Wrike
Scoro
ActiveCollab
Todoist
Wunderlist
Any.do
Asana
EasyProjects
Use the table of contents below to go straight to your points of interest:
Types of Task Management Software & Tools
If you've decided to work with professional task management software, there are a couple of factors you need to consider.
Think about what types of tasks you'll need, projects, how your team will collaborate (remote or on-site), how many members are on board, and what other functionalities you'll need besides task management. Also, as a business owner who's aware of the benefits of time tracking, you might want to consider a cloud-based tool that integrates easy employee time tracking software.
Note
We ran 10 tools through testing from a task management point of view, took a look at what others had to say about these on G2 Crowd and Capterra, and divided these opinions into pros and cons to help you pick the best ones to test.
Full-Featured Solutions
The preference nowadays is to choose complex project management tools that do more than just task management. As you work, you might come across the need to have an invoicing feature to help you get paid, a time tracker and time reports to monitor the hours you spend on tasks, a resource scheduler to get an overview of your team's workload, and more. For small businesses and individuals, there are also simple tools, that might be more than enough for managing less complex projects. We've compiled a list of the top free project management tools that worth a try.
1. Paymo
Paymo is a project and task management software designed for freelancers and small businesses. This easy task management software includes time tracking, reporting, collaboration, and invoicing capabilities to literally aid them in the project delivery from start to finish.
The free plan allows you to create to-do lists, Kanban boards, Meta Kanban boards, subtasks, track your time, on your computer or on the web, create reports and timesheets, and more. Depending on the nature of their work, other advanced task management tool features like setting task dependencies and seeing your activities in the Table View are available with paid plans to help teams better organize their work.
Detailed task list created in Paymo
Pros:
Clean, user-friendly UI

Meta Kanban Board

Time tracking and reporting

Resource scheduling

Accounting module
Cons:
Limited features for the free plan

Integrations are only available with the paid plans

Only 1 GB of storage for the free accounts
Pricing: Free (freelancers and individual user), $9.56/user/month (Small Office plan), $15.16/user/month (Business plan)
Start organizing and prioritizing your tasks with Paymo using Kanban boards, subtasks, to-do lists, and more.
2. Wrike
Wrike is a work management software that specializes in advanced online collaborative task management. It allows you to create a hierarchy for internal tasks by using projects and folders to categorize them according to your requirements and priorities.
To support collaboration, use task comments, multi-user assigning, and real-time activity streams. The catch with Wrike when it comes to work task management is that advanced features like subtasks and reporting are only accessible with paid plans.
Digital marketing team using Wrike for task management
Pros:
Available on multiple devices

A large variety of third-party integrations

User-friendly interface

Gantt Charts to help you visualize dependencies
Cons:
Limited free plan features

Only 2GB of storage space available for the free subscription plan

Task prioritization can only be done based on the order in which you list your tasks

The task approval system is only available for the Marketers and Marketers Enterprise accounts

No issue tracker
Pricing: Free (5 users), $9.80/user/month (Professional plan), $24.80/user/month (Business plan), upon inquiry (Marketers plan), upon inquiry (Enterprise)3.
3. Scoro
Scoro is an all-encompassing work management solution which targets creative teams and helps you initiate, plan, execute, and close projects and tasks. The tool also offers complete client management, CRM, portfolio management, and financial management.
Besides project and task management, these functionalities help you ensure the completion of the entire project life cycle. Task management features like an approval system, issue tracker, and tags on tasks are missing.
Taskboard in Scoro
Pros:
Clear setup and user interface

Available on multiple devices

Workspace customization options

History available to store important information
Cons:
No free plan available

Lacks some advanced task management features like task dependencies and an approval system

Limited collaboration tools

No possibility to track time directly from Scoro
Pricing: 19€/user/month (Plus plan), 29€/user/month (Premium plan), 49€/user/month (Ultimate plan)
4. ActiveCollab
ActiveCollab pairs task and project management with time tracking, reporting, and invoicing capabilities. This task management tool is missing functionalities such as a task approval system or an issue tracker.
Meanwhile, other features like multi-user assigning, setting task durations, establish time estimates, creating recurring tasks and subtasks, using Kanban boards, or placing labels, are available. If you want to test them all, keep in mind the current free trial is only 14-days long.
Task management in ActiveCollab
Pros:
All plans offer unlimited projects and clients

Strong team collaboration features

Available for download on various platforms and on-premise

Simple, clear interface design
Cons:
No free plan available

Limited customization and branding possibility

Limited reports personalization options
Pricing: $25/month (5 members), $49/month (15 members), $99/month (30 members), $199/month (60 members), $299/month (unlimited members), $999 (self-hosted plan)
Simple Task Management Software & Tools
Task management programs options are perfect for beginners, students, or any other individuals who just want to stay organized, put all activities in order, and track their statuses to ensure they don't leave anything out.
Simple to-do list apps are much more likely to be used for personal purposes, such as when you want to put together a shopping list or plan your next year's trips. They work just as fine for simple work-related duties too though. Most of these apps work well both on IOS and windows.
5. Todoist
Todoist is an efficient task management tool that helps you organize your projects (even sub-projects) and tasks in simple to-do lists, whether you're at your desktop in the office or on the go via mobile apps. This task prioritization software allows you to set due dates, task priorities, and even create subtasks to break your complex activities into bite-sized ones.
Paid plans allow you to set reminders for your tasks, add labels and comments, and use project templates. If you're looking for a gamified option for managing tasks, this tool also shows your productivity progress in time so you can reach your daily goals and gain "Todoist Karma points" that help you advance and become an "Enlightened task management expert".
Simple, personal to-do list created in Todoist
Pros:
Create multiple to-do lists

Available in several different languages

Shareable lists and projects

Available on multiple devices

User-friendly, simple UI

Works offline too

Undo an action in case you made a mistake
Cons:
The free version is limited when it comes to your number of active projects (80), people per project (5), and other features

Missing task management features like calendar view, Kanban boards, and Gantt Charts

Lacks customizability
Pricing: Free (basic plan), €3/user/month billed annually (Premium plan), €5/user/month billed annually (Business plan)
6. Wunderlist
Wunderlist is another to-do list software you can take on the go with you to keep all your activities, grocery lists, trips, work duties, and other fun stuff in order. Lists can be shared with friends, coworkers, family, anyone you want to really. They'll be invited via email to join the app, see your task list, and collaborate on activities you've shared.
While the basic, no-cost plan allows you to upload files for an activity and create subtasks, these two features are limited unless you have a paid subscription. All tasks can be paired with notes, due dates, and reminders regardless of your plan. To set priorities, just mark a task as starred and it will automatically be moved to the top of your to-do list.
Travel-related tasks in Wunderlist
Pros:
Available on multiple devices

Cross-platform syncing

User-friendly UI

Shareable lists

Unlimited comments for all plans

256-bit SSL Sync
Cons:
Free plan has limited features

No geotagging

Limited customization options

No possibility to track user performance or create reports
Pricing: Free, $4.99/month (Pro plan), $4.99/user/month (Business plan)
7. Any.do
Any.do is a personal task management software, slightly different than other task management programs, that lets you put your personal and business tasks in order with simple drag-and-drop actions. Set reminders and recurrent tasks, attach files, add notes, invite friends and teammates to collaborate on a task, and more.
While the free plan can be enough for you to organize your tasks and subtasks into lists, a Premium account allows you to color code your tasks for prioritization, customize themes, set location-based reminders, customize recurring tasks, add unlimited attachments, and collaborate with no limits.
A grocery list made with Any.do
Pros:
User-friendly, simple UI

Push reminders

Recurring tasks option

Daily review feature
Cons:
Limited free plan features

No way of tracking user performance or creating reports

Few integrations

You need a Premium account if you'd like to use it on more than one device
Pricing: Free, $2.99/month billed annually (Premium)
Advanced Task Management Software & Tools
Some of us want to maintain full control of our task management process. That's why simple task management software is not always enough, and we look for a more complex task management programs.
Besides creating simple to-do lists and sharing them with your collaborators, using the best group task management software at an advanced level might require additional features too, such as task prioritization, task management workflow, Kanban boards, a task approval system, setting a task's duration and deadline, commenting on tasks, establishing workflows, tracking issues, and more.
Although you might never use these functionalities when you're preparing your next shopping list, these can prove essential at a professional level, once you're collaborating with an entire team on a more complex project.
8. Asana
Asana is a collaboration and task management software, alike other task management programs, that helps you visualize your entire work, reach your deadlines, and make clear reports of your and your team's work. Create projects, to-do lists, Kanban boards, and subtasks to keep your work organized.
There is no time tracking and invoicing in Asana, which leaves you no choice but to connect it to another platform that provides the functions you need.
An employee's daily task list in Asana
Pros:
Unlimited tasks, projects, and conversations

Available on all major mobile platforms

Clear and intuitive interface

Allows multiple integrations with third-party apps

Customizable workspace and branding possibilities
Cons:
The free plan lacks certain functionalities like task dependencies and start dates

No issue tracker

No multi-user assigning
Pricing: Free, $9.99/user/month billed annually (Premium plan), $19.99/user/month billed annually (Business plan), upon request (Enterprise plan)
9. EasyProjects
EasyProjects aims to replace the need for keeping hundreds of different spreadsheets, emails, or whiteboards by putting all of these together in a single software. Due to its ability to support advanced features like Work Breakdown Structure (WBS), multiple dependencies, and portfolio management, EasyProjects is best suited for medium and larger teams and companies, being an efficient remote task management too. This makes the tool an advanced option for task management and project management alike.
Task assignments in EasyProjects
Pros:
Available on multiple platforms

Dashboard and workspace customization possibilities

Issue tracker and other advanced task management features

Business Intelligence (BI) package for creating interactive reports
Cons:
No free plan plan

Outdated interface, can become confusing
Pricing: $24/user/month (Pro plan), upon request (Enterprise plan)
Whichever one of these task management tools you'll choose, always test a couple options first to see which one works best for your workflow.
But choosing the right software for your activity, team, and projects is only a step of the entire task management process.
What is task management?
Now task mgmt is not as fancy as it sounds. It's essentially a way of handling tasks from the moment you create them until they're completed.
This method as a whole refers to:
Task creation

: Set your project goals, turn them into actionable tasks, and add relevant details such as task duration, time estimates, dependencies, status, etc.

Organization and prioritization

: Consider all factors that could influence them and their deadlines and establish the order in which you're going to be working on them.

Task monitoring and updates

: The real task management process begins after you've created a task. Any activity needs to be monitored from its creation throughout the entire development process to ensure that it's correctly monitored and documented until completion.
Note
A Task management plan is not something you do only at work. Whether you're planning your next trip or shopping spree, you're actually managing tasks outside the workplace.
Why is task management important?
Because task management provides steady clarity when it comes to everything you've worked on.
You'll always know exactly what needs to be done and in what order. This also implies reduced stress and anxiety levels that can make you less of a procrastinator.
The other main benefits of software to keep track of tracks are:
Work efficiently and keep your activities daily organized
With task management, everything you're working on resides in a single place. This means you can organize tasks the way you want them to be through a simple to-do list, advanced task lists, Kanban boards, Gantt Charts, or other task visualization methods.
You'll no longer have to search for tasks through emails or piles of paper. This way you make sure that no task is left out.
Note
We previously ran a search through over 200 job listings from Indeed, a prime job website in over 50 countries. The results showed that effective task management was one of the top skills employers were expecting from their project managers. This shows just how important task management is for employers when it comes to achieving results and working effectively.
Meet your deadlines
Nobody wants to waste endless hours on admin tasks like checking emails or sending invoices. That's why you need to set time limits for your tasks. These boundaries help you focus on what matters most.
Unless you're monitoring how much time you're spending on each task, you're more likely to waste your day. By restricting the hours spent on low-priority or time-wasting activities you'll be able to direct the largest part of your day towards more productive tasks and deliver work within the time span agreed upon with your client.
Stay within budget
Most tasks are linked to a budget in one way or another. Whether you need money to buy new software or office supplies, hire a consultant or new employee, download stock images, or make a promotional video for your client, your work is always tied to a set budget.
To ensure you don't exceed that sum of money, you can divide your full budget according to each task and attribute part of it to individual activities based on your estimates.
Set clear priorities
Outlining your priorities is crucial for maintaining a balanced workload while also hitting your deadlines. That's why keeping all your tasks grouped after their urgency or importance also helps you set clear priorities. Imagine feeling productive in the morning and then losing your motivation because you just don't know where to start work.
But you might feel like everything is a priority. So read on to find out what methods you can use to prioritize and organize tasks with minimum effort.
Task Management Tip
When it comes to managing tasks at a team level, it's all a bit different.
Remember that task management is also about team management. You need to talk to the team member responsible for a certain task and get feedback on the estimated task duration, minimum budget, required resources, priorities, and any other influencers.
As an individual, your tasks might only be dependent on your client, a set budget, and a deadline. Team tasks, though, are also reliant on other activities or co-workers. You can only know this if you consult your team members. This ensures that team resources are used correctly and will help you reach your goals while involving your team in the project's success.
How to Organize and Prioritize Tasks Efficiently
When it comes to personal task lists and non-complex activities, coming up with a task and completing it is plain and simple. Task management at a project-level is a bit more demanding though.
Now I don't want to scare you and make you think that managing your project's task is a painful job. It's really not.
Depending on the complexity of your tasks, there are a couple of clear and easy to implement ways for you to organize all activities within a project.
How to Organize Tasks at Work
Simple to-do lists
Every task management process starts with a to-do list.
All you need is a sheet of paper or a to-do list app. Brainstorm your goals and turn them into actionable activities. Then, write them down in the order you need to complete them. You can even break large tasks into smaller ones, so you can make progress much more visible.
The secret to a to-do list that will work for you is to keep it short. Limit to the tasks for which you have the right resources. Too many will only make you feel overwhelmed.
TIP
To avoid endless to-do lists, aim for less than 20 to maintain your focus and better prioritize the tasks that truly matter. Focus on early due dates, don't postpone difficult chores, and try to finish at least one task daily.
A simple to-do list you can use for everything that's not related to work
Completing tasks from a to-do list is just as simple as making one.
Just strike them through or tick them off as soon as you finish them. Trust me, this is vital. I can't tell you how many times I skipped this part and then forgot what I had left to do once I got back to work – especially after a longer period of inactivity.
Detailed task lists
To-do lists might be enough for personal or less complex projects. Yet, if you've got multiple team members, resources, and projects to juggle with, try detailed task lists.
Although similar in structure, each task list is unitary and contains considerably more details than a task. These help with executing and completing them. This includes people in charge of them, due dates, priorities, billing type, estimated hours and costs, task descriptions, files, and so much more.
You can divide a larger project into a series of task lists according to the project's stage or responsible team. Here's an example of how a web design team split their work into task lists that correspond to the project's stages:
A web design team's detailed task list
Notice the degree of detail (task dates, priorities, estimated costs, etc.) that each task contains and is actually dependent on.
Here's another team using task lists to divide their project into larger sets of tasks according to their purpose:
Digital marketing task list
Subtasks
Now, you might have a bunch of tasks in your list that contain multiple steps or are just too complex for you to call them a single task.
Say you need to write a new article for your website's blog. Are you going to start directly by writing the article? Well… no.
You'll need to run keyword research, check out your competition, come up with an outline, and maybe create a couple of images even before you get to the writing part.
So if you don't want to create an entire task list for this, break the larger task into subtasks. 
A list of subtasks for a general writing task
Recurring tasks
Whether we like it or not, we all have those tasks that keep coming back on a constant basis: sending monthly invoices, creating periodical reports, attending daily status meetings. In short, recurring tasks.
These are automatically generated when marked as complete, based on the pattern you've set for them. It's up to you to set up their frequency.
For instance, if you've got a monthly newsletter to send, you can just set your tool to remind you about this task on the first day of each month or set a due date alert one or two days before the deadline so you'll have enough time to prepare it.
Tip
If your task management software of choice doesn't have this feature, create a separate project for all recurring tasks and leave them uncompleted. Change your due dates again and set periodical alerts so you won't forget about them.
How else can you approach the process of task management?
To-do lists, complex task lists, subtasks, and recurring tasks are all great for organizing the structure of your activities and their details.
But there are also other ways in which you can manage how you interact with the tasks once it's time to start working on them.
Kanban
Kanban is a project management tool that offers you a visual overview of all personal or project-related tasks and workflows. A Kanban board (or progress board) breaks down a project into stages, highlighting potential bottlenecks for each stage of your project.
Kanban boards can be either physical (post-it notes on a whiteboard) or digital ones.
Nevertheless, their typical structure involves:
Board: a workspace where tasks are placed and managed throughout the project lifecycle
Lists (or columns): represents the project stage through which a card can pass
Cards: represent a project-related task or idea
The structure of a simple Kanban board
Commonly, each task is first added to a section called the Backlog (a list with all uncompleted tasks soon to be dealt with). These are then moved from one column to another until they are completed.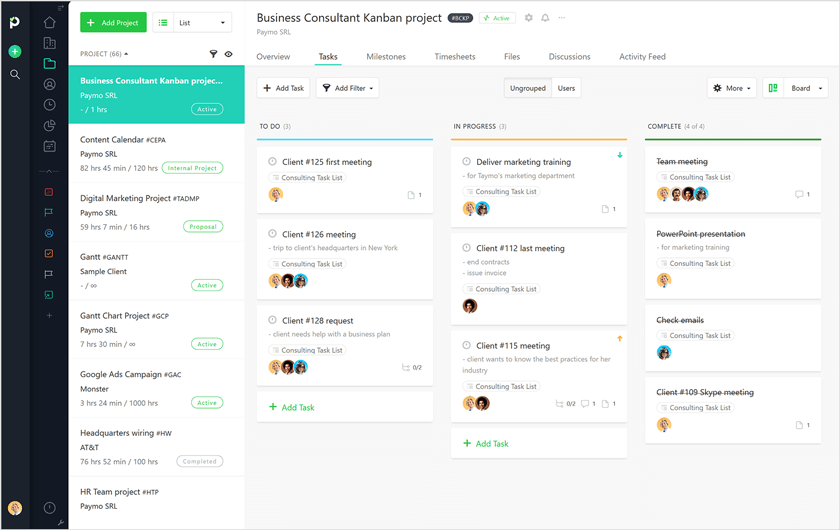 Business consultancy team using a Kanban board to manage their tasks, clients, and workflow
Gantt Charts
The Gantt Chart is a technique you can use to plan tasks and track your project schedule against a budget. Briefly put, this visual chart tells you what needs to be done and when.
It's ideal if you're dealing with a project that faces regular changes, allowing you to immediately make adjustments on the go.
As a way of displaying tasks against time, Gantt Charts allow you to see tasks that might overlap and the dependencies between them. They also show you who's in charge of a task and how much time they have to complete it.
Gantt Chart example
Want to take your task management process through Gantt Charts to the next level?
If you're in charge of a company's entire project portfolio or have several different projects that need constant monitoring, try the Portfolio Gantt Chart. This offers a bird's-eye view of all your active projects, so you'll no longer get lost in several different task lists or Gantt Charts.
Portfolio Gantt Chart example
TIP
The Portfolio Gantt Chart is also effective when you have to decide whether or not your company should take another project given your current capacity.
Prioritizing tasks
Probably one of the most significant parts of task management is knowing how to prioritize your tasks.
With dozens of task lists and projects at hand, you're less likely to do task management right if you haven't prioritized them correctly.
The truth is everyone can prioritize their activities effectively.
Why?
Because there are VERY simple methods you can use for this.
There are essentially two main types of priorities you can take into account to help you sort your tasks:
Time-based priorities:

These are set according to each task deadline. Activities like this must be completed before the set end date. Examples include a design project that's due in a week or a mock-up that must be sent by tomorrow. Common types of time-based priority labeling are Past due date, Today, Tomorrow, Upcoming, This week, This month, This year, Later, etc.

Urgency-based priorities:

These are tasks that must be completed to reach a goal, but the order in which they are tackled depends on how soon they'll impact the final outcome. They're usually labeled as Critical (Urgent), High, Medium (Normal), or Low. For instance, a web server crash demands immediate attention and should be fixed as soon as possible. Meanwhile, low-priority tasks such as cleaning your email inbox can be put off for a while as long as they are solved before the end of a project or don't affect its results at all.
Note
Priorities can change. If you've postponed a low-priority task for too long and your deadline is approaching, that task will turn into a critical or high-priority one too.
For simple to-do lists deciding on the priority of your tasks is fairly easy. Just write them down in the order you want to complete them and go through them accordingly.
But when you've got several different tasks, projects, clients, and team members to handle, you'll need to consider other external factors too.
Here are a few methods that will help you prioritize the order in which you complete your tasks individually or together with your team:
The Eisenhower Decision Matrix (The Urgent-Important Matrix)
I have two kinds of problems, the urgent and the important. The urgent are not important, and the important are never urgent. – Dwight D. Eisenhower
Yes, Dwight D. Eisenhower the President. He is said to have invented and used this method. But while the above quote is real, the truth is that the whole story might be just a myth.
Legend or not, his quote inspired the creation of the Eisenhower Decision Matrix that has been used ever since then as an effective way of prioritizing activities or decisions.
For all those times when you're swamped in your workload, this decision matrix can help you make that fine difference between what is urgent and what is just, well, important.
Urgent tasks are activities that need to be completed as soon as possible either because they fix an imminent problem or because other tasks depend on them.
Important tasks, on the other hand, have to be completed at any time until the end of a project in order for the final goal to be reached. However, these don't require immediate attention and can be postponed. But only for a short period of time.
All you have to do then is categorize your tasks based on the following criteria:
Important and urgent:

You need to finish these tasks immediately or as soon as possible. They are problems, issues, and deadlines that must, by all means, be completed or else they could postpone or cancel a project altogether. Examples: project deadlines, tax deadlines, an angry group of clients, etc.

Important but not urgent:

These activities can be rescheduled for a date that's within your deadline. So even though you don't need to do them right away, you'll still have to take care of them until the end of your project or goal. Examples: weekly sprint planning, new business opportunities, team relationship building, etc.

Not important but urgent:

These are tasks that need to be responded to immediately but don't contribute to your final desired outcomes. Usually, these are interruptions, meetings, or activities meant to help other people and goals that are not related to the project you're working on. It's best to just assign them to other people who have free time or expertise for them. Examples: scheduling an interview, booking a flight, sending a pitch for someone else's product, etc.

Not important or urgent:

Now, if you were wondering under which category you'd put the main distractions, here it is. You can delete or leave these non-productive activities aside for the time being. Examples: coworker gossip, scrolling Facebook, changing your desktop's background, etc.
Task Prioritization Tip
You can make your own version of this decision matrix and divide the tasks according to your needs. Don't limit it to simple activities though. This Farnam Street version, for instance, divides decisions into irreversible, reversible, inconsequential, and consequential ones.
The Pareto Principle (80/20 rule)
The Pareto Principle states that only 20% of the tasks belonging to a project account for 80% of the final results.
How can you apply this technique to your task lists?

Well, the Pareto Principle is not just for your tasks or projects. You can use it to raise your general productivity levels too, be it at home, in the office, in college, even if you're just painting your next masterpiece.
Begin by focusing on your most important tasks.
Don't really know which are those?
These are usually the ones that generate the most profitable results. The remaining 80% of tasks can be left aside for later as long as you don't forget to complete them.
Pay closer attention to what your largest goals are. You might already be postponing goals you truly want to attain just because you're afraid they'll be more difficult to reach. And I admit I used to do that too.
But for all of us, time is precious. I myself realized I was wasting too much time focusing on menial tasks because I couldn't finish important tasks as soon as I wanted. Then I was just too drained to focus on my real goals. To fix this, I redirected my whole attention to what needed to be taken care of and saved effort for smaller activities as well.
Master Lists For Time Prioritization
If you're still having difficulty deciding which tasks to tackle first, just take your complete list of tasks and place each activity according to monthly, weekly, and daily goals or deadlines. This is my favorite way of ensuring that all tasks are completed in time.
The best part? You only need to go through four steps:
Create one main

master list

with all your unprioritized tasks. Make sure you put every idea down so you won't have any delays for your other lists.

Make a

monthly list

where you take all of the tasks from the master list that need to be completed during the following month.

Transfer the tasks from the monthly list that you have to finish throughout the next week to your

weekly list

.

Lastly, take the goals you want to achieve on a specific day from your monthly and weekly lists. This will be your

daily list

.
TIP
To make this method work, remember to number each task in the order you're going to complete them. Leave room for possible problems that might need to be fixed. If you often find yourself wasting too much time on routine activities like checking emails every morning, just cute them off your lists.
Brian Tracy is one of the most active promoters of this task and time prioritization method. Here are more of his tips on effective time, goals, and task management, including finding the most valuable activities, doubling your productivity, and more:
If all else fails
Just in case the other methods don't work for you, you can always try making a list of tasks in the order of their deadline or estimated importance. Then, do the first task entirely before moving on to the next ones. This helps you make sure you finish each task according to its priority and avoid wasting time on deciding which activity to tackle first. Also, by starting with the task that demands the most attention, you won't find yourself at the end of the day with no energy left to complete activities that truly help you reach your goals.
Here's a summary of Brian Tracy's "Eat That Frog!" principle that advocates doing the hardest tasks first:
So, what should a task include?
The basics
Description
Aim for a detailed description. Having everything established under a clear task description prevents misunderstandings within your project team. You'll also have all the information you need in a single place, without having to search for details through several different Slack conversations, emails, and post-it notes.
Oh, and if you're a project manager, remember that your team appreciates explicit and logical task descriptions that won't make them ask for further details.
Task dependencies
Most of your tasks are probably dependent on another activity. Whether you must finish a task before moving on to the next one or have to complete a goal before the second task is done, highlight this by setting task dependencies.
These logical relationships show you and your team when task deadlines are planned and what activities are the most pressing ones. Use Gantt Chart software to better visualize these relations.
Task status
A task status shows you how far into completion a project task is. When created, tasks are usually placed with a To Do status or just in the Backlog of the project to highlight that they're pending a decision. As team members work on them, their status can change to indicate the progress registered so far.
Tracking progress
Milestones and time deadlines
Not having a deadline for your tasks might make you forget about them. Only because you'll never realize just how important they are for your goal. While deadlines are easier to set since they're usually marked by clients, milestones are a bit trickier.
The project manager is usually the one who picks a milestone with or without the client's feedback, according to the previous tracked time and team feedback.
A milestone can be any important event, a series of events grouped together, or progress stage that shows when a part of a task list or project has been finished. Briefly put, it represents an achievement or smaller goal that must be reached in order for work on a project to go smoothly until its completion.
Here's an example: delivering a prototype as a part of a larger product development project.
Milestones can also be quantitative and show you on how many resources or work hours have been used up.
For instance, if you've estimated that the entire project will take 200 hours of work, completing the first 50 hours can be considered a milestone.
TIP
Always make sure your milestones and deadlines are attainable by leaving a few hours or days as a buffer to solve possible issues or change requests.
Time estimates
Besides setting a deadline for your task, you can estimate how long it will take to finish a task. There are two ways of doing this:
Asking for feedback:

The person in charge of a task should already have a rough idea about how long it will take to do it.

Tracking your time:

Start by tracking time on a similar project. Then create

time reports

based on your recorded work hours. Use this data as a benchmark to come up with better time estimates for your next projects.
To give a correct estimate, use both methods. Just like in the case of deadlines and milestones, add additional safe buffer time to your estimates to allow for any unexpected changes or problems.
Collaborating
Assigning multiple people
Unless you're a freelancer, you'll almost always have to collaborate with your team members on a task or at least on a project. But while some believe that having more than one person assigned to a single task is counterproductive, the contrary is true.
At least for teams where roles are clearly defined.
That is the secret of properly assigning multiple people to one task: have each team member know their duty.
Now you won't necessarily have two marketers writing the same piece of content. What you can do, however, is to clearly state that one will be in charge of writing the article and the other of revising it.
The same is valid for other roles too. You can assign two designers to come up with a new landing page design provided one will be in charge of the actual design and the other one of revision. If they're still confused, just create subtasks for each of them to make duties clearer.
Notifications
Imagine never getting notifications on a task's status. You'd have to ask your teammates about how they're doing or check the task's status yourself at all times.
Luckily, all modern task management software offer email or in-app notifications.
"Sorry, I forgot to do the task!"
Sounds common?
The best part of using task management software is that you can set due date alerts for your tasks. These are perfect for when you're assigned to a task that takes only 1 hour to do but is due in 7 months (yes, I've had tasks like that). The person in charge will be notified a few days before (depending on your time setting) and still have enough time to finish everything up.
Comments/Discussions
I haven't yet seen collaborative task management software that wouldn't allow comments on tasks.
The comments section of a task allows assignees to clarify certain task aspects and update their colleagues on the progress status.
NOTE
Mentioning the issues you're encountering raises a person's accountability. That's because they know someone is expecting to see results from them, so they're prompted to provide better outcomes within the defined deadline.
Attaching and organizing files
When your team's got hundreds, if not more tasks all going on at the same time, you need a place to store your files and make them easily accessible at all times. If your task management software provides a centralized file storage section, you won't have to go through all your tasks to find that particular file you were looking for.
This way you can have all documents, specs, images, wireframes, and more in a single place and share them with the team members who need to access them at all times during a project… and after.
So, how do I get started?
Put down every goal or outcome you're trying to achieve and turn them into a series of actionable tasks. Go over your task list as many times as necessary to make sure you haven't missed anything. Don't leave out your budget and time constraints either.
Also, get your team to look over the tasks again and suggest improvements if needed. Remember you just can't prioritize an entire project task list without them.
Got a task that's just too complex for one person? Assign multiple people to it or divide it into several other subtasks.
Lastly, make sure you've gone through establishing every aspect of a task and its management process before you get to work. Create a checklist of the elements you want to cover or use a task management software that shows what details you can add to a task.
Don't forget to bookmark this article and get back to check for updates. We might just use your own tips. 😉
*Although we regularly update this article, tool features and pricing might differ due to constant product changes.