Best Task Management Software for 2022 – Comparison Chart
Task management is the bread and butter of most project management tools.
This is no surprise, but hardly anyone talks about how task management software has evolved.
To-do lists slowly got included in fully-fledged project management tools or simpler task management apps for personal use. On the other spectrum, docs and notes were still the go-to means to get work done, which pushed for an upgrade in terms of team collaboration (think wikis and building blocks). While spreadsheet look-alike task trackers were sweeping Excel-loving project managers with customizable columns, automations, and colors, of course!
Given this type of software's breadth of scope, the present article aims to objectively review the best task management software in the following categories:
Full-featured project task management tools (Paymo, Wrike, Basecamp, Asana, Teamwork)
Personal task management software (Todoist, Trello, TickTick, Any.do)
Low code task management tools (Notion, Coda)
Spreadsheet task trackers (Monday.com, Airtable)
Skip to the most desired category or read on what basic and advanced features to look after in a web-based task management software.
Key features and criteria for choosing task management software
Inbox/My Tasks area – Can I see all my and/or my team's tasks organized in a designated area so I can know what's on my plate at any time?
Task monitoring – Can I set a task hourly budget and monitor the progress registered for each individual task?
Multiple task views – Can I view tasks in a calendar, Kanban board, or Gantt chart?
Recurring tasks – Can I automate repetitive tasks naturally without resorting to workarounds?
Project templates – Can I plug in a readily available project template instead of manually adding tasks one after another for every new project?
Export function – Can I export a list of tasks or project plans into a PDF or CSV format to further hand them over to a program manager or client?
Time tracking (optional) – Can I track time against a task and monitor how my and my team's efforts add up at the task level?
Ease of use – Is it intuitive enough? Can both the front-line co-worker as well as the executive team take a grasp of it without too much hassle?
Flexibility – Can I use it for various use cases? Like planning a marketing campaign, web design projects, but also course curricula for university or my grocery list?
Product updates frequency – Is the product development team listening to user feedback and releasing weekly/monthly updates, bug fixes, and/or features?
There's no right or wrong answer when it comes to these features. After all, choosing a simple task management software (or complex one) is all up to you, your team, and your business needs. For instance, although the time tracking feature is optional, you'd have to ask yourself whether you need a standalone time tracking software or opt for a project management solution that has it natively integrated. Again, how complex or simple you need your software is remains up to you.
NOTE: For a more complex project management app that acts as a generator of task views, be sure to check our Gantt chart software listicle.
A. Top full-featured project management software
The tendency today for medium-sized and large businesses is to choose complex project management tools over simple task management ones.
This is due to the hyper-connective character of work, which begs for extra functionalities like a timesheet for common time records or a team scheduler for monitoring workloads. Basically, any multi-user collaborative task management software that's project-based should do the work.
Smaller teams can do this with much simpler and more affordable tools for assigning users and priorities, resource allocation, task management, and other great features. We've compiled a list of the top free project management tools worth a try or this list of the top work management software.
Paymo – Best task management software for agencies

Paymo is one of the most underrated yet effective task management tools in this category.
It doesn't matter if you're a freelancer or a well-established agency that handles multiple clients, the platform has all the right features to deliver a project from start to finish. No, seriously!
There are five different task views (List, Table, Kanban board, Calendar, and Gantt Chart), so you can slice and dice through tasks like a seasoned project manager—even though you might not be one (and that's fine). If you're in a managing position like a product manager role or anything related that focuses on product development, read this article on examples and differences between being a product vs. project manager.
Other tools to add to your inventory are the project templates that save existing task lists for later use in similar projects. And recurring tasks, where you decide the frequency and how often they occur.
What sets Paymo apart from the other task management programs, though, is how well tasks and projects communicate with its other built-in modules. Namely:
Resource scheduling – To schedule user workloads and availabilities
Time tracking – To track time on a task and project level
Invoicing – To transform existing timesheets into actual invoices to get paid
Speaking of timesheet management, Paymo's web-based invoicing module is a simple and good way to pull those time entries you've been tracking and create an invoice as easily as that. Read our "The Best 6 Invoicing Software for Small Businesses and Freelancers in 2022" to see what's out there in terms of accounting and the best free invoicing software to make an informed decision.
Read our invoicing guide if you're "newish" to invoicing: maybe you've only used an invoice generator so far, or you are still grasping the difference between digital and electronic, invoice vs. bill, and what provider info and customer info are.
On top of this, you can set granular user permissions and decide who can manage projects, create invoices, and add expenses.
This makes it ideal for agencies and small businesses who sell their services by the hour and want an all-in-one solution as opposed to, well… paying for multiple subscriptions.
Key Features:
Advanced task management
Team's tasks dashboard
List, Table, Board, Calendar, Gantt (paid)
Project templates
Resource scheduling (paid)
Automatic time tracking
Invoicing
Pricing: Free & Paid (paid plans start at $4.95/user/month)
Infinity – Best customizable work management software
Infinity was born out of a burning need to create the most flexible and adaptable task management software out there. So, whether you're looking to coordinate your entire company or you're a freelancer trying to manage multiple clients, Infinity's flexible interface will let you collaborate with your team easily and organize anything you need.
But what is it that makes Infinity so special? The infinite structure and powerful customization features can help you avoid clutter at all cost? Or the fact that you get to define what boards, folders, and items are, and what you want your attributes to be?
Depending on what you need Infinity for, it can be one reason or—hey—all of the above.
So, how can Infinity help you when it comes to task management? To start with, by making sure you have all the features you need to organize and complete all of your work smoothly.
Key Features:
Multiple Views
Folders & Subfolders
Custom Attributes
Attachments & Links
Public Boards
Automations
Board Overview
50+ templates
Pricing: Paid (Basic plans start at $5/user/month, Pro plans start at $8/user/month)
Asana – Task management software for smaller teams

If you've been in the work market long enough, you're bound to have heard of Asana at some point in your career.
This collaborative task management tool comes in as a preferred choice to many thanks to its clean interface, intuitive design, and gamified experience dubbed as "celebrations" – basically animations for whenever you finish a task or achieve a goal.
Tasks can be organized into sections, which can be further broken down into subtasks for more clarity. What I like about it is the option to choose between seeing the task details as a collapsible box or in full focus, something useful for both project managers and their teams.
But no matter how many times I test it, I still don't get why Asana doesn't allow you to assign multiple people to a task. Another common reason for dissatisfaction among users is the inability to assign priorities to a task unless you pay and add them as a custom field.
That's why Asana might be ideal for smaller teams, but things get complicated when it comes to scaling. Nobody wants to scroll through endless task lists of individual tasks.
Key Features:
Due dates, start dates (paid)
My Tasks dashboard
List, Board, Calendar, Timeline (paid), Portfolios (paid)
Custom fields (paid)
Task approval (paid)
CSV Export
Pricing: Free & Paid (starts at $10.99/user/month)
Teamwork – Best group task management software for medium teams

With its first $70 million round of seed funding secured at the time of writing, Teamwork is an employee task management software that aims to bring visibility to growing teams.
The project health, planned vs. actual work, and user capacity reports serve as proof, along with the burndown graphs for your upcoming tasks and milestones, which provide a straightforward insight about the most important tasks you should focus on.
Beware though. Some users have reported that the web app occasionally changes default task views on its own, mistags tasks, and jumbles the order in which they should be completed.
Teamwork also bets heavily on team collaboration, allowing you to invite clients as temporary collaborators and grant them various viewing rights. The most recently added chat function is a much-expected addition that keeps communication between departments open and helps them avoid unnecessary meetings.
This being said, Teamwork is a fair choice for mid-to-large teams who are looking to iron out their processes in a more visual format.
Key Features:
Dashboards
List, Board, Gantt Chart, Table (paid)
Custom fields (paid)
Team chat
In-take forms (paid)
Milestones
Pricing: Free & Paid (starts at $10/user/month)
Wrike – Work task management software for large teams/enterprise

Wrike prides itself on being a task management software for the modern agile enterprise, now even more so since Citrix has acquired them.
The interface has evolved from the clunky one we were used to one more visual, based on: dashboards, activity streams for your latest tasks, and spaces (those are subdivisions for personal vs work-related folders and projects).
Judging from the plethora of customizable project reports and the increased workload visibility granted by the resource scheduler, Wrike seems to have nailed the functionality part for project managers. This doesn't mean it's not suited for employees. On the contrary, the simple start & stop timer and shared calendar make team collaboration possible.
As good as it might sound, Wrike's team has often been deemed by its customers "too salesy". It just seems like they're under pressure to sell at any cost. No wonder the onboarding comes with a fee too. The pricing is over complicated as well, which means you have to invest time to figure out which plans and automations are the right fit for your team.
Because of these buying process hiccups, Wrike is best suited for enterprise-level project managers.
Key Features:
Workload schedule
Customizable dashboards (paid)
List, Board, Calendar, Gantt Chart (paid)
Resource management (paid)
Reports
Branded workspace (paid)
Pricing: Free & Paid (starts at $588 billed annually)
Basecamp – Best for remote task management

We've all heard the term "all-in-one" thrown a lot when it comes to project and task management tools, but will Basecamp have what it takes to join the club?
From the get-go, you can feel this task management software is built around collaboration. Projects are structured differently, featuring to-dos along with messages, docs & files, a schedule, group chat, and even automatic check-ins, which can be useful for daily standups.
Basecamp does check all boxes in terms of basic task management, providing: task lists, tasks, assignees, discussions, and notifications. However, they are not that robust in the sense that you can't add priorities, hourly budgets, or subtasks.
It also lacks a Kanban board, so it will be difficult to know which task is in progress or needs to be reviewed. Most free Kanban software have an intuitive user experience, are simple to navigate and have easy card management—Kanban would add value to Basecamp.
Nevertheless, they compensate for this with hill charts, which they argue are a better tool when it comes to measuring the project's actual progress against certain milestones.
Be it true or not, Basecamp is, at the end of the day, a simple task management software with chat features. Bear in mind, though, that there are different versions of it that might or might not include the features presented so far.
Key Features:
Project templates
Group chat
Announcements
Hill charts
Unlimited clients
500GB storage
Pricing: $99month/flat
B. Top personal task management software
When it comes to a business, organizing tasks under projects and task lists is a no-brainer. But what about your personal life? Courses? Grocery list? You name it.
This calls for daily task management software capable of keeping all your tasks organized but not so tightly as to cause anxiety. Most apps are also available on iOS, Android, and Windows phones, so you can bring your goals and chores alike wherever you might be.
Trello – Kanban task management software for personal use and bootstrapped teams

The ever-popular Kanban task management software, Trello has attracted thousands of solopreneurs, small teams, and universities with its meaty freemium plan.
The secret sauce? Simplicity. You can drag and drop tasks around just like you would with sticky notes on a whiteboard to get a visual overview of your project. In return, collaborators can oversee the progress of each task if assigned as watchers.
This simplicity can act as a double-edged sword, though. Tasks mostly consist of assignees, due dates, and tags. If you want something else – say a custom field or an hourly estimate field – you need to use power-ups which cost extra since only 1 power-up is allowed/board. Lists also tend to get longer (read overwhelming), meaning they're less likely to get done and tended over time.
To combat this, Atlassian (the company that owns Trello) has recently announced the introduction of other task views besides Kanban. They've messed up though by migrating all Trello accounts to Atlassian accounts, which means there's one extra step when signing into the app.
Despite this, Trello still offers the best value for underfunded teams or those with a tight budget when it comes to visual task management.
Key Features:
Kanban, Calendar (paid), Timeline (paid), Dashboard (paid), Map (paid)
Watchers
Power-ups (paid)
Automations (paid)
2FA
Unlimited storage
Pricing: Free + Paid (starts at $10/user/month)
Todoist – Recurring task management software with gamification

Another cloud-based task management software with a smooth learning curve is Todoist.
The design is sleek without too many bells and whistles and fairly mobile optimized. You can add tasks in line and set recurring tasks using just plain words like "every week" to set a frequency. Then organize them loosely in your personal inbox or a more structured project.
The only problem is that you can only switch between a to-do list or a Kanban board, which may not be ideal for all users or at least those who're looking for project planning.
Fear not; Todoist has got your back with gamification. Unlike Asana, the system is much more complex, allowing you to set daily goals in terms of the number of completed tasks for which you receive karma points. These can then be compared on a daily basis to spot gaps in your productivity levels. Much like a built-in report if you may.
All in all, I'd say Todoist ranks top on the price/quality spectrum for personal task management. Not for collaboration, unfortunately, as you can't assign multiple users to the same task.
Key Features:
List, Kanban
Recurring tasks
Filters
Goals + Karma points
Activity history
Themes (paid)
Pricing: Free + Paid (starts at $3/user/month)
TickTick – Task prioritization software for personal productivity

If Todoist was the best-balanced app for this category, then TickTick is a good entry point for task list software.
The interface is much plainer, but in a good sense, featuring an input box on top to add tasks and 3 time-based menu tabs for deadlines: today, next 7 days, and calendar. It's details like these that take into account our willpower, limiting our choices to only a few task management features. Less is more after all.
If you still want to go into "monk mode," TickTick offers a Pomodoro timer to track time after the famous time-tracking method. As well as a habit tracker, where you can choose to build habits (from drinking water to meditating) at your own pace. Pay attention; pre-set habits are available only on the mobile app, which has gathered over 86k+ reviews on PlayStore.
However, TickTick falls short on task views. Besides to-dos, there is a paid calendar that is marketed as "5 types of the calendar" when in fact these are just 5 calendar views. Also, for other basic features, such as start dates, you have to pay.
Key Features:
List, Calendar (paid)
Recurring tasks
Filters (paid)
Pomodoro timer
Daily habit tracker
Trash history
Pricing: Free + Paid ($27.99/year)
Any.do – Calendar task management for daily to-dos and groceries

Due to its unique approach and no-frills interface, Any.do has a special place among personal task management tools.
Tasks co-exist with your calendar in parallel, whose events you can import from your personal or work-related calendar. Some users have reported that not all entries have been correctly transferred, but this is still a heaven-sent bonus for someone who organizes their lives at hourly intervals (myself included).
Another interesting feature is the overall task hierarchy. A matrix groups tasks into four main categories (all tasks, personal, work, and grocery lists) called lists. While shortcuts label tasks as today, tomorrow, upcoming, and someday, which allows you to implement the GTD productivity method with ease and defer non-urgent tasks for later.
The smart grocery list is also impressive, organizing similar products into separate shopping lists divided by shops. You can even use Siri and Alexa voice commands to add those shopping items in the first place.
What's Any.do's main drawback? A weak free plan where basic task management features – like recurring tasks and task views – are gated (read paid). You can't rely on it for complex tasks either, which will make you shop for more feature-rich task management tools elsewhere.
Key Features:
List, Calendar, Kanban (paid)
Task matrix
Calendar import
WhatsApp reminders (paid)
Siri & Alexa voice commands
Task priorities
Pricing: Free + Paid (start at $5.99/user/month)
C. Low code task management software
Makers (read creators) have a different kind of workflow than most professionals.
For them, tasks are not just tasks. These might act as inventory equipment, step-by-step script scenarios, or wikis. Even include different kinds of creative assets that you wouldn't usually find in a traditional task. I'm talking about tables, charts, buttons, formulas, and anything that is visual and can make their creative jobs much easier.
In their case, task management tools that are a hybrid between docs, wikis, and task trackers, are the best fit. Customizable building blocks are a great selling point, but perhaps the largest one is the fact that they are embeddable on web pages and easy to share with collaborators.
Coda – Most flexible task management workflow

Coda dubs itself as the all-in-one doc platform. And for good reasons.
It combines spreadsheets with docs to create a collaborative canvas that adapts to almost any workflow and work style. That's also in part due to the different layouts (table views) that you can have at the same time, in the same place, as opposed to most task management tools that allow you to visualize data into one format at a time.
You can start with a blank doc where you add all sorts of text & media, tables, and buttons to create an interactive page. Or with a template – either a generic or a public one curated by the Coda community, which you can copy from the Doc Gallery in case you lack inspiration.
Automations are another attractive feature. You can set if-then rules to modify rows, reset values, and notify people regarding certain jobs at a particular hour and date – that's if you've activated time-based triggers. Coda is not so bad when it comes to integrations either, allowing you to import data from the most popular apps and set up a connected business infrastructure.
Unfortunately, not all users are happy about the data import, reporting low customization options regarding integrations. Coda also has a hard time loading most of its elements when they are large in number, and the learning curve for new users is a bit steep. However, these issues are addressed through excellent customer support and rich learning materials.
The pricing is somewhat complicated but well thought out once you wrap your head around it. You only pay for doc makers, not for editors and viewers, making Coda ideal for project managers with executing teams and stakeholders.
Key Features:
List, Table, Kanban, Calendar, Gallery
40+ block content types
Databases
Wikis
Bulk export
Version history (paid)
Pricing: Free + Paid (starts at $10/month/Doc Maker)
Notion – Best collaborative task management tool for product managers

Notion brings together notes, tasks, and team wikis, which means it's perfect for whatever you want it to be.
Similar to Coda, the interface is pretty user-friendly and customizable. You can insert different types of blocks on a page, edit them in further detail, and visualize them in various formats. Yet Notion stands out thanks to databases, which are highly appreciated by product managers who want to create nested arrays of data and connect them without writing a single line of code.
Another great feature is the fact that Notion pages can be embedded on websites and look organic to Google. So you can really call it a low-code platform at the end of the day.
But here comes the $1 million question: why did Notion get outsmarted by Coda (at least temporarily)? They're quite similar software to keep track of tasks, right? According to some customers, Notion is trying to be a jack of all trades, trying to cover a large portion of the market to the detriment of their initial audience: creative makers.
Feature-wise, it lacks visibility in terms of dashboards and a bird's-eye view. You can't manage multiple projects in parallel unless you open them one by one for concrete data. There are also no recurring tasks available—yikes!—and the 3rd party integrations are not as broad as Coda's.
Nevertheless, both apps feature strong communities and die-hard fans that are happy to share with each other their task management workflows, as crazy and complex as they might be.
Key Features:
List, Calendar, Kanban, Timeline, Bar Chart
Tables, formulas, buttons
Hidden pages (paid)
Automations
3rd party integrations
Doc gallery
Pricing: Free + Paid (starts at $4/user/month)
D. Top spreadsheet task organizer software
Spreadsheets have been here for a long time and for a good reason. Their ability to organize and categorize data into a logical format has charmed many project managers to this day.
In an attempt to win them over, a few online task management software has stripped away their complexity, relying solely on rows and customizable columns. But don't worry. What they might lack in complexity, they make up for with automations and many integrations with 3rd party apps.
Monday – Task management software for simple projects

Formerly known as "dapulse," Monday.com swept the tech scene 9 years ago at its initial launch.
The promise was big: a platform that looks like a spreadsheet but does more than plain Excel. Much like an easy task management software. And for the most part, they delivered on it.
Monday.com is well known for its iconic boards with colored rows that can be everything, from a task to a campaign or lead. Each row has properties in the form of columns that emulate basic task management features: assigned users, hourly budgets, time tracking, and dependencies.
What stood out at that time (and still does) is the large marketplace of integrations with 3rd party apps that work as automations between clearly defined column actions. Dashboards were quite configurable and visual, catering to both business owners and project managers. And the company had a cute obsession with llamas (probably in a quest to surpass Asana's unicorn?) which would multiply if certain tasks reached a particular task status, say 'completed.'
When we draw the line, though, Monday.com is way too complex for most new users these days, requiring time and above all creativity to implement their processes. Some customers have also admitted that they've reached the platform's full potential only when they resorted to coding their own integrations to overcome deficiencies.
Pricing-wise, the imposed seat limitations are counterproductive to collaboration and quite confusing. This makes Monday.com a feasible project and task management tool, but only for small-scale projects.
Key Features:
List, Calendar, Kanban, Timeline, Gantt, Bar Chart, Map
Marketplace
Automations
Shareable forms
Time tracking (paid)
Guest access (paid)
Pricing: Free + Paid (starts at $8/user/month for a minimum of 3 users)
Airtable – Low code platform for marketers

Airtable has actually picked up Monday.com's promise of neat spreadsheets with the power of scalable databases and executed it better.
The UX is clean and straightforward, consisting of workspaces that nest further databases (spreadsheets). This makes it ideal for collaborating with clients, as you can create separate workspaces for each of them, or departments that have a specific workflow.
As for the databases, they each support a certain number of actions and come with rich text boxes that allow you to add checklists, dropdowns, and even links to other databases. Much like Coda if you ask me. There's also a "Create" panel to visualize data as a grid, board, calendar, gallery, and a Gantt chart (their newest addition).
With this level of customizability, automations are a given. But what makes Airtable special is the App marketplace, specifically the page designer, scripting, and pivot tables, which looks like it was created with marketers in mind. Or at least people who manage multiple creative assets and stakeholders at the same time.
As with Coda and Notion, Airtable's community is really strong, spreading goodwill on Airatble's so-called Universe, where you can find process templates from popular companies like Expedia or more peculiar workflows like a festival template.
The pricing is mostly based on the number of rows used, automations, and the timeframe for the revisioning history. Airtable is definitely the "Excel on steroids" that was promised to us by Monday.com but expect a steep learning curve as with any app of this kind.
Other customers have also reported problems with export formats and a poor mobile app that is not on par with the web app experience.
Key Features:
Grid, Calendar, Kanban, Form, Gallery, Gantt (paid)
Rich text boxes
App Marketplace
Page designer
Script builder
Personal and locked views
Pricing: Free + Paid (starts at $10/user/month)
What is task management?
Now task mgmt is not as fancy as it sounds. It's essentially a way of handling tasks from the moment you create them until they're completed.
This method as a whole refers to:
Task creation: Set your project goals, turn them into actionable tasks, and add relevant details such as task duration, time estimates, dependencies, status, etc.
Organization and prioritization: Consider all factors that could influence them and their deadlines and establish the order in which you're going to be working on them.
Task monitoring and updates: The real task management process begins after you've created a task. Any activity needs to be monitored from its creation throughout the entire development process to ensure that it's correctly documented until completion.
Note: Planning is not something you do only at work. Whether you're planning your next trip or a shopping spree, you're actually managing tasks outside the workplace.
Why is task management important?
Because task management provides steady clarity regarding everything you've worked on. Knowing how to tackle your work comes with practice and experience. Task management is crucial when managing your team and employing efficient systems, even more so when working remotely.
You'll always know exactly what needs to be done and in what order. This also implies reduced task aversion, stress, and anxiety levels that can help you overcome procrastination.
The other main benefits of software to keep track of tracks are:
Work efficiently and keep your daily activities organized
With task management, work resides in single-task units, not emails or piles of paper. This means you can organize tasks the way you want them to be through a simple to-do list, advanced task lists, Kanban boards, Gantt Charts, or other task visualization methods.
Note: We previously ran a search through over 200 job listings from Indeed, a prime job website in over 50 countries. The results showed that effective task management was one of the top skills employers were expecting from a project manager. This shows just how important task management is for employers when it comes to achieving results and working effectively. It also depends on what are the project management methodologies they use and how they plan out their work and project delivery.
Meet your deadlines
Nobody wants to waste endless hours on admin tasks like checking emails or sending invoices. That's why you need to set time limits for your tasks. These boundaries help you focus on what matters most.
By restricting the hours spent on low-priority or time-wasting activities, you'll be able to direct the largest part of your day towards more productive tasks and becomes less likely to waste your day.
Stay within budget
Whether you need money to buy new software or make a promotional video for your client, your work is always tied to a set budget.
To ensure you don't exceed that sum of money, you can divide your full budget according to each task and attribute part of it to individual activities based on your estimates.
Set clear priorities
Outlining your priorities is crucial for maintaining a balanced workload while also hitting your deadlines. That's why keeping all your tasks grouped after their urgency helps you set clear priorities. Imagine feeling productive in the morning and then losing your motivation because you just don't know where to start work.
But you might feel like everything is a priority. So read on to find out what methods you can use to prioritize and organize tasks with minimum effort.
Task Management Tip
When it comes to managing tasks at a team level, it's all a bit different.
Remember that task management is also about team management. You need to talk to the team member responsible for a certain task to get feedback on any aspects that have influenced the completion of a task (duration, roadblocks, conflicting priorities, etc.)
This ensures that team resources are used correctly and will help you reach your goals while involving your team in the project's success.
How to Organize and Prioritize Tasks Efficiently
When it comes to personal task lists, coming up with a task and completing it is straightforward. Task management at a project level is a bit more demanding though.
Now I don't want to scare you and make you think that managing your project's task is a painful job. It's really not.
Depending on the complexity of your tasks, there are a couple of clear and easy-to-implement ways for you to organize all activities within a project.
How to Organize Tasks at Work
Simple to-do lists
Every task management process starts with a to-do list.
All you need is a sheet of paper or a to-do list app. Brainstorm your goals, then write them down in the order you need to complete them. You can even break larger tasks into smaller ones, so you can make progress much more visible.
The secret to a to-do list is to keep it short. Limit yourself to the tasks for which you have the right resources if you don't want to feel overwhelmed.
A simple to-do list you can use for everything that's not related to work
Completing tasks from a to-do list is just as simple as making one.
Just strike them through or tick them off as soon as you finish them. Trust me, this is vital. I can't tell you how many times I skipped this part and then forgot what I had left to do once I got back to work – especially after a longer period of inactivity.
Detailed task lists
To-do lists might be enough for personal or less complex projects. Yet, if you've got multiple team members, resources, and projects to juggle with, try detailed task lists.
Although similar in structure, each task list acts as a bucket and contains considerably more details than a task. This includes people in charge of them, due dates, priorities, billing type, estimated hours and costs, task descriptions, files, and so much more.
You can divide a larger project into a series of task lists according to the project's stage or responsible team. Here's an example of how a web design team split their work into task lists that correspond to the project's stages:
A web design team's detailed task list
Subtasks
Now, you might have a bunch of tasks in your list that contain multiple steps or are just too complex for you to call them a single task.
So instead of creating an entire task list, break the larger task into subtasks. This will help you think more clearly in terms of deliverables and how the task components relate to one another.
A list of subtasks for a general writing task
Recurring tasks
Whether we like it or not, we all have those tasks that keep coming back on a constant basis: daily status meetings, monthly invoices, quarterly reports, you get it. In short, recurring tasks.
These are automatically generated when marked as complete based on the pattern you've set for them. It's up to you then to set up their frequency and prepare in advance for their deadlines.
How else can you approach the process of task management?
To-do lists, complex task lists, subtasks, and recurring tasks are all great for organizing your activities and their details.
But there are also other ways in which you can manage how you interact with the tasks once it's time to start working on them.
Kanban
Kanban is a project management tool that offers you a visual overview of all personal or project-related tasks and workflows. A Kanban board (or progress board) breaks down a project into stages, highlighting potential bottlenecks for each stage of your project.
Kanban boards can be either physical (post-it notes on a whiteboard) or digital.
Nevertheless, their typical structure involves:
Board: a workspace where tasks are managed throughout the project lifecycle
Lists (or columns): represents the project stage through which a card can pass
Cards: represent a project-related task or idea
The structure of a simple Kanban board
Commonly, each task is first added to a section called the Backlog (a list with all uncompleted tasks soon to be dealt with). These are then moved from one column to another until they are completed.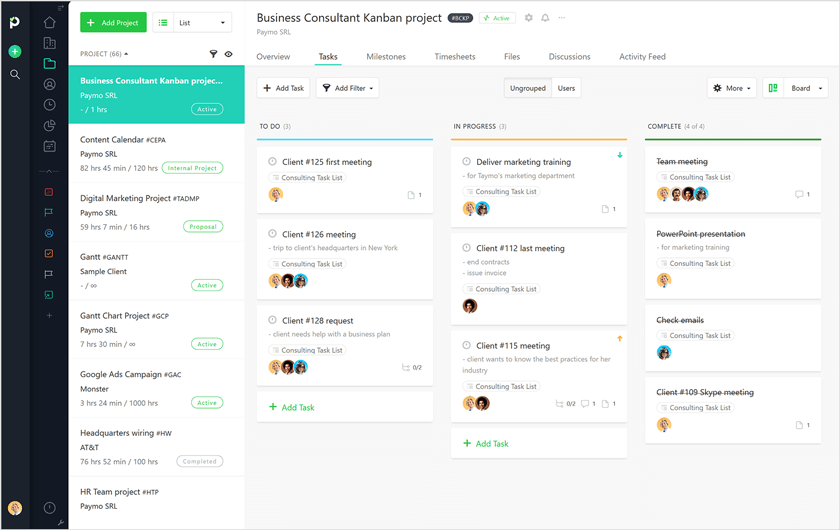 Business consultancy team using a Kanban board to manage their tasks, clients, and workflow
Gantt Charts
The Gantt Chart is a technique you can use to plan tasks and track your project schedule against a budget. Briefly put, this visual chart tells you what needs to be done, when, and in which order.
It's ideal if you're dealing with a project that faces regular changes, allowing you to immediately make adjustments on the go.
As a way of displaying tasks against time, Gantt Charts allow you to see tasks that might overlap and the dependencies between them. They also show you who's in charge of a task and how much time they have to complete it.
Gantt Chart example
Want to take your task management process through Gantt Charts to the next level?
If you need to constantly monitor several different projects, try the Portfolio Gantt Chart. This offers a bird's-eye view of all your active projects, so you'll no longer have to toggle between several projects. Not to mention that you'll also know whether you can take on new projects or not.
Portfolio Gantt Chart example
Prioritizing tasks
Probably one of the most significant parts of task management is knowing how to prioritize your tasks.
The truth is everyone can prioritize their activities effectively.
There are essentially two main types of priorities you can take into account to help you sort your tasks:
Time-based priorities: These are set according to each task deadline. Activities like this must be completed before the set end date. Examples include a design project that's due in a week or a mock-up that must be sent by tomorrow. Common types of time-based priority labeling are Past due date, Today, Tomorrow, Upcoming, This week, This month, This year, Later, etc.
Urgency-based priorities: These are tasks that must be completed to reach a goal, but the order in which they are tackled depends on how soon they'll impact the final outcome. They're usually labeled as Critical (Urgent), High, Medium (Normal), or Low. For instance, a web server crash demands immediate attention and should be fixed as soon as possible.
Note
If you've postponed a low-priority task for too long and your deadline is approaching, that task will turn into a critical or high-priority one too.
For simple to-do lists deciding on the priority of your tasks is fairly easy. Just write them down in the order you want to complete them and go through them accordingly.
But when you've got several different tasks, projects, clients, and team members to handle, you'll need to consider other external factors too.
Here are a few methods that will help you prioritize the order in which you complete your tasks individually or together with your team:
The Eisenhower Decision Matrix (The Urgent-Important Matrix)
I have two kinds of problems, the urgent and the important. The urgent are not important, and the important are never urgent. – Dwight D. Eisenhower
Yes, Dwight D. Eisenhower the President. He is said to have invented and used this method.
Legend or not, his quote inspired the creation of the Eisenhower Decision Matrix which has been used ever since then as an effective way of prioritizing activities or decisions. This decision matrix can help you make that fine difference between what is urgent and what is just, well, important.
Urgent tasks are activities that need to be completed as soon as possible either because they fix an imminent problem or because other tasks depend on them.
Important tasks, on the other hand, have to be completed at any time until the end of a project in order for the final goal to be reached. However, these don't require immediate attention and can be postponed. But only for a short period of time.
All you have to do then is categorize your tasks based on the following criteria:
Important and urgent: You need to finish these tasks immediately or as soon as possible. They are problems, issues, and deadlines that must, by all means, be completed or else they could postpone or cancel a project altogether. Examples: project deadlines, tax deadlines, angry clients, etc.
Important but not urgent: These activities can be rescheduled for a date that's within your deadline. So even though you don't need to do them right away, you'll still have to take care of them until the end of your project or goal. Examples: weekly sprint planning, new business opportunities, team building, etc.
Not important but urgent: These are tasks that need to be responded to immediately but don't contribute to your final desired outcomes. Usually, these are interruptions, meetings, or activities meant to help other people and goals that are not related to the project you're working on. It's best to just assign them to other people who have free time or expertise for them. Examples: scheduling an interview, booking a flight, sending a pitch, etc.
Not important or urgent: Now, if you were wondering under which category you'd put the main distractions, here it is. You can delete or leave these non-productive activities aside for the time being. Examples: coworker gossip, scrolling Facebook, changing your desktop's background, etc.
Task Prioritization Tip
You can make your own version of this decision matrix and divide the tasks according to your needs. Don't limit it to simple activities though. This Farnam Street version, for instance, divides decisions into irreversible, reversible, inconsequential, and consequential ones.
The Pareto Principle (80/20 rule)
The Pareto Principle states that only 20% of the tasks belonging to a project account for 80% of the final results.
How can you apply this technique to your task lists? Begin by focusing on your most important tasks.
Don't really know which are those?
These are usually the ones that generate the most profitable results. The remaining 80% of tasks can be left aside for later as long as you don't forget to complete them.
Pay closer attention to what your largest goals are. You might already be postponing goals you truly want to attain just because you're afraid they'll be more difficult to reach. And I admit I used to do that too.
Master Lists For Time Prioritization
If you're still having difficulty deciding which tasks to tackle first, just place each activity according to monthly, weekly, and daily goals or deadlines. This is my favorite way of ensuring that all tasks are completed in time.
The best part? You only need to go through four steps:
Create one master list with all your unprioritized tasks. Make sure you put every idea down so you won't have any delays for your other lists.
Make a monthly list where you take all of the tasks from the master list that need to be completed during the following month.
Transfer the tasks from the monthly list that you have to finish throughout the next week to your weekly list.
Lastly, take the goals you want to achieve on a specific day from your monthly and weekly lists. This will be your daily list.
Tip: To make this method work, remember to number each task in the order you're going to complete them. Leave room for possible problems that might need to be fixed.
Brian Tracy is one of the most active promoters of this task and time prioritization method. Here are more of his tips on effective time, goals, and task management, including finding the most valuable activities, doubling your productivity, and more:
If all else fails
Just in case the other methods don't work for you, you can always try making a list of tasks in the order of their deadline or estimated importance. Then, do the first task entirely before moving on to the next one.
So, how do I get started?
Put down every goal or outcome you're trying to achieve and turn them into a series of actionable tasks. Go over your task list as many times as necessary to make sure you haven't missed anything. Don't leave out your budget and time constraints either.
Also, get your team to look over the tasks again and suggest improvements if needed. Remember you just can't prioritize an entire project task list without them.
Got a task that's just too complex for one person? Assign multiple people to it or divide it into several other subtasks.
Lastly, make sure you've gone through establishing every aspect of a task and its management process before you get to work. Create a checklist of the elements you want to cover or use task management software that shows what details you can add to a task.
*Although we regularly update this article, tool features and pricing might differ due to constant product changes.
First published on August 11, 2021.