What software to use to track employee hours?
In this article, we've gathered, carefully analyzed, and tested the best free employee time-tracking software of 2023.
4 Top-Rated Employee Time Tracking Software for 2023
Paymo
Harvest
Everhour
Myhours
Pricing
$5 / user / month
(min. 2 users)
Time tracking
Billable Rates
Employee Scheduling
Project Management
Invoicing
1. Paymo (Web, Mac, Windows, Linux, iOS, Android)
Best for: small businesses that need employee time tracking, timesheet reporting, project management, and billing for their clients.
Paymo is one of the best employee time-tracking software for small businesses. It has native time tracking, project management, resource scheduling, and invoicing.
What makes it appealing is that you can track time in your way: either manually, through the web timer, in bulk, or through one of the dedicated desktop and mobile apps. The Pomodoro technique is also available for fans who want to timebox their efforts via a PC app.
All the time records are automatically recorded in a standard timesheet, so admins and project managers receive all the necessary insights to run a team effectively. You can even bill clients, thanks to Paymo's native invoicing module, which turns timesheet data into an invoice at a click of a button. This is a step from using an invoice generator, a simple online tool. It's cheap as it cuts down on the need for accounting services and is also professional.
In my experience, keeping track of your time and getting paid for it has never been easier—plus, almost all of them are free—regardless of whether you're a small business or a freelancer. If you'd like, read our selection of the best invoicing software for small businesses we've managed to test and review.
Another great feature is the Active Timers, which allows you to see who's tracking time for which task and for how long already at the same time. This is a more discrete way to check with your team instead of using random screenshots or intentional shoulder peeking.
You can also create live-time reports for a specific project, client, or period that update themselves whenever someone accesses them. Choose from 20+ parameters, then share them with your team to discuss their performance or agree upon future benchmarks.
Just recently, Paymo launched its project profitability feature, which calculates your internal costs against billed hours. Suppose you're not sure how to calculate it. In that case, you don't even have to—this project profitability analysis is an excellent example of how tracking your time is crucial to accurate profit estimates.
Price:
Starter – $5.95/user/month (for one user)
Small Office – $11.95/user/month
Business – $24.95/user/month (minimum five users)
Free plan: Yes, limited to 1 user.
2. Harvest (Web, Mac, Windows, iOS, Android, Chrome extension)
Best for: teams that need employee time tracking AND billing software.
If you've been in the productivity space long enough, you will stumble upon Harvest. This versatile employee time-tracking software is excellent for small businesses requiring stricter work discipline, partly due to the automatic reminders that nudge team members to clock in. But also, there's a timesheet approval system through which project managers review and approve time entries, thus preventing potential errors.
This is not to say that the software is not intuitive. On the contrary, the team overview comes with analytics to see which projects take most of their efforts and whether they're working on the right ones (I'm talking about the billable vs. non-billable time breakdown).
Forecast, their sister company, builds itself on top of the current app to help you schedule resources in advance – although it's sold separately. Harvest also integrates with several tools, most of which are project management tools. But also invoicing ones, like Xero or QuickBooks, in case you don't want to use their invoicing add-on.
Price: Pro – $12/user/months
Free plan: Yes, limited to 1 user and two projects.
Best for: time tracking reports.
My Hours is a pretty old product—dating back to 2002—from a Slovenian company called Spica. It offers essential task management, an advanced time-tracking module, invoicing, and cool-looking reports.
Profitability is another neat feature, and it's a core part of their unique selling proposition: to run profitable projects from start to finish. Honestly, the interface looks a bit outdated compared to the competition. Not necessarily the most intuitive either, but it does its job. One feature that some would find helpful is the import data, which allows you to easily import clients, projects, tasks, and time entries from Excel.
If you want to track time on the go, My Hours offers an app for Android and iOS smartphones. Only two integrations are available (Quickbooks and Zapier), but those with coding skills can use their public API to create their own integrations.
Pricing:
Free plan: Yes. Unlimited team members
4. Everhour (Web, Chrome extension)
Best for: teams who want visibility across workloads.
As soon as you land on their homepage, Everhour positions itself as an in-house and remote employee time-tracking software built for teams. And for good reasons. It connects with several task and project management tools, pulling all projects and tasks into the platform so you can forget about data migration. Indeed, when working remotely and full-time, not just a side gig, you need an easy tool to help you track time.
Where Everhour excels, though, is team availability. You can set a weekly capacity for each team member and compare their time logs against their schedules on a visual timeline. Available hours will appear in green, breaks/leave days in grey and overtime in red.
What I liked were the project budgeting options. Each user has a unique rate/project, so senior and junior employees can be paid in direct proportion to their level of skills and contributions. At the same time, the project budget can be reset daily/weekly/monthly – an excellent addition for those who run retainer projects as part of their business. The tool also comes with a native invoicing module, although a bit light if you ask me compared to other bespoke solutions.
Pricing:
Lite – $5/user/month (minimum two users)
Team – $8.5
Free plan: Yes, up to 5 users.
Paid alternative
Beebole (Web, Mac, Windows, iOS, Android)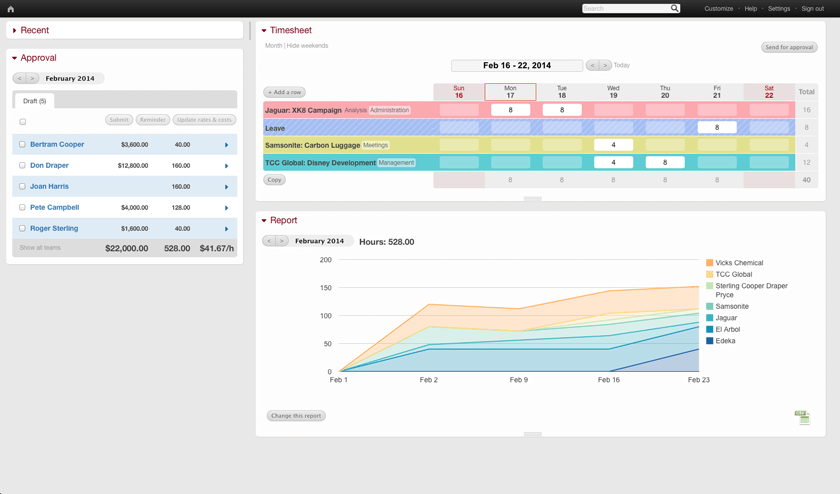 Best for: teams that need an employee time clock OR project time tracking, both of which come with flexible reporting.
Beebole's customization and flexibility make it a reliable timesheet solution. It can be set up for employees to clock in and out or to track time for clients, projects, and sub-projects using a one-click timer or manual entry. Time tracking can be done on both desktop and the free mobile app, with or without an Internet connection. It's also a breeze to log attendance, vacations, and leaves of absence.
Administrators can access a team overview to check project status, team performance, and overtime in one glance. Beebole's approval flow allows project managers and admins to bulk review, approve timesheets, request changes, and lock time entries.
Tip: If you plan to or want to become a project manager but don't know how to learn or what to study first, get started by reading this guide. Here's another guide if you're interested in learning more about project management methodologies and types of work styles.
Besides its ease of use for employees and administrators, Beebole offers highly customizable and powerful reporting on employee time, budget, margin, and profit. Build the exact report you and your team need, or use one of the custom KPI dashboards Beebole offers to unlock powerful business intelligence insights.
Pricing:
$6.99/user/month with a 30-day free trial and no credit card required: volume discounts and 10% off for NGOs and educational institutions.
Free plan: Not available.
The time-tracking myth
The general premise is that employee time tracking is tied to productivity and project time tracking, which measures how efficient someone is at doing their job. Based on this input, managers save time, cut costs, and improve operations with a clear business objective: increasing profits. Time is money, after all. As Harvard Business Review points out, the US economy is losing $7.4 billion daily, resulting in 50 million untracked work hours.
Nothing wrong with this finding, but let's be honest: it's easy to clock in 8 hours and get little to nothing done. New research from the UK found that we're productive at work for only 2 hours and 53 minutes. The rest of the time is filled with distracting activities like browsing social media, reading news and articles, and talking about non-work activities with colleagues, to name the top three. This is a direct result of focusing on quantity instead of quality. It tricks us into thinking we can stay on top of our work by just showing up and filling in timesheets. Plus, one common reason might be instant gratification turning us into procrastinators.
Notice something? Yes, time tracking is, in fact, psychologically linked to productivity. It abides by Parkinson's law, which states that work expands to fill the time available for completion. Or, to put it simply, if you give someone a week to complete a 4-hour task, it will take them a week.
That's because, in general, people estimate they need more time to prepare for a task. Even if they finish it faster, perfection sets in, and they'll continue to fine-tune their work until the last moment—I'm guilty here too.
Sadly, some managers still use the 40-hour week as a benchmark for quality work. This doesn't mean that time tracking can't be helpful. Through it, managers can accurately estimate task budgets and deadlines by monitoring how long they take on average. They can also become more transparent towards their customers and inform them about the project's progress in real-time.
This is all great, but what about you – the employee? Let's see what makes it so hard to do real-time tracking when you work, and perhaps we can eventually agree that employee time tracking has nothing to do with employee monitoring but efficiency.
Why is it so hard to track time when working
There are numerous reasons for this.
You might fear being supervised to the minute—either by your boss or software that takes random screenshots of your desktop—and regard it as a useless, administrative task. You ask yourself; the problem is somewhere at the management level; who wants to quantify everything to cut costs? To them, these are only numbers, just like stationery and office furniture. But down there, on the first line, you're supposed to meet deadline after deadline to add these numbers.
Or, you find time tracking draining if you multitask daily. This means you must remember what you've worked on, when, and for how long. It isn't natural and requires tremendous cognitive power, an effort you can't easily muster at the end of a full day.
Some of you have your work visible to the whole team and feel under pressure. I mean, who wouldn't?
If things don't go as planned, everyone—not just the manager—can keep you accountable. You feel like you're in a constant rush, which will soon reflect in the quality of your work.
Few of you will get why time tracking is essential. From an economic standpoint, more billable hours can increase profits and create new opportunities for yourself and the company. Still, the same reasoning can make you fall for Parkinson's law and focus on spending too many hours on a project (quantity) instead of making an impact (quality).
The purpose of tracking time at work
At first glance, simple time tracking seems faulty because it doesn't reflect what we do. In part, it's true, but take a step back to see the big picture.
Say you've spent more time on a task than expected. Does it mean that you're a slowpoke?
Not at all. Perhaps this happened because the task wasn't planned thoroughly from the beginning. Or there weren't enough resources to complete it. Or you were waiting for someone else's approval, and that person wasn't available then.
The point is that the best time-tracking software is now web-based, on the cloud, and has become more of a simple discovery tool to zoom in on the broad picture and less of a control measure for the upper management. A time-tracking tool is a norm in most companies and agencies.
To reap its full benefits, a change in mentality is required. Ari Meisel, a productivity expert and the author of Less Doing, More Living, sums it up better:
"If you're in the mindset of logging… every activity you're doing, you're actually going to be really hurting your productivity. That touch-in, touch-out mentality is very different from the mentality you need to do creative work, or research, or make an effective phone call."
That's because highly efficient people focus only on one thing at a time, leaving all distractions aside. When a deadline is approaching, they use the time-tracking-induced rush as a catalyst to bring out the best version of themselves, "not as a crutch, excuse or a bane," to paraphrase Seth Godin.
So how do you convince your employees to track time without interrupting their schedules and flows? Consider the following six tips for a smooth transition to time tracking:
1. Explain what's in it for them
When implementing an online time tracking system for the first time, the reasons behind it are unclear for everyone, irrespective of whether you are running a small business. Enforcing it with no justification will only breed resistance and make things worse.
To avoid this, be honest and up-front. Explain why everyone needs to track their time and how it benefits them, not just the company. Be careful, though; motivation differs from person to person. That's why it's best to emphasize what's in it for them, the advantages, depending on their roles.
For example, as a business owner, you could tell sales reps that accurate timesheets eliminate the chances of under-billing your services, leading to more significant profits and individual bonuses. In project management, as an office worker, you could argue that the exact electronic timesheets can help managers see who's over or under-booked and better schedule their team's tasks and workload in advance. Explore this top-rated timesheet software.
2. Make time tracking easy and flexible
Time tracking is a hard enough task in itself. You might as well ease out the process for your employees. Choose an intuitive project management software like Paymo that lets them quickly fill in timesheets and create customizable time reports with just a few clicks.
Think about their mobility as well. The software should include a mobile app that is cloud-based, too, so that your employees can register time wherever they are, regardless of their Internet connection – in a cafe, at a client's site, or on a business trip.
Imagine how convenient it is to open up your phone once the task is over and log the worked hours instead of waiting to return to the office. It feels natural and empowers employees to focus on tasks without adding items to their mental to-do list.
3. Automate the entire time tracking process
What if your employees work in short intervals (10-15 minutes) on several similar projects, and clocking in and out would only put them behind with work? In this case, you could automate the process altogether; this applies to small businesses.
Choose an automatic time tracking tool, ideally cloud-based, that records how much time an employee spends browsing the Internet, editing a document, or using certain desktop apps. This eliminates the need to remember what and for how long they've worked in the first place. And in part, your role as well. You won't have to remind them to log in their hours anymore constantly.
PaymoPlus does the same thing. It runs in the background and records all the activities on the employee's behalf, leaving no room for misinterpretation. The employee can then match the activities with their related projects and tasks or set up rules to automate this step.
4. Have clear guidelines in place
As Scott Adams, the creator of Dilbert comics, put it: forget about goals and focus on building a system instead. It doesn't matter if your employees track time if they don't do it properly. These are clear guidelines and procedures that everyone needs to follow to reap the full benefits of time tracking. But how do you set them?
Suppose you're managing a PR team and working on launching an event. Your team arrives at the event venue and starts their day chatting with the contractors and sponsors. When exactly should they start tracking time at work – at their arrival or when the guests show up? Does time spent during event breaks count too? Should the time entries under 15 minutes be rounded or not?
These are all questions that will pop up throughout the conversation.
The key is to ask as many as possible and weigh everyone's opinion before mapping out the process. In the end, you'll both benefit from it. Your employees will know how to track time accurately, while you'll have access to an organized pool of data to dig in.
5. Lead by example – track your own time
Don't force change from the sidelines, especially if you're part of a large company where things take time to roll out and implement. Be part of it and act as its main driving force.
You will send strong signals to your employees if you track your time. They will perceive the act as a valuable practice and something non-intrusive if even their manager is not afraid to have their timesheets public.
As a general rule of thumb, train your managers who directly influence teams first. Then, let them act as success champions and get the rest of the people on board. Employees will trust their colleagues much more than external contacts like the software's support staff.
6. Ask for feedback
You are waiting until something breaks to improve spells disaster. Be proactive in your approach and ask your employees for feedback. After all, they're the ones who "fight" in the first lines and, because of this, know the ins and outs of your business.
Make it easy for them to voice their concerns and suggestions for improvement. Create a poll or survey to gather all the results. Then include them in the discussion meeting to scope out all potential problems and develop a better system.
Being part of the solution will make it much easier for them to adopt the time-tracking software. What's more, they'll feel valued by the upper management and be encouraged to contribute meaningfully.
Don't incentivize time tracking.
If you wonder why we didn't mention this as a tip, we did it intentionally. That's because we're against it. Some companies go to great lengths to gamify the entire time tracking process. They offer bonuses, Amazon gift cards, free lunches, or days off to those who accurately fill in their timesheets. Although effective in the short term, these "carrot" like approaches only go so far.
At some point, employees get used to them and demand more money, days off, and freebies. When this happens, they'll soon think of ways to cheat the system and log as many hours as possible. In return, the quality of their work will suffer as they'll focus on the wrong metric – hours logged in instead of results delivered. Recognize what they fell for? Yes, Parkinson's law.
Final thoughts
Now that we've debunked the time-tracking myth, we can focus more on making an impact at our workplace instead of logging hours mechanically and cursing our managers for it. Remember this as you go through your day, and see the time-induced rush as a way to bring the best out of yourself.
Here's a word of advice for all the managers reading this. As with any software, don't dive in headfirst. Test a couple of tools first and see which one fits your current and future business needs. Luckily, Paymo offers a two-week free trial to experience the full-featured app without strings attached.
Start tracking your employee work time right away.
Regardless of your chosen solution, you'll get something much more valuable in return than just metrics: a stress-relieved environment where everyone is free to manage their time and express their genuine self—a true hallmark of a happy culture.
First published on October 24, 2020.