To save you precious time, we did the hard job of in-depth market research and app testing and came up with 8 free time-tracking software for small businesses that are "la crème de la crème." Plus, we've also included 3 contenders that are affordable alternatives.
Also, in the 2nd part of this article, you can learn more about why time tracking is important, have a look at some time tracking methods, best practices, time reports, and the role of time tracking in project management.
Best time tracking software
Based on our expertise and experience with time tracking software, here's the list of the best time tracking software available and the main benefit of each one:
Paymo – full-featured time-tracking software with task management, invoicing, and online payments to help you manage projects from start to finish.
Harvest – a time tracking and invoicing tool to ease project delivery and billing.
Toggl – time tracker, visual reports, and team insights for any company size.
Hubstaff– a time tracker that monitors your activity by taking random screenshots of your desktop.
Timely – tool that tracks time and creates schedules and automatic timesheets simultaneously.
TimeCamp – time tracking and invoicing app with a robust list of integrations.
TrackingTime – a tool for tracking time on recurrent tasks and scheduling repeating events.
Time Doctor – automatic time tracking, payroll module, and desktop screenshots feature in a single app.
Everhour – a time tracker with strong reporting features and numerous integrations for a smooth working experience.
RescueTime – block distracting websites and set goals to improve your productivity through time tracking.
Workpuls (now Insightful.io) – employee monitoring tool with automatic time tracking capabilities.
In our tests, we only looked at those online time tracking software with time-tracking as a native feature.
If you already use an app to manage your work but it doesn't have a native time tracking module, an integration with a time tracking app can be a quick fix. Yet, we don't recommend this as it might bring additional complexity and increase your costs.
1. Paymo
Paymo is a time tracking, project, and work management software that helps management professionals and freelancers deliver projects throughout the whole lifecycle.
The company has been around since 2008 and started initially as a time-tracking and invoicing app. Gradually, based on user feedback, it turned into a full-featured work management platform.
With users from over 50 countries, Paymo is an established app that around 4,000 companies and 40.000 freelancers (more than 100,000 users) rely on to help manage their time and projects from start to finish. Its main goal is to help you keep your work in one place while simplifying your workflow for more efficient task management.
Best For:
Medium and small businesses, creative agencies, consultants, law and architecture firms, and freelancers who handle multiple client projects and want to be able to track their time, monitor finances, and organize resources from one place.
Paymo in a nutshell
Paymo is a modern and intuitive agency time tracking software for project-based businesses that helps your team manage projects through their entire lifecycle. Plan and schedule your projects, collaborate with your team, share files, track time, and ensure you stay on budget.
Top 5 Features
1) Availability: You can decide exactly how and from which device you want to track time. Paymo is available as a web timer, desktop app, mobile app, and even an automatic desktop time tracker (PaymoPlus) that automatically registers all your desktop activities.
2) Resource Scheduling: View your team's activity to help you calculate the resources required to deliver a project. The resource scheduler can help you see who will work on what and when or check user capacity to avoid employee burnout. Manage your resource allocation easily and give your staff the right tasks based on what they've done in the past.
3) Timesheets & Time Reports: See and manage your time entries on a daily/weekly/monthly/agenda basis. Choose from flexible grouping, subgrouping in a reporting hierarchy, and project status support, and include project IDs & task IDs for more personalization. You can also create time reports based on them and get a detailed look at how you or your team's time is spent.
4) Pomodoro tracker: Track time using the native Pomodoro tracker and establish the duration for each work session and break. If you want a review of the best Pomodoro apps, check our list.
5) Accounting: Generate invoices based on the time spent on tasks or projects, track expenses, or create client estimates. Also, you can create invoices from scratch and use the integrations with payment gateways such as PayPal, Stripe, and Authorize.net.
Paymo's invoicing module is ideal for people who don't want to invest in complex invoicing tools that require extra accounting know-how. For more details, read our article on the best free invoicing software in 2022.
How Easy It Is To Get Started
During the onboarding process, you'll choose your preferred use of the tool (plan projects, track time, manage tasks, or invoice). There are nine different project templates you can pick from to get started with work. There's also a detailed Knowledge Base to explore the more advanced features. Additionally, there is a client community forum and a detailed Knowledge Base to explore more advanced features. The Customer Success Managers, who can help you with the account activation throughout the onboarding process, will also contact you.
How to track your time in Paymo
Pricing
There are four pricing plans you can choose from according to the size of your business and the features you might need:
Free (for one user):  Simple To-Do Lists for your tasks, Kanban Boards to get a more visual look at your tasks, Time Tracking to keep you motivated, Desktop & Mobile Apps to track time offline, Adobe CC Extension for creatives, and Reporting. Also, you'll get 1GB of Storage, File Sharing, Community Support to solve any issues you might encounter, API, and three invoices to get a feel of how easy it is to connect your data to the invoices you send to your clients.
Starter (for one user – $5.95/user/month): Unlimited clients, Project templates, Unlimited Invoices, Estimates, and Expenses.
Small office ($11.95/user/month): You can get the Free plan features +  Invoices, Estimates & Expenses, Advanced Task Management to help you manage larger projects and teams, Project Templates to avoid wasting time with the basics, Dashboard to oversee your project and team activity, and 50GB to store your files. You'll also be able to use Advanced Reporting for your managers and give a detailed look at the project's status and results to your clients, Integrations with other tools you're using.
Business ($24.95/user/month): You can get the Small office plan features + Resource Scheduling for maintaining control of your team's activity, Gantt Charts, Portfolio Gantt Chart, Employee Leave Management, and Online Remote Assistance to answer your inquiries quickly. This plan also gives you 100GB of storage, so you'll never worry about where to keep your data.
There is a 15% discount offered for annual payments—the equivalent of 2 months for free.
The app also supports schools, colleges, and universities worldwide by offering free subscriptions without feature limitations. Paymo also supports anyone who wants to do good for society, as nonprofit organizations are eligible for a 50% discount.
Verdict
Paymo scores 4.5/5 on Capterra and 4.5/5 on G2. The app has also won a series of awards, including Most Usable PM Software (G2's Project Management Usability Index | Summer 2017), The Time Tracking Software with the Smoothest Implementation (G2  Summer 2017), The Best ROI PM Software (G2 Summer 2017), The PM Software with the Smoothest Implementation (G2 Summer 2017), and the Great User Experience Award 2017 (FinancesOnline).
Paymo has the best free plan for individuals and could easily rank in the top three software for time tracking functionality. The advanced task management features, resource scheduling, and accounting modules have you covered if you want to manage projects from start to finish along with your team. Most noteworthy, you can choose any method of time tracking you want. The platform could be even better with GPS tracking, timesheet approval, or a payroll system.
Create a free account and start tracking time right away.
2. Harvest
Large companies, small businesses, and freelancers looking for business time tracking software can all use Harvest. Launched in 2006, they aim to do things the Harvest way: being honest, giving back, innovating, and listening to customers' needs, among others.
Harvest is a simple time tracking tool that bundles timekeeping and invoices under the same roof. It connects both features so you can be paid based on the tracked time entries without exporting data to another system.
Best For:
Freelancers, small, medium, and large teams looking to integrate time and project tracking software with their favorite tools.
Harvest in a nutshell
Simple time tracking software for those who value insight.
Top 5 Features
1) Time tracking and expense management: Track time for specific clients, projects, tasks, and staff members to maintain control of all the activities through web-based time tracking. Don't worry; you'll get email reminders when you leave it on for too long to fix this issue. If you forgot to start it, add time in bulk to the weekly timesheets area. Bonus: Snap a photo and add it to an expense using the mobile app to offer proof of your spending.
2) Team overview: Monitor who's tracking time, when they're working on a specific project, and who's overworked to avoid burnout. You can edit time entries and divide them into billable or non-billable hours for more detailed reports with this software to track billable hours. You can also use the timesheet approval system for enhanced team oversight.
3) Visual reports: Check time entries and compare them to the initial project budget to see if you're on track. The reports also show you the sum you must invoice to be profitable.
4) Invoicing module: Bill clients based on tracked time, send invoices via email, and get paid online through Stripe or PayPal. Native integration with Xero and Quickbooks is also helpful if you already use one of these apps.
5) Scheduling: Through their sister app, Forecast, you can book projects in advance and compare the time tracked in Harvest with the time scheduled in Forecast.
How Easy It Is To Get Started
After sign-up, you'll receive a welcome email to start and create your first project. In parallel, you'll also access the free timesheet and invoicing templates, educational resources for time tracking, webinars (scheduled and recorded), and a knowledge base with tutorials and step-by-step guides.
Pricing
There are two plans that you can choose from after the free trial expires, each adding more features:
Free: You get unlimited invoices and clients for one person and two projects. You'll first receive the full-featured 30-day free trial when you sign up. After this expires, you cannot use the free plan unless you upgrade. You can't upload a company logo, attach files to invoices, integrate with QuickBooks Online, or import data.
Pro: $12/person/month or $10.8/person/month (10% discount for annual payments): 2+ people, unlimited projects, unlimited clients, unlimited invoicing, timesheet approval system to allow managers to have an overview of their team's activity.
You'll have to pay separately for the scheduling feature, Harvest Forecast. ($5/month, unlimited users and projects)
All plans include Time & Expense Tracking, Powerful Reporting, Unlimited Invoices and Estimates, Project Budget Alerts, Timesheet Approval, Integrations with 100+ Apps,  Apps for iOS, Android & Mac, Bank-Level Security, and Phone and Email Support.
Availability: web, iOS, Android, Mac, and as a plug-in for Chrome and Safari.
Verdict
Harvest is one of those time tracking solutions that most users have a reasonable opinion about since the tool got a 4.5 out of 5 (Capterra) and 4.3 out of 5 (G2).
If we were to select the best time tracking tools, Harvest would make our top three. Why? Because it's a great example of a tool that blends time tracking at work with accounting features to ease project delivery and billing. Moreover, their integrations with Xero and QuickBooks make it more convenient for users who already use those tools for accounting or bookkeeping.
The time track software only shows your times after each minute has passed. Beginners who feel motivated if they see their seconds quickly passing would appreciate a more accurate timer that tracks each second of your work. We're looking forward to the possible introduction of a Recurring Invoicing Module to make the entire payment and invoicing process with repeat customers easier.
You can try this simple time tracking tool with a 30-day free trial and test it with its 100+ integrations or use its API to configure your own.
3. Toggl Track
Toggl, a time and project tracking software, takes pride in its remote work culture. They unite a mix of people from all over the world to create one product that can serve all companies. Occasionally, they fly to different cities to meet users in reality and learn about how they use Toggl and how to make it better. They also have a pug named Muffin, whose duty is to bring the cute factor to the team.
Best For:
Toggl Track is best suited for freelancers, small businesses, and medium and large teams that need cloud-based time tracking software.
Toggl in a nutshell
Turn your team on to productivity with Toggl, the time tracker.
Top 5 Features
1) Time Tracking: Available through the web timer or browser extension button that connects with 100+ apps. It works like any other tracker by clicking the play button when you want to start or stop it. You can track time from several places in the app, including the dashboard, where the most active team member will get a motivational first-place spot.
2) Visual reports: If you'd like a visual and easy-to-understand look at your daily activity, you can check your time usage, who's working on what, and how many hours your team spends on different projects and clients from the summary/detailed/weekly reports.
3) Team Overview: See if the project and team comply with the initial estimations regarding logged time and determine which tasks are overdue and exceed the initial budget.
4) Insights: Discover the projects and employees bringing the most revenue. Insights can help you create better estimates and tell you which tasks should be assigned to an employee.
5) Toggl Master Program: This lets you hire a certified Toggl consultant to help you implement the tool. In exchange for a specific price—depending on the plan—you can get help setting up the tool, using Toggl on different platforms, importing data, team management, and more.
How Easy It Is To Get Started
After signing up, you'll get a welcome email from the CEO, including a link to some tips and tricks that can help you start using the tool. Toggl also offers a knowledge base and access to business and productivity resources that you can use for work.
Pricing
Toggl allows you to choose between four pricing plans according to your business' scale:
Basic: Free for teams of up to 5 users: Tracking time, Deleting time entries to correct those unwanted mistakes, Bulk edit, Adding time manually in case you always forget about the timer, Autotracker for multitaskers, Tags, Keyboard shortcuts to make the time tracking process faster, Idle detection, Time formats, and an Offline Mode. Also, you will get a Pomodoro timer to improve your productivity, .csv import, Summary, Reports, Dashboard, Archive projects, Project colors to keep users engaged, Unlimited projects and clients, User groups, and Deactivate users for those moments when an employee leaves a project or team, Team's access level to match each role and status, Team Dashboard for an overall view of activity, and more Integrations.
Starter: $10/user/month ($9/user/month – if paid annually). This plan gets you the Basic plan features + Billable rates, Exporting, Rounding, Bookmarked reports, Company logo for a dash of personality, Project Dashboard, Tasks, Alerts for estimates, Project time estimates, and Unlimited team size because you never know when you'll need another member.
Premium: $20/user/month ($18/user/month – if paid annually). This plan gets you the Starter plan features + Tracking reminders (optional), Locking time entries (optional), Time audits (optional), Scheduled reports to email (optional), Required fields on a time entry for stricter tasks (optional), Adding time for team members since they might forget to do so(optional), Editing team members profile (optional), and Priority support (optional).
Enterprise: custom cost. This plan gets you the Premium plan features (all optional features become available) and Priority support for a more personalized level of service when you're seeking technical help.
You can get 30 days of Toggl for free with access to all features in a plan.
Availability: web, desktop app for Windows, Mac & Linux, mobile apps for iOS and Android, Toggl button for Chrome & Mozilla, Superday (Automatic Time Logging App only for iOS).
Verdict
Toggl gets a 4.4/5 on G2 and 4.5/5 from Capterra.
The reports are ideal for larger companies that want to assess if a team needs more members or financial resources. This time tracking software for small businesses offers data that managers can use to restructure the company and turn its environment into a more efficient one to raise its profitability. The insights also allow you to see which projects and employees bring you more profit, which is helpful since it can help you give better estimates regarding deadlines and resource allocation.
Toggl is a robust time tracking app, but compared to some of the other tools on our list, it lacks when it comes to resource scheduling and accounting. Also, the subscription plans are expensive compared to the other tools on this list. You can use their integrations with Xero and QuickBooks to fix this problem.
We'd also like to see a free option for the Master's program to get companies with low budgets acquainted with the tool.
4. Hubstaff
Hubstaff started in 2012 as a tool to help manage small remote teams. Today, they are the choice of over 8,000 agencies, freelancers, and virtual teams who use them to help them with their daily tasks. Hubstaff is run by a growing team that spreads worldwide and whose primary purpose is to focus on customer satisfaction. Also, they offer a free marketplace (Hubstaff talent) for connecting freelancers and employers.
Best For:
Small, medium, and large teams who want to see what the team is working on (with screenshots).
Hubstaff in a nutshell
Spend less time tracking and more time growing.
Top 5 Features
1) Screenshots and activity rates:  Take up to three screenshots every 10 minutes. They're taken randomly to understand better how your employees work.
2) Team dashboard: See all your team members, when they worked, what they've worked on, their average activity levels, and the total time worked in the past week. You'll immediately notice who is working and who is slacking off.
3) Scheduler: An employee attendance tracker is a way for you to manage the overall team schedule. Get email alerts to inform you of any late, missed, or abandoned shifts.
4) Payroll system: Set up payments only once so you can focus on more important matters without worrying about payroll again. Also, it calculates salaries according to the registered time. Meanwhile, individual pay rates are sent to Payoneer or Bitwage if you'd instead work with a payment gateway.
5) GPS Location: When your team is using the mobile time tracking app for logging time, you'll be able to monitor their location via GPS. You can also track the time worked at a specific job site and determine which locations require more attention.
How Easy It Is To Get Started
Upon signing up, you get a confirmation email, a welcome email after confirming the account, and a walkthrough of the app so you can get started with work. What else will you get? Best practices on team onboarding, a guide for users and owners, and a video tutorial link. You'll get access to live chat, support, and even the team profile pictures to get to know the creators—I found that neat.
Pricing
There are four subscription plans to choose from, each adding more features:
Free: The plan is free for one user, and you'll get time tracking at work, limited screenshot storage, limited payments, and activity levels to see your progress.
Basic: $5/month allows one person (billed monthly) to use Hubstaff. You can get the following features: Time tracking, Screenshots, Keyboard and mouse activity monitoring to make time tracking as accurate as possible, Employee payments, one integration with an app of your choice, 24/7 Support for additional help whenever you'll need it, and Per-user settings to customize each person's account.
Premium: At the price of $10/month for one user (billed monthly), you can get the Basic plan's features and App and URL tracking, Automatic Payroll, Weekly Limits, and Multiple integrations to meet all of your needs. In addition, this plan will give you Attendance scheduling, Invoicing, Location tracking for better employee monitoring, and Project budgets to keep track of your spending.
Enterprise: At $20/month for one user (billed monthly), you can get the Premium features and VIP support, unlimited job sites, concierge account setup, and higher limits on the public API.
All plans change their pricing depending on the number of users chosen from the scale bar. Plans can go up to 200 users.
Annual payments get you two free months. The best part is that you can get a refund within the first 60 days.
Verdict
Available for web, Windows, Mac, and Linux (desktop app), iOS and Android (mobile app), and as a Chrome extension, the Hubstaff time tracking tool received the High Performer award by G2 in Fall 2015. They score 4.4/5 on G2 and 4.5/5 on Capterra.
Hubstaff made our top best time tracking software thanks to their monitoring system that takes screenshots of desktops to ensure work is delivered and to increase accountability. The entire user experience is supported by their clean menu and organized modules that structure the app into the following functions: Dashboard, Activity, Timesheets, Reports, Invoices, and Scheduling. The best thing about Hubstaff? Clients and supervisors can be invited for free and don't count as paying users.
If you're interested in using a simple time tracking software outside browsers, we took a closer look at desktop and mobile apps. The desktop app for Windows will let you choose a project and task and add time. However, you won't be able to create a new task directly from it. The mobile app includes a timer, timesheets, the screenshot feature, and weekly reports if you're on the go. It is a bit laggy, but the GPS and location tracking will compensate for it.
We also mentioned them in one of our previous articles on time trackers.
5. Timely
The Viking representative on this list, Timely, has team members that are self-declared as being "obsessed with time." They aim to make the working day as productive as possible and unlock the 25th hour. The main goal – ambitious, to say the least – is to use that extra time to solve the world's problems and support progress. And that was just what they needed to create a simple time tracking tool that simultaneously tracks time and creates schedules.
In 2016 they raised investments of $1 million, and the company is growing with two investors to back them up: SNÖ Ventures and 500 Startups. So, is it that good? We took a closer look at the product to find out.
Best For:
All kinds of teams and individuals who want to automate their timesheet creation process.
Timely in a nutshell
Find time sinks, balance workloads, and get a detailed record of work done across the organization—all without the hassle of manual timesheet creation.
Top 5 Features
1) Automatic timesheets: Using the AI-powered Memory Tracker, you don't have to think about starting the timer again. Work on your tasks while the timesheet gets populated. Additionally, connect your calendar to automatically add your meetings to a timesheet once you confirm them.
2) Copy and paste time entries for several days: Suited for freelancers, it makes your work on recurring tasks much more manageable by shortening the time you spend adding time entries.
3) Scheduler: See what's been worked on versus what was planned from a single place – a combination of a timesheet and scheduling features. See how much of your budget you've scheduled. Similarly, find out how much you have left to assign for more tasks and resources.
4) Team Dashboard: Monitor who tracked time and who didn't—every month. Ideal for teams, it can help you evaluate workload and avoid burnout.
5) Automatic reminders: Choose when everyone receives a notification to add their time—no need to nag your team repeatedly to do this.
How Easy It Is To Get Started
You get a welcome email where you'll be prompted to add projects and team members. Also, you'll receive some links for downloading the apps and shortcuts to specific features that might be useful.
As soon as you sign in, you'll go through a survey to gather information about your team and your goals for using Timely. Then you're advised to install their Memory tracker app. You can skip this part if you don't want to get it yet. There is also a page that offers help guides and another for product updates for the latest features.
Pricing
To use Timely, you'll have to choose between 5 different plans. Each subscription level is made for different types of businesses and individuals:
Moonlight: $7/month ($6/month if paid annually): 5 active projects – For only one user, you'll get to track your computer activity (only for the current day) and time spent in meetings or your favorite apps.
Freelancer: $14/month ($13/month if paid annually): 25 active projects – Includes the Moonlight plan features + track computer activity for all days, get your work categorized by AI, and lock timesheet entries to prevent changes.
Professional: $23/month ($20/month if paid annually): unlimited active projects – Includes the Freelancer plan features + in-app support, notifications on potential logging errors, project and team planning, and tagging for timesheet entries.
Growth: $99/month ($89/month if paid annually): 50 active projects and five seats included – Includes the Freelancer plan features + track location activities.
Business: $299/month ($269/month if paid annually): unlimited active projects and 15 seats included – Includes the Growth plan features + in-app support, notifications on potential logging errors, teams organization, log time for others feature, project and team planning, and tagging for timesheet entries.
Custom packages for over 25 people apply.
Availability: web, Mac, and Windows (desktop app, Memory Tracker), iOS (location tracking) and Android (mobile app), iPad, and Apple Watch.
Verdict
With some of the fewest user reviews on our list, Timely scores 4.8/5 (G2) and 4.5/5 (Capterra).
Timely made our top best time tracking software thanks to their fully customizable reports. We know how complex reporting can be. However, with Timely, you can choose from a wide range of business, appointment, customer, and staff reporting templates to evaluate your performance.
For more control, we advise you to create your templates. You can also log time entries into Outlook, Office 365, and Google Calendar or use the other integrations: GitHub, Gmail, Todoist, Timely's own GPS Tracker, and phone calls with Android. From a sales perspective, we have to say this is super cool.
On the other hand, some minuses in terms of features are the missing Invoicing/Estimates/Expense module and Payroll module option. There's a 14-day trial available for testing the app for free.
6. TimeCamp
TimeCamp, a web-based time tracking software, was established in 2009 as a one-person company and a seed capital investor. Today they have offices in Los Angeles and Poland, where people are working to improve the tool.
To help their goal of implementing the time tracking process for B2B service companies, they have one of the most robust lists of integrations we've seen so far: Buffer, Dropbox, OneDrive, GitHub, Instagram, Tumblr, Pinterest, Survey Monkey, Reddit, Slack, HipChat, Evernote, Salesforce, Toggl and Harvest (analyzed earlier in this guide), Clio, Formitize, Zapier, and many more.
Best For:
Freelancers, small, medium, and large teams who want to keep their productivity in check.
TimeCamp in a nutshell
Time tracker with computer activities, productivity monitoring, attendance tracking, integrations, and more.
Top 5 Features
1) Income function: Calculate income by assigning billing rates to different projects or people.
2) Powerful reports: For more accurate reports, choose from different templates according to tasks, users, attendance, day, billable vs. non-billable time, etc.
3) Invoicing module: Track how many billable hours people work on paid projects and how many hours are spent on internal, non-billable projects. Invoicing is done automatically based on the registered hours to make your work faster. You even receive notifications when a client views an invoice.
4) Productivity verification: Reports display the top productive apps and sites you use, including time spent on documents and overall computer usage. You'll also be able to approve timesheets, set goals, and receive weekly email summaries to ensure that your team is productive and not wasting any precious time.
5) Attendance and Time off: See how many paid hours your team logged in and get a complete analysis of when they started and finished their work to keep everyone in check and avoid leaving someone behind with their duties to ensure compliance with the company's rules and increase accountability.
How Easy It Is To Get Started
The downside of the onboarding experience was that we got no welcome email to guide us. However, when you add a task, you'll get access to a knowledge base, product updates, and on-screen help points.
Pricing
For TimeCamp, there are four pricing plans from which you can choose:
Solo: Free: Only one user can use this plan, but you get the time tracking feature.
Basic: $7/month, $5.25.month if billed annually: There is no user limit, and you get time tracking, data exporting, integrations with your favorite tools, and billable time & budgeting.
Pro: $10/month, $7.50/month if billed annually: Includes all of the Basic plan's features and invoicing, scheduled reports, timesheet approvals, project costs & billing rates, and screenshots of your employees' desktops as well.
Enterprise: custom price: Includes all Pro plan features and dedicated guidance and support, single sign-on, on-premise dedicated infrastructure, and active directory integration.
You have access to a 50% discount if you're a nonprofit organization, university, or school.
Verdict
Available on the web, Windows, Linux and Mac (desktop), iOS, and Android (mobile app), TimeCamp has gained a series of awards in the past years: Expert's Choice – 2016 Award – by Finances Online, Category Leader 2017 by GetApp, Great User Experience – 2017 Award – by Finance Online, and Featured company on FitSmallBusinesses.
The app scores 4.6/5 on G2 and 4.5/5 on Capterra. For now, we're looking forward to a more user-friendly experience with improved communication and clearer interface design in the future. It also needs a Resource Scheduler module and maybe even a location tracker similar to what TSheets already has.
Yet, we gave them props for their Computer Time data tracking that offers an in-depth look at what your employees are doing during work hours. Through their reports, you'll see which apps, sites, and documents you're using, so you'll find out how to become more productive when using your computer. Also, managers will track this through summaries and approve timesheets to ensure that an employee is not slacking off. This feature can also be a fit for anyone trying to improve productivity.
Learn more about why automatic time tracking is a must-have for your tool.
7. TrackingTime
TrackingTime is one of the time tracking tools for projects. Starting in 2012, TrackingTime is a collaborative and cloud-based time management program that aims to help companies of any size manage their projects, track work time, and measure team productivity. Currently, the company is in the US and has other locations in Buenos Aires and Munich. They regard time as the most valuable asset of a company. For this reason, the TrackingTime team's primary goal is to empower companies to manage their most vital resource effectively.
Best For:
Freelancers, small, medium, and large teams who want to track their progress in time.
TrackingTime in a nutshell
Bring your productivity to the next level.
Top 5 Features
1) Schedule Repeating Events: Repeating events let you edit recurring time entries in batch and avoid manually entering them.
2) Automatically sync your due dates for projects and tasks with your calendar: TrackingTime supports Gmail, Outlook, Mail, and all the other major email clients.
3) Import Time Entries: Import clients, services, projects, tasks, and time entries directly into your account.
4) Working On!: See what tasks are being tracked from the activity tab to avoid unnecessary interruptions and empty time slots in the team's schedule.
5) Get weekly overviews of your team's activity: Manage your tasks and time entries from the calendar view or edit them in bulk.
How Easy It Is To Get Started
In addition to a confirmation email, you'll go through a setup wizard—with a clear and responsive design—to add a project and some tasks. Then, the timer automatically starts tracking each second of the task.
Pricing
TrackingTime lets prospects pick from 3 plans according to the size of their team:
Free: for teams of up to 3 users: track time, Slack bot, time estimates, basic reporting, day calendar views, sync due dates with your calendar, branded project reports, notifications, desktop and mobile apps to keep you connected on the go, integrates with many popular services like GitHub and Gmail, export timesheets and reports to CSV, duplicate tasks and projects, set task priorities, subtasks, task comments, add billable rates and mark time entries as billed, project colors, unlimited clients, limited to 3 projects and 100 tasks.
Pro ($4.99/user/month): includes the Free plan features + week, month, and team calendar views, view and edit time for team members, work schedules, automatic time audits, set time estimates for projects and tasks, export to PDF and Excel, company and project dashboards, saved reports, report data visualizations, group and filter data by clients, employees and more, automatic rounding, timecards with extra hours and paid time off, projects access control, user roles and permissions, real-time activity monitoring, unlimited users, collaboration, tasks, and projects.
Business ($9.99/user/month): includes the Pro plan features + user groups, audit logs, Google SSO, 99% Uptime SLA, priority support, unlimited users, collaboration, tasks, and projects.
Refunds and discounts for academic/nonprofit organizations apply.
Verdict
This simple time tracking software has the fewest reviews from any we've analyzed so far: 4/5 from 11 reviews (G2) and 4/5 from 5 reviews (Capterra).
We'll place this time logging software in our list for great responsive UI and time tracker portability since it's available on Mac (desktop app), Windows, Linux (chrome extension), iOS and Android (mobile app), and as a Chrome extension. From the mobile app, you'll be able to add tasks, projects, and time entries or start tracking time by clicking on an existing task. Also, you can even see today's activity and manage all of your projects. Yet, an approval system feature would be a bonus that could bring more users.
8. Time Doctor
TimeDoctor is a team time tracking software created by the owners of Staff.com. TimeDoctor has been around since 2012, and it lets you choose from their desktop software, mobile app, or web platform.
TimeDoctor focuses on allowing customers to build distributed teams so they can now work out of an office, wherever, and whenever they want to. The Time Doctor staff is the second fully remote team on this list. They currently have employees from 23 countries who aim to bring diversity and miscellaneous ideas to the team.
Best For:
Freelancers, small, medium, and large teams looking to keep track of their payroll besides just time tracking.
Time Doctor in a nutshell
Teams using Time Doctor save an average of $37,000 a year in lost time.
Top 5 Features
1) Screenshots: If you need or want to monitor your employees, particularly remote ones, you can see what they're doing in real life. You can also use screenshots to review work processes, improve productivity, and develop strategies. They will only be taken when team members start work on a task and not during breaks.
2) Payroll: You can pay team members based on the tracked entries or fixed salaries. The payroll setup is customizable to match your currency, financial regulations, company requirements, and more. You can connect the tool to PayPal, Payoneer, TransferWise, or any other method of your choice for more freedom.
3) Alerts: Receive notifications when you are not working. One common reason why a notification feature is suitable for personal productivity is that it helps you curb procrastination.
4) Reporting: Track time spent on each website, app, or task. The tool records overall Internet usage during work time to ensure that your employees are not slacking off. It creates weekly reports that show the exact websites and applications that were used. Users get the same report outlining their work time statistics to improve their work activity rates.
5) Automatic time tracking: You might be one of those people who forget to turn the timer on or off. Time Doctor stops tracking your time when there's no keyboard or mouse activity for a while for precise time-tracking.
How Easy It Is To Get Started
As soon as you sign up, you'll have to choose one of the other applications and integrate them with Time Doctor. You can skip this step and customize the features you will use the most. You'll also get an email from one of their employees asking you about the size of your company. If you're having problems using the tools, you can use the help center or contact their support team.
Pricing
There is only one plan at Time Doctor at $9.99/user/month. Features included: Track time, tasks, and projects, Screenshots and mouse/keyboard activity, Website and application tracking, Payroll and payment integrations, Schedules and attendance report, GPS tracking option on mobile apps, Integrations with 20+ partners, Support From Live Agents, Managers can approve manual time, White labeled login interface, multiple users.
Verdict
With 4.3/5 on G2 and 4.5/5 on Capterra, we added Time Doctor to this ranking because it's straightforward and fast to create an account and start using it, and it has one of the best personalization options on this list. Likewise, their mobile and desktop apps work well in helping you track time and organize your tasks. The mobile app has GPS tracking and lets you see your current and future tasks. You can either add a task or start the timer for an existing one.
You'll also see the time you've worked and a dashboard. The desktop app performs like the mobile one, but it's designed only for time tracking and organizing tasks into folders. You can add tasks or start registering time for existing ones. However, like many other of the already mentioned best time tracking software, it's missing the Invoicing module.
9. Everhour
Everhour is a time tracker that can go way beyond just time management: it provides multiple extra features such as custom reporting, integrations, billing and budgeting, invoicing, estimates, scheduling, visual aids, and so much more. It is a tool that allows for flexible and unintrusive time management while being efficient and fault-free, thus helping managers and employees to build a more trusting relationship and track their time without failure.
Best For:
Smaller teams and companies that are looking for an all-in-one tool.
Everhour in a nutshell
Not only an impeccable time tracker that doesn't let a minute slip through but a top-notch project management assistant, Everhour can easily make your workflow smooth and flawless.
Top 5 Features
1) Integrations. With more than 30 integrations under its belt, Everhour provides seamless integration and synchronization with the most popular tools many teams around the world use – from Asana and Jira to GitHub and Salesforce.
2) Real-time dashboard. You can watch online who's working on what at the moment, see their progress and past activities, and manage the workload accordingly, ensuring everyone is on track. Everything is at a glance on a single page.
3) Custom reports: With Everhour, you can create accessible and transparent reports with customizable parts tailored specifically for any client or team member.
4) Timesheets. Manage your team's time entries, edit and change them if needed, and personalize them any way you want. Create time-tracking reports and audits using this data to identify possible pain points.
5) Project and task management. Everhour provides a "projects" tab that lists all internal and synchronized projects. You can filter tasks within those projects as billable or non-billable and set budgets for them.
How Easy It Is To Get Started
Download the Everhour extension for your browser of choice and connect it with your external project management tool. Time tracking controls will appear inside your tool, and all your data will automatically sync so you can start working immediately.
Pricing
Everhour's pricing is pretty straightforward. You can easily choose a pricing plan that suits your needs and budget.
Free: unlimited time tracking, project planning, reporting, and full access to the browser extensions, integrations, and mobile app. It's available for up to 5 users.
Lite ($5 per user a month if billed annually/$6 per user per month if billed monthly): Free features + a wider feature set that includes invoicing, budgeting, billing, reminders, scheduling, API, fast support, and is available for up to 10 users.
Team ($8.50 per user a month if billed annually/$10 per user per month if billed monthly): Free and Lite features + unlimited users, time tracking audits, SSO, priority support, time cards, time off, screenshots (optional), expense tracking, and many more.
Availability: cloud-based, i.e., works via browser extensions on Google Chrome, Safari, Mozilla Firefox, Microsoft Edge, and Opera, while also being available on most desktop and mobile operating systems, including Windows, macOS, and Android.
Verdict
Everhour scores 4.7/5 on Capterra and 4.5/5 on G2, which is one of the highest scores for time trackers. It has several pricing plans, so it can be used by teams with various budgets. You can manage your projects from start to finish – from payroll and budgeting to timesheet approval and resource scheduling.
The Everhour team constantly works on updating the tool, for example, by adding new integrations and features it may lack. Despite its feature-heavy nature, it's very simple to master and get the hang of – there are also helpful materials and resources you may use if you're confused.
The only con is the lack of offline functionality that forbids users to track time without an internet connection.
10. RescueTime
RescueTime is yet another distributed company with members across the entire United States. In January 2008, they were funded by Y Combinator and got the additional Series A Financing by True Ventures the same year in September.
Among all the web-based time management tools, this employee time tracking software claims to offer a different type of approach. Also, they dislike traditional employee monitoring methods that get employees to always wonder if their manager is checking them every single second. Through the RescueTime hour tracking software, they want to promote trust and encourage the fair use of creative solutions to solve work-related problems.
Best For:
Small teams and individuals who want to see where their time at work goes.
RescueTime in a nutshell
RescueTime helps you understand where your time goes each day. Optimize your energy. And take back control of your day.
Top 5 Features
1) Block distracting websites: Choose which applications you want employees to stop using and the time when you want to block the app. This can ensure that your team is not slacking off on websites that provide no value for the project.
2) Set goals: A goal can keep you on track and improve productivity. Progress appears on a dashboard, weekly email reports, and goals reports.
3) Detailed reports: Show which applications and websites you or your team spend time using. Additional reports show your time based on different categories, how productive you were, and if you met the goals.
4) Productivity score: Activities are grouped into existing categories that highlight productivity scores for thousands of websites and applications. You'll also receive a weekly email summarizing your productivity to help you improve your work.
5) Daily highlights: Add context to your finished activities accomplished each day. Use these to motivate you for future tasks and to have proof of your work.
How Easy It Is To Get Started
A welcome email will prompt you automatically to download the app and sign in. You'll get access to a Getting Started guide, the knowledge base, and a tour to get to know the app's key pages and features.
Pricing
For RescueTime, there are three pricing plans that make the decision process more manageable:
RescueTime Lite (Free): track time in websites and applications, desktop and mobile tracking, set goals, weekly email reports, and 3-month data history for a more comprehensive outlook on how you spend your time.
RescueTime Premium (from $6/month): Lite features + get more advanced features such as custom work hours, goal alerts, and the option to block distracting websites. You can also keep a log of your daily accomplishments, detailed reports, and unlimited report history.
RescueTime for Orgs (from $6/month for each team member): Premium features + team-level productivity trends, reports for key tools, uncovering inefficient processes, and total employee privacy.
Availability: web, Desktop app, or Windows and Mac + mobile app for Android (iOS coming soon) + browser plug-in (for Chrome, Chrome OS, and Mozilla).
Verdict
There aren't that many reviews for you to judge the tool: 4.1/5 from 61 reviews (G2) and 4.5/5 from 90 reviews (Capterra).
It's one of the best tools for automatic time tracking because it runs in the background and breaks downtime into activities that are productive (Business, Utilities, Communication, and Scheduling) and unproductive (shopping, social media). Alternatively, to become even more productive, you can set goals to keep you on track with doing your work persistently and maybe even improve your pace and manner of working. Also, you can see your progress on a dashboard and in email or goal reports. You'll get notifications to remind you of these. Yet, for now, the tool is relatively simple compared to the others as it doesn't have an Invoicing module, Timesheet approval system, or Resource scheduling.
The only option to see the real capabilities of the tool is to try their free trial. However, you need a credit card to sign up.
11. Workpuls
Workpuls (now Insightful.io) is at its core an employee monitoring software with automatic time tracking features that let employers and managers monitor how their team members spend time on their computers at work. And most importantly, it tracks productivity levels in a non-sophisticated way—as a way to scratch their own itch—through a small widget that tracks all your activities.
Best For:
Small, medium, and large teams in need of a solution to track every second they spend at work.
Workpuls in a nutshell
Own Your Company's Biggest Asset – Time
Top 5 Features
1) Regular Screenshots: You can set a specific number of screenshots/hour you want to get proof of what your employees are working on.
2) Productivity Analysis: Get up-to-date charts of your team's working style and adjust them for increased performance.
3) Activity Categorization: An employee's computer activity is instantly added to a specific category so you can see exactly how they spent their time.
4) Time and Attendance: You'll see the exact times when a user has started and ended their activities and workday so you can forget about punchcards.
5) Monitor Computer Activity: Get a closer insight into how your team uses certain apps or websites to spot any (abnormal) usage patterns.
How Easy It Is To Get Started
Each employee will be taken through a setup wizard to install the tracking tool on their computer. Once installed, the app will automatically record what the employee is doing on their computer. All you have to do is set a series of rules, such as which apps and websites are productive or not or which employee is working on a specific project, task, or flow.
Pricing
There are three essential plans you can choose from when it comes to using Workpuls for time tracking. Note that all subscription levels offer similar features and differ mainly when it comes to how often you are willing to pay for the tool:
Monthly ($6/user/month): Apps and Websites, Screenshots, Projects, and Task, Real-Time Monitoring, Timekeeping, Offline Activities, Payroll Calculator, Manager Login, Client Login, Employee Login (Optional), Customization (Charged additionally), API, In-App/Email Support
Yearly ($57/user): Monthly features + Phone Support
Enterprise (price upon request): Yearly features + Dedicated Account Manager, On-Premise Option, and Raw Data
Verdict
This tool is recognized by its users as a recommendable option when it comes to time logging software, with a caveat – the fewest reviews from any we've analyzed so far: 4.5/5 from 39 reviews (Capterra).
Out of all the time tracking tools, Workpuls is really more than a timekeeping system as it allows you to monitor time spent on a certain project or task automatically and get the data in a visual format for easy analysis.
The task management features are not as strong yet. Other features, such as resource scheduling or accounting would be an excellent addition in the future, considering they already have the time-related data necessary to work with.
---
By now, you've probably chosen 2 or 3 online time tracking tools to look at. The best time tracking software is one that meets your business requirements, delivers what you need to get work done, helps you complete your work, and is easy to use for your entire team.
But your personal experience with the app might be the decisive factor when choosing the right time tracking software. Therefore, with all this information at hand, you just need to start a free trial and "play" with the apps. Test them thoroughly and invite your team to do the same.
On top of time tracking, you need task management to keep track of your daily duties and time reporting features based on your work to measure performance and monitor past activity for future reference. Time tracking works even better when you pair it with other features. What's also great to have—and it's becoming increasingly popular—is an invoicing feature. Read our invoicing guide for examples and processes for generating invoices based on time tracking and what invoicing mistakes to avoid.
As a freelancer or business owner, a simple invoice generator allows you to insert your details and signature to create, send or download an invoice in under five minutes.
Other nice-to-have functionalities, such as automatic time tracking, team resource scheduling, or accounting capabilities, help balance your time, budget, and human resources. Moreover, you'll no longer have to switch between apps, tools, and techniques to complete your tasks.
NOTE
: Check out our
task management guide
to find out more about how you can prioritize and organize your tasks using relevant tools and techniques. Also, you might want to look at these professional cloud-based tools that we included in this top list of
resource management software
or the best
Gantt chart software
in 2022 to view and do project planning—besides just tracking time.
What does time-tracking software do?
You've probably asked yourself what hour tracking is or "how do I track my work hours?"
Time tracking software is a type of computer software or mobile application that allows a user to register time spent on tasks or work in general. It is used in various industries, especially by those who employ freelancers, contractors, and hourly workers. It is a must for those who bill their customers by the hour.
Why is time tracking important?
If you're not yet convinced about the utility of time tracking, have a look at the following benefits:
Identify non-essential tasks: You don't have the necessary time to spend on just any activity. Time tracking can help you replace unimportant tasks with productive ones. You can export this data into reports and timesheets, so you can use them for your next projects to avoid wasting time. This is another reason you should pair time tracking solutions with task management. It's even better to avoid data clutter if these two features are part of the same native app.
Improve time estimates: You can use previously tracked time entries as the primary indicator for your future projects. Through them, you'll make better estimates for the following tasks and set more accurate deadlines for similar projects. Monitoring their evolution can help determine if a worker will have time to finish a task based on past activities. Also, underbooked employees can take charge of others' work for faster results if they have the right skills.
Get paid fairly:  If you're a paid-by-the-hour freelancer, an easy-to-use time-tracking software will help you get the amount of money you deserve. It can eliminate guesstimates and awkward conversations with problematic clients who are unwilling to cooperate or hesitant to decide on a pay rate. You'll have the evidence of your work securely stored online and measured second by second with all your time logs.
Key Criteria for Choosing Top Time Tracking Software
Here are the seven key factors that we took into account when reviewing this project time tracking software in this guide:
Core Features: The most important things that should influence your decision are the time tracker software's main features. Task management and online reports are indispensable; time-tracking working hours is the basis of timesheet software for billing purposes. Functionalities such as automatic time tracking or invoicing add value and can distinguish between a great app and one that will do the job for the moment. Also, teams can use resource scheduling and time tracking, but this feature is useless for individuals. Before choosing a final product, talk to your team and find out their needs besides your project's requirements.
Onboarding process: We've gone through each step of the onboarding process to see precisely how easy it is for a user to get acquainted with a new tool. Some perks of the onboarding process include tutorials, guides, customer support, free resources or templates, and other helpful features that can help you start faster. Why bother about it? Because you'll be able to use the time tracking app to its full potential from the very beginning only through a clear and detailed onboarding process.
Cost: Consider your budget and what you want to pay for. Some top-time tracking tools charge more for additional users, so you'll need to consider the number of active users on the app at the same time. Don't forget to count the extra costs you might encounter while onboarding new employees or transferring existing project data, documentation, and team schedules into the platform. Also, keep a close eye on any special offers from time to time.
Support: You might have to resort to customer support regardless of how prepared your team is regarding tech skills. Support for the product should be easy to access so you can get help quickly. Examine the available languages to avoid any miscommunication problems. Pay attention, though – the degree of offered support can rely on your subscription level. Talking to an Account Manager might only be available with premium plans for some apps, so consider how much money you are prepared to commit.
Reviews: Even though every tool works differently for each business, you can see what existing users have to say. Capterra and G2 are two reliable user review platforms that aim to provide objective user feedback. These reviews serve as a basic orientation of aspects that you must analyze and test yourself before deciding if a time-track software is the right fit for your business.
Awards: Some of the best products win awards. That is unless we're dealing with a new app that has had no chance to be nominated for one yet. The press page of each tool often highlights the awards they've picked up over the years and the reasons for receiving them.
Extra features: Think of any other feature you might need, anything from GPS tracking and integrations to a timesheet approval system, a payroll function, or even a clean or colorful design to keep your team engaged.
Tip: Take these seven factors and grade them according to your needs. First, create a spreadsheet. Then, write down your must-have features (give 5 points for each one), nice-to-have features (2 points for each one), and bonus features (1 point for each one). Add it up to create your rating of the best time-tracking software and make your own top to test before choosing one.
Time tracking: the good, the bad, the ugly
Time perception is tricky. Have you ever had the feeling you've been slaving away for hours only to find that barely an hour has passed? Since our perception is subjective, we need an objective way to evaluate how we spend our time. This is where time tracking comes in handy.
Time tracking is the measurement and documentation of time spent on any kind of activity. Time tracking and its success is a matter of perspective and company culture. If employers use it as a tool of control, then it stifles employee creativity and motivation. If employers use it right, then it fosters productivity and engagement, and it boosts profitability.
Time tracking is multifaceted. You can be its staunch supporter thanks to all its benefits, be wary of it due to its misuse, but also be oblivious of your personal flaws as a productive individual – all at the same time.
The Good: increased productivity
Think of time tracking as a fine-tuning method for a more productive and intentional way of living.
On a personal level, keeping track of your tasks and endeavors will give you a better picture of your time spent outside your workplace. If you can't remember what you did last week, then that's a problem.
When you track your activities, you are basically sketching out all your commitments. You can sift through them and gain insight into what truly matters, e.g., quality time with your loved ones, honing that skill or craft, and so on.
On a professional level, there's a plethora of time-tracking benefits both for companies and employees:
If you want to boost your productivity exponentially, tracking time gives insight into optimal patterns of work throughout the day to assist employees in work-from-home environments. Optimal patterns of work – besides external factors like child-rearing and quiet hours – include the influence of your circadian rhythm on mental efficiency, the post-lunch dip with regard to performance, and the impact of time of day on cognitive functions.
One simple example is the morning lark/night owl paradigm. Some people are extremely productive in the morning, while others get in the zone in the evenings. When do you engage best in deep work? When should you avoid the post-lunch dip? Time tracking can give you an objective answer, allowing you to optimize your productivity, which will, in turn, give you a major confidence boost.
Whenever you track your time, you remind yourself that effort trumps talent. The truth is that you have to put in the hours to get things done. After you track your time for a while, reflect on your accomplishments.
Scratch the 10,000 Hour Rule but pat yourself on the back when the project you've been toiling for weeks finally pays off. When you are aware of all the hard work you are putting in, accountability comes as a by-product. This, in turn, leads to a feeling of greater responsibility towards your own work. You become aware of your contribution and role in that project you've been working on with your team.
Another benefit is that it increases profitability. Time tracking makes perfect business sense. It's great proof of work. Not only does it identify top performers (and even reward them), but also spots possible scope creep, project inconsistencies, miscommunication, and poor time/budget estimates. So, time tracking can also be used as a metric to assess your company's turnover rate (employees' intention to quit).
Speaking of turnover intention, that also happens when employees feel overworked. This is why time tracking facilitates workload distribution. Managers see which employees are under or overbooked and can make adjustments to their workload. Moreover, it allows you to manage and work on multiple projects at once.
By consistently tracking your time, you can tell how many hours you can or should put in for a specific task or project. It helps you (re)iterate. No more guesstimates – time tracking improves project estimation.
Another benefit to bear in mind is that it reduces multitasking and distractions. When you track time on a set task, your brain won't feel like switching between tasks as often since it's a hassle to keep adjusting your timesheet entries. Whenever your mind wanders, you can glance at the timer and remind yourself of the task at hand.
So, in a sense, time tracking also increases employee well-being. It reduces the chance of burnout. It reminds you to take a break, to rest, and not to overwork yourself. Make sure you take a short break every hour or so. When working remotely, time tracking can give you the cue when to call it a day.
The Bad: Fear
So, if time tracking is such a boon to employees, then why won't more people do it? A 2021 study shows that employees are more likely to pretend they are working when employers track their productivity. When a time-tracking system is first adopted, employees tend to be overly conscious of this fact – some might feel as if they're being watched or spied on. What makes time tracking so hard is a matter of perception instilled mostly by fear:
Fear of micro-management.
Employees don't want to track their time because they feel micromanaged. There's a sense of distrust, and employees feel intimidated if constantly evaluated by their immediate superior or whoever has access to their time entries. In turn, employees feel like they are less valued (and valuable). They become frustrated with their work environment.
This inevitably leads to burnout or turnover intention, i.e., the desire to quit your job. Read more about the dangers of micromanaging.
Fear of privacy violation.
Certainly, screenshots help you gain the ability to view what employees are working on in real time. But there is mounting evidence that screenshots negatively affect employee trust in management, including this 3-week experiment, in which employee behavior was minutely monitored: keyboard strokes, mouse movements, and screenshots snapped every 10 minutes. Yikes!
Other time-tracking software features such as geofencing (a virtual set of boundaries automatically clocking the employee in and out) and geo-tracking (monitoring employees' real-time physical location) have garnered popularity, especially in light of the pandemic. Although the benefits outweigh the drawbacks, such detailed monitoring raises legal concerns of privacy violation, as stated by US law firm Williams Mullen.
Fear of inadequacy.
There are different work styles, and these particular four – perfectionists, multitaskers, imposters, and creatives – are more resistant to time tracking. It's not out of malevolence – it's a bit of impostor syndrome here, a bit of disorder there.
Some of these employees might feel that tracking time is a tedious task. Others might feel a loss of autonomy, leading to decreased motivation. Let's address these four different work styles by offering some advice:
Advice to the perfectionists.
Implement the 80/20 Rule (aka The Pareto Principle). There have been cases when overly conscious workers would adjust or even delete time entries because they didn't feel that their work was good enough (perfect) to qualify as "time worked."
Perfection is difficult to achieve, and you'll be surprised that, more often than not, perfection is not necessary—task completion is.
It's also a possibility that time tracking feels daunting because, mentally, you feel the urge to track everything down to the microsecond (and that's why you don't want to do it). If that's you, set a challenge for yourself to track only tasks taking longer than 10 minutes. Rough estimates will do. Don't be hyper-specific – adding bulk time or using established increments (30 minutes or 1 hour) is good practice to overcome perfectionism.
Advice to the multitaskers.
Time block. Use a scheduling tool to block a few hours a day and let the rest of the team know you're doing focused work. Here's another tip – instead of having granular tasks, fuse them into more general tasks. You will at least take the task of switching between entries off your multitasking brain. Maybe you won't have an in-depth analysis of your time allocation, but you will at least have a good idea of how long a project took.
Advice to the "imposters."
You're not. A 2020 mental health study shows that up to 82% of employees at one point in their career doubted their achievements and abilities in spite of their great results. On top of the self-doubt, there's a sense of being a fraud, and thus a fear of being exposed, which in turn is linked to a reluctance to track their time – especially when they feel that the time logged was barely productive.
All the more reason to track it. Keep all those entries as evidence of your effort and growth. You'll look back on certain projects and give yourself a pat on the back. You've done great!
Advice to the creatives.
Eat that frog! You might feel like your creative talent is on a timer or that you're commodifying it. You might feel constrained by a 9-to-5 schedule because some of your best ideas happen serendipitously. Maybe your best work takes place in your flow state during unsociable hours. Even so, you have to be intentional about tracking time for the task at hand because it will prove insightful about finding your time frames when you are at your best.
Granted, there are micromanagers out there, especially now when working from home has led to a perceived loss of control over their employees. But that doesn't happen as often as people would think. What good managers take from time tracking is better feedback, a clearer picture of employee performance.
The Ugly: Time Theft
Now here's the ugly side of time-tracking. It's on the opposite pole of fear of inadequacy. There's no other way to put it… it's cheeky and sometimes unethical. It's called "time theft." Time theft may sound like a dystopian science fiction novel, but it's actually a widespread reality in the workplace.
In short, it's stealing company time. It's when you log more hours than actually worked when you buddy punch for a coworker or work on personal matters while on the clock. Caveat – this does not include necessary breaks, errands, or commutes that are compensated by the employer.
The Office – Unethical behavior at work – Jim makes Dwight abide by the company's "time theft" policy.
Time tracking prevents systemic time theft while encouraging employee accountability. This way, if you encounter time theft, you can examine whether the employees are being cheeky about it. Is it habitual? Is it accidental? Either way, how do you tackle time theft? Even so, understand that squeezing every drop of productivity is simply not possible.
Try at first to tackle it indirectly:
Boost employee morale. When highly engaged and motivated employees feel valued in the workplace, they perform better.
Create a culture of ownership. Employees who have a sense of autonomy are more likely to develop a positive work ethic, thus minimizing (un)intended time theft.
Assess whether it's worth addressing the issue. In an 8-hour workday, the average employee is productive for about 2 hours and 53 minutes. So even if you make sure you get those 10-15 minutes of stolen time, how will you make sure they won't waste it?
If tackling it directly is absolutely necessary, start by addressing the issue in a one-on-one meeting. Don't shame them in public. Reinforce the rule against time theft. Other ways to prevent employee time theft is to monitor them by using GPS tracking or geofencing, screenshots, URL tracking, or using biometric time clocks. Still, such tracking tools pose legal concerns, such as privacy issues and surveillance.
Parkinson's Law
You're probably not going to get fired for this. It's possible that both employees and managers are not even aware of it. I daresay it's a form of unconscious time theft. Take the following example:
How do you tackle a project if you have a month to finish it? Do you fill up three weeks doing the bare minimum only to find yourself working until the wee hours of the morning to meet your deadline?
You're definitely not the only one – it's actually more common than you would think. It's why students start studying a few days before the exam and why employees complete their tasks a few hours before the deadline. This phenomenon has been theorized as Parkinson's Law:
It's our tendency to fill the time for work instead of actually working. For example, It's only 11 am. I'll just file that report after I <insert an insignificant task right here>.
It's our perception of how much time you deem necessary to complete a task. For example, Writing that report will probably take me 4 hours, which I don't have right now. The deadline isn't until next week anyway. I'll just make time then.
Parkinson's Law is an observation of how we've been cheating ourselves out of precious time. Now, you're probably thinking this is far-fetched or that we're implying an extreme work ethic, but hear us out.
What's really the issue?
Perceived mental effort. Employees think that the longer a task takes to complete, the higher quality it must be. For instance, if you allow yourself a month to finish a task that could take 10-20 hours, then psychologically, the task will seem more difficult, and it will inevitably take the whole month to complete.
So people put off completing a task because they believe it is more complex than it actually is, requiring them to be at their best – which is always tomorrow, right?
Why counter Parkinson's Law?
Reason #1 – business impact. If a task takes about 10 hours to finish, think of creative ways to finish it in 5, and redirect the other 5 for some high-impact tasks (especially critical or high-priority tasks). All these efforts accumulate in the long run, saving you time and money. Business impact benefits from the principle of working smarter, not harder.
You'd be surprised that when the need arises, you can finish a similar task in a shorter timeline. It's why building a bridge takes months or years to complete, yet in case of natural disasters, it's rebuilt in a matter of days.
Reason #2 – intentional living. Oftentimes we feel guilty (even ashamed) about putting things off or taking too much time finishing a task. If you're tired of slugging through your week, not feeling like you're accomplishing much, take the bull by the horns. Challenge yourself to halve your project estimates. You'll be more focused, and you'll be able to engage in deep work.
Plus, no more burning the midnight oil a few hours before the deadline. All in all, actively working against Parkinson's Law improves the quality of your life—at least to a certain extent.
How can time tracking get rid of it—or at least minimize it?
As you know by now, Parkinson's Law is the reason why there are long meetings since team leaders and managers assume they need a lot of time to go through every detail. Try setting 10-minute or 15-minute meetings, and you will be surprised how wonderfully the 80/20 Rule kicks in.
Here's another tip for you – time-track your meetings and review a batch of them. See which ones yielded the best outcomes and which uselessly took a lot of your time.
Parkinson's Law applies to any work with a deadline, so by tracking your time, you can make consistent improvements to your workflow. Review past projects, your timesheet history, and time tracking process in order to make predictions on how long a similar project or task would take you.
If you are well aware of your tendency for unintended time theft, as in to really take your time, impose a stricter deadline to hit the brakes on your suboptimal work behavior.
Time tracking methods
Now that we've covered some of the benefits and pitfalls of time tracking, let's touch on how to keep track of time.
The most basic time-tracking method is using the good ol' pen and paper. You can jot down rough estimates of your hours worked or fill in paper timesheets. If you don't do it on a daily basis, though, it can be bothersome trying to recall all the time entries at the end of the week (let alone the end of the month).
Your next option is to track your time digitally. You can manually fill in Excel timesheets and print them out. We'd say this is a slightly more efficient way than pen and paper, but there's a long way to go to reach peak efficiency.
Tip: Here's everything you need to know about timesheets. If you are working in an agency and need timesheet software for tracking and billing purposes, check these top tools.
If you want to record your time more granularly, you'll have to try out some digital solutions. With time tracking software, the benefits are plenty – tracking time actually saves time (pun intended) thanks to stopwatches, adding bulk time, duplicating entries, and many awesome features.
It's easy, intuitive, and user-friendly. There are time-tracking extensions, widgets, and integrations you can use. I wouldn't say there's an actual con to using a digital solution, but we highly recommend using a cloud-based service.
If you'd like more automation to your time-tracking, so you wouldn't even have to worry about clocking in and out or switching between tasks, try an automatic time-tracking software. Automatic time tracking is effective for employees who use a laptop or a device to perform their activities.
For example, if you are a digital illustrator, automatic time tracking will give you insight into your work patterns. But if you are a painter, it would probably be better to use a mobile time-tracking app.
A mobile time-tracking app is an absolute must in 2022. Whether you're on the go, working from home, or back at the office, there's no quicker setup than a few taps on your smartphone.
Note: Mobile time-tracking apps come in many shapes and sizes. Some have a simple stopwatch and a calendar view, while others offer robust features like task management, timesheets, and active timers. Here are 8 time tracking apps to try out.
All these methods – pen and paper, digital, automatic, and mobile – help you make sense of the time you are spending on your activities. You can visualize it on a timeline. What do we mean by that? You've got your day/calendar view, and you can see how long a task took you and how time entries all add up at the end of the workday (e.g., 6 hours and 47 minutes). Therefore, time is linear.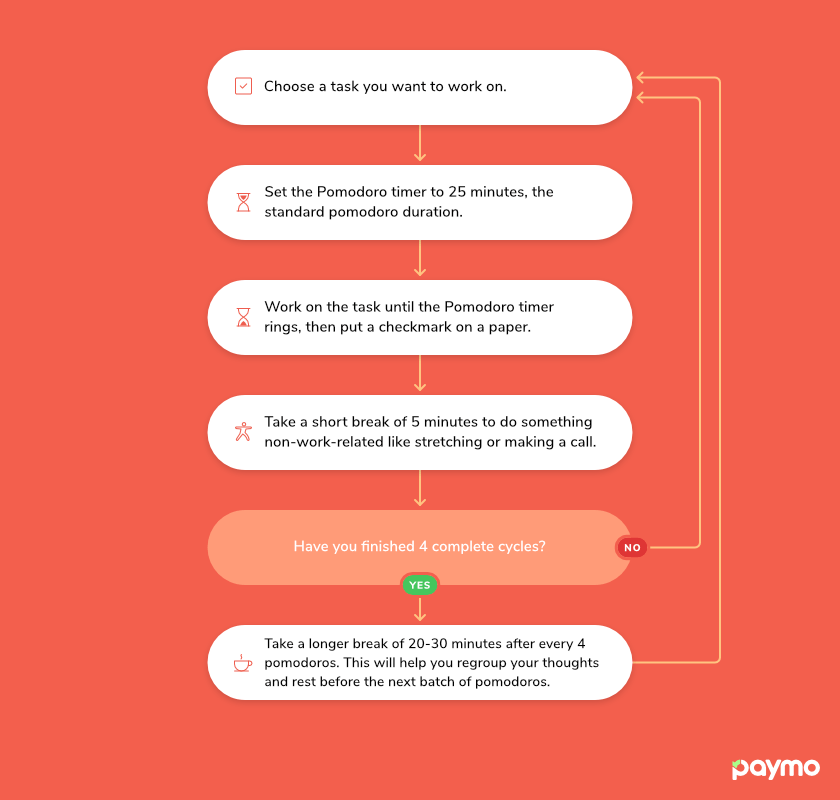 The Pomodoro technique at a glance
There's another way to conceptualize time, namely in sessions or increments. You've probably heard of the Pomodoro technique (working in 25-minute cycles, followed by 5-minute breaks – although the increments are customizable), which is the building block of many productivity systems such as time blocking (also known as calendar blocking).
The science behind the Pomodoro technique/time blocking is the reason why people remember college days as a time when they studied intensely and were super productive (also cramming through the course work, submitting papers in the nick of time – but that's the Parkinson dilemma all over again). People learn and work better when they set chunks of time aside for specific tasks.
Need to do some administrative work? Bring them altogether, then start the stopwatch along with a Pomodoro countdown in order to force you to finish your admin work in that Pomodoro session.
As for how you visualize time, similar to your timeline view, you've got your Pomodoro sessions all adding up at the end of your workday (e.g., 8 x 50-minute work sessions). Therefore, time is incremental. However you like it, make sure you track your time.
Find a system that works for you. If it's obsolete or inefficient, time tracking can be annoying (even digital methods can be tedious if they're outdated).
10 Time tracking best practices
If you're not familiar with time-tracking, it can seem daunting at first. Therefore, we've compressed time tracking best practices into 10 actionable and easy-to-follow tips:
1. Don't track every small thing.
Start the timer only if tasks take more than 10 minutes. Otherwise, it's tedious to create tasks/projects for activities that take a few minutes, if not seconds. Imagine some of your daily entries as RSVP Zoom call with Client A – 17 sec, Send email to Mr. Smith – 3 min 13 sec, Remove desk clutter – 1 min 58 sec, Sort mail – 2 min 43, etc.
Maybe all these tasks pile up to 10-15 minutes a day at best (while tracking them wastes half the time). Don't fall into the trap of perfectionism, tracking everything down to the nanosecond. It's not BIG BROTHER!
2. Don't track 8 hours out of 8.
This ties in with Tip #1. If you do so, you'll most likely fall into Parkinson's Law. It's normal to take a break when needed, to let your mind wander for a few minutes, to stretch and move around for a bit. The truth is, 5-6 hours of deep work are healthier and definitely more productive than 8 hours of non-stop grinding. It's deep work that good managers look for.
3. Bet on idle time detection.
Get a time-tracking app that has this feature. If there's a distraction while working on your task and you have to be away from the keyboard, then you don't have to worry about the stopwatch. It will automatically detect idleness after a set amount of time, letting you keep or discard the idle time. Ours is available via the Paymo Desktop App, be sure to check it out!
4. Account for admin time in a separate task.
Checking emails, filling timesheets, project management tasks, and so on. Set some time aside just for administrative tasks. It's better to batch them all in one task. Although they don't amount to billable time, they're still an important aspect of your job.
5. Set hourly budgets for tasks/projects.
Setting hourly budgets helps you estimate how long a project will take, account for disturbances and unexpected tasks, and even plan some float time (how long a task can be delayed without impacting subsequent tasks). So, after you review your work or do a project postmortem, you'll be able to make more accurate/realistic adjustments to future projects.
6. Add time entry notes.
First, it's great for proof of work, especially if you are dealing with nit-picking clients with demanding standards. Second, whenever you review your past projects, you'll know what did or didn't work. So, it will help you create and adjust your own processes and conventions.
7. Do not incentivize time tracking!
If you do so, you're setting yourself up for failure because you're basically giving employees the green light for Parkinson's Law. They'll slow their pace down to fill up as many tracked hours as possible while making sure they reap the benefits of whatever bonus you're rewarding them with.
8. Set tighter time limits.
Be more intentional with your time. Remember the advice about cutting your team meetings down to 10-15 minutes? We've adopted this as a team, and I have to say, logging only 31.5 hours of team meetings over 6 months is simply awesome.
9. Round-up time entries.
Remember the argument against time theft? You'd think rounding up time entries is frowned upon, but it is actually legal and regulated by the Department of Labor. Rounding up time entries makes payroll easier for certain types of work – usually consultancy-based projects like lawyers, architects, and consultants do.
10. Compare billable vs. non-billable time entries.
You'll get a clearer picture of the ratio between tasks that can be billed back to the client (thus, "billable"), such as client communication, project planning, production, revisions, and tasks that don't depend on or relate to the client. Non-billable hours are paid by your employer, not your client. Most project management software gives you an overview of your projects, clients, and hours worked (billable and non-billable) on a dedicated dashboard.
Paymo's Dashboard – a clear picture of your ongoing projects
Time reporting
So, you've been tracking your time, and you've got a lot of data to crunch. One way to make good use of this data is to create time reports. Good time tracking software will use all that data to give you a detailed look at how your team's time was spent.
Reviewing time spent on certain tasks in the past will give you reliable estimates for upcoming, similar tasks. This way, you'll be able to make better business decisions – but how? One actionable step after reviewing monthly reports is to make adjustments to stay on budget.
When is a good time to review time reports? As a team leader or project manager, review them at the end of the week or month. Bonus: review them every quarter if time tracking is a metric of your OKRs. What's at stake?
For any project manager, time reports are helpful for (team) performance reviews, course corrections, and salary raises. What's more, they can plan and distribute tasks to avoid overbooking or underbooking and make changes to employees' workflows. In section 6, we'll touch on the use—and usefulness!—of time reporting as a desirable feature/module and how that works in project management software. (Also, dive deeper into the benefits of time reporting for project management.)
Tip: What does it take to become a good project manager? You'll see that the road ahead may be challenging but rewarding.
Time tracking in project management
How does time tracking tie in with project management?
When managing a project/team for successful outcomes, you have to consider three constraints: scope, time, and budget. What is it that you want to achieve, when should you achieve it, and how much money/resources do you have to spare?
Most importantly, you would want to meet all your project goals within the specified timeframe. Secondarily, you would want to optimize all your resources (time included) for efficiency when meeting your objectives.
Not only is time a key element of this triple constraint, but also an important resource you have to manage. It goes without saying that time tracking allows you to measure progress, spot delays, and make adjustments for better outcomes.
Why choose a project management software with a native time tracking module instead of an integration?
That's a great question. People might argue that with the right integrations, a basic project management app can compete against full-featured project management software. While there's some truth in that, you want a unified system with robust software architecture yet a simple design.
So, a native time-tracking module would relate better with other modules, features, and elements of the project management software you are using.
This means that it's safer – the risk of data loss is lower. Also, it's quicker to have all your modules in one place than switch between third-party apps and integrations. But most importantly, it's way cheaper – you are paying for one product, not a dozen.
How do you successfully adopt time tracking as a team?
Here's a quick walkthrough of the adoption phases.
Pre-adoption phase:
1. Be straightforward with your team. Communicate all the benefits of time tracking and some of its pitfalls, and be transparent about what you hope to get out of it. Your goal is to reduce micromanagement and increase productivity.
2. Be clear about how and when time tracking takes place. Don't do it every once in a while. Otherwise, it will look shady (privacy invasion, micromanagement, etc.). Make sure the team understands the process and purpose of time tracking.
3. Pilot test it for 1 month (shorter than that, they probably won't be able to see the results). Set the start and end date of the pilot and schedule a retrospective for subsequent feedback, time tracking merits and drawbacks, personal experience, etc. Having this in mind, your employees will be more intentional about it.
4. Assign a team leader or project manager to check time entries at the end of the week. This will help with future project estimations and keep each team member accountable.
Adoption phase:
5. Run a demo of the time-tracking software you want to employ. Don't assume everybody knows how to use it. Have them run the demo, watch tutorials, and ask any questions they might have. Teach them tips and tricks and refer them to the software's knowledge base.
How time tracking works in Paymo
6. Make time tracking a habit from Day 1. Be enthusiastic about its adoption and let your team know that time tracking is a part of your company's work culture. Consistency is essential if they want the pilot program to work.
Review phase:
7. Run a retrospective with your team. Ask for their feedback and thoughts. Don't aim for perfection – 70% tracked time is an achievable goal in a pilot program. If they managed that, the pilot would be successful.
Conclusion
There's really no workaround time tracking if you want to increase your productivity both personally and professionally. This guide covers noteworthy benefits to time tracking regarding better work management, optimal patterns of work, consistency and hard work, employee well-being, business profitability, and so on.
It explains people's aversion to time tracking (and how to overcome it), and it covers aspects that go unnoticed, such as time theft and Parkinson's Law.
Next, it outlined time-tracking methods and best practices. Then, it pointed out how time reporting is the logical step after gathering all your data since time reporting is an integral part of time tracking within project management.
Speaking of project management, it's best to go for a time-tracking solution that offers robust work management features. All those features and how to choose a great time tracking software have been discussed in the last section of this guide.
Friendly advice – start tracking your time, and start today. I personally wouldn't want to go back to a time prior to my time-tracking experimentation. Because I kept track of my time, I could go back months (even years!) and reminisce about challenging yet fun projects, sleepless college days, and look at my past self.
So, now I can reflect and hopefully take action. It might sound lofty, but all our time tracking data is a testament to hard work, consistency, and (pro)active behavior. And there's always room for improvement. So, pick a time-tracking solution of your choice, and hit the start button. ✨
Although we regularly update this article, tool features and pricing might differ due to constant product changes.
First published on May 8, 2021.