To save you precious time, we did the hard job of in-depth market research and app testing to come up with 9 free time-tracking software for small businesses that are "la crème de la crème."
Plus, we've also included 31 contenders as alternatives.
Also, in the second part of this article, we'll walk you through why time tracking is important, its benefits, and key criteria when choosing time-tracking tools in project management.
Best time-tracking software
We have our fair share of expertise and experience when it comes to time-tracking software—here's a list of the best time-tracking software available on the market and the main benefit of each one:
Our tests only looked at those online time-tracking software with time-tracking as a native feature.
If you already use an app to manage your work but it doesn't have a native time tracking module, an integration with a time tracking app can be a quick fix. However, we don't recommend this as it might bring additional complexity and increase your costs—why juggle multiple digital tools when you can get one that covers your necessities?
We tested each tool in the first batch of the 10 best time-tracking software and included an in-depth review. We kept the review concise and useful, answering these questions:
How does the software position itself, and who is it best for
What are three standout features
Pros and cons according to people who actually use these apps
What are the price points
How well does it rate
In the second batch of 9 tools, we've focused on feature highlights along with cons or snags experienced by users (reviews drawn from Capterra or G2), while in the third batch, we've listed 21 tools with their features at a glance.
Without further ado, let's explore 40 time-tracking software:
1. Paymo
Adding bulk time in Paymo is easy with a few clicks or keystrokes
Paymo is a time-tracking, work, and project management software that helps small and medium businesses manage client projects from planning to payment.
The company has been around since 2008 and started as a time-tracking and invoicing software. Slowly but steadily, Paymo became a full-featured work management platform for small & medium-sized companies and agencies with users from over 50 countries. Time tracking has remained at the core of the product.
Best for
Medium and small businesses, creative agencies, consultants, architecture, software, and engineering firms who handle multiple client projects and want to track their time, monitor finances and profitability, organize resources in one place, and send invoices.
Top 3 Features
Automatic time tracking: Paymo Track is a powerful tool incorporating a stopwatch, an automatic tracker, and a Pomodoro timer. All timestamps can be converted into task entries on a neat timeline as timesheets. Manual time tracking is also convenient, from adding time in bulk to dragging and dropping time entries on a timesheet.
Timesheets & Time Reports: See and manage your time entries on a daily/weekly/monthly/agenda basis. Choose from flexible grouping, subgrouping in a reporting hierarchy, and project status support, and include project IDs & task IDs for more personalization. You can also create time reports based on them and get a detailed look at how your or your team's time is spent.
Invoicing & Payments: Generate invoices based on the time spent on tasks or projects, track expenses, or create client estimates. Also, you can create invoices from scratch and use the integrations with payment gateways such as PayPal, Stripe, and Authorize.net. Paymo's invoicing module is ideal for people who don't want to invest in complex invoicing tools that require extra accounting know-how. Read our article on the best free invoicing software in 2023 for more details.
A simple manual time entry in Paymo – add time by interval (start-end time) or by duration (hours and minutes)
Pros
Reliable time tracker
Easy adoption and onboarding
Great customer service
Cons
export formats: .csv and .pdf, project management data via API
limited integration options with other software
Pricing
There's a free plan available that includes full time tracking capabilities. Paid monthly plans start at $5.95 (one user) or $11.95 (for teams). A 15% discount is offered for annual payments—the equivalent of 2 months for free.
The app also supports schools, colleges, and universities worldwide by offering free subscriptions without feature limitations. Paymo also supports anyone who wants to do good for society, as nonprofit organizations are eligible for a 50% discount.
Rating
Paymo scores 4.7/5 on Capterra and 4.6/5 on G2. Paymo could easily rank in the top three software for time tracking functionality thanks to its robust and reliable Paymo Track.  The advanced task management features, resource scheduling, and accounting modules have you covered if you want to manage projects from start to finish along with your team.
Check out hundreds of reviews of Paymo to make an informed opinion and see why we stand by it.
Create a free account and start tracking time right away.
2. Harvest
Harvest is a simple time-tracking tool that bundles timekeeping and invoices under the same roof. It connects both features so you can be paid based on the tracked time entries without exporting data to another system.
Harvest first began in 2006 as a tool two designers built for themselves to help their business grow. At a small web design agency in downtown New York City, Danny Wen and Shawn Liu made the tool they couldn't find: a well-designed, innovative application to track time and invoices.
Harvest's latest improvements include a new permission/user access system, a UI and website redesign, and the addition of timesheet reminders.
Best for:
Freelancers and teams looking to integrate time and project tracking software with their favorite tools.
Top 3 Features
Time tracking and expense management: Track time for specific clients, projects, tasks, and staff members to maintain control of all the activities through web-based time tracking. Don't worry; you'll get email reminders when you leave it on for too long to fix this issue. If you forgot to start it, add time in bulk to the weekly timesheets area. Bonus: Snap a photo and add it to an expense using the mobile app to offer proof of your spending.
Team overview: Monitor who's tracking time when working on a specific project and who's overworked to avoid burnout. You can edit time entries and divide them into billable or non-billable hours for more detailed reports with this software to track billable hours. You can also use the timesheet approval system for enhanced team oversight.
Visual reports: Check time entries and compare them to the initial project budget to see if you're on track. The reports also show you the sum you must invoice to be profitable.
Pros
Time approval for managers
Invoice generation from time tracked
Xero and QuickBooks integration for bookkeeping
Cons
clunky stopwatch
no time summary
Pricing
There's a free plan available: unlimited invoices and clients for one user and two projects maximum. Its paid plan costs $12/user/month.
You'll have to pay separately for the scheduling feature, Harvest Forecast ($5/month, unlimited users and projects).
Rating
Harvest is one of those time-tracking solutions that most users have a reasonable opinion about since the tool got a 4.5/5 on Capterra and 4.3/5 on G2.
See how Harvest fares against Paymo in terms of features and user reviews.
3. Toggl Track
Toggl Track (formerly Toggl) was created in 2006 by Alari Aho and Krister Haav, and was developed for internal use initially. Headquartered in Tallinn, Estonia, Toggl unites a mix of people worldwide to create one product that can serve all companies.
Occasionally, they fly to different cities to meet users and learn about how they use Toggl and how to make it better. They also have a pug named Muffin, whose duty is to bring the cute factor to the team. Fun fact – the company name was created using a random name generator.
The latest features and upgrades include workspaces, a mobile Pomodoro, split and edit time entries, and offline work possible with a focus mode as well. Side note, the web app can be crazy slow at times.
Best For
Toggl Track is best suited for freelancers and businesses that need cloud-based time-tracking software.
Top 3 Features
Time Tracking: Available through the web timer or browser extension button that connects with 100+ apps. It works like any other tracker by clicking the play button when you want to start or stop it. You can track time from several places in the app, including the dashboard, where the most active team member will get a motivational first-place spot.
Visual reports: If you'd like a visual and easy-to-understand look at your daily activity, you can check your time usage, who's working on what, and how many hours your team spends on different projects and clients from the summary/detailed/weekly reports.
Team Overview: See if the project and team comply with the initial estimations regarding logged time and determine which tasks are overdue and exceed the initial budget.
Tip: If you're interested in learning how to bring structure and execution to your tasks, read this guide on how to manage a project (with a concrete example).
Pros
Easy-to-use interface
Straightforward reporting
Integrates well with other project management tools, e.g., Asana
Cons
unreliable time tracker
its AI feature can mix up tasks and time entries
Pricing
There's a free plan available for teams of up to 5 users. Paid plans start at $10/user/month.
You can get 30 days of Toggl for free with access to all features in a plan.
Rating
Toggl Track gets a 4.7/5 from Capterra and a 4.6/5 on G2.
Check out a comparison between Paymo and Toggl Track on G2.
4. Beebole
Beebole is a time clock software that keeps track of the team's time, breaks, billable hours, and time spent on clients, projects, and tasks. Now based in Brussels, it was founded remotely in 2008 by Yves Hiernaux and Mic Cvilic after years spent using time reports and attendance sheets that were difficult to manage and even harder to understand.
Beebole's customizable interface allows you to choose the features that make the most sense for you and your team. User roles and permissions give you control over data access, team structure, and approval workflows. This lets project managers and team leaders approve time entries, lock or unlock hours, and set reminders for employees to submit their timesheets. And by configuring rates and costs to different employees, clients, projects, and tasks, you can easily track project status, budget, and profitability.
Best for
Beebole is best for small- and medium-sized businesses looking for a time & attendance solution with plenty of customization at an affordable price.
Top 3 Features:
Time clock: a simple tool that allows employees to clock in and out each day that records attendance, total hours, breaks, and geolocation.
Powerful custom reporting: Create custom reports with unlimited dimensions using employee time, project hours, absences, billing, costs, overtime, and more. These reports can easily be adapted to your team's needs, and they can be saved to your dashboard and easily exported to share with clients and colleagues.
Google Sheets Add-on & Excel Add-in: Whether you're a Google Sheets or Excel user, Beebole's add-on and add-in can help crunch your time-tracking data with enhanced business intelligence in real time.
Pros
Flexible scheduling and overtime balance
Simple time tracker
DCAA-compliant (accounting)
Cons
lack of customization
steeper learning curve for managers and accountants
Pricing
No free plan, though there is a free trial available. There's one monthly flat rate of € 6.99 per user.
Rating
With some of the fewest user reviews on our list, Beebole Project Time Tracking has a rating of 4.6/5 on Capterra and 4.5/5 on G2.
Read this comparison of Beebole vs. Paymo for a comprehensive review of the two side by side.
5. Timely
The Viking representative on this list, Timely has 60 employees working in 20 countries who are self-declared as "obsessed with time." They aim to make the working day as productive as possible and unlock the 25th hour.
The main goal – ambitious, to say the least – is to use that extra time to solve the world's problems and support progress. And that was just what they needed to create a simple time-tracking tool that simultaneously tracks time and creates schedules.
Headquartered in Norway and India, Timely was founded by Mathias Mikkelsen and has raised $20 million. Latest updates include automatic time tracking in Chrome, MS Teams integration, task cost tracking, profitability, and historic rate tracking.
Best For:
All kinds of teams and individuals who want to automate their timesheet creation process.
Top 3 Features
Automatic timesheets: Using the AI-powered Memory Tracker, you don't have to think about starting the timer. Work on your tasks while the timesheet gets populated. Additionally, connect your calendar to automatically add your meetings to a timesheet once you confirm them.
Copy and paste time entries for several days: Suited for freelancers, it makes your work on recurring tasks much more manageable by shortening the time you spend adding time entries.
Scheduler: See what's been worked on versus what was planned from a single place – a combination of a timesheet and scheduling features. See how much of your budget you've scheduled. Similarly, determine how much you have left to assign for more tasks and resources.
Pros
Dashboard to manage team hours, overtime, capacity, and activity
Automatic reminders for employees to add their time
Neat user interface
Cons
can be laggy at times
expensive paid plans
Pricing
There's no free plan—subscriptions start at $11/user/month with limitations: 50 projects and 3 teams. (Custom packages for over 25 people apply.)
Rating
With a few hundred reviews, Timely scores 4.8/5 on G2 and 4.7/5 on Capterra.
Learn more about why automatic time tracking is a must-have for your tool.
6. TimeCamp
TimeCamp, a web-based time-tracking software, was established in 2009 by Kamil Rudnicki, a 21-year-old student at that time. Asseco Poland and Venture Incubator financed Time Solutions in 2011, growing to a 30+ employee roster in offices in Los Angeles and Poland.
To help their goal of implementing the time tracking process for B2B service companies, they have one of the most robust lists of integrations we've seen so far: Buffer, Dropbox, OneDrive, GitHub, Instagram, Tumblr, Pinterest, Survey Monkey, Reddit, Slack, HipChat, Evernote, Salesforce, Toggl and Harvest (analyzed earlier in this guide), Clio, Formitize, Zapier, and many more.
Latest updates: TimeCamp added an option for users to provide direct feedback and feature suggestions and introduced a calendar view in 2022. No significant updates in 2023.
Best For
Freelancers, small, medium, and large teams who want to keep their productivity in check.
Top 3 Features
Attendance and Time off: See how many paid hours your team logged in and get a complete analysis of when they started and finished their work to keep everyone in check and avoid leaving someone behind with their duties to ensure compliance with the company's rules and increase accountability.
Productivity verification: Reports display the top productive apps and sites you use, including time spent on documents and overall computer usage. You'll also be able to approve timesheets, set goals, and receive weekly email summaries to ensure your team is productive and not wasting any precious time.
Invoicing module: Track how many billable hours people work on paid projects and how many hours are spent on internal, non-billable projects. Invoicing is done automatically based on the registered hours to make your work faster. You even receive notifications when a client views an invoice.
Pros
Income function and different billing rates
Detailed reports regarding users, tasks, and time
Automatic time tracking
Cons
less user-friendly UX
privacy concerns regarding employee monitoring
Pricing
There is a free plan which only includes time tracking and limited tasks. Paid plans, starting at $3.99/user/month, include attendance, overtime tracking, billable time, budgets, and estimates.
Get the free plan if you simply need to keep track of time—invoicing is included only in the Pro plan for $10.99/user/month.
You can access a 50% discount if you're a nonprofit organization, university, or school.
Rating
TimeCamp as a time clock software scores 4.7/5 on G2 and 4.7/5 on Capterra.
Compare TimeCamp's time tracking features to Paymo's in G2's product review.
7. RescueTime
RescueTime was launched in 2007 by Brian Fioca, Tony Wright, and Mark Wolgemuth in Seattle. In January 2008, they were funded by Y Combinator and got additional Series A Financing from True Ventures that September.
Among all the web-based time management tools, this employee time tracking software offers a different approach, promoting trust and encouraging the fair use of creative solutions to solve work-related problems. Also, RescueTime advocates for the four-day workweek.
As for RescueTime's continuous development, the first new update since 2019 was the introduction of their affiliate program in 2023.
Best For:
Small teams and individuals who want to see where their time at work goes.
Top 3 Features
Block distracting websites: Choose which applications you want employees to stop using and when you want to block the app. This can ensure that your team is not slacking off on websites that provide no value for the project.
Detailed reports: Show which applications and websites you or your team spend time using. Additional reports show your time based on different categories, your productivity, and if you met the goals.
Productivity score: Activities are grouped into categories highlighting productivity scores for thousands of websites and applications. You'll also receive a weekly email summarizing your productivity to help you improve your work.
Pros
automatic time tracking
daily highlights (completed tasks)
goal setting and progress tracking
Cons
lacks core project management features
no substantial product updates in the past 4 years
Pricing
There is a free plan available which includes time tracking, weekly email reports, and a 3-month data history; premium plan available for $12/user/month. RescueTime offers a separate team plan that starts at $6 per person per month, with additional time-management training available for $99 per person.
You need a credit card to sign up.
Rating
There aren't many reviews for you to judge the tool: 4.1/5 from 86 reviews on G2 and 4.6/5 from 132 reviews on Capterra.
RescueTime is more of a productivity tool rather than a project management software: it does not include an Invoicing module, Timesheet approval system, or Resource scheduling. Instead, it focuses on goal setting and progress tracking, breaking down timestamps into productive and unproductive activities by the app. To see how it differs from Paymo's automatic time tracker, check out G2's comparison of Paymo vs. RescueTime.
8. Time Doctor
TimeDoctor was founded by remote work pioneers Rob Rawson and Liam Martin in 2012. Time Doctor has over 60 employees in 25 different countries.
TimeDoctor focuses on allowing customers to build distributed teams so they can now work out of an office, wherever and whenever they want to. The Time Doctor staff is the second fully remote team on this list of time-tracking software.
The latest upgrades involve a Chrome extension, screencast access, and audit tools for admins. Slight improvements to the employee dashboard they referred to as "inspiring" that analyzes patterns of user activity and workflow.
Overall this tool's focus seems to be surveillance at its finest, with lots of minor improvements added to make monitoring attendance, time tracking, and approval as easy as possible. The app offers screenshots, screen recording, URL and web page tracking, reports that show what links employees accessed, and so on.
Best For
Freelancers or large teams looking to keep track of their payroll besides just time tracking.
Top 3 Features
Screenshots: If you need or want to monitor your employees, particularly remote ones, you can see what they're doing in real time. You can also use screenshots to review work processes, improve productivity, and develop strategies. They will only be taken when team members start work on a task and not during breaks. There's also GPS tracking on the mobile app.
Payroll: You can pay team members based on the tracked entries or fixed salaries. The payroll setup is customizable to match your currency, financial regulations, company requirements, and more. You can connect the tool to PayPal, Payoneer, TransferWise, or any other method you choose for more freedom.
Reporting: Track time spent on each website, app, or task. The tool records overall Internet usage during work time to ensure that your employees are not slacking off. It creates weekly reports that show the exact websites and applications used. Users get the same report outlining their work time statistics to improve their work activity rates.

Pros
Alerts and notifications for idle time to curb procrastination.
Automatic tracking records only active time (mouse moves & keyboard strokes)
Cons
employee monitoring tool with screenshots
unintuitive user interface
frequent app crashes
Pricing
There's no free plan available. Paid plans start at a monthly rate of $7/user with silent tracking, unlimited screenshots, activity tracking, and basic reporting.
Rating
With 4.1/5 on G2 and 4.6/5 on Capterra, we added Time Doctor to this ranking because it's straightforward and fast to create an account and start using it, and it has one of the best personalization options on this list. Likewise, their mobile and desktop apps work well in helping you track time and organize your tasks.
The desktop app performs like the mobile one, but it's designed only for time tracking and organizing tasks into folders. Also, like many other of the already mentioned best time tracking software, it's missing the Invoicing module. Here's how RescueTime fares against Paymo in this Capterra review.
9. Everhour
Everhour was founded in 2015 by Mike Kulakov and Yury Tolochko, initially named Weavora Consulting LLC, a web development company from Minsk, Belarus. It is currently headquartered in Limassol, Cyprus.
Everhour is a time tracker with project management features: custom reporting, integrations, billing and budgeting, invoicing, estimates, and scheduling. As for time tracking, it allows for flexible and non-intrusive time management while being efficient and fault-free, thus helping managers and employees to build a more trusting relationship and track their time without failure.
The latest improvements include the addition of SSO, of automated team scheduling based on task dates, and custom user access and admin permissions. New integrations with Notion and Todoist. The UI overall has been updated, and time tracking is now possible without tasks.
Best For
Teams of at least 5 employees and large teams looking for a time-tracking tool that integrates with other software.
Top 3 Features
Real-time dashboard. You can watch who's working on what online, see their progress and past activities, and manage the workload accordingly, ensuring everyone is on track. Everything is at a glance on a single page. Also: optional screenshots for employee monitoring.
Custom reports. With Everhour, you can create accessible and transparent reports with customizable parts tailored specifically for any client or team member.
Timesheets. Manage your team's time entries, edit and change them if needed, and personalize them any way you want. Create time-tracking reports and audits using this data to identify possible pain points.
Pros
Natively integrates with 30 software, from Slack to GitHub to Salesforce
Reporting capabilities
Auto-stop timer at the end of the workday
Cons
glitches with the stopwatch
users find the dashboard UX not very intuitive
Pricing
There's a free plan available that includes time tracking. Paid plans start at $6/user/month for a minimum of 5 seats and can be integrated with other software, e.g., Trello, Notion, Miro, Slack, Xero, etc.
Rating
With under 200 reviews, Everhour scores 4.7/5 on Capterra and 4.7/5 on G2. Everhour natively integrates with project management software and other digital tools—though adopting another software is costly and time-consuming. It's better to opt for project management, including time tracking than vice versa. Compare Everhour with Paymo to help you choose the better fit for your business needs.
10. TrackingTime
TrackingTime was founded in 2012 by Eric Tulle, Diego Wyllie, and Leonardo Custer and received seed capital from Enzyme VC, one of the top VC firms in Latin America. Currently, the company is headquartered in the US and has other locations in Buenos Aires and Munich. They regard time as the most valuable asset of a company. For this reason, the TrackingTime team's primary goal is to empower companies to manage their most vital resource effectively.
TrackingTime is a collaborative and cloud-based time management program that aims to help companies of any size manage their projects, track work time, and measure team productivity. The latest updates include automatic time tracking, a new attendance feature, improved timecards, a new desktop app, a redesigned invoicing module, and a timeline view added. Gotta say – that's an impressive amount of updates and improvements.
Best For:
Freelancers, small, medium, and large teams who want to track their progress in time.
Top 3 Features
Schedule Repeating Events. Repeating events let you edit recurring time entries in a batch and avoid manually entering them.
Automatic data sync with Calendar apps. TrackingTime supports Gmail, Outlook, Mail, and all the other major email clients for syncing due dates for tasks and projects.
"Working On!". See what tasks are being tracked from the activity tab to avoid unnecessary interruptions and empty time slots in the team's schedule.
Pros
Importing time entries into your account
Weekly overviews of team activity
Attendance tracking and time off
Cons
bumpy integration with other software
no idle time detection
Pricing
There's a free plan for task and time-tracking for up to three users. Monthly paid plans start at $7/user/month for advanced reporting and time management. Refunds and discounts for academic/nonprofit organizations apply.
Verdict
This simple time-tracking software has the fewest reviews from any we've analyzed so far: 4.2/5 from 78 reviews on G2 and 4.6/5 from 39 reviews on Capterra.
We'll place this time logging software in our list for great responsive UI and time tracker portability. From the mobile app, you'll be able to add tasks, projects, and time entries or start tracking time by clicking on an existing task. Also, you can even see today's activity and manage all of your projects. Yet, an approval system feature would be a bonus that could bring more users.
See how TrackingTime compares with Paymo in terms of time tracking top features.
11. Clockify
Founded by Nenad Milanovic in the Bay Area in 2017, Clockify allows overseeing the project progress, tracking employees' workload, budgeting, and tracking time spent. If you're a manager, you can approve timesheets & manage schedules, create invoices, track expenses, and control budgets and hourly rates.
A neat feature/tidbit is that there is no limit on the number of users, projects, or time-tracking periods under any plan.
Feature highlights
Web stopwatch. A simple start-and-stop timer to track work hours. You may also edit hours manually and mark them as billable. There's a "Force Timer" feature, which won't allow users to edit or enter time manually.
Timesheet approval and reminders. Fill out, submit, and approve timesheets in one dedicated Dashboard.
Time Kiosk. Set up a work kiosk on a shared device for users to clock in and out, take breaks and see how much they've worked.
Customized reports. Generate customized reports, export, and share them with clients. Track leaves and holidays and approve time off for employees
GPS tracking & screenshots. An optional feature, you may take computer screenshots every 5 minutes and track your team's location while on the clock.
Cons
Some users complained of inaccurate reporting, deeming it "borderline useless, at best incredibly confusing"
Other users complain that "sometimes the program is a bit slow and unresponsive"
Pricing
There's a free plan that allows time tracking—for Kiosk users, there's a small fee per month. While the Basic plan starts at $4.99/user/month, it's aimed at simple administration; for complex time tracking, billing, and scheduling, you'll have to opt for more expensive plans.
Verdict
Clockify is an established brand – 4.7/5 on Capterra and 4.5/5 on G2. Some users find the UI outdated or unintuitive—the drill-down UI is clunky. Most users find that the free version is good enough but hate the fact that there is no 'Add Time in Bulk'—at least in the free version. If adding time in bulk is a must, a free option that allows it is Paymo.
12. Insightful.io
Insightful.io (formerly Workpuls) was founded by Ivan Petrović in 2016 and is, at its core, an employee monitoring software with automatic time-tracking features that let employers and managers monitor how their team members spend time on their computers at work.
Insightful.io believes that your company's biggest asset is time. Having said that, it's big on surveillance and monitoring—a practice we don't stand by.
Feature highlights
Regular Screenshots (up to 30/hour): You can set a specific number of screenshots/hour you want for proof of work.
Productivity Analysis: Get up-to-date charts of your working style and adjust them for increased performance.
Activity Categorization: Your computer activity is instantly added to a specific category so you can see exactly how you spent your time.
Time and Attendance: You'll see the exact times you started and ended your activities and workday so you can forget about punch cards.
Monitor Computer Activity: Get a closer insight into how you use certain apps or websites to spot abnormal usage patterns.
Cons
Users complain about inaccurate data capture affecting productivity analyses
The stealth mode automatically tracks activities in the background without user input
Weak/lacking task management features
Pricing
There's no free plan available: plans start at $8/user/month, and all plans feature real-time monitoring, activities tracking, screenshots, and stealth mode.
Verdict
Should you use Insightful.io as a freelancer? If you like extreme accountability, by all means. You know your work patterns, and you'll make the most sense of the tracked data. If not, there are better options on the market without needing a "stealth mode," e.g., Paymo Track for automatic time tracking.
13. Hubstaff
Founded in 2012 by Dave Nevogt and Jared Brown, today Hubstaff employs more than 90 people worldwide. Dave Nevogt and Jared Brown founded Hubstaff after hiring freelancers and wanted a better way to manage them. Nevogt was previously the founder of McCordsville-based Innovative Solutions Inc, while Brown had a background as a developer. Hubstaff is suitable for teams in e-commerce who want to see what everyone is working on—screenshots included.
Feature highlights
Screenshots and activity rates:  Take up to three screenshots every 10 minutes. They're taken randomly to understand better how your employees work.
Team dashboard: See all your team members, when they worked, what they've worked on, their average activity levels and the total time worked in the past week. You'll immediately notice who is working and who is slacking off.
Scheduler: An employee attendance tracker is a way for you to manage the overall team schedule. Get email alerts to inform you of any late, missed, or abandoned shifts.
GPS Location: When your team uses the mobile time tracking app for logging time, you can monitor their location via GPS. You can also track the time worked at a specific job site and determine which locations require more attention.
Cons
One user remarks, "It's terrible being monitored by mouse and keyboard usage for 8+ hours a day. Your productivity isn't measured by those metrics."
Another user concludes that such micromanagement in terms of time tracking "ends up being distracting and fosters an unhealthy urgency mindset."
Pricing
Hubstaff is free for one user but has its limitations. The starter plan ($7/user/month) needs a minimum of 2 users and is time-tracking oriented, while other plans include task management and reporting add-ons with a maximum of 200 users. All plans change their pricing depending on the number of users chosen from the scale bar.
Verdict
Hubstaff has a monitoring system that takes screenshots of desktops to ensure work is delivered and to increase accountability. If close monitoring is what you need, the Hubstaff time tracking tool scores 4.3/5 on G2 and 4.6/5 on Capterra. Clients and supervisors can be invited for free and don't count as paying users—"Guests" can also be invited in Paymo and not count as paying users, and you can set visibility layers for each and one of them.
14. QuickBooks Time
QuickBooks is an accounting software package developed and marketed by Intuit. First introduced in 1983. It acquired T-Sheet in 2017, rebranding it to QuickBooks Time to help teams coordinate jobs, track time, and manage projects.
Feature highlights
Time tracking. Also, there's a "See who's working" feature for real-time visibility.
Timesheets. One neat capability is Timesheet Signatures, allowing you to capture signatures for project sign-offs.
Geofencing. It reminds you to clock in and out when you enter the work premises.
Integrations. QuickBooks Time integrates with, well, QuickBooks. You can review and approve employee time, run payroll, and create invoices.
Cons
Some users complain of functionality errors, e.g., being unable to clock out or start the timer
Users complain of laggy timers and slow loading speeds
Pricing
There's no free plan available. QuickBooks Time is by no means affordable – paid plans start at a $20 monthly base fee plus $8/user/month, allowing users to track their time, create custom reports, and set up a time kiosk. Payroll is available in two separate plans, "Payroll Premium" for $75/month + $8/user/month or "Payroll Premium + Simple Start" for $105/month + $8/user/month.
Verdict
Primarily, QuickBooks Time is an accounting-focused software that offers time tracking and project planning secondarily. It scores 4.7/5 on Capterra and 4.5/5 on G2. If time tracking or generating invoices is all you need, you're overspending.
15. Timeular
Timeular is marketed toward software houses, design & marketing agencies, architect's firms, lawyer's practices, and freelancers. It's another simple time-tracking app that offers insights, analytics, and reporting. They also have invoicing features and billable hour tracking.
They offer a physical time-tracking device that's pretty unique. ZEIº looks like a die (an 8-sided polygon) that users can personalize, connect, and use to keep track of their time.
Feature highlights
Multiple time tracking options. From the classic stopwatch with a Quick Track, to its mobile app and automatic tracking, Timeular offers users multiple ways to track their time.
Timeular's time tracking gadget, ZEIº. It's a tangible, tactile device that connects with Timeular and automatically switches between tasks as you flip sides.
Custom reports and insights. Generate reports and charts depending on your tags, assignees, time, or trends.
Context tracking (Beta). A step ahead towards automation, context tracking automatically fills your timesheet with the apps and websites you've used throughout your work day.
Cons
The ZEI device poses connectivity issues, and its battery gets quickly depleted
Some users find the setup of ZEIº "too much work," especially if they forget to flip the device
Pricing
There's no free plan available; paid plans start at €8/user/month. The Timeular Tracker costs €57.50 (excl. taxes) and works with any active subscription.
Verdict
Timeular scores 4.5/5 on G2 and 4.6/5 on Capterra. I give you that the device is unique since it's a die you can "play" with. But you'll have to purchase the device, maintain it, and pay for the monthly subscription. As one user put it, "The tracker is only as good as the person using it," since you have to stay on top of your tasks, flip the die, and remember to switch between tasks. If you want to simply leave the stopwatch running and cherry-pick timestamps to link them to task entries, try the Agenda view in Paymo Track.
16. Tick
Tick (formerly TickSpot) is a simple time-tracking app for desktop, mobile, plus a Chrome extension. It isn't marketed towards a specific industry, but it's ideal for freelancers who track billables. Tick offers minimal project management features mainly to make time tracking easier, such as setting up projects and tasks. It has limited functionalities when it comes to complex projects or teams.
Feature highlights
Timecards. Time-tracking happens on a card level, where you have to select your project and task, and then enter your time. You may leave multiple timers as you move between tasks.
Automatic time tracking. The Tick Mac App can run in the background to capture work in real time.
Integrations. It integrates Apple Watch, project management apps, or QuickBooks for accounting.
Cons
Some users complain of functionality errors, inaccurate tracking, and slow loading speeds
Users find the UI outdated, and in need of a more modern style
Pricing
There's a free plan available with one project and integrates with Basecamp. Paid plans start at $19/month for 10 projects and unlimited people.
Verdict
Although Tick scores 4.5/5 on Capterra, there's no information on any new updates, and it seems like it is lagging behind its competitors.
17. MyHours
MyHours, owned by Spica, was founded in 2002 and is based in Slovenia, Ljubljana. It is a time-tracking software designed for freelancers and organizations that want to monitor employee working hours, track time, manage billing, and organize their work. MyHours allows you to track time across multiple devices – iOS and Android apps are free. It has complex reporting and a straightforward time-tracking app.
Feature highlights
Tabular view. MyHours' interface looks a lot like a spreadsheet, alleviating the nostalgia for Excel.
Native time tracking. There's a simple start-and-stop stopwatch to keep track of your time.
Timesheet management. Send submission, lock approved timesheets automatically, and see who hasn't submitted their timesheet yet.
Timesheet Assistant. With the help of OpenAI's ChatGPT-4, you may convert logs into timesheets via the chatbox.
Integrates with Zapier.
Cons
Some users complain of slow load speeds
Most users find the new reporting system cumbersome
Pricing
There's a free plan available that offers time tracking with some limitations (e.g., you cannot add time in bulk or delete time logs) and unlimited team members and projects. The paid plan costs $9/user/month.
Verdict
MyHour scores 4.8/5 on Capterra and is a popular choice for freelancers who need a free time tracking tool. However, you'll have to opt for a paid plan to generate client invoices. In contrast, you may invoice clients for free with Paymo. MyHours is a privacy-friendly tool just like Paymo, where users can rest assured of their private data—there's no screen monitoring or surveillance.
18. Timeneye
Timeneye was founded in 2013 by DM Digital Software, an IT company in Modena, Italy. It is intended for both freelancers and managers, offering time-tracking features and apps, simple project tracking, and reporting. It also has billable tracking and team management capabilities. There's no information on any new updates or features. Timeneye boasts a pleasant and inviting UI that's easy to use. Some users applaud its nice aesthetics, while others find it lacking.
Feature highlights
Time tracking. Users can keep track of their time spent on tasks and projects, set time budgets, and generate timesheets.
Reporting and insights. Time reports show a breakdown of activities and costs, resource allocation and other relevant data.
Project planning. If you're a team manager, keep the team aligned and monitor project progress. As a freelancer, stay profitable and track your billable hours.
Integrates with Microsoft, Google, Trello, Basecamp, etc.
Cons
Some users complain that the mobile app "freezes" sometimes
Users would like more flexibility when tracking their time, e.g., when adding time entries, for more accurate data
Pricing
There's no free plan available. The Pro paid plan costs $7/user/month for unlimited projects and clients, and there's the option for a tailored Enterprise plan.
Verdict
Timeneye scores 4.8/5 on Capterra and is perfect for freelancers who need a simple tool to track their time and billable hours—otherwise, it's quite limited for its price point.
19. HourStack
HourStack is a time-tracking and scheduling tool good for teams of all sizes. It offers different views, like a drag-and-drop Calendar, allowing you to pull reports and schedule tasks. It's suitable for managers who need to set custom permissions. As for recent updates and improvements, Hourstack introduced its v3.0, which now includes task management and scheduling. Recently, HourStack rolled out a dark mode.
Feature highlight
Time tracking is done via stopwatch, mobile app, or timesheet entries.
The Scheduling feature allows managers to keep track of workloads and team capacity
Its Reporting feature generates time reports and key insights
Integrates with Microsoft, Google, Firefox, Chrome, Notion, Slack, Trello, and many more
Cons
Some users complain of bugs and frequent crashes
Users point out slow loading speeds and slight lags with app integrations
Pricing
There's no free plan; there's a paid plan at $12/month for a single user and a team plan for $15/user/month, which some users find expensive in contrast to other products on the market.
Verdict
HourStack scores 4.8/5 on Capterra out of 13 reviews, so there might not be enough user review data to paint a vivid picture of its suitability for you. You may try it out for 30 days or look further.
20. Desktime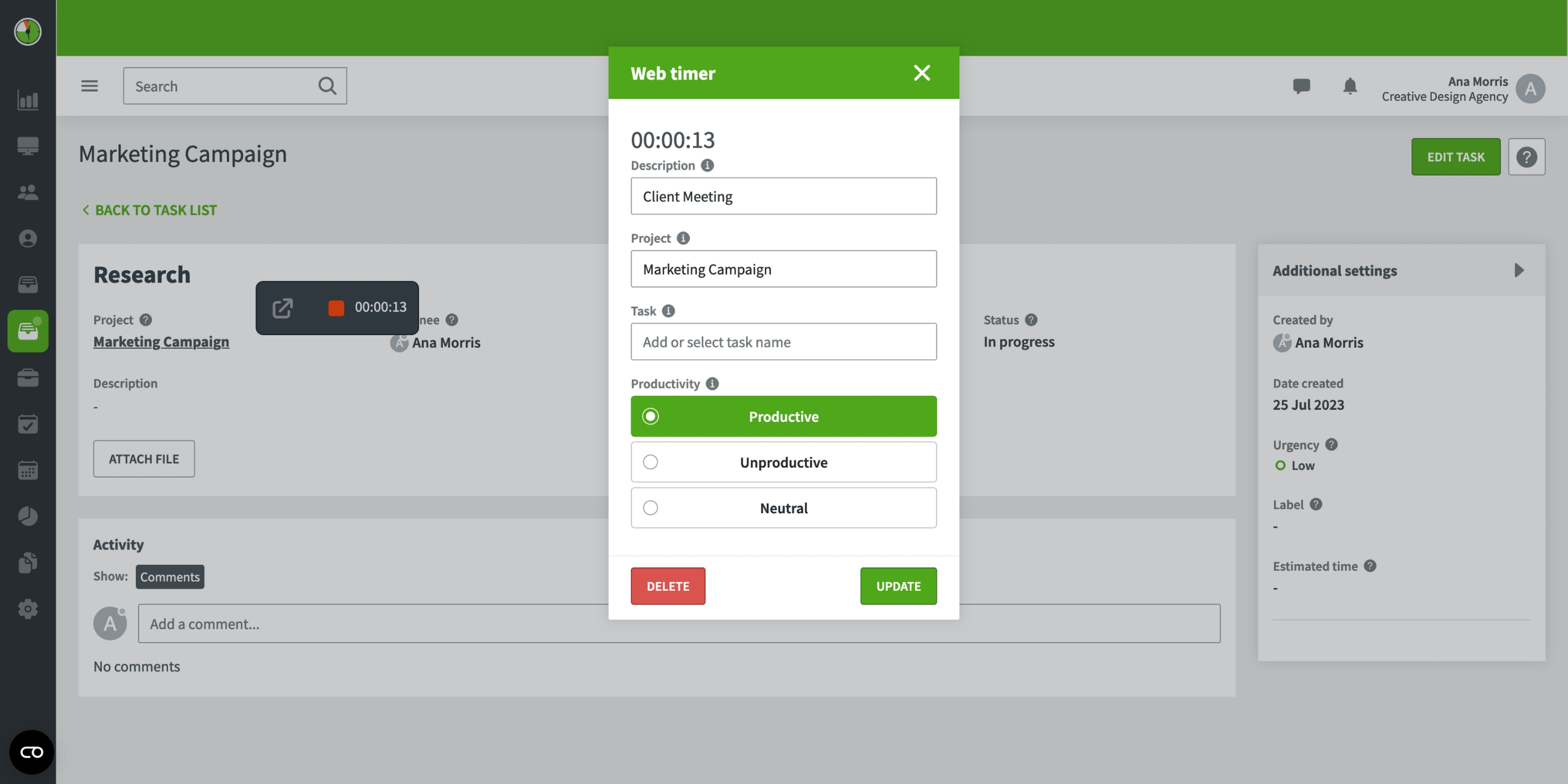 Based in Latvia, DeskTime is a time-tracking software designed for companies, freelancers, and managers who want to track employee productivity and manage time. It is also a great tool for remote working and hybrid offices thanks to its absence calendar and shift scheduling. There's a free plan available for one user; paid plans start at $7/user/month.
One distinct feature of DeskTime is its "Private Time" feature, allowing you to take a digital timeout on your computer, which means that your websites and activities, e.g., social media browsing, won't be recorded automatically. One downside: you have to remember to turn Private Time off for accurate time tracking.
21. FreshBooks
FreshBooks is a cloud-based accounting software with time tracking capability designed for self-employed individuals—freelancers, solopreneurs—and small businesses. It is a great tool for bookkeeping as well, suited for professional accounting.
There's no free plan available; paid plans start at $17/user/month (the first 6 months are 50% off, so $8.50/user).
Time tracking is not its forte, though. The latest update allows users to pause timers, and a pop-out time tracker was added. A feature highlight of FreshBooks is its Mileage Tracking, where users can track their commute or business trips to create reports and reduce their taxable income. It automatically logs each trip and saves travel history, which can be labeled as business or personal.
22. Float
Float is a resource management software with time-tracking functionality to help freelancers and businesses schedule tasks quickly with a real-time view of availability, including time off and public holidays. It can be connected with project management, calendar, and communication workflows via direct integrations.
There's no free plan available; plans start at $7.50/user/month, but the Starter plan does not include built-in time tracking, lock logged time, or estimated vs. actual hours—the Pro plan starts at $12.50/user/month. If you need reliable time tracking, other alternatives offer competitive prices.
Float's main feature is capacity planning, so time tracking is built around scheduling work. Users can track their location and work time and compare it to their scheduled work or pre-fill timesheets based on their scheduled tasks. Further, they can lock the logged time and submit it as timesheets.
23. ActiTIME
ActiTIME is a time-tracking software that allows solopreneurs and businesses to manage their projects and clients in a single place. It allows logging of working hours across tasks, registering time-offs and sick leaves, tracking individual and team productivity trends, and monitoring project costs and profitability.
There's a free plan for up to three users with limited functionality; paid plans start at $7/user/month (or $6 if there are more than 40 users).
ActiTIME is, firstly, a time-tracking solution with a focus on timesheets – overtime, locking timesheets, and timesheet approval are key features. One major update is ActiTIME's Time Management Assistant, which automates time tracking with the help of a Chrome extension and helps find time wastes in your workday.
24. Replicon
Replicon is a cloud-based time tracking and project management software for freelancers and businesses focusing on billing, payroll, and compliance. It seems to be one of the platforms geared for managers of mid-size to large teams who love to micromanage or for HR departments with complex payroll features.
There's no free plan available; paid plans start at $6/user/month for time and attendance and $12/user/month for complex time tracking.
Besides its AI-based auto time-tracking, which analyzes and optimizes user data, Replicon's feature highlight is its GPS time tracking. Another major product update was its AI-enabled timesheets, in which your chat prompts turn into timesheets.
25. ClickTime
In business for two decades, ClickTime has been built for project-based teams of 20 to 1,000 users (mid- to large businesses) needing to effectively allocate time. ClickTime does a little bit of everything, from project management to time tracking and reporting.
There's no free plan available. The Starter plan at $10/user/month offers basic time tracking, namely timesheets, timesheet notes, and a stopwatch. For overtime, billable & non-billable hours, billing, and cost reporting, pricing starts at $13/user/month.
ClickTime's newest feature is time-off management, allowing employees to request time off and approval from managers.
26. Hours Time Lord
Hours Time Lord is a mobile time-tracking app targeted toward people who work billable hours, such as freelancers and lawyers. It's a simple time-tracking solution with notes, exportable reporting, and customization. It's a neat app—terrible name. A free account offers a visual timeline, 5 timers, and summary reports. For unlimited timers and customization, pricing starts at $9.99/user/month.
Its most appealing feature is the color customization of the platform, offering 100+ colors to customize your work entries; you may also tag, personalize, and title data entries.
27. ClockShark
ClockShark is specifically marketed towards franchise companies, offering GPS tracking and employee scheduling. Designed for field service and construction businesses to track employee time, run payroll, and save on job costs. There's no free plan available. Paid plans start at $20/month, with an extra $8/user/month, offering time tracking with scheduling, geofencing, and administrative features.
ClockShark's feature highlight is the GPS functionality, the "Who's Working Now" feature, which provides up-to-date location and timer. There's been no information online on updates since 2020. ClockShark is a niche app for specific industries and purposes and doesn't need many bells and whistles.
28. Qbserve
Qbserve for Mac is meant for freelancers, consultants, and small teams who need time tracking and invoicing. They offer automatic productivity tracking for websites and apps, automatic project tracking based on opened documents and web pages, and invoice generation. A rarity in the industry, Qbserve has no subscription but a one-time yearly payment of $35. Data is stored locally for each user.
Qbserve's feature highlights are its real-time performance feedback and notifications, various reports and timesheets, scheduled data export, Slack team, and Skype chat tracking.
29. Bigtime
BigTime is intended for professional services firms, especially accountants, architects, engineers, IT service firms, and consultants. It unifies budgeting, project planning/execution, team communication, task management, resource management, invoicing, and project financials.
There's no free plan available; pricing starts at $20/user/month for time tracking and project management, along with rate management, approvals, and expense management.
A niche selling point that might be of interest when choosing software is that the app is DCAA compliant.
30. Buddy Punch
BuddyPunch isn't marketed toward a particular group, but it's intended for teams of up to 1000 users. The software features time tracking and scheduling with a drag-and-drop interface, PTO tracking, and integrations with payroll apps.
There's no free plan available; on top of a $19 monthly base fee, a $3.49 monthly fee is paid for each user for time tracking, basic GPS, Time Off tracking, Job tracking, and Break planning—or $4.49 for employee scheduling, and attendance reporting.
BuddyPunch advocates that employees should "punch in" their schedule at all times—they offer GPS tracking and even slightly dystopian face image recognition to ensure employees are "punched in." The facial identification biometric technology ensures employees are present, so the webcam takes automatic pictures of employees when clocking in and out.
31. homebase
Homebase provides employee scheduling, time clocks, payroll, team communication, hiring, onboarding, and compliance. Their product is aimed at hourly teams, including restaurants, retail, healthcare, beauty, home and repair, and professional services businesses. Homebase's agenda is to minimize time theft and control labor costs.
Homebase is rare in the industry by paying per location. So, there's a free plan available for 1 location with unlimited employees, time clocks, and timesheets—otherwise, plans start at $24.95/location/month. There's another $39 monthly base fee plus $6/user/month for payroll.
Homebase is strong on GPS tracking and image verification features in its mobile app for off-site teams. There's not much information on any recent updates; it seems they are mainly aimed at hospitality and offsite companies that need employees to clock in and out.
32. connecteam
Connecteam caters to hospitality, retail, construction, manufacturing, healthcare, services, security, HVAC, and any other industries needing to manage and supervise their staff. The app also offers task management, scheduling, and payroll connected to time tracking.
There's a free plan for teams of up to 10 users with limited time tracking; paid monthly tiers ($29, $49, or $99) are available for the first 30 users, plus a small monthly fee for each additional user.
Connecteam is set on eliminating time theft and buddy punching. Thanks to geofencing, managers get notifications when employees clock in late and complete visibility of employees on the go. Their Training and Onboarding module is a standout feature that helps you integrate employees quickly.
33. Timing
Timing is intended for freelancers and small creative agencies, as well as anyone who needs to bill their time and account for any time expenditure. Timing is an automatic time-tracking app for macOS and iOS with a privacy policy, unlike its competitors.
There's no free plan available; paid plans start at €10/month per single user on up to two Macs (or €13 for three Macs). There's a Connect plan for €18/user/month for teams.
With all the aggressive monitoring out there—from screenshots to mouse tracking, geofencing, and facial biometric clocking—Timing is efficient while protecting user privacy. For instance, users can set exclusion lists, surf privately in incognito mode, and store data locally. It's a nice app, refreshing even after all the previous aggro apps, to be honest. Automatic time tracking is integrated with many apps for in-depth tracking.
34. Jibble
Jibble is a free-forever platform with unlimited users, offering clock-in and out via mobile, tablet, web, MS Teams, or Slack. Jibble is aimed towards construction, manufacturing, retail, healthcare, F&B, education, startups, agencies, companies with field employees, and office-based and remote companies.
Jibble offers a free plan, but there's no transparent pricing system—Capterra has some rough prices per user.
Jibble integrates with Slack and Microsoft Teams to track time—or you can use the Chrome Time Tracking Extension.  It also offers GPS tracking and biometric identification, so you must take selfies for attendance. One of Jibble's standout features is its offline timesheets, meaning you can keep tracking time if you lose connection.
35. Apploye
Apploye is aimed towards freelancers that need to bill by hourly rate, small to mid-sized remote and hybrid companies. It offers time tracking on mobile and desktop, project and task tracking, project budgeting, invoicing, payroll, client, and team management. There's no free plan; paid plans start at $5/user/month ($4 if you are a solo user).
If you're a solopreneur, the time-tracking module might be a good fit. Otherwise, I find Apploye really strong on micromanagement. Managers are updated on team performance and activity in the Reporting and Dashboard area. So, whether users add or delete entries, actions are shown in the activity report. Managers get a live feed of employees' tasks and projects with the option to take screenshots of their screens. In contrast, Paymo's Active Timers displays users' timers without aggressive surveillance.
One of Apploye's standout features is its automatic time reports in calendar format on a daily, weekly, monthly, or custom basis in a calendar format. The visual layout is neat and easy to understand.
36. timeBro
TimeBro is an automatic add-on that connects any project management software with any open API that allows it—currently around 50, with more coming soon. It's an automatic tracker that follows your app activity, displays it on a timeline, and allows export. It's best for IT teams, marketers, lawyers, or digital creatives.
There's no free plan available. Paid plans start at a minimum of $14/user/month—excl. taxes—and can be paid with your local currency. Other plans allow integration with project management software—which can be quite expensive. Opt for project management software with time tracking to save up.
TimeBro boasts 100% privacy: nobody can see your recorded activities, and there's no data monitoring.
37. nTask
nTask is designed for all-sized teams and industries aimed at managing campaigns, sprints, product development, inventory, clients, and company goals. It's an affordable project management app that offers time tracking and timesheets.
There's a free plan for teams of up to 5 users with unlimited tasks but no projects. Even so, the prices are competitive, starting at $4/user/month.
As for time tracking, the platform is fairly standard. It doesn't offer anything that stands out or differs from other apps. Some of its key features include time estimates, time reporting, and manual time entries.
38. Avaza
Avaza is a work management software with time tracking that is Intended for client-focused businesses that manage internal and customer-facing projects. It includes invoicing, project management, resource scheduling, time tracking, expense management, quoting & reporting.
There's a free plan available for one user (but unlimited collaborators) with limitations, e.g., 5 active projects or 5 sent invoices. Paid plans start at $11.95/month with monthly fees per different types of users, like team members (+$2 each) or admins (+$7 each), for example.
Avaza's time tracking is geared towards better timesheet management: timesheet approval, locking approved entries, and easy review of timesheets. One standout feature is its internal live chat for employees. This alone helps with quick communication and eliminates noise and the pain of Microsoft Outlook et co.
39. Lathem
Lathem's PayClock is designed for small to midsize businesses to assist with record punches, shift differentials, data export for payroll integrations, summary reports, and attendance tracking via biometrics. It is a suite of products also offering proximity badge tracking and fingerprint recognition.
There's no free plan available, only two pricing tiers – standard (starting at $35/month) and enterprise (minimum $50/month).
One standout feature is their physical badge reader that integrates into their time tracking and payroll system. Its 2010ish interface design could be spruced up.
40. ManicTime
ManicTime is a time-tracking solution aimed at both individuals—freelancers and solopreneurs—and teams. It requires some know-how for its setup – ManicTime Server is an on-premise installation, allowing you to install ManicTime Server and ManicTime Clients behind your firewall.
There's no free plan; however, as a single user, you may opt for a one-time annual payment of $67 or $9 monthly on a 3-year plan (or $11 over 5 years). Pricing changes for teams of a minimum of 2, where each extra user costs $12/month on a 3-year plan or $15 for 5 years.
ManicTime appears clunky and rather old-school, needing a revamp for the 2020s. It is installed on work devices and collects computer usage data for each team member, who can then use the data to log their work hours accurately.
Why do I need time-tracking software?
You've probably asked yourself what hour tracking is, "Why would I need it?"—and if you've established you need it, "How do I track my work hours?"
Time tracking software is a type of computer software or mobile application that allows a user to register time spent on tasks or work in general. It is used in various industries, especially by those who employ freelancers, contractors, and hourly workers. It is a must for those who bill their customers by the hour.
Why is time tracking important?
If you're not yet convinced about the utility of time tracking, look at the following benefits:
Identify non-essential tasks: Time tracking can help you replace unimportant tasks with productive ones since you don't have time to waste. Tracking your time is insightful: an automatic time tracker maps out everything you're working on your device, so review your activities to identify time wastes.
Improve time estimates: Use previously tracked time entries as the primary indicator for future projects to make better estimates and set more accurate deadlines for similar projects. Monitoring their evolution can help determine if an employee has enough time to finish a task based on past activities.
Get paid fairly:  If paid by the hour, an easy-to-use time tracker will help you get the money you deserve. It eliminates guesstimates and awkward conversations with problematic clients who are unwilling to cooperate or hesitant to decide on a pay rate. You'll have the evidence of your work securely stored online and measured second by second with all your time logs.
Key Criteria for Choosing Top Time Tracking Software
Here are key factors we considered when reviewing this project time tracking software:
Core Features: The time tracker software's main features should influence your decision first. Then, task management and online reports are indispensable; time-tracking working hours is the basis of timesheet software for invoicing and billing purposes. (Bonus: teams can use collaboration and resource scheduling, but this feature is useless for individuals.)
Cost: Consider your budget and what you want to pay for. Most time-tracking software are free—see if the paid tiers make sense to you and your needs. For teams: some top-time tracking tools charge more for additional users, so you'll need to consider the number of active users on the app at the same time.
Reviews: Surely, there's subjectivity in reviews, but reading what existing users have to say can be insightful. Capterra and G2 are two reliable user review platforms that aim to provide objective user feedback.
Extra features: Think of any other feature you might need, anything from GPS tracking and integrations to a timesheet approval system, a payroll function, or even a clean or colorful design to keep your team engaged.
Take these factors and grade them according to your needs.
First, create a spreadsheet.
Then, write down your must-have features (give 5 points for each one), nice-to-have features (2 points for each one), and bonus features (1 point for each one).
Add it up to create your rating of the best time-tracking software and make your own top to test before choosing one.
What else do you need with your time tracker?
By now, you've probably chosen 2 or 3 online time-tracking tools to look at. The best time-tracking software is one that meets your business requirements, delivers what you need to get work done, helps you complete your work, and is easy to use for your entire team.
But your personal experience with the app might be the decisive factor when choosing the right time-tracking software. Therefore, with all this information at hand, you just need to start a free trial and "play" with the apps. Test them thoroughly and invite your team to do the same.
On top of time tracking, you need task management to keep track of your daily duties and time reporting features based on your work to measure performance and monitor past activity for future reference. In our opinion—and experience—task management in the form of Kanban boards software simplifies planning and execution thanks to its visual nature.
Time tracking works even better when you pair it with other features. What's also great to have—and it's becoming increasingly popular—is an invoicing feature. Read our invoicing guide for examples and processes for generating invoices based on time tracking and what invoicing mistakes to avoid.
As a freelancer or business owner, a simple invoice generator allows you to insert your details and signature to create, send or download an invoice in under five minutes.
Other nice-to-have functionalities, such as automatic time tracking, team resource scheduling, or accounting capabilities, help balance your time, budget, and human resources. Moreover, you'll no longer have to switch between apps, tools, and techniques to complete your tasks.
Note: Check out our task management guide to find out more about how you can prioritize and organize your tasks using relevant tools and techniques. Also, you might want to look at these professional cloud-based tools that we included in this top list of resource management software or the best Gantt chart software in 2023 to view and do project planning—besides just tracking time.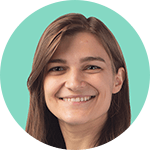 Drawing from a background in cognitive linguistics and armed with 10+ years of content writing experience, Alexandra Martin combines her expertise with a newfound interest in productivity and project management. In her spare time, she dabbles in all things creative.
Laurențiu started his marketing journey over 18 years ago and now leads a marketing team. He has extensive experience in work and project management, and content strategy. When not working, he's probably playing board games or binge-watching mini-series.