There aren't two more confusing yet vital roles in a tech company that get so mixed up these days: the product manager and the project manager.
Even though they might overlap in terms of qualifications or specific skills, such as leadership and time management, they're, in fact, two sides of the same coin.
The product manager sets the vision for the product that needs to be built, gathers requirements, and prioritizes them. In contrast, the project manager acts upon this vision and ensures that it is executed on time and within budget. Complementary roles indeed, but distinct at the same time.
Product vs. Project
To iron out their differences, let's start with defining the words product and project.
A product can be anything from a physical product to software or a service that satisfies the needs of a group of users. It goes through a life cycle, being developed and introduced on the market, growing in acceptance until it matures, and retired once it's no longer needed.
A project is a one-at-a-time endeavor to create a product or service. It has a start and end date and a defined outcome. It usually goes through five stages – initiation, planning, execution, monitoring and control, and closure.
Now here's the thing that sets them apart: the timeline. Unlike a project, a product is not a temporary endeavor. It evolves and adapts to the current user's needs to prove its utility and avoid being retired. Hence, it can include several projects that aim to maintain, improve, or diversify it.
Also, both types of managers constantly look for new and effective ways to work in a hybrid setting or for tips on how to work remotely.
Let's move forward and see how differences play out regarding their roles and responsibilities.
Product Manager
A product manager's role is strategic, much like a CEO but for the product.
They're the ones who set and own the overall product direction, staying with it until they remove the product from the market. They are responsible for understanding the user needs, translating them into a design or MVP (Minimum Viable Product), and leading a development team to build the product and meet those needs.
This involves typical tasks such as:
Talking to users to gather requirements
Identifying problems and opportunities
Deciding which ones are worth going after
Creating a roadmap and defining features
Prioritizing development tickets
But, above all, it involves product sense. That is having the intuition to know when to move a product from alpha to beta tests, when to delay a release because of a buggy feature, or remove a product or part of it because it doesn't make economic sense anymore. And this is just one of the skills a product manager should have.
Product managers are also responsible for a product's profit and loss function. That's why they collaborate with the sales, marketing, customer success, and support teams to ensure that they nail the overall business goals regarding revenue, competitive advantage, and customer satisfaction.
Don't worry; these duties relate more to a senior product manager—if you're a junior product manager, you most likely follow the instructions and strategy the Head of Product sets.
Product manager skills
Here are five technical skill groups required for a product manager:
Technical skills
Data analysis. As a product manager, you'll need to collect user data, product data, and market research to understand customers, what's happening inside the product, and competitors, then make informed decisions and enhance the product. Also, you'll need to analyze data to get answers to questions like what happened to the product after its release.
Market assessment. You'll have to use quantitative market research to reach a larger audience and understand the market.
Price modeling. A product manager uses advanced analytics and product management tools to analyze customer data and uncover patterns in customer behavior and market trends to make informed pricing decisions.
Basic user experience (UX) knowledge. Product managers need a better understanding of user experience to tailor products to address customer needs and elevate the overall user experience.
Basic business knowledge. This is necessary to understand the company's strategic objectives and plan to meet customer needs.
These technical skills can be exemplified through the following tasks or responsibilities:
Product roadmap development oversight
Agile methodology knowledge
Product research
Prototyping
Data extraction and analysis
Knowledge of SQL
A/B testing
Understanding of software development life cycle (SDLC)
Programming basics
Git workflow
DevOps/cloud
Understanding of web development
Soft skills are non-technical skills, better known as intra- and interpersonal skills, and are essential to management. These skills enable effective communication, collaboration, and leadership, allowing product managers to navigate complex situations and drive successful product development. Some key soft skills for product managers include:
Soft skills
Strategic thinking to set objectives, goals, and business trajectory of the product
Visionary to set the direction and foreseeable steps of the product while anticipating future trends and opportunities to stay ahead in the market
Business acumen to be responsible for a product's profit and loss function
Strong communication skills like active listening and eloquence to communicate effectively with all related departments
Leadership to build strong teams that drive successful product development and motivate cross-functional teams
Negotiation and influence when collaborating with stakeholders or persuading others to support and invest in the product vision and strategy
Ability to prioritize tasks such as funnel data analysis, NPS surveys, cohort analysis, usability testing, project management, and A/B testing
Ability to identify customer needs to empathize and understand behavior in order to build effective products
Ability to identify market trends to gather market intelligence in order to understand competitors and make informed business decisions
What is the average salary of a product manager?
Thanks to the remote, hybrid, and global workforce, there's a lot more flexibility to work around the world. Here are the average product manager salaries in the US, UK, Germany, Australia, Canada, and Singapore, according to Glassdoor and The Product Manager:
United States (range $76,000 – $200,000+). US$127,192 (average), US$127,708 (median)
US West Coast. Los Angeles: US$142,000, San Francisco: US$151,000, Seattle: US$160,000 (median)
​​United Kingdom (range £61,900 – £123,799). London: £70,549 (median)
Germany (range €66,000 – €103,065): €80,400 (median)
Australia (range AU$115,000 – AU$200,000+): AU$135,000 (average)
Canada (range CA$75,927 – CA$216,352): CA$103,769 (average) or CA$84,295 (median)
Singapore (range $44,000 – $154,000): US$58,844 (median)
Note: what's the difference between median and average? The median salary is the middle point in a distribution of salaries, where half of the salaries are lower and half are higher. On the other hand, the average salary is the sum of all salaries divided by the number of salaries in the dataset. The median is less affected by extreme values, making it more representative of the typical salary. In contrast, the average can be skewed by outliers, namely extremely high or low salaries, which may not reflect the experience of the majority.
It's important to consider the cost of living when comparing salaries in different locations. While salaries may be higher in some areas, the cost of living may also be higher, affecting the overall financial situation. Also, experience and industry are the two leading factors of remuneration.
Project Manager
On the other hand, a project manager's role is more tactical, focusing primarily on the execution side.
They have to take the product vision from the product manager, develop a project timeline around it, and plan the work for the development team to hit important goals and deadlines. Or, to put it simply, their responsibility is to successfully bring a project to completion within the agreed budget, time, and quality – one project at a time.
This goal usually breaks down into three activities:
Risk and issue management – involves spotting early on and minimizing potential risks that might delay the project's completion.
Planning and resource scheduling – the planning part refers to adding up tasks with a start and end date, assigning the necessary employees to them, setting up the initial time budgets, and preparing the project timeline through specific project management methodologies and tools, like the Gantt Chart. On the other hand, the resource scheduling part has to do with the daily management of task lists, materials, infrastructure, reports, and people to provide the project team with everything they need.
Scope management – perhaps the most demanding activity of them all, it requires balancing the time-budget-quality trio to favorably modify the project scope and bring it in line with the initial set outcome. For example, if you shorten the project timeline, then more resources are required, which in return increases the budget. Or you need to modify the scope to meet the quality agreed upon.
Note: If you're a project manager looking for user-friendly software with good reporting tools to help you with project planning, check out these top project planning software.
The project manager might also gather the user requirements but have little to say in defining and prioritizing them, thus aiding the product manager in writing the user stories. This reassures them that instructions are as straightforward as possible for the team so they can easily stick with them.
Project manager skills
You probably stumbled upon a list of skills a project manager needs to have, such as this:
Planning
Execution
Monitoring
Coordination
Time management
Budget management
Resource management
Risk management
Strong communication skills
Leadership
Ability to prioritize
Problem-solving
Read this subsection of The Complete Project Manager Guide for a detailed breakdown of all the skills, plus an explanation of what these entail in context.
What is the average salary of a project manager?
Curious how much a project manager makes? Read through our project manager guide for a dedicated subsection. TLDR: expect the average project manager salary in the United States to be $88,566 annually, while additional cash compensation can be between $1,541 and $19,755.
Can you handle both roles at the same time?
After briefly reviewing their roles and responsibilities, we can observe that product managers deal with technical issues and are thus externally oriented. Meanwhile, project managers tackle more functional issues and work internally. To quote a popular industry saying:
Product managers deal with the what and why—project managers with the how and when.
We can assume that product managers can be project managers too. But the real question is, should they?
Let's analyze the problems that might arise from overlapping both roles:
Decreased focus – Product managers have an external orientation. Their daily activities might involve talking to clients, running usability tests, shadowing the sales team in customer interactions, or attending fair events. These are all activities that happen outside the office, making it hard to keep an eye on the product vision and the development team internally.
Insufficient skills – Product managers might not be technical enough, which would leave them at the developers' mercy when estimating how much time each task would take to be completed.
Potential bottlenecks – Better said: bottleneck, in the form of a single person on which the product and project success depends. There are too many stakes against a product manager who takes all the risks on themselves.
It might be feasible to have a person wearing both hats, as with most small or very small companies. In this situation, though, the person might be using project management and invoicing software to manage the entire business (or an invoice generator if they need a quick online tool). But once the project is more complex, spans a longer timeline, and involves people from different departments and geographical areas, it's best to separate them.
This way, product managers add value by focusing on the product vision. Meanwhile, project managers deal with project execution and ensure they deliver a quality product on time and within budget.
Speaking of budget, understanding how profitable a project is—with the help of project estimates, constant monitoring, and project profitability formulas—is crucial to both roles.
Product and project managers complement one another. Let's say your company has these two distinct roles, and their attributions are clearly defined. A project manager is accountable to the strategy set and acts in a tactical manner, ensuring things get done on time and within budget. In contrast, a product manager is responsible for the product strategy.
How to become a product manager
While there is no clearcut pathway to becoming a product manager, here are some good steady steps you can take:
1. Obtain a bachelor's degree
While a degree is not always required, having a bachelor's degree in a relevant field such as business, computer science, or engineering can be beneficial. Some companies may also prefer candidates with a master's degree.
2. Build up your skills
Develop a strong understanding of product management principles, including market research, user experience, and project management. You can gain these skills through internships or self-study.
3. Gain practical experience
Look for opportunities to work on product-related projects through internships, entry-level positions, or side projects. This will help you build a portfolio of work and demonstrate your abilities to potential employers.
4. Earn a certification
While not always necessary, obtaining a product management certification can help you stand out in the job market and demonstrate your expertise with reputable certifications available, such as the Certified Product Manager (CPM) or the Agile Certified Product Manager (ACPM).
5. Take online courses
Here are some online courses and certifications that can help you become a product manager:
6. Apply for jobs
Start applying for product management positions, either at companies offering associate product manager programs for recent graduates or at companies looking for experienced product managers. Tailor your resume and cover letter to highlight your relevant skills and experiences. Our recommendations include Indeed, ZipRecruiter, and even LinkedIn.
7.  Continuously learn and improve
Product management is a dynamic field, so staying updated on the latest trends and best practices is essential. Attend industry events, join professional organizations, and seek out opportunities for professional development.
If podcasting is your favorite way to learn while commuting or doing manual labor, consider adding these 3 to your list:
This is Product Management: This podcast explores the intersection of product management and other disciplines, such as design, marketing, and engineering. It offers insights into building successful products and features interviews with leading product professionals. Listen on Spotify.
Masters of Scale: Hosted by Reid Hoffman, the co-founder of LinkedIn, this podcast delves into the strategies and tactics used by successful entrepreneurs and business leaders. While not exclusively focused on product management, it provides valuable insights for product managers looking to scale their products and teams. Check it out on Spotify.
How I Built This: Hosted by Guy Raz, this podcast features interviews with the founders of some of the world's most successful companies. It offers a behind-the-scenes look at the challenges and triumphs of building a business, providing valuable lessons for product managers. Also on Spotify.
How to become a project manager
There's already an ample guide, which I won't rehash here—go over "How to Become a Project Manager" for a blueprint and all you need to know.
Conclusion
While there is some overlap in the skills required for both roles, product managers need more strategic thinking and visionary skills. In contrast, project managers need more tactical skills such as planning, execution, and monitoring. Both roles require strong communication skills, leadership, and the ability to prioritize.
Casting the confusion and overlapping skills aside, product managers and project managers form a powerful duo after all. Their differences complement each other and guarantee the long-term success of a company. Treat them appropriately, and they'll take care of your business.
Note: If you're a project manager who runs a small team and looking for a time-tracking system, check out these easy time-tracking software.
If you found this article useful, please spread the knowledge and share it with your teammates and followers.
Andrei Țiț is a product marketer at Ahrefs. He has been involved in product marketing at various SaaS companies for over six years, specializing in content marketing and short-form video. In his free time, he enjoys cooking and traveling.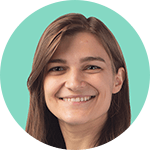 Drawing from a background in cognitive linguistics and armed with 10+ years of content writing experience, Alexandra Martin combines her expertise with a newfound interest in productivity and project management. In her spare time, she dabbles in all things creative.