If you work on both project and non-project tasks but haven't found the right piece of software yet, you might be looking in the wrong places.
While advanced task and project management software might help you to a certain extent, managing non-project activities like attending conferences or answering emails requires a more versatile solution: work management software.
If you're already familiar with work management solutions, skip to the second part to see how you can manage all your work with Paymo.
Also, if you want to organize your staff better without overloading them with tasks, check out this list of resource management software.
What is Work Management Software?
You might have heard this term a couple of times before—and probably just as many definitions—to the point where you're wondering if it's just another buzzword or something you need.
Work management software is a digital tool that allows you to plan, track, organize, and review both projects and non-project tasks to improve your business results and team performance.
But where did this need for work management software as a distinct tool come from?
People commonly search for project management (PM) software to manage all their professional work. The catch is that most of them have other activities besides project-related tasks.
Instead, they want an app that allows them to plan, track, manage, and organize all their work, including what's out of project management software's scope.
In this case, they need a tool that can help them take their work outside of the rigid structure of a project. Work management software provides this flexibility, allowing work to be done and tracked beyond the limits of a project or methodology without having to depend on clients, strict budgets, or other tasks.
Some teams or freelancers only need advanced task management software to help them sort out their duties. These teams and individuals might not require to track their time, invoice a client, or create reports – modules you'd otherwise find in project management or work management software.
If you work in one and want to save money, use a single task management software separately without depending on multiple complex workflows, projects, clients, or resources simultaneously in their work process.
Otherwise, you'd have to opt for individual online tools. For example, you could use a simple invoice generator with editable fields or invoicing software with automatic functions. The latter is usually included in a project management solution.
Work Management Software Features
A work management tool reunites all the functionalities you need to execute and monitor your work from start to finish and to keep your resources, costs, and time frames balanced. Common work management software features include:
Advanced task management – Create and assign tasks, manage priorities, and track your team's work to stay within budgets and deadlines.
Centralized communication – Teams collaborate through message boards or discussion threads, leave comments, and receive notifications whenever a task changes to stay up-to-date.
File storage and sharing – Use the tool as a centralized place to securely store all of your documents and images and access them whenever you need to.
Time management – Track work hours, create timesheets, and share time reports to identify potential bottlenecks in your workflow and keep your clients in the feedback loop.
Resource management – Schedule out your team and see who's working on what to avoid distributing more work than they can chew.
Kanban boards – Create workflows to manage work on a visual board through sequential steps.
Reporting capabilities – Create and send reports on time, costs, and resources to oversee progress, spot potential problems, and update your clients.
Certain work management software options offer modules or features specific to your industry, like proofreading, prototyping, CRM, invoicing, or integrations with third-party tools. For example, check out the best invoicing software for small businesses good for work management and accounting, helping you easily process any payment.
How Is Work Management Software Different from Project Management Software
Work management software is a relatively new type of digital tool that is still confused with project management software. Some don't notice any difference between the tools from the list. Others regard the best project management software as just another type of work management software.
To handle work in general, you commonly need all of the essential features mentioned above. Here's a graph to help you see precisely where each functionality stands:
Functionalities and use cases for work management software
As you can see, most of these features help handle both project and non-project activities. Gantt charts are specific to project-related work and don't have much use for other activities since they focus on tracking project schedules, while non-project work is commonly not restricted by set schedules or dependencies.
The fundamental difference between using a feature for project or non-project activities lies in your approach to work.
Work management software helps you tackle both your project and non-project duties simultaneously. It offers more flexibility, allowing you—as a manager—and your team members to handle both project and non-project activities through your workflows. In my personal experience, it helps stop procrastinating and tackle that hedonistic delay, that urge to engage in distractions.
On the other hand, project management software is based on rules. It is usually paired with a project management method, methodology, or framework, following a rigid structure that doesn't always allow room for work unrelated to a project.
Having said this, project management methodologies—with all their strictness—have many benefits accrued from the experience of leading experts and tried and tested pm methods.
When it comes to work, you don't always start with a plan. Sometimes you don't have a clear deadline or time frame in mind. Project management, though, always requires structured planning. This means you've got a clear deadline, budget limit, activity list, documented plans, and resources scheduled out from the beginning.
Work management software gives you the freedom to start with just one individual task, work on it, develop it in time, or even turn it into a project if it requires more steps to complete. Answering emails daily, sending out invoices, or buying new office supplies will never become a project.
Work management software should be easier to use and have a smoother learning curve. But in reality, an advanced tool like this has many more features that can make it more challenging to use than simple PM software.
Comparing them in this sense might not be the best way of deciding which tool of the two is right for you.
Work Management Software Benefits
We've already mentioned how work management tools unite various modules and features into one system. So, naturally, its benefits are both general and feature-specific.
Its main advantages are that you no longer have to use multiple different tools and waste money paying for them since you're only buying one solution, not 3-5 different ones.
But what are the extended benefits of these features when applied to work outside and on a project?
Balance schedules. A resource scheduler, for instance, offers better transparency and visibility into your team's schedule besides projects. This way, you can assign each team member to new tasks and keep their workloads balanced.
Maintain control of your time. Tracking your time on non-project work, besides your regular projects, allows you to be more productive and self-aware of your efforts, make better time estimates, and keep your team accountable.
Track your work. Creating a report for all your tasks lets you monitor work progress, spot issues, and share updates with clients or other stakeholders.
Organize tasks. Then there's task management. Most work management tools come with extra features to help you prioritize, track, and collaborate on each one of your tasks, so none are left uncompleted. I can't stress enough how important having structured task lists is when working on multiple projects, even more so when you've got additional non-project tasks just screaming for your attention.
Visualize your workflow. Suppose you're not a fan of detailed activity lists. In that case, you'll be happy to find out that specific work management platforms offer Kanban boards, a way for you to segment and visualize all your duties as they go through different workflow stages. Move them with a simple drag and drop to the corresponding stage, and you're all done.
Collaborate effectively. Perhaps the most considerable benefit binding all the others together is the ability to collaborate freely across multiple projects and tasks. Whether sharing a file or just leaving a comment to offer feedback, work management apps extend collaboration opportunities beyond a project.
On a general level, choosing work management software in favor of a specific tool—let's say task management or time tracking—will help you tackle your tasks and meet your client requirements, whether these are related to tasks, projects, time, costs, or anything else.
Tip: Consultants, lawyers, and creatives benefit the most when it comes to tracking time spent on meetings with clients or working on deliverables. If that's you, check out this list of the best time tracking software you can use.
Your entire work process will improve, allowing managers to see how work is distributed throughout the company, not just within projects or at a team level. Implicitly, this increases your work efficiency and productivity to deliver higher-quality results.
Who's It For?
Think about your daily work. Is it exclusively project-based? Does it focus mainly on non-project tasks, or is it a mixture of these two?
Overall, work management software is the perfect solution for project-based businesses that regularly have additional non-project activities. However, if you're only working with projects, choosing PM software instead will be enough.
Move on to prioritize your needs, both general and particular. Are you paid by the hour? Choose tools with employee time tracking software that have high reviews for time clock software of its kind. Do you use only software to collaborate? Aim for solid communication and sharing functions. Is more than one person going to be working on a single task? Make sure you've got multi-user assigning.
If you don't know where to start, look at the tools you're already working with. See what features your team is using and which are never used. Also, ask yourself, "Do I really need an additional tool?" If you only need to work on a few non-project tasks and record your work hours, a task management tool with time-tracking functions or integrations could be good enough.
If you've got multiple tasks, projects, budgets, timelines, and resources all going on simultaneously, you'll want to switch to a solution that reunites everything under a single platform. Moreover, you'll want a platform that provides a project profitability analysis if you're a freelancer or business owner to understand which tasks and projects are profitable and make sense for your business.
Finally, consider your team's size. There are a couple of project management and work management options out there that are free, so you won't have to invest too much unless you're looking for something that packs in more power.
As an individual, you'll only need a simple tool to help you sort your tasks, track your time, and send out invoices regularly. If you're unfamiliar with the invoice format, we've explained in this guide what a digital invoice is and how sending invoices helps your business.
You'll have to go through the other factors to choose a tool for a small or medium team. Again, a project management tool is a good fit if your team mainly works on projects within a predefined method, methodology, or framework.
Work management software is better suited for project and non-project duties and several different teams collaborating across multiple tasks.
You'll need a work management tool when you add a couple more teams, departments, and perhaps even company branches to your business. Otherwise, you and your team will inevitably face challenges like disruptions due to remote work, burnout, mental health issues, and even employee turnover. Maybe you've noticed that the latest trend of people seeking new career opportunities is called the Great Resignation—and how it affects the typical workplace.
But we're digressing—on to work management.
How Work Management Is Done in Paymo
You now know what work management software is and how it can help you—let's look at a real-case scenario. Paymo is more than just a project management software, being ideal for teams (and freelancers) who regularly work on projects but have extra work outside of a project's environment.
Here are all the steps you need to take to manage your work with Paymo:
Setting up your internal project
Start by setting up an internal, non-billable project. This is where you'll later add all the non-project-related activities.
Yes, you'll still have to associate a client with it, but it will be your own company this time. Just remember to add it under the Clients module. Name this project "Internal Activities" or "Admin Tasks" and use it for specific groups of tasks (task lists) like "Accounting," "Emails," "Meetings," or "Team Training."
After all, there's no problem if the Projects module contains both regular structured and internal projects—that's the idea behind work management software.
To better distinguish between them, create new project statuses from Company Settings (see below), and label each project with a distinct status. You can then filter projects after them for increased visibility, like "On-hold" for projects where you still wait for the client's approval or "Internal" for the administrative ones.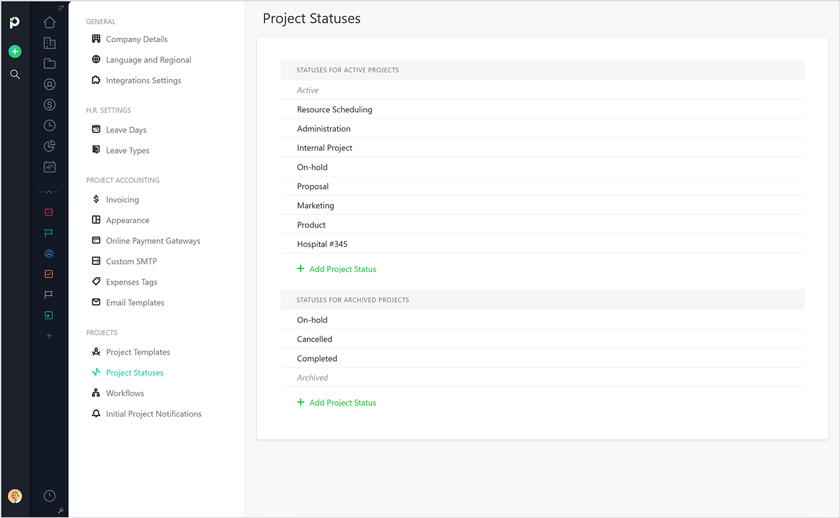 Establishing distinctive project statuses in Paymo
Customizing your workflow
Next, you'll be asked to select an existing workflow.
A workflow is a group of task statuses that indicate how tasks evolve from creation until completion. A visual process, if you like, focused on the actual movement of work.
The default workflow in Paymo contains three statuses: TO DO – IN PROGRESS – COMPLETE:
Default workflow in Paymo
This one has a straightforward structure to get you started, but we encourage you to set up your custom workflows. Through them, you'll be able to spot bottlenecks and prevent further errors whenever there are too many tasks placed under one single stage or user.
Clearly define your workflow at the start of any work management process and customize it to handle your own needs. Add as many statuses as you need with distinctive names and colors to better distinguish between them. To create your own, please head to Company Settings > Workflows.
To see examples of how different teams apply their own workflows in Paymo, check out our list of detailed Kanban board examples.
Please note that any changes you make from your Company Settings will also apply to your live projects.
Creating and managing your tasks
Any work management software should come with an advanced task management module. Based on your work style, there are several different ways of organizing and visualizing tasks:
To-do lists – For simple tasks lined up under each other, together with only the essential details (users assigned, deadline, task priority)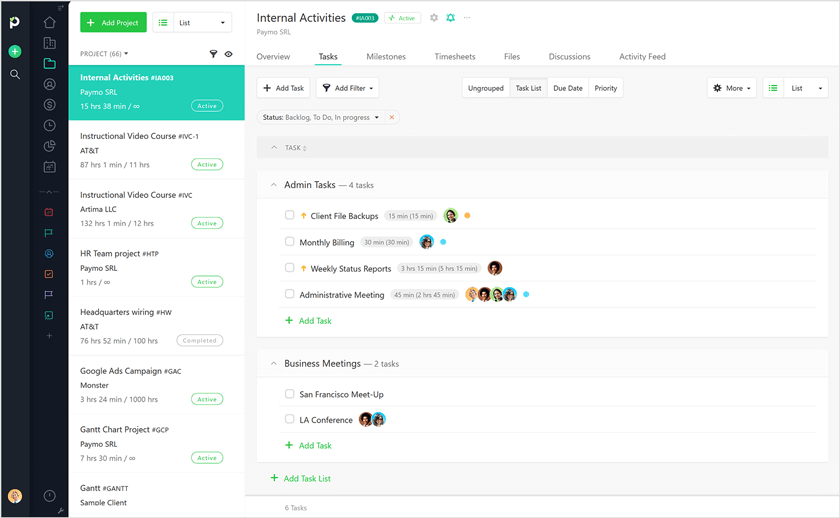 To-do list
Detailed task lists – Help you handle complex work that involves multiple team members or resources simultaneously.
Detailed task list
Kanban boards. A visual tool for getting a bird's-eye-view of one project so you can easily move an activity from one workflow stage to another.
Kanban board
When it comes to work management, you'll need to use the organizational methods on a larger scale, including your regular projects and your non-project or admin work. Luckily, Paymo's Home module allows you to see your and your team's activities across the entire company through three views:
Simple view. A to-do list format of all your activities grouped by priority/due date/project.
Table view. Detailed task list showcasing additional task information such as billing type, estimated budget and tracked time in a spreadsheet-like format.
Board view. A Meta Kanban board shows all your tasks across all projects (external and internal) grouped by user or workflow.
Paymo's Meta Kanban for an overview of all your project and non-project work
The first thing users should do when they start work is check out the My tasks area. If you never know which tasks to start with, Paymo offers you the ability to sort them according to Project, Due Date, or Priority: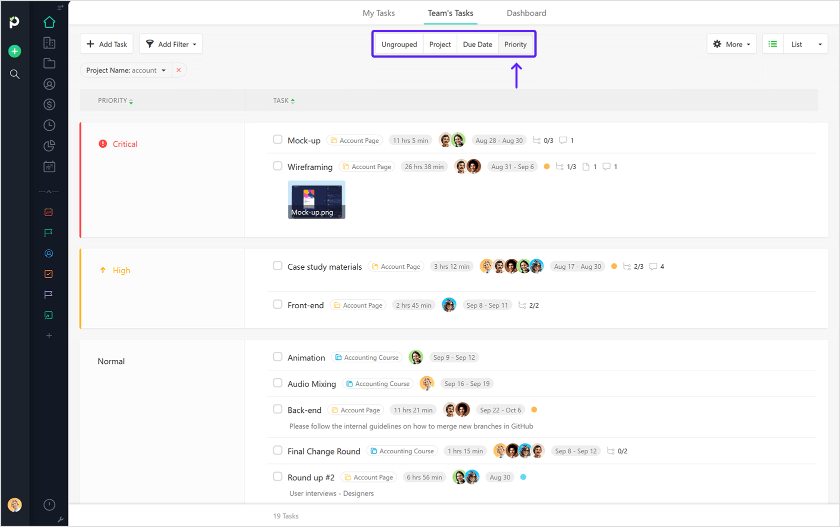 Tasks sorted according to priorities
These three ways of displaying the tasks you're in charge of, paired with the highly customizable filters, will help you reorganize how you execute your duties. This will make you more productive and efficient, so you can focus on executing work and not just sorting it.
Monitoring your team and reviewing work
Supervising your team members' activity and the status of each task is an ongoing process. Besides the common visual tasks list like Kanban boards, there's resource scheduling. Think of a resource scheduler as a calendar that shows you who's working on what, when, for how long, and what physical resources can be used.
In Paymo, we call this Team Scheduling. This module allows you to determine if your team is available for 2-3 more tasks or if they are overallocated and spot any current constraints to prevent conflicting resources. Your team's allocation—your resources—can be viewed in three different ways:
Ungrouped. Bookings are displayed as a timeline to see when each project and non-project task are scheduled.
Ungrouped view
Grouped by Projects – Bookings are grouped according to the project they belong to, so you can visualize how employee schedules compare.
Bookings grouped by project
Grouped by Users – Bookings are organized according to each team member, so you can easily prevent over or under-allocation—the green color highlights when someone is underbooked, yellow for complete allocation, and red when overbooked.
Bookings grouped by user
Another way of monitoring teams is through time tracking. You can use it as a future reference to create better time estimates for your next duties and prevent resource overbooking or underbooking.
Time entries in Paymo can be added either in bulk or via the web time tracker for more convenience:
In-app time tracker widget
If you'd rather track time outside of a browser, Paymo's desktop widget works on Windows, Mac, and Linux. Compared to the web timer, it lets you add time in bulk and shows you a breakdown of all your activities throughout the day via a daily work bar:
The desktop widget allows you to track time as you work or add time logs manually
All time entries are automatically registered under the Timesheets module, so you'll see the exact number of hours and minutes a team member spends on a task. These can be later edited in case of any errors and viewed from a daily, weekly, monthly, and agenda view, depending on your preferences.
A web designer's timesheet with project and non-project tasks for one week
Having a timesheet neatly displayed in a calendar format can only go so far.So, go ahead and create a time report from the Time Reports module for more detailed information on your time spent.
In Paymo, there are two types of time reports you can create and share with your clients:
Static − offers a snapshot of your current timesheet data for a specific time frame
Live − updates itself with new info whenever someone opens the report
Want to find out more about how time reports can help you? Check out this
list of benefits
.
Try automatic time tracking if you often juggle several different tasks, handle projects and additional non-project work simultaneously, or always forget to start your timer. This time tracker tool automatically tracks all the activities on your computer, whether it's within the web browser or not. This means you'll no longer have to start and stop your timer for each task you're working on. Instead, the software will do this for you and pair the entries with their corresponding tasks based on your rules.
You can also use the mobile time tracking app options (Android/iOS) to suit your needs while on the go. Or the built-in Pomodoro work and study timer app to break down your work into intervals of 25 minutes and boost your productivity.
Tip: If you want to see exactly who is tracking their work in real-time, what task they're currently working on, and when they started tracking their time, just go to Home > Dashboard and look at the Active Timers widget.
Advanced collaboration
Collaboration is a central element of any successful work management process. Paymo offers three simple ways of keeping teams interconnected and updated at all times:
Notifications
The "I wasn't told about that" excuse is no longer valid. Paymo provides in-app and email notifications whenever a change is made to a task. We're talking about new comments, status changes, file uploads, and more task-related details.
In-app notifications
Commenting
To ensure all teams have the necessary information, comment on a task or start a project-wide discussion thread. Notify only the relevant colleagues about new task updates through assigned comments so you don't spam the others and keep the feedback circle tight.
File sharing
Considerable time is regularly wasted just on searching for a task's files. If you're handling multiple files for projects and non-project tasks, you'll need to keep your file storage connected to your work management software.
Paymo is a cloud-based solution that securely stores all your documents and images, whether you're linking them to a specific comment, task, or project. The in-app search function means fewer team members will be aimlessly scrolling through a database in search of an image you made five months ago.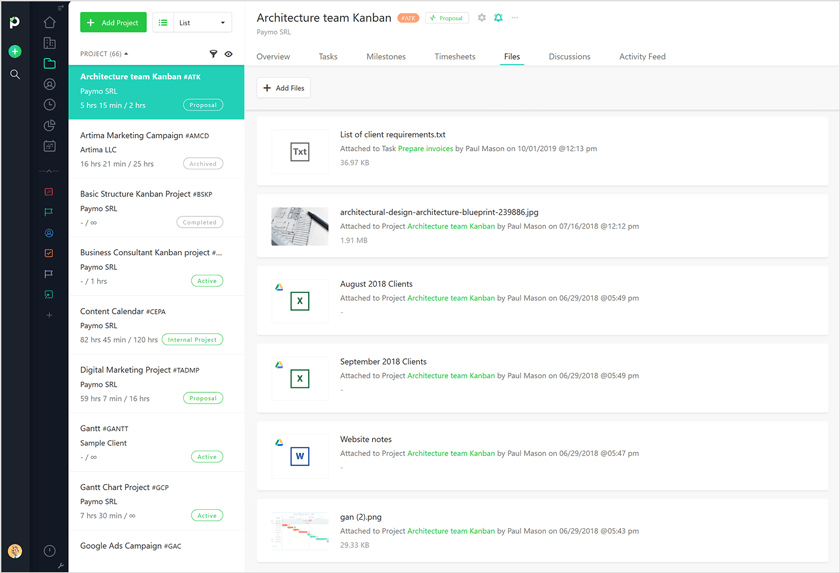 File storage for work management within Paymo
But what about the client?
Besides the live and static reports you can send to keep clients updated, Paymo also allows you to give them access to a client portal. This lets them view their invoices and reports at any time, so they won't have to search through hundreds of emails or ask you for a new report when they can just check the live report you already sent them. To give them access, just go to Clients > Contacts > Edit and check Has access to the client portal.
Tying it all
Here are a few key points to remember so you can make an informed choice when picking your next tool:
Work management software is the tool that lets you plan, monitor, organize, review, and report both project and non-project activities to support team performance and results.
Work management software can be used for projects, too. The only difference is that the focus is not solely on projects but on other types of work.
Work management tools are the best choice if you have non-project tasks besides your general project-related duties that you'd usually handle just with project management software.
This solution provides more flexibility than a project management tool, letting you work and monitor your results beyond a project's set dates without any client, budget, or other constraints.
A work management solution integrates task management, communication, file storage and sharing, time management, resource management, and reporting capabilities under one app. This reduces costs and helps you balance your resources, budgets, and time intervals for all project-based duties and non-project ones.
Have you been using the right software until now? If you plan to switch to a work management software, you can give Paymo a try right away:
Start your free trial to manage all your project and non-project tasks from a single place
First published on February 21, 2019.