We'll start with a review of 7 free time tracking apps (and 2 affordable alternatives) along with screenshots and a breakdown of mobile time tracking features, key takeaways, and a dead-simple comparison chart.
Read till the end for a few reasons why time-keeping apps are beneficial for project managers and team members.
Time tracking apps
Timesheet with timer in Paymo
Paymo, now a project management platform, started as a simple time-tracking app for freelancers 14 years ago. And for good reasons.
The time-tracking core has kept its freshness over time, allowing you to track time in various ways: manually, in bulk for one week, or via the web timer, which gets regularly upgraded. You can switch tasks midway and see which ones you've tracked for today and the past days.
Time records get registered automatically under a standard timesheet, so you receive all the necessary insights to run a team. Paymo's native invoicing module allows you to bill your clients by turning timesheet data into an invoice with a button. It's a great alternative to an invoice builder found online (although we've tested and reviewed invoice generators if they're of interest to your business).
The tool also comes with a desktop-based app (for Windows, MAC, and Linux computers). The app includes a visual burndown graph to compare work hours vs. breaks vs. overtime, as well as an idle time detection function that asks you whether you want to discard or keep the idle time.
But the cherry on top is Paymo's Pomodoro timer. It's an absolute delight that users love.
Paymo Track also automatically registers time spent in every desktop app. The good part? Everything is stored locally on your computer; therefore, you don't have to worry about privacy.
Your job is to pair them up with their corresponding tasks at the end of the day.
You can also create live time reports for a specific project, client, or period, which automatically update whenever they are accessed.
Choose from 20+ parameters, then share them with your clients to agree upon future benchmarks—as text, pie chart, or bar chart—or with your team to discuss their performance. You decide the owner and who can edit or view the time reports.
Paymo offers a free time tracking app that you can use on your smartphone to track time, whether at home, at the office, or on the go.
Mobile time tracking app:

Paymo mobile time tracking app
Paymo's mobile app is designed for individual time tracking, which means you'll only be able to see and sort your tasks. Back to time tracking, you can start the timer and decide whether to keep it in complete focus or leave it in the background.
Download the free mobile apps: for Android or iOS
There's also the option to add time in bulk if you forgot to hit start in the first place. This phone app stands out, though, by allowing you to toggle between tasks according to their due date, priority, and task status—so you know which ones to work on first.
Key features:
Web timer + add bulk time function
Idle time detection
Automatic time tracking
Timesheets with multiple views
Customizable time reports
Adobe plug-in
Project and task time budget alerts
Invoicing and expenses module
Pricing:
Free – for one user
Starter – for one user, $4.95 /user/month
Small Office – $9.95 /user/month
Business – $20.79 /user/month
Paymo can be used for free by Universities and Schools
Platforms:
Web
Windows
macOS
Linux
iOS
Android
2. Everhour
Everhour is an exceptional time-tracking and management tool that simplifies the process of tracking work hours, enhancing productivity, and optimizing project management. This intuitive software is designed with users in mind, offering an effortless and efficient way to monitor and manage time, whether you're an individual freelancer, a small business owner, or part of a larger team.
One of Everhour's standout qualities is its ease of use. Setting up an account and integrating it with popular project management tools like Asana, Trello, and Basecamp is straightforward. The platform's user interface is clean, intuitive, and easy to navigate, ensuring that both beginners and experienced users can get started without any hassle. You'll find it remarkably simple to log your hours, track tasks, and generate insightful reports.
Everhour excels in precision time tracking. It captures every minute and second with accuracy, ensuring that your time data is dependable and error-free. This feature is crucial for billing clients accurately, optimizing project timelines, and making informed business decisions. With Everhour, you can trust that your time records are meticulous and reliable.
Everhour offers a comprehensive suite of reporting tools that go beyond basic time tracking. You can customize reports to gain deep insights into how time is distributed across projects and tasks. Analyze team productivity, identify bottlenecks, and make data-driven decisions effortlessly. This reporting capability is invaluable for project managers, team leaders, and freelancers seeking to enhance their efficiency and performance.
Beyond time tracking, Everhour serves as a powerful tool for maintaining project budgets and ensuring profitability. You can set hourly rates, establish project budgets, and monitor expenses in real time. By keeping a close eye on spending and project progress, you can proactively address any deviations, ensuring that your projects remain on track financially.
Mobile time tracking app:
Everhour's mobile app extends its functionality to your smartphone or tablet, allowing you to track time and manage tasks on the go. Whether you're meeting clients, working remotely, or simply away from your desk, you can seamlessly track your time and stay connected to your projects.
It provides a clean and intuitive interface, ensuring that tracking time and managing tasks on the go is a seamless experience.
Additionally, the mobile app allows you to edit time for past entries, see how your tracked time relates to the estimates, and track your tasks inside Asana, Basecamp, Trello, Jira, GitHub, and more.
One of the app's standout features is its ability to provide quick, at-a-glance insights into your daily, weekly, and monthly time allocation.
It empowers you to make data-driven decisions about how you allocate your time, enhancing your overall time management capabilities.
Key Features:
manual stopwatch
auto-stop timer
clock in-and-out feature
estimates
time logs
time off and leave management
integrations with popular apps
Pricing:
Free plan available for up to 5 users
Lite – $6/user/mo for minimum 2 users
Team – $10/user/mo for minimum 5 users
Platforms:
Web
Windows
Mac
iOS (beta)
Chrome, Firefox, Safari, Opera and Edge extension
3. Toggl Track
Timer in Toggl Track
Toggl has rebranded itself as Toggl Track. Despite the change, the time tracking app still keeps its simplicity.
This one is the most straightforward of all the work time tracker apps. Tap the one one-click timer, and that's it—no need to fill in the client, project, tag, or billing status.
I dare say they've polished their design even further by adding the timer mode (for tracking time at the moment) and manual mode (for adding time intervals), which you can toggle between from the top right corner. Some users might like this.
The same goes for time entries viewed in a list or calendar format. Be aware that only the list view allows you to edit time entries in bulk, which feels limited.
Moving on to the desktop app, the tool has a fascinating timeline feature that auto-tracks each activity that takes longer than 10 seconds, then adds it as a time entry.
Toggl Track accommodates both project managers and team members alike in user permissions. The former can set mandatory fields to keep accurate timesheets and lock them to prevent the team from adjusting their time entries during client invoicing.
Note: If you want to take the road less traveled to project management without a degree, check out this hands-on guide on becoming a project manager.
The latter can benefit from a built-in Pomodoro timer that will nudge them to take a break after the Pomodoro interval is over – via the versatile Toggl Button, dockable in many apps.
A significant difference is that although reports are diverse, they are not as granular as Paymo's. Where they stand out, though, is the recency factor. You can schedule reports to show up at regular time intervals in your inbox without signing into Toggl Track.
I've also noticed that the app shows you the time spent on a project budget—a premium feature that I couldn't test—so I'll believe their marketing copy for now.
Mobile time tracking app:
Toggl Track mobile time tracking app
Design is consistent at the smartphone level too. All time entries are grouped under their corresponding day, with the ability to slide over an entry with the finger to continue registering time.
You can even turn existing events from your calendar into actual time entries as long as you provide Toggl Track permission. I also like that they've included time reports.
The billable vs. non-billable chart must be super helpful for all who charge by the hour and need a glance over their rentability.
Key features:
Web timer + bulk time editing
Idle time detection
Automatic time tracking
Lockable time entries
Time tracking reminders
Customizable time reports
Pomodoro timer
Project and task time budget alerts
Pricing:
Free – Up to 5 users
Small Office – $10/user/month
Business – $20/user/month
Enterprise – Custom pricing
Platforms:
Web
Windows
macOS
Linux
iOS
Android
Chrome Extension
4. Harvest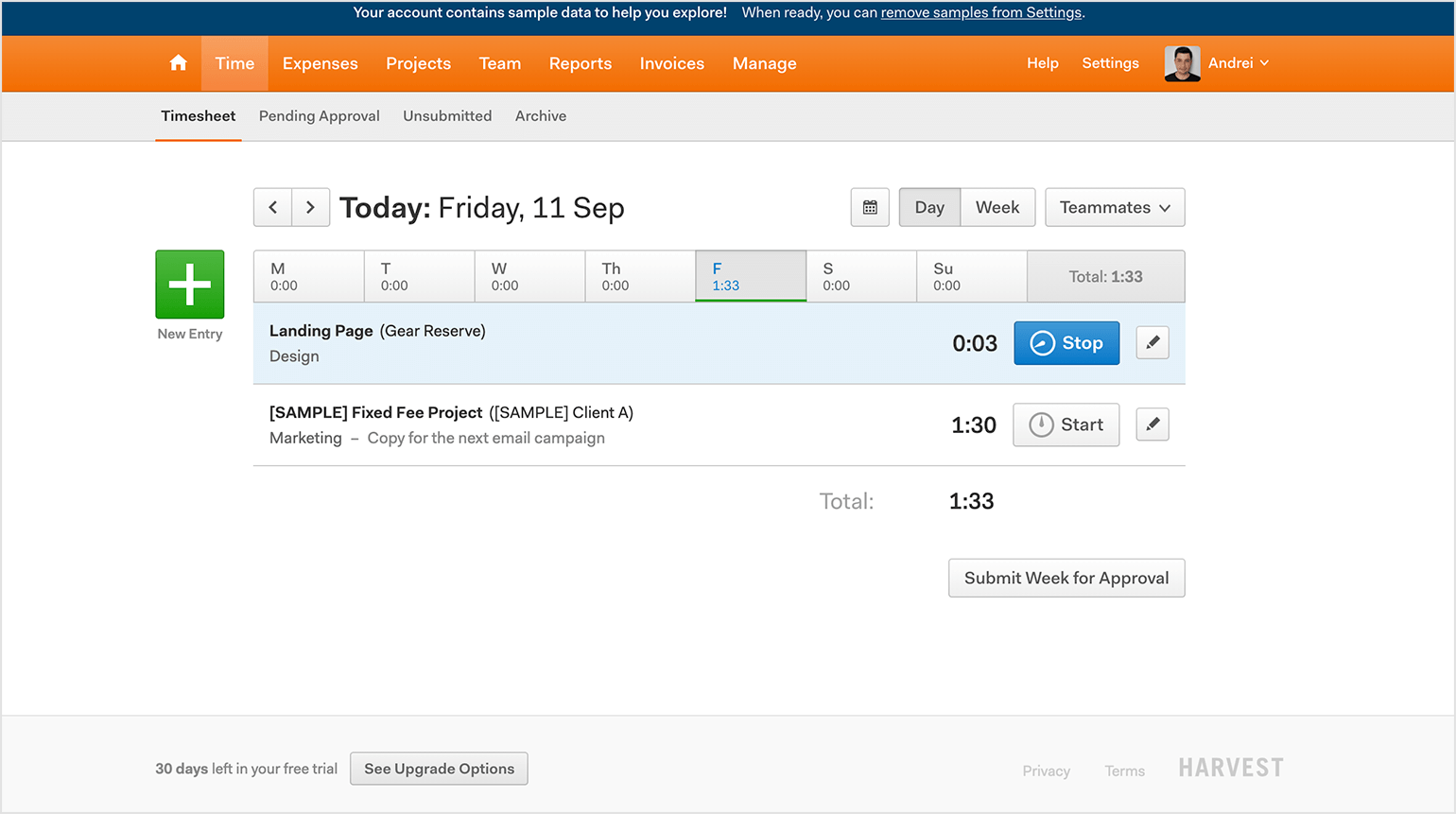 Timesheet in Harvest
Harvest—one of the veteran time tracking apps out there—comes on the third spot in this rundown because it's more suited as a time tracking app for employers.
This is partly due to the automatic reminders that nudge team members to clock in certain hours/weeks to a specific date. But also due to the timesheets that can be submitted for approval in case project managers want to review them before setting them in stone.
Leaving this aside, Harvest continues to ace the time-tracking feature. On the web app, you can start the timer under the daily view for a given project and task, then see how your efforts line up on a day-to-day basis.
On the other hand, you can only add time in bulk on a weekly timesheet—quite relieving if you've got a good memory and are used to filling it every Friday without hassle.
Like most of its kind, the desktop app is dockable into the computer taskbar, displaying a running timer for the task at hand.
Where it shines, though, are the hotkey actions. With a couple of key combinations, you can start the timer, hide your timesheet, or view a summary of your daily/weekly/monthly time entries. It also comes with idle time detection, so you can remove the AFK time whenever needed.
Like Toggl Track, a Chrome extension docks the timer into various platforms. No need to switch contexts because you're using different software. Sadly, no Pomodoro feature is available.
Harvest is also a native invoicing software, making it easy to turn billable hours into an invoice and customize it to your liking. There are even retainer invoices, where you can run a monthly retainer with a fixed sum for a single project, as opposed to regular invoices, where you can add items from multiple projects.
And since tracking time at a project and task level is mandatory, you also get a project overview of the remaining budget and internal costs. After all, you could say Harvest is more of a project time-tracking app.
Mobile time tracking app:
Harvest mobile time tracking app
The phone time tracking features are up to par with the web app. I can hit the plus button to start the timer and see all my logs for the whole week, even favorite those recurrent time entries.
Invoices and expenses show up as well, with the possibility to snap a receipt and attach it to an expense – something useful for those of you who do a lot of client meetings.
The focus of the mobile app is still on individual time tracking, which might not be sufficient, although there is a feature called Team Status that shows you how much time each person has spent on the latest projects.
Key features:
Web timer + bulk time editing
Idle time detection
Timesheet approval
Time tracking reminders
Customizable time reports
Invoicing and expense module
Retainer invoices
Project and task time budget alerts
Pricing:
Free – Up to 1 person, two projects
Pro – $12/user/month
Platforms:
Web
Windows
macOS
iOS
Android
Chrome Extension
5. Clockify
Time tracker in Clockify
The statement is a bit over the board. Clockify dubs itself the most popular free time tracking app out there. Is this the case?
Paid features exist—they're vital time-tracking features if you ask me—while the pricing section on their homepage is hidden. Some users feel that it's misleading.
However, the tool meets the best out of Toggl Track and Harvest. The time tracker has a ribbon-like design where you can just type in the task you're working on, hit play, and fill in the details later.
The only difference here is that the project is mandatory, compared to Toggl Track, where it's not. Time entries get displayed one after another in a list format, but you can also view them in a weekly timesheet similar to Harvest's to add time in bulk.
The desktop widget comes with the possibility to clock in time or add it afterward, although I don't understand why you're allowed to start the timer in the first place if you have to confirm the project right before stopping it. Other than this, I'm impressed by the reminders to track time, which you can activate between a specific time interval and certain days.
There's also a Pomodoro timer where you can set the duration of your pomodoros and breaks and an auto tracker for tracking active apps for longer than several seconds.
Besides the standard Chrome extension, there's also one available for Firefox where editing time entries, adding tags, and changing their billing status is possible. I also like that you can change workspaces. So switching context when tracking personal vs. work-related tasks is much easier.
Back to the web app, reports are the same as in Toggl Track (Summary/Detailed/Weekly), with an extra category for the Shared ones. I like that you can lock time entries before sharing a report, either publicly or privately.
Mobile time tracking app
Clockify mobile time tracking app
The time tracking app is similar to the desktop app, including a projects tab to access the complete list or mark one as default.
I was looking forward to the dashboard, which gives you a statistic of your time expenditure and billability. But the moment I tapped it, it redirected me to the web app—I guess a few usability improvements are due here.
Key features:
Web timer + bulk time editing
Automatic time tracking
Lockable time entries
Time tracking reminders
Customizable time reports
Pomodoro timer
Project and task time budget alerts
On-premise availability
Pricing:
Free – Unlimited users and projects
Basic – $4.99/user/month
Standard – $6.99/user/month
Pro – $9.99/user/month
Enterprise – $14.99/user/month
Platforms:
Web
Windows
macOS
Linux
iOS
Android
Chrome Extension
Firefox Extension
6. Timely
Memories timeline in Timely
Starting from the premise that you weren't hired to track time in the first place—that's true—Timely is on the quest of purging manual time trackers and notes altogether.
This is possible thanks to Memory, a desktop app that automatically tracks all time spent in different work apps and turns it into accurate time records to focus on your work with little to no interruptions.
Memory also comes with a built-in AI that learns your time tracking habits over time and proposes a tentative timesheet for you to approve. I didn't arrive at that point during my tests, but I'm impressed by how accurate the time entry logs are on the timeline.
The web app is also great for those who prefer to schedule time on projects in a calendar format. You can, of course, add a new entry manually or via a hidden web timer. Although in this latter case, you'll have to start the timer first, then submit it—a bit redundant, if you ask me.
What's beneficial is that the money value of your logs is displayed next to them on a daily, weekly, or monthly basis, depending on the hours' view chosen.
Tags accompany time entries with two predefined sets: phases and tasks. Categorize them according to your workflow, then filter after the preferred one in a report.
Speaking of reports, Timely offers four ready-available ones to gauge your logged hours across projects, workspaces, users, and unbilled hours with the possibility to create your templates.
Project-wise, you can see a breakdown of how much time your team has spent on each tag or individually by themselves. Even compare the logged entries against the planned ones since the software has recently introduced a scheduling feature.
Mobile time tracking app
Timely mobile time tracking app
The minimalist design is also kept at a mobile app level, where you can see your logs in a calendar format for a single day, which you can choose from a weekly ribbon on top of the date picker.
Memory is also embedded in the form of memories (automated time logs), plus there's also a location tracker in case you're on the go or want to know where your employees are. Projects are included, too, along with their budget spending and tagged activities.
Key features:
Automatic time tracking with a timeline
Time tracking reminders
GPS location tracking
Billable vs. non-billable hours breakdown
Customizable time reports
Customizable tags
Attendance tracking
Project and task time budget alerts
Pricing:
Starter: $10/user/month (max. 50 projects and 3 teams)
Premium: $18/user/month
Unlimited: $26/user/month
Platforms:
Web
Windows
macOS
iOS
Android
7. TimeCamp
Timer in TimeCamp
TimeCamp has come a long way for tracking your time in its design and features.
The moment you sign in, you're greeted by a timesheet where you can toggle between a daily and weekly view. Under Daily, type in the task you're working on, select the project and start the timer. Among the apps for tracking your time, as for the weekly view, this one expands once you click on a day so that you can add time entries manually more easily.
Like Timely, TimeCamp aims to help you reduce manual time tracking and be more productive. It does so in various ways. The efficiency tab lets you know how much time you spend on each app you use.
You can then set up goals—say, one hour spent on non-productive apps—to implement healthier work habits. But perhaps their most vital feature is the desktop auto tracker, which automatically tracks time on your behalf based on the keywords you specify.
I'll be honest, though: it seems unintuitive and limited (on Mac, at least). Ten minutes in, I realized I needed to select a task for the agent to do its job. I honestly thought it'd recognize the tabs and apps I was using. I bet other users say the same.
Regarding reporting, there are many ready-available reports for you, including attendance and project budget ones. I like the possibility of emailing these reports to myself regularly, even at specific hourly intervals—say every Monday at 10 am—and viewing the entire history of a time entry. I didn't notice this for the other time tracking apps I tested and reviewed. It was worth noting.
TimeCamp also comes with a light invoicing module available under the paid plan. Turn your timesheet data into an invoice, add your tax rates to reflect your country or state taxes, and submit them for approval.
Mobile time tracking app
TimeCamp mobile time tracking app
The mobile version follows the same timesheet structure as the web app. Plus an extra start/stop button in the bottom right corner for the timer. I found it a bit hard to change a time entry's corresponding task, but apart from this, all other parameters are straightforward.
Reports are also a bit more visual than the web app, showing how much time you've spent on each project.
Key features:
Web timer + bulk time editing
Automatic time tracking
Computer time monitoring
GPS location tracking (beta)
Time entry history
Customizable time reports
Attendance tracking
Invoicing module
Pricing:
Solo – Free
Basic – $7/user/month
Pro – $10/user/month
Enterprise – on demand
Platforms:
Web
Windows
macOS
Linux
iOS & iPad
Android
Chrome Extension
8. TSheets
Time clock in TSheets
Coming from the founders of QuickBooks, TSheets focuses on timesheets and attendance monitoring.
The time-registering features are pretty versatile, though. You can clock in time spent on projects via the in-app time clock, which remembers the last timesheet selection. Or add it in bulk either on a weekly time card (manually) or time slider (click and drag), for when you also know the hours at which you started and ended work.
Once added, time entries appear under a timesheet where you can view their logs, timezone, and edits on your manager's behalf.
The desktop app is pretty simple. Select a project to start the timer, then clock out when done. I'm kind of annoyed that it sticks on the main screen—at least on Mac—but oh well, I can live with that. Some users might hate it, though.
Where TSheets stands out, though, is the punch clock on tablets. This is good because facial recognition and the quick clock-in make it easy for everyone working in a physical location—say, a large facility—to speed up the time-tracking process.
But if you're paying for a feature, make sure you need it—this might not be ideal for those constantly on the move.
Attendance-wise, managers can also monitor who's using the time clocks in parallel, even on a map, thanks to the built-in geofencing feature. Then sort after daily totals, locations, and customers to compare their actual efforts.
Another helpful feature is the ability to set different hourly rates to account for leave days and overtime, so shift workers can know how much they earn at any time. Yes, shifts are an integral part of TSheets, with the ability to create them and remind employees to clock in whenever their shift is due.
As you've probably guessed, the time reports are also geared toward payroll and attendance. You can filter by their pay period, wage, employee costs, and paid vs. unpaid breaks. They're not that user-friendly, though, so you'll have to put up with that. Plus, the learning curve is steep.
Don't get me wrong; these features give you an edge over your finances. But the lack of invoicing ability when tracking attendance and payroll seems odd. Though complex, it might not be sufficient for those who need to bill their clients for work hours.
Mobile time tracking app
TSheets mobile time tracking app
Hands down, this is the best and most pleasant mobile time-tracking app. At a glance, I can see my daily, weekly, and pay period total under a graphical dashboard, together with the most recent projects and any shifts for today.
The time clock is much more intuitive than the one on the web app, while the timesheets don't allow me to add time in the future, making the time-tracking process less prone to errors. I also enjoy reviewing employee timesheets and approving days off directly from them.
Key features:
Web timer + bulk time editing
Shift planning
GPS location tracking
Attendance monitoring
Facial recognition
Timesheet approval
Payroll
Customizable time reports
Pricing:
Freelancer: $15/month
Simple Start: $25/month
Essentials: $50/month
Plus: $80/month
Advanced: $180/month
Platforms:
Web
Windows
macOS
Linux
iOS & iPad
Android
Time Clock Kiosk
Chrome Extension
9. Hubstaff
Time dashboard in Hubstaff
If you've been looking for time-tracking apps for small businesses, you're bound to stumble upon Hubstaff.
The tool is primarily geared towards monitoring your team's timesheets and productivity. For one, you can customize random screenshots to be taken several times a day for each user, so you don't have to ask them about what they're working on. This could be one common concern regarding privacy, but that's another discussion.
Recording activities go one step further with logs for the time spent on specific apps and URLs in parallel with the web timer. Speaking of it, this is a simple start/stop timer.
If you want to add time in bulk, you'll have to do it under the timesheets area. However, I find it weird to have a mandatory field for the time entry notes—perhaps for monitoring purposes?
However, this field is not mandatory once you use the desktop app, which feels like it replicates the web app—at least when it comes to time-tracking. To-dos show up under their related project, while the timesheet gives you a complete picture of your efforts.
It also comes with idle time detection and monitoring features, which are a bit more advanced in that you can compare the percentage of time spent using the keyboard vs. mouse.
Given the huge emphasis on team monitoring, Hubstaff allows you to schedule your workforce in shifts and see the job site where they will work next.
Pair this with the geofencing feature, and you've got an accurate map of your team's itinerary without having to check with them in person. This might be an exciting feature best suited for those who work on the premise.
Hubstaff also includes a light invoicing module if you want to turn time entries into an invoice and attach expenses to it.
This feature is doubled by a built-in payroll, handy for making one-time payments to temporary or regular contractors based on the approved timesheets for full-time employees.
Mobile time tracking app
Hubstaff mobile time tracking app
Looking at the mobile app, you'll need to select a task to start the timer for it. Only then you'll be able to add a time entry note as well. The dashboard is pretty useful, offering a total of the time spent for today and the whole week, either for myself or the entire team.
Out of all the apps tested, reports are the densest, with two types available: (1) weekly ones for drilling on the team's performance and revenue earned and (2) activity-based ones for attendance monitoring.
Key features:
Web timer
Random screenshots
GPS location tracking
Attendance monitoring
Timesheet approval
Shift planning
Payroll
Invoicing and expenses module
Pricing:
Free – 1 user
Basic – $14/month (2 seats included, add more for $7)
Pro – $20/month (2 seats included, add more for $10)
Enterprise – $40/month (2 seats included, add more for $20)
Platforms:
Web
Windows
macOS
Linux
Chromebook
iOS
Android
Chrome Extension
Top time tracking apps by comparison
So many time tracking apps just to clock in your efforts? We've narrowed our selection to only those who offer mobile apps for remote work. To help you with your decision, here's a comparison chart:
Top Time Tracking Apps for 2022 
Why are time-tracking apps important?
Time tracking is seen as a necessary evil. Yet, we've been using clocks for ages—and most recently, time-tracking apps—to shine a light on our habits, progress, and operations in every aspect possible. The lack of time-tracking habits leads to frustration and resource waste.
While these benefits might be obvious for business owners and project managers, it can seem like employees have drawn the shorter stick. In my experience and humble opinion, there is nothing further from the truth. So I'll treat them separately for more clarity.
Benefits for business owners & project managers
Get paid accurately. How are you supposed to bill clients when you don't even clock in your efforts in the first place? Time tracking helps you understand how long your work takes so you don't sell yourself short. No monitoring means you're either undercharging or overcharging your services, making you lose clients in the long run.
Make accurate estimates. Guesstimates can create a lot of frustration. On the one hand, your team might overestimate the time it takes to finish a project. On the other hand, your clients might not be willing to pay for certain hours if you've gone over the initial estimations. You're relying on a record that helps you price your services much closer to reality by tracking your time. This is especially helpful if you're starting with a few projects under your belt.
Improve profitability. If you charge by the hour, your primary work unit is the billable hour. It doesn't matter if you're a creative agency, web development shop, or architecture firm – you're selling hours against money. Yet you wouldn't start a project if the costs of completing it exceeded what your client pays you, right? Time tracking can give you an accurate picture of your progress and prevent scope creep if you spend too many hours midway through a project.
Benefits for employees
Improve productivity. Tracking work hours can help you identify 'dead time' and keep detractors at bay so that you can do deep work without interruptions. If you work for 40 minutes straight, then a colleague interrupts you with a sudden request—do you record 1 hour of work or just 40 minutes? Distractions trick us into thinking we've been productive when we were just busy.
Prioritize tasks. With too many tasks on your hands, anxiety and a sense of helplessness can soon creep in. A good time-tracking app should tell you how long tasks take on average. In return, you'll be in a better position to juggle between tasks if you're waiting for someone else's input to move forward and don't know what to tackle next.
Enforce a healthier work culture. Scheduling an entire team is a stressful process that usually results in over-allocation and burnout on the team's behalf. Make your project manager's life easier through time tracking. You'll know when to go all in and when to give yourself some slack. At the same time, they'll gain more transparency into your habits, which can spark conversations about improvements or, who knows, even a salary raise.
Criteria for choosing a time-tracking app
Time-tracking apps come in different forms and flavors. Most of them include a  timer to clock in and out of work in real-time, so you don't need to remember what you've worked on in the morning. Undoubtedly, mistakes will happen, so consider time-recording apps that allow you to:
Edit time entries: Can I correct time entries that I've added accidentally or timers that have been left running overnight? Bonus points if you can do this from multiple platforms, not just the web version.
Add time in bulk. Although tracking time as we work is desirable, it's not always achievable. Can I still add time, even after I forgot to start the timer in the first place? I was being able to log hours after a long meeting or phone call can be relieving, indeed.
Mobile app. Is it easy to add my time on the road or in a client meeting? Mobile time-tracking apps are the way to go when you want to be professional yet discreet simultaneously.
Time reports. Can I drill down on data to make better business decisions? Ideally, you should be able to set up granular reports, round up time entries to specific increments, and read data visually that's easy to grasp.
Now, in my experience, these would be the main criteria. But work time tracking apps can serve different purposes and be part of more inclusive, all-in-one apps, like project management software. So depending on your goals, you might want to review and consider those that come with:
Invoicing and expense tracking. Can I turn timesheet data into an invoice and account for my travel, gas, and overall expenses? These are two great additions if you charge by the hour and don't want to pay extra for another billing software.
Automatic time tracker. Does the work timer app register time automatically on my behalf? Useful if you're a multitasker or want to focus entirely on your work without the inherent time-tracking hassle.
Pomodoro tracker. Can I track time in increments of 25 minutes, with a 5-minute break in between? Few apps integrate the Pomodoro technique natively; most do it via third-party apps.
Project estimates and alerts. Can I get a heads-up before the project approaches its hourly budget? Agencies and freelancers who run multiple projects in parallel could be keener to this feature than those who only monitor their productivity.
Time is money, though, so paying for time-tracking features that you don't use or save time would be a bit ironic. Sift through pricing plans; extra features come at higher tiers, so you can pay for them once your business grows.
Note: We didn't include employee time tracking software in this rundown—as these entail more monitoring features, so to say—to check whether or not people are filling their timesheets.
Andrei Țiț is a product marketer at Ahrefs. He has been involved in product marketing at various SaaS companies for over six years, specializing in content marketing and short-form video. In his free time, he enjoys cooking and traveling.