What's an invoice, and why should you create it online using an invoice generator? An invoice is a document listing goods or services provided on the condition of payment and an agreed-upon date. It is a document stating the transaction between entities or parties.
While an invoice can be jotted down on a napkin, this article argues that in this day and age, invoicing should be done electronically with the help of software and online tools. Here's a quick comparison chart for the invoice generators reviewed in this article: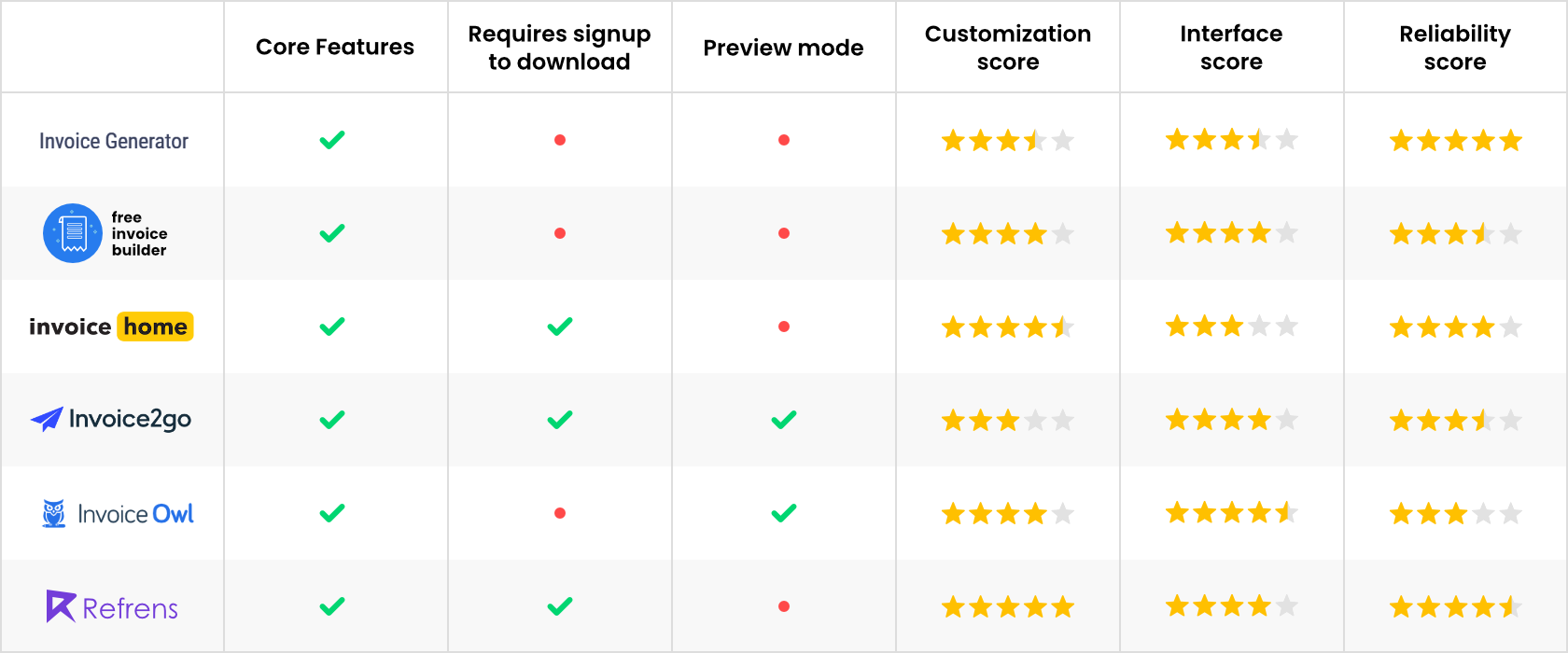 Jump to the free online generator reviews:
Invoice Generator – Super straightforward but filled with pop-ups and banners
Free Invoice Builder – Easy and intuitive but sometimes glitchy
Invoice Home – Robust invoice generator with an old-school interface
Invoice2Go – Simple invoice generator with basic customization features
Invoice Owl – Easy and clean interface but somewhat unreliable
Refrens – Invoice generator with one too many custom fields
The invoicing process is simple. First, you generate your invoice electronically by filling out your data with little manual input. Second, you send the invoice to your client and receive payment through an online payment gateway or ACH. Third, you download your invoices to the cloud.
How is an invoice structured?
Here's the structure of a standard invoice:
Provider info – includes the logo, full name/business name, work address, phone number, email address, and website.
Customer info – includes the relevant Client Info.
Invoice name & number – a logical sequence for invoice tracking.
Invoice dates – delivery (when you provided the services), date (when you generated the invoice), and due date (payment deadline).
Itemized list – a breakdown of your services detailing the units, quantity/hours, and price (with or without taxes and discounts).
Notes/Terms – includes any necessary comments.
The need for automated invoicing
In 2017, the electronic invoicing market was barely scratching, with 88% of SMBs trying to spend less than $100/month on an invoicing tool. However, the market is estimated to surpass $25 million by 2027 regarding software and invoicing solutions.
Research shows that there is just too much administrative work – this lost productivity accrues on average 69 work days and $5 trillion in annual wages. So, by automating administrative activities, businesses could save up to $2 trillion in yearly wages since almost half (45%) of such tasks could be done faster and cheaper with better processes and software, according to a McKinsey study.
Statistics (Billentis, 2019) show that only 10% of data entry/extraction in invoicing is done electronically worldwide. That means that in 2019 only 55 of the 550 billion invoices were exchanged without relying on paper.
What gives? Why the resistance to digital or electronic invoicing?
Let me tell you that there are no real cons to electronic invoicing. Freelancers and small business owners not opting for electronic invoicing do so because of their perceived difficulty in adopting new software (problem: bumpy onboarding) and managing a new tool (problem: the need for some technical training). Plus, some invoicing solutions are costly.
This aversion to electronic invoicing is rather emotional than rational.
But the good news is that SMBs are expected to adopt large-scale business automation—especially invoicing—in their business processes by 2026.
What are some benefits? Less data entry and paper handling, better document management, and safe digital storage. Plus, generating an invoice and sending it online is done in minutes. Online collaboration leads to improved staff productivity.
No more handoffs and physical document routing by post, hoping it would reach its destination. Another benefit is automatically matching and tracking invoices to purchase orders (POs).
Employees won't have to spend half their workday on manual invoicing and bookkeeping—plus the time lost looking for misplaced documents.
The benefits of electronic invoicing have been covered more in-depth in this invoicing guide for freelancers and SMBs.
Honest review of these six free online invoice generators
So, since creating an electronic invoice is the way to go, and since it takes no more than 5 minutes to make one, I wanted to see how swift—or cumbersome—the process is.
Here's a quick, honest review of these six invoice generators I found online, in no particular order:

I have to admit, at first glance, it looks a bit unreliable with all the pop-up ads and banners; however, Invoice Generator by Invoiced is super straightforward and does the job in a few minutes.
Pros:
It has an intuitive design as it follows the standard invoice format. It offers five templates: invoice, credit note, quote, purchase order, and receipt, and you can choose your preferred currency.
Fill in the form, add a thank you note, and hit Send Invoice or Download. To send it to your client, you'll need to create a free account from Invoiced.
If you can't be bothered to register and need to send it as soon as possible, you can download it as .pdf or .xml and send it via email.
Cons:
There's not much customization from what I gathered—except adding your logo—but at least the design is clean and consistent.
There's a 'History' where you can access and track your invoices. However, they don't store your invoices on the cloud but on your browser. So clearing your browser's history will erase all of them. It's better to download your invoices on your device or export all your history as .csv for safer bookkeeping.
My two cents:
Invoice Generator has the basic functionalities I needed, like adding discounts, taxes, and shipping fees, plus the straightforward "Amount Paid" to subtract any retainer.
But, I would opt for something with a little more customization. What's more, I can't promise there'd be no deleted history by mistake.

The Free Invoice Builder partnered with Payoneer to offer an easy and intuitive way of generating an invoice.
Pros
The builder is user-friendly, with a WYSIWYG interface, offering a combination of inline editing and text input on the right menu, under 'Invoice Settings.' It has a nice font and a clean look.
I liked how the invoicing terms were easy to grasp and relatively straightforward for those with little knowledge of the subject.
There are templates across IT and creative fields, e.g., Designer & Creative Agency, Web-Developer Template for an even faster invoice generation. What's great is that it saves all your info even if you switch between templates.
What I found interesting was the interim payment. Initially, the term 'payment' was misleading since I thought I was requesting the total sum to be paid, but when the numbers didn't add up, I quickly figured it out.
Cons
As for the templates, these are limited to English, despite formats for non-English speaking countries, e.g., Japan, India, Philippines, and Pakistan.
My bone to pick with Free Invoice Builder is that it is glitchy. For example, I couldn't seem to edit my Client Info or delete it. One of the line items froze at one point, so I had to start over after I had refreshed the page—oops.
The custom fields were easy to select from the drop-down, but I couldn't delete or edit them after I inserted them in the first place, which led me to have the same client info saved three times.
I downloaded my invoice without a login. After export, the logo .png (same for .jpg) did not load but showed only its file name. The export unnecessarily added a blank page, although my invoice was brief. I couldn't choose another logo after I added it, so I had to refresh the page—again. Starting from scratch, I comprised the info so that it fits one page.
When generating my invoice, it felt like a hit-and-miss, not knowing how the custom fields from the right menu mapped on the invoice.
My two cents:
While it has a clean UI and is pretty straightforward, it's too glitchy for my sanity. I wouldn't want to wonder whether my past invoices are saved or not. And I'd hate to enter all the details only to encounter difficulties when downloading it later.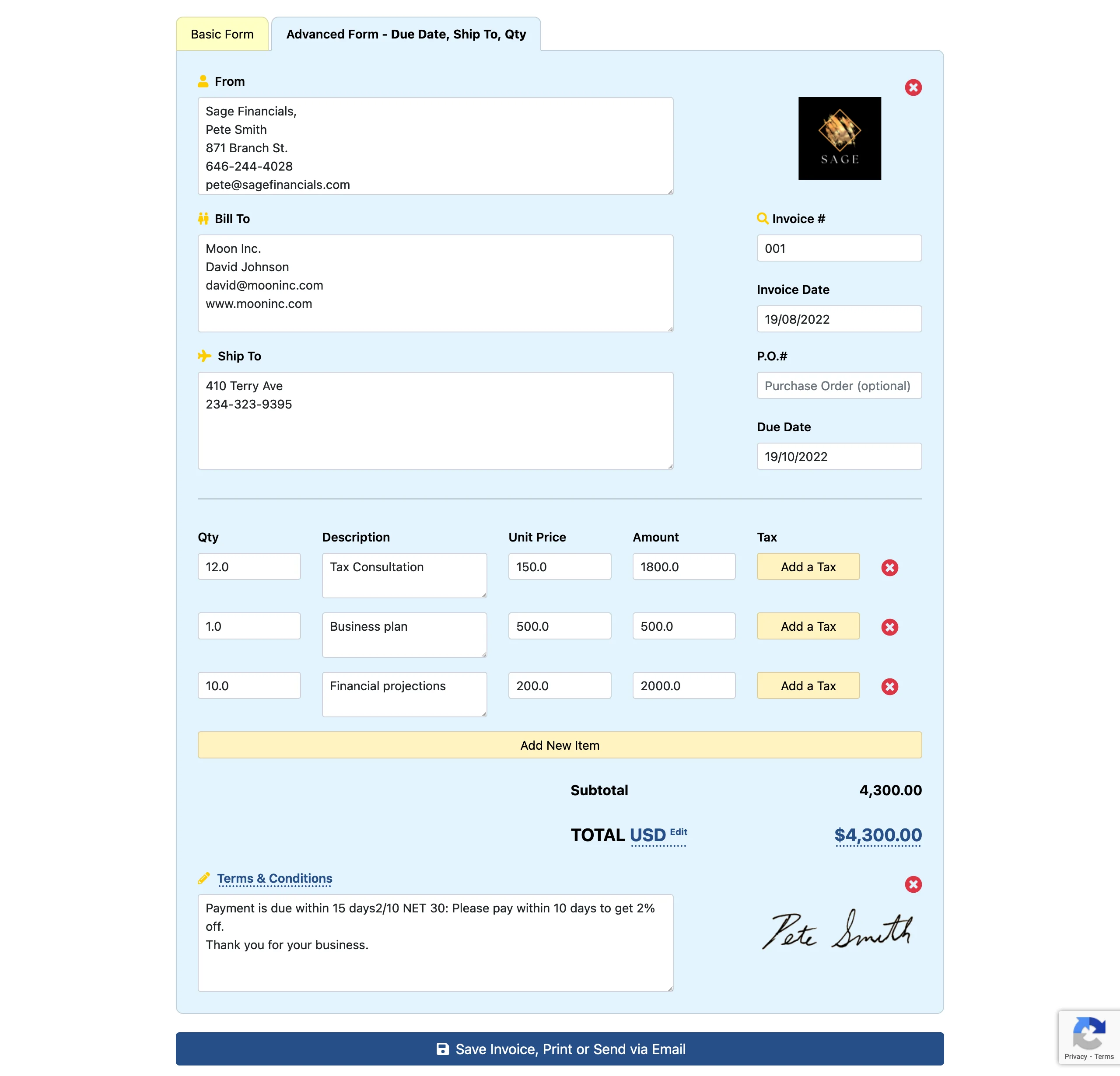 Invoice Home by Wikilane Inc, a SaaS company targeting freelancers and SMBs, offers a robust generator with good customization.
Pros
What's peculiar to this invoice builder is that you can add your signature. Invoices do not require either party's signature, but they add some personal touch. The signature field automatically removes the background for a neat longhand signature.
Another pro is that you have your data saved once you sign in. They have some invoice management features, like tracking paid invoices, client profiles, etc.
At first, I thought the item breakdown lacked customization since I could only add the amount but not the quantity/hours. But then I noticed that there's a Basic and Advanced mode of invoice generation. Thankfully, I could switch between the basic and advanced forms (and various types of invoices) without losing all my data.
It could use a preview mode – after I generated my invoice I realized the Company name became the header/title of my invoice:
Cons
Invoice Home has an old-looking user interface. You have to look around a bit to familiarize yourself with its functionalities.
While it's great that you can customize your invoice, there's a logo gallery (Clipart, People, Jobs) that I truly hope people aren't using. Your branding must be unique and professional, so a couple of elements and a font won't do the trick. There's a great selection of templates (read: themes and fonts), but I went for a clean and professional look (see the example above).
My two cents:
I can't get over the UI. Some of the designs remind me of good old web 1.0; however, Invoice Home is a robust generator.

Small businesses use Invoice2go by Bill.com, which is part of a broader suite of products.
Pros
Invoice2go has a straightforward inline editor that allows you to copy-paste your data without switching through pop-ups and tabs. It doesn't have templates like the other generators and only a handful of currencies, but it is a simple generator that does its job.
You may add your bank account, BIC/Swift, Reference, and Business ID, which is not a feature that all invoice generators have.
Cons
I didn't have much trouble with data entry, but the export function threw me off. Huge watermark aside, I couldn't get how the same data input in other generators fit neatly on one page, but this one needed two pages.
The 'Preview Invoice' was slow, so I downloaded the invoice as a PDF. There's no way to change your invoice's format or layout, so the .pdf invoice did not look as I expected.
My advice is not to send it to your client before you double-check it:
My two cents
I wish it had more customization and the option to move the Notes section at the bottom of the invoice, but ultimately it was designed as a simple invoice generator.
Invoice Owl is an invoice generator made for contractors and freelancers.
Pros
The interface was nice and clean, easy to use, and it follows the standard invoice format. You may choose from four different types, namely an invoice, estimate, credit memo, and purchase order.
You can further customize your invoice by heading to Settings on the right side – set your desired currency and currency format, date format, logo position, etc.
What's nice is that you get to choose from six templates. And there's a Preview mode, which is great to double-check before downloading your invoice.
I know I'm nitpicking at this point, but I wanted the option to simply copy and paste the Company and Client information because the form was rather limited. I couldn't add both the Company name and a representative's, no website for reference, etc.
Considering that it's mostly for contractors or any kind of self-employed individuals, it's not a big deal.
Cons
One little delight for me was the option to choose whether the discount you're giving is a value or percentage, but the blue toggle button was a bit confusing. Toggling back and forth led me to this blunder:
Needless to say, my business is certainly not profitable, haha. To fix it, I had to delete the itemized list and start again.
I can't seem to understand why not one template allowed a 3-item invoice to fit one page. I wouldn't say it's up to printable standards.
Plus, the more I tried, the more blunders I encountered. For example, besides the glitchy logo, the shipping address was listed on my invoice, even though I checked it off from the Settings:
Then, the calculations were out of whack:
My 2 cents
I bet there's a way to avoid all the mishaps while generating an invoice, but I shouldn't have to figure this out. The interface is great, and the templates have a cohesive design, yet I'd prefer reliability above all else.
Refrens is chock-full of customization and promises invoice generation in under two minutes.
Pros
Refrens is versatile – you may add a ton of custom fields, add notes and attachments, and rename fields, provided you know what you need.
I have to say, the functionality around the balance was a pleasant surprise. It stands out from the rest of the invoice generators when it comes to adding a discount per item or on total (percentage or value), adding additional charges, or showing the total in words—although not many would need it.
Almost all fields are editable, which could be a great workaround if you need an invoice in a particular language.
Like Invoice Home, you can add your signature, but this one won't remove your background, so make sure yours is not written on paper like mine:
Cons
It does say you're able to generate an invoice in two minutes, but that statement doesn't hold water—maybe I'm too slow. To download your invoice, you have to create an account.
There's a dedicated dashboard and more features—which are great—but I wanted just a quick invoice generator. Otherwise, I would have opted for invoicing software, or at least a mobile invoicing app.
The next step was to choose the design and format of my invoice. I didn't have the time for that, so I went ahead and downloaded it anyway:
I'm happy it did fit one page, unlike other generators.
My 2 cents
Refrens has great customization, provided you know what your invoice should look like. If you're new to invoicing, opting for invoice generators with simpler formats would probably help.
Core features of invoice generators
Any decent online invoice generator should have these features:
Data entry specific to each invoice section, from adding taxes (VAT-compliant invoices) to discounts (either as value or percentage) and having multiple currencies to choose from.
Customization. Adding custom fields and columns, e.g., shipping costs, company logo, choosing the invoicing layout, etc. A bonus would be creating your own template to be used for future invoices.
Invoice management. Tracking and monitoring invoices through invoice statuses (sent, paid, void). Download invoices in various formats, especially PDFs.
Easy access. Save and store your invoices on the cloud to invoice on the go.
Here are some nice-to-have features: integration with an online payment gateway, scheduling invoices to be sent at later dates, creating recurring invoices, sending/receiving reminders and notifications for upcoming deadlines, multiple languages to choose from, receiving interim payments, late fees (penalty) feature, client management to keep track of their contact data and paid/unpaid bills.
All these invoicing functionalities and features are found in full-fledged invoicing software – read this article for a complete review.
What's the difference between an invoice template and an invoice generator?
Just because you generate an invoice with the help of a design template, as you would have in Adobe Illustrator or Canva, it doesn't mean the method is better than with a word processor, like Microsoft Office or Apple Pages. Making an invoice in a photo editor still requires human input and calculation. Therefore, it is subject to human error.
But what about the invoice design?
I don't mean designing your invoice in Adobe or Canva is bad. It's just not efficient if you have to input it manually and do the math on your own. Having said this, your invoices need a professional look – the logo, font, and colors must be consistent with your branding. When in doubt, keep it super simple.
Takeaway
All in all, any kind of online invoice generator is better than sending paper invoices to your clients. After you review these online generators, you'll notice how easy it is to manage invoices and payments online.
I strongly recommend you test out invoicing software, which is the next step to take in your business journey.
First published on August 22, 2022.
Laurențiu started his marketing journey over 18 years ago and now leads a marketing team. He has extensive experience in work and project management, and content strategy. When not working, he's probably playing board games or binge-watching mini-series.