In today's dynamic world of architecture, the intricate dance of design, collaboration, and execution is a sight to behold. Architects, with their multifaceted schedules, find themselves at one moment immersed in conceptualizing awe-inspiring designs and, at the very next, synergizing with interior designers and contractors.
However enthralling this dance may seem, the pressure it brings to consistently deliver top-notch results while managing several projects can be overwhelming.
The vast sea of project management software available today presents both an opportunity and a challenge. The choices seem endless, from specialized tools tailored for architects to more generalized ones fit for a range of industries.
Yet, it's not just about picking any tool; it's about finding one that resonates with architectural workflows' unique needs and demands. The struggle of maintaining organization, ensuring effective communication, and meeting deadlines are all too real.
Understanding that the software we delve into here is distinct from architectural modeling tools is crucial. Their purpose isn't to aid in designing but to ensure that architects have a firm grip on the reins of their projects.
From tracking time and billable hours to navigating client billing and approval processes, these software solutions aim to ensure architects have their finger firmly on the pulse of their projects, making it easier to deliver on promises to clients, stakeholders, and team members.
So, as you explore this curated list of the top 20 project management software tailored for the world of architecture, bear in mind the multifaceted demands of the industry.
I've made a concerted effort to cover as many real-world needs as possible to ensure that architects, regardless of the complexity and scope of their projects, find tools that align perfectly with their specific challenges and aspirations.
Here are the best project management software for architects:
Top 10 A/E Project Management Software
1. Paymo
best complete package for architects: time tracking, planning, billing
Pros
advanced time-tracking features
one-click invoicing based on timesheets
strong planning & estimation features
reliable support team
Cons
it lacks native communication features
the interface could be more intuitive
Pros
focus on time tracking, planning, and invoicing
frequent updates, especially in the areas where it's needed
good planning features and intuitive user interface
Cons
lack of transparency in pricing
time-tracking could be better
invoicing could be improved
relatively new/young when compared to other competitors
3. Asana
easy to use and multipurpose, but not peculiar to architects
Pros
easy to use, intuitive, and aesthetically pleasing
good customization features
many integrations with other tools
unicorn graphic that appears when you complete a task
Cons
expensive when compared to other tools
one assignee per task
navigating through a project hierarchy can be challenging
4. Monday.com
for architects who struggle to find a tool matching their needs
Pros
with bright colors & clean design, the interface is aesthetically pleasing for many
high customization options cater to specific needs
Cons
the high price point may be a concern for small architectural teams
live chat functionality could be more reliable
the mobile app tends to be slow and clunky.
the notification system needs to be more straightforward
5. BQE Core
for architects with accounting and CRM needs
Pros
accounting feature
CRM features
Cons
slow and glitchy
lousy customer support & training
significant issues in many modules
lack of transparency in pricing
Pros
best for field reporting
punch list features
good phone application
easy to use
Cons
not a complete project management tool
users report frequent crashes and can be slow to load
users complain about text formatting issues
terribly ugly interface
7. Wrike
best for architects who want to focus on task manipulation features
Pros
dependent tasks and advanced task functions
many customization options & high flexibility
Cons
setup complexity
steep learning curve
customer service issues and generic support responses
8. Deltek Ajera
best for complex architecture projects requiring integrated management
Pros
one of the oldest tools in the market
offers ERP capabilities beyond typical PM functionalities
suitable for coordinated management across various departments
Cons
it can feel clunky and somewhat outdated compared to newer, more intuitive tools
steep learning curve
lack of transparency in pricing
Pros
visually appealing Gantt charts
drag & drop functionality
one of the most intuitive
Cons
significant price leap from the free to standard tier
cap on the number of projects each project manager can oversee
lacks advanced budgeting features
10. Newforma
best for architects working with files and documents in bulk
Pros
advanced document & file management
amazing search functionality
Cons
not intuitive
slow
expensive
no free trial
Runner-up A/E project management software
11. Basecamp
If you believe collaboration and communication are fundamental to your business, then Basecamp could be the right solution. This is especially useful for large-scale, mixed-use developments that often demand the most communication between team members due to their multifaceted nature.
For example, imagine an architecture project that aims to develop a waterfront area into a mixed-use district comprising residential towers, a shopping mall, office spaces, a hotel, recreational areas, and a transportation hub.
Such a project would involve architects specializing in different building types, landscape architects, urban planners, interior designers, environmental consultants, and more. They would need to constantly communicate to ensure that the residential spaces don't clash with the bustling commercial zones, that traffic flows smoothly for pedestrians and vehicles, that there's a harmonious aesthetic throughout, and that sustainable and environmental standards are met.
Moreover, because different parts of the project may be at different stages at any given time (e.g., the hotel's interior design might be finalized while the residential towers are still in a conceptual phase), communication becomes paramount to keep everyone on the same page and to manage overlapping timelines and dependencies.
If your project thrives on transparent communication and you still need to be tied to platforms like Slack, Basecamp could be a perfect fit. The platform facilitates seamless connections, fosters collaboration, and enables swift check-ins with anyone in your organization.
Yet, it's not without its caveats. Basecamp embraces a minimalist approach, which might only resonate with some users. If you prefer a rich, structured display of information, Basecamp's streamlined design might leave you wanting more.
A notable drawback is Basecamp's limited customization capabilities. Compared to platforms like ClickUp or Asana, which excel in flexibility, Basecamp can appear inflexible. While Asana's feature-rich interface might be overwhelming, some appreciate Basecamp's lean approach, emphasizing simplicity and a clutter-free project management experience.
Pros
Focus on communication and collaboration
Clean/minimalistic user interface
Cons
Limited project management features
Limited customization options
Prices make sense only for large creative teams (over 30 users)
12. Mosaic
Mosaic shines brightest in enterprises with a vast employee base, facilitating the swift construction of specialized teams for diverse projects. Its standout feature is the AI-driven team builder, rapidly combs through your personnel, crafting a project team in moments.
This system considers skills, availability, and location and optimizes for peak efficiency. When initiating a new venture, Mosaic's advanced AI suggests the most fitting contributors and highlights potential hiring needs.
While not among the top contenders in terms of popularity, the app needs more public user feedback. It appears to lean towards user-friendliness; however, its feature set could be more expansive and updates less frequent than seen with the more popular ones like Monday or ClickUp.
Pros:
AI-enhanced functionality
Advanced team assembly with intelligent personnel scanning
User-friendly interface
Cons:
Limited features relative to top-tier competitors
A slower pace of feature rollouts
Fewer integrations compared to leading platforms.
13. ClickUp
What sets ClickUp apart is its exceptional customization capabilities and attractive entry price. It's an optimal choice for architects with distinct requirements that aren't met by most available tools. For example, an architect working on an intricate historic building restoration might have vastly different needs than another focusing on sustainable, modular housing designs.
These projects vary in scope and the kind of documentation, approvals, materials, and collaboration they demand. With ClickUp's robust customization features, both architects have the flexibility to mold the platform to fit their unique project requirements. If previous tools can't hit the mark, ClickUp offers a fresh opportunity to craft a workspace tailored to your needs.
However, smaller architecture teams or solo architects seeking simplicity for tasks like drafting initial designs, coordinating client meetings, or overseeing site inspections might find its extensive options and occasional bugs burdensome, potentially complicating rather than aiding their workflow. In this case, simpler alternatives like Paymo or Basecamp are more fitting.
Pros:
A comprehensive set of tools and functionalities
Versatile and can be tailored to various use cases
The support team is quick to respond
Sophisticated automation features
Regularly updated to maintain cutting-edge functionality.
Cons:
Its extensive features can be daunting, creating a steep learning curve.
Infrequent slowdowns and occasional server interruptions.
Users have noted UI quirks, automation issues, and some bugs.
Pricing can be deceptive; initial costs seem affordable, but expenses can accumulate swiftly.
14. Notion
Notion shines as a flexible and robust tool for solo architects, especially when there's no need for Gantt charts, time tracking, or invoicing. Its versatility allows for tailoring the workspace precisely to individual needs. For those architects looking to enhance their workflow and effectively manage daily tasks, Notion might be the ideal choice.
Its user-friendly interface and modular approach let you build a system that mirrors your preferred way of working, making it especially suitable for architects keen on organizing and visualizing their tasks and ideas uniquely.
Another aspect that sets this tool apart is its collection of templates, curated explicitly for architects. As of when this article was written, there are 19 such templates, all crafted by the community.
While Notion can be an architect's ally for organization and task management, specific features might be sought elsewhere. Paymo or Monograph might be more apt choices if time tracking and hassle-free invoicing are paramount.
For those who prioritize Gantt charts, TeamGantt offers specialized functionality. Asana stands out for its ease of use and straightforward interface, ideal for those who want a quick setup and intuitive experience.
Meanwhile, Monday comes into its own with its rich feature set and customization options, catering to those who need a more comprehensive and adaptable project management platform.
Pros:
Robust tool for solo professionals
Versatile to enhance your workflow
Modular approach
Decent free plan and cheap upgrades
Cons:
No time tracking features
No budgeting & invoicing features
No Gantt Chart and advanced project management features
15. Outplanr
Outplanr is designed to help architecture teams plan and manage their projects by turning task lists into work plans, where tasks are organized by priority and deadline. For example, imagine an architectural firm working on designing and developing a new urban park.
Instead of having a list that says 'site analysis, preliminary design sketches, client meeting, final design approval, etc.,' Outplanr would transform this list into a dynamic plan. It would set the 'site analysis' as the top priority, assigning it a specific deadline, followed by 'preliminary design sketches' with their timeframe.
Each task would be mapped out in a sequence, ensuring every team member knows their role, the sequence of activities, and the deadlines they need to meet.
This approach becomes particularly beneficial when there's a noticeable chasm between a team's task lists and the actual implementation of those tasks. It's not uncommon for architectural teams to compile comprehensive task lists, but transitioning from these lists to real-world execution can often be riddled with oversights, miscommunications, or lack of clear direction.
Outplanr bridges this gap by providing a structured, timeline-oriented approach to tasks. It ensures that what's planned on paper aligns closely with the team's day-to-day activities, fostering a more coherent and efficient work process.
By visually mapping out priorities and deadlines, teams can better understand their workflow, reducing the chances of tasks falling through the cracks or being delayed.
While Outplanr covers the necessities for architects, it might have a more extensive feature set than some of the more prominent players in the project management field offer. Tools like Asana, Monday.com, and Paymo have continued to expand their features and integrations over the years.
Specifically, it lacks budgeting and invoicing capabilities, which are essential for many businesses to track finances and bill clients. Additionally, those looking for Gantt chart visualization to manage project timelines may be wanting, as Outplanr does not currently offer this feature. A better alternative would be TeamGantt.
Pros:
Turns task lists into work plans
Cons:
No budgeting & invoicing features
No Gantt chart features
Limited advanced project management features
16. Xledger
Xledger is ideal for architects seeking advanced features in financial planning and forecasting. While it leans more towards an ERP system, it's aptly described as an Accounting & Financial Management Software.
Thus, if the financial aspects of your architectural projects are paramount, Xledger might be the right choice for you. Imagine an architectural firm taking on several international projects. They deal with multiple currencies, diverse subcontractor costs, and varied taxation systems.
Using Xledger, the firm can effortlessly manage these financial intricacies, ensuring they maintain budgetary control while concentrating on their architectural endeavors.
Its ERP nature can make it overwhelming for architects just looking for simple task management. Due to its finance-centric interface, there's a steeper learning curve, and it might need to integrate more with standard architectural tools.
Moreover, Xledger is pricier than more straightforward project management solutions, so while it provides advanced financial tools, it may feel excessive for teams only seeking straightforward project tracking.
Pros:
Advanced features in financial planning and forecasting
Good reporting features, including many predefined reports
Cons:
It is more complex due to its ERP nature
Lack of transparency in pricing
17. Contractor Foreman
Contractor Foreman is primarily a construction management software. While it's tailored for construction professionals, the lines between construction and architecture often blur, especially in the execution phase.
Architects can benefit from such a platform, especially if they are deeply involved in overseeing construction processes or play a more hands-on role during the building phase. It's an ideal fit for architects whose primary focus is on the construction aspect of projects, ensuring that the designed structures are brought to life precisely as envisioned.
Among the benefits of Contractor Foreman being primarily a construction management software is its comprehensive approach to managing on-site teams. Architects can oversee their workforce efficiently with detailed crew timecards, incident reporting, and crew scheduling.
The software also boasts a safety meeting toolbox, ensuring that all protocols are met, and safety remains a priority. Moreover, the time cards come equipped with GPS tracking, providing an extra layer of oversight and ensuring accurate timekeeping and project accountability.
One of the primary criticisms of Contractor Foreman is its dated user interface, a point repeatedly highlighted by users in their feedback. Additionally, the platform tends to exhibit occasional sluggishness and minor bugs.
However, it's worth noting that the company's support team has responded to these concerns. With the software's growing popularity, they are investing in server upgrades and potential improvements to address these issues.
Contractor Foreman enjoys a positive reception among its users, with many commending it as offering good value for its cost. This sentiment is frequently echoed in user reviews, suggesting that, despite its shortcomings, the platform provides substantial benefits relative to its price point.
Pros:
Helpful customer service
Lots of construction-specific features
Time cards with location tracking
Ability to report incidents
Worth its cost
Cons:
Currently, it runs slowly, but improvements are underway
Outdated look and feel
18. ArchiCAD
If you're an architect less concerned with project management features and more interested in enhanced CAD design capabilities, ArchiCAD might be a fitting choice. ArchiCAD, developed by Graphisoft in 1982, is a premier Building Information Modeling (BIM) software. BIM provides architects with 3D modeling capabilities and comprehensive data about building components.
ArchiCAD offers document management and collaboration tools, but its project management capabilities are essential. If you're seeking Gantt charts or budgeting & invoicing features, you'll need solutions like TeamGantt or Paymo.
ArchiCAD is considered expensive primarily due to its advanced Building Information Modeling (BIM) capabilities, which offer architects, designers, and engineers a high level of detail and precision.
The cost reflects significant investments in research and development to maintain its leading edge in architectural design technology. Premium prices also account for comprehensive customer support and training resources and the licensing model tailored for professional use.
Pros:
Enhanced CAD design capabilities
Document management and collaboration
Cons:
No time tracking features
No budgeting & invoicing features
No Gantt chart features
No advanced project management features
Very expensive (over $3000/year)
19. Nifty
Nifty's Dynamic Milestone Automation is particularly beneficial for architects. Plans can frequently change in architectural projects due to client requests, site constraints, or material availability.
With Nifty, when tasks within a project are altered or shifted, the associated milestones adjust automatically. The tool recalibrates the project timeline if an architect has to modify a design phase or push back a consultation.
This automatic recalibration saves architects the hassle of manual milestone updates, allowing them to maintain a current view of their project's trajectory. Because of this feature, Nifty is especially useful for architects who juggle multiple projects simultaneously or those involved in complex, phased projects where timelines can frequently change.
Overall, Nifty is highly regarded for its intuitiveness among users. Being a relatively new player in the project management arena, having launched in early 2018, many of its shortcomings can be attributed to its youth.
The most common feedback centers on the desire for additional integrations and features. While there are minor bugs and areas for enhancement, the team behind Nifty is actively updating and refining the product.
Pros:
Dynamic Milestone Automation
Intuitive
Worth its cost
Cons:
It could use more features
It could use more integrations
It is a bit buggy, but it gets frequent updates
20. Plaky
Plaky is an ideal choice for architects venturing into project management without wanting to invest heavily. With one of the most generous free plans and competitively priced paid options, it's a low-risk entry point for those unsure about the potential benefits of project management tools. If you're still determining whether such tools are more hassle than help, Plaky is a great place to start.
However, beyond its free plan and cost-effective pricing, Plaky doesn't offer features tailored specifically for architects. It does cater to general needs with file management, team collaboration, activity tracking, a rudimentary CRM, and a mobile app.
Yet, it needs more crucial functionalities such as time tracking, invoicing, Gantt charts, and other advanced project management tools that many professionals might seek.
Pros:
Good free package
Cheap paid packages
Cons:
No time tracking features
No budgeting & invoicing features
No Gantt chart features
Conclusion:
For architects exploring the expansive world of project management tools, there's a solution to fit every unique project requirement.
Small to medium architectural firms might find Paymo particularly appealing for its strong emphasis on time tracking and invoicing. Monograph offers a similar focus but comes with its own set of limitations. Asana stands out for architects prioritizing user-friendliness, while Monday caters to those desiring deeper customization options.
For professionals often on site, ArchiSnapper provides tailored features, whereas Teamgantt is the go-to for those who prefer working with Gantt charts.
Ultimately, the best selection depends on each architectural team's distinct needs and methodologies.
Laurențiu started his marketing journey over 18 years ago and now leads a marketing team. He has extensive experience in work and project management, and content strategy. When not working, he's probably playing board games or binge-watching mini-series.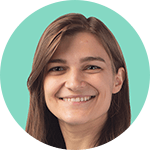 Drawing from a background in cognitive linguistics and armed with 10+ years of content writing experience, Alexandra Martin combines her expertise with a newfound interest in productivity and project management. In her spare time, she dabbles in all things creative.