Looking to find a new job in project management but you don't know if you're prepared for one?
Maybe you've noticed the changing work environment, all the job-hopping, and job shortages around you caused by the Great Resignation and you want to give it a shot too.
The best way to find out what employers are looking for when it comes to project manager positions is to check out real project management job descriptions. These will show you exactly what skills you need and how to prepare for your future duties.
Note: a project manager and a product manager (similar to a product owner) are not one and the same. If you want to know the difference in technical versus soft skills, the level of experience, and goal orientation, check out this article tackling project management vs. product management standpoints.
But you don't have to go through endless pages of job postings to see the top requirements. We already did that for you.
We analyzed over 200 job listings from Indeed, a leading job website in over 50 countries, to show you what you can expect to see in a project manager job description:
What Employers Are Looking For
Duties and requirements vary from one project to another, as well as company size and industry. In fact, some companies are likely to tailor a project manager job description to their own project management and internal policies.
Here are some of the most commonly mentioned responsibilities found in Indeed project manager job descriptions:
Team-related responsibilities
Coordinate the team throughout all project management phases
Ensure that all team members have the required information and resources to carry out their tasks effectively
Monitor the team's work time and timesheets on a daily basis
Manage large and diverse teams and projects (sometimes simultaneously)
Lead daily/weekly stand-ups and meetings
Meet with individual team members to find and fix any issues
Train employees during workshops
Foster a culture based on accountability
Customer-oriented responsibilities
Manage communication with external and internal stakeholders (clients, sponsors, executives, etc.)
Organize and participate in client meetings
Collaborate with the PMO and sponsor
Ensure compliance with client requirements and business needs
Ensure customer satisfaction
Bring together all company units to meet client demands
General business responsibilities
Maintain business relationships
Contribute to the development of the company, its processes, and its projects
Recommend further improvements
Align the company's general business targets with the project's objectives and outcomes
Project-related responsibilities
Create a detailed project management plan and other project documents
Guide incoming and outgoing project files
Provide solutions to project-related issues
Set the strategic direction of all projects
Define the project's scope
Set milestones and deadlines
Create budget and revenue estimates
Manage project resources and their costs
Assign, prioritize, and supervise project tasks (task management)
Implement and manage changes
Detect, report, and fix issues whenever necessary
Identify, prevent, and manage risks
Track project performance using appropriate KPIs, metrics, tools, and techniques
Submit deliverables and ensure they adhere to quality standards
Perform any other relevant, project-related duties when needed
In some situations, the project manager can use invoicing software to send invoices and bill the client
Now, don't worry. You won't get to see all of these responsibilities in a single job description. Keep them somewhere close and review them from time to time to know how to further improve yourself.
These duties are essential for the project development process. Even if they're not part of your daily routine, you'll stumble upon them later on in your career at least a few times.
The Skills You'll Need
There is no such thing as a general project management skill. To lead a project, you'll need to be well-rounded in various complementary fields.
Many project managers have started out in their careers as software developers, UX designers, marketing experts, sales reps, or even teachers (even if is not one of the ideal jobs for former teachers). These people will be a better fit for a project that targets their industry of interest but they'll still need to brush up on their knowledge of project management processes, methods, and tools.
While general business knowledge is a must-have since it helps you understand the project, its market, and its clients, you should also be able to comply with the PMBOK® Guide and Standards. Commonly, a project manager will always be in charge of managing and supervising the project team during project initiation, planning, execution, monitoring, and closing.
To prepare for a career in project management there are many courses, blogs, and other training opportunities.
Here are the mandatory skills you need for a new project management position:
Must-Have Skills
When looking over project management job descriptions, you have to pay attention to the next two skills you must have before starting work at your new job:
Theoretical and practical knowledge of project management processes, workflows, and terminology
PC proficiency/Knowledge of project management software
Note
Using a computer may sound like a skill everyone has, but project managers need to master project mgmt tools to help them keep track of their work on web projects. For example, other solutions such as Google Docs and Sheets are necessary to create formal documents. Plus, they'll need presentation tools like PowerPoint to pitch or show results. Most of these tools are affordable for small teams. And even with Google or Microsoft documents, maybe they need a step-up. For example, they may want to switch to a professional invoice generator instead of filling out a printable pdf they randomly download online.
Nice to Have Skills
Then there are those work-related abilities that will give you the edge when it comes to getting your dream job in project management. These are not always considered must-haves because often they're not needed when you start out in a new company.
They refer, but are not limited, to the:
Capacity to train other team members
You might be asked to train other employees or even a project manager intern. Knowing how you can share your knowledge of this field and demonstrate its value too is a bonus in this case.
Ability to manage multiple projects and responsibilities at the same time
Smaller companies with none or few project managers might ask you to take charge of more than just one project simultaneously to keep up with client demands.
Knowledge of the industry (processes, tools, terminology, etc.) you're applying for
Most projects focus on a specific field of work from Fine Arts and Design to Technology, Engineering, Manufacturing, and many more. Hence, a project manager who has worked in one of these industries before will be favored.
Relevant experience and knowledge of program and portfolio management (valid for large companies)
Ability to research, understand and apply the concepts and best practices of any new industry
Experience in negotiating contracts and other aspects that can impact a project
Knowledge of business needs
Experience in managing and maintaining relationships with clients
Ability to work unsupervised, with little management oversight
Experience writing project requirement specifications
Soft Skills
A project management position is not just about your knowledge of project management and business best practices. You'll also need interpersonal abilities like being a good communicator, accountable, adaptable, analytical, and a strategic thinker who's also capable of making effective decisions under pressure.
Seems like too much? No worries. You probably already have some if not all of these. But there's always room for improvement as some skills might not be fully developed. Here's a list of the traits employers want from their next project manager:
Strong management and leadership skills
Critical thinking
Good, client-oriented communication skills
Ability to offer and receive constructive feedback
Adaptability and flexibility
Excellent ability to multitask
Strong interpersonal skills, ability to define situations, document data, and draw conclusions
Capacity to work both independently and within a team
Ability to interpret instructions regardless of their form
Excellent organizational skills
Creative mindset
Proactive personality
Analytical skills
Conflict resolution skills
Accuracy and attention to detail
Time management capabilities
Capacity to meet milestones and deadlines
Excellent written and verbal communication skills
Capacity to manage stressful situations
Problem-solving skills
Self-motivation
Ability to motivate other people
Other Requirements
Proven working experience in project management (period of time depends on the position)
Tip
If you're applying for a Junior position, you might want to start with an internship first, create your own project, or try volunteering to get your first chance of managing a real project.
Holding a Bachelor's degree (Master's degrees are preferred)
Note
A Project Management degree is not mandatory. Employers often ask for a Business Administration degree. But when a project is centered around a specific industry, a degree in the following fields is preferred: (Industrial) Design, Finance, Construction, Computer Science, Marketing, Engineering, Manufacturing, etc. If you're applying to manage a medical project, you might just be asked to hold a Medical degree. Only someone with proper education and experience in a certain industry can be prepared to face its problems.
PMP® certification/PRINCE2 certification (or other certificates acknowledged by organizations such as the PMI® or APM)
Ability to travel to meet up with stakeholders
Knowledge of a foreign language
Project Manager Job Description Examples
To show you what a real project manager job description might look like, we've created the following 3 examples based on the most common project manager requirements in terms of duties and skills. Pay close attention to spot the similarities and differences between these positions:
Project Manager (Senior) Job Description
Job summary
We're looking for a Senior Project Manager to handle our overall project management operations for our key corporate clients. You should have previously had overall responsibility for several other successful projects in the past. The ideal candidate is someone with great leadership skills who can supervise a team of 62 people and coordinate their activities from project initiation to delivery. You also need to be able to travel occasionally to meet with our clients or attend conferences. Holding a PMP® certification is mandatory.
Responsibilities
Initiate, plan, execute, monitor, and deliver our projects
Create project-related documents
Maintain communication between the team, stakeholders, and clients
Create and deliver internal and external project reports
Lead the team toward delivering our customer's solution in time and within budget
Hold team meetings on a weekly basis
Align general business objectives with the project's goals
Offer project management advice to executives when needed
Ensure all quality standards are met
Manage the project's budget and resources (including subcontractors)
Conduct periodical team training
Participate in the development of the company's structure
Find new project growth opportunities
Track project deliverables and outcomes with appropriate tools
Attend industry conferences to increase the project's exposure (twice a year)
Requirements
Bachelor's degree (Master's degree is preferred)
PMP® certification is a must
7+ years of experience in corporate-level project management
Solid understanding of project management methods, methodologies, frameworks, terminology, and processes
Proven experience in creating project-related documents
Experience with portfolio management is highly desired
Leadership skills
Ability to solve conflicts effectively
Expert organizational skills
Advanced time management, decisional, and analytical skills
Highly competent in handling multiple project timelines
Budget management experience
Knowledge of one or more project management tools
Excellent verbal and written communication skills
Flexible to travel
IT Project Manager (Technical Project Manager) Job Description
Job summary
We're looking for an experienced IT Project Manager to supervise our ongoing technology projects. As a key member of the Technology team, you'll be in charge of all internal and external projects. Teamwork and customer-focused decision-making are key as we believe in using collaboration to achieve project success. We offer a collaborative and challenging work environment. Together with the team, you'll deliver projects to our customers and ensure the monitoring of the final product even after its launch.
Responsibilities
Initiate, plan, execute, monitor, and deliver our internal projects
Create project-related documents
Maintain communication between the team, stakeholders, and clients
Lead and provide technical leadership
Ensure that the project's status is communicated to the team, stakeholders, sponsors, and clients
Collaborate with the Design team
Create and deliver project reports
Lead team meetings and sprint reviews
Align business objectives with the project's goals
Manage the project's budget and resource allocation
Get in touch with other departments to fix software-related issues
Offer project management advice to executives when needed
Ensure all quality standards are met
Create internal and external reports
Choose the right team members for our next projects
Requirements
Bachelor's degree (Master's degree is preferred)
Scrum Master certification is an advantage
4+ years of experience in IT projects
Agile knowledge is highly desired
Proven experience in creating project-related documents
Demonstrated success in delivering products
Outstanding grasp of IT concepts, processes, and web standards
Ability to effectively manage small to medium-sized projects
Proven leadership skills
Attention to details
Ability to communicate and solve conflicts effectively
Strong organizational skills
Knowledge of one or more project management tools
Advanced analytical skills
Budget and time management experience
Ability to work remotely (some team members work from another office)
Creative Project Manager Job Description
Job summary
We seek a self-motivated Creative Project Manager to manage our agency's current and future design projects. You should be able to effectively keep track of our clients' projects and maintain close communications with our other project managers as well. Most projects have a short life cycle, so being able to work well under tight deadlines is a must. The ideal candidate should have previously managed creative projects as well as medium-level experience working in UX/UI design.
Responsibilities
Initiate, plan, execute, monitor, and deliver our internal projects
Create project-related documents
Maintain partnerships and stakeholder communication
Collaborate with the IT department for technical implementation
Ensure that the team and clients are updated on the project's status at all times
Create and deliver project reports
Actively participate in the design process
Manage the project's budget and resources
Lead team meetings on a weekly basis
Establish and align business objectives with the project's goals
Offer project management advice to executives when needed
Track project performance to ensure all goals and quality standards are met
Create internal and external reports
Requirements
Bachelor's degree (Master's degree is preferred)
PMP® certification (or similar) is preferred
3+ years of experience in leading design projects (former experience in UX/UI is an advantage)
Adobe Creative Suite experience is a plus
An understanding of human-centered design thinking
Proven experience in creating project-related documents
Leadership skills
Excellent attention to detail
Ability to handle multiple projects simultaneously
Strong organizational skills
High creativity level
Advanced analytical skills
Budget and time management experience
Knowledge of one or more project management tools
But how do I use these project manager job description samples?
Use them as a baseline to see what skills you'll need. Then compare these examples among each other to find out if you'd be a better fit for one position or the other given your current skills and experience.
There are many more positions available for project management practitioners in hundreds of industries. Check out employment search engines like Indeed or LinkedIn to see more similar project management job descriptions.
One final tip before we sign off:
The order in which companies list their requirements can show how important these are for the job position. Recruiters usually place vital aspects at the beginning of the list and then add the rest to the end. These essential facts are also often highlighted within the body of the project manager job description through bolded text or direct statements from the company (e.g.: [skill] is preferred, [skill] is an advantage, [skill] is highly-demanded, etc.).
Key Takeaways
Think of a job description is your first contact with the company you're applying to. Usually, you'll have to work on everything they wrote in that job ad. The responsibilities they marked are their biggest needs and you'll encounter them regularly. So it's only normal that you have to prepare to deal with them.
But always expect more. Each day will bring new challenges. So use your first interview to get to know anything else that's not part of the job description. You don't want to sign up for a job you're not prepared for.
Remember
The project manager job description targets you as a project manager and potential future employee, but it can tell just as much about the company. This means that you'll also learn some things about them, what they do, and what their requirements are. So before you look for a new job, think about your own needs, experience, abilities, and potential. Knowing what your qualities are and what you're willing to learn in the future can set you up for success in getting a project management job.
Found this article useful? Please spread the knowledge and share it with your teammates and followers.
First published on January 22, 2020.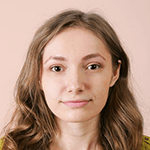 Alexandra Cote is a SaaS content writer and strategist with a passion for workplace productivity, social media marketing wonders, conversion rate optimization, artificial intelligence, and keyword research. Reach out to her via LinkedIn.