Time tracking can be a serious hassle.
Suppose you're working on an important task, and there's an incoming call. You finish with it, but another colleague wants you to approve some documents right away. Can you accurately recall how much time you've worked on each activity? Hard to tell.
But not all of us can multitask. And many people don't even like tracking their time.
So what can you do?
Try automatic online time tracking tools as an alternative for small businesses or corporate. It eliminates the need to press your computer tracker's start button whenever you want to clock in or out. Also, you won't have to worry about leaving your timer on overnight and waking up to see 10+ hours added to your task. This lets you stay focused on your work and worry less about time-tracking technicalities.
Plus, it's what worked to discover whether I was wasting time. It's ideal for people who tend to give in to distractions. This is why it's one great tool that facilitates procrastination help, thus boosting personal productivity.
To find out how automatic time tracking can help you and your team with task management and work without interruptions, let's first take a look at some of its benefits in detail (or you can go straight to our PaymoPlus use case to see the tool in action):
Better chance of meeting deadlines
When it comes to deadlines, it's always better to have things done a few hours earlier than a minute too late, as Shakespeare put it, and a simple time tracker can help you out. If your team is working on a project and you notice that things are moving slower than expected, you can use the detailed time entries in your automated time tracking software to see where the roadblock is.
An employee might spend too much time on a minor task, or some team members are overwhelmed and need help. Noticing this in time will make it easier for you to fix unpleasant situations and still meet your project deadlines.
Your team's work will never go unpaid
Automatic time tracking will give you an accurate report of how your employees spend their time. Not a single minute will remain unbilled. If they were to use a regular timer, there could be activities they might not even consider or forget about, like sending an email to a client or talking to a colleague about a project. All these add up, and it's only fair they get paid for them. Then on, you can easily use an online invoice tool that's editable to generate an invoice based on those entries and send it to your client.
With everything so precise, you won't have to worry about overcharging the client. There will be no more guesstimates, which will give both you and your client a sense of satisfaction.
Improved project estimations
If you can accurately assess how much time each member spends on a task, you can allocate the proper budget hours for a project with similar tasks.
Say you have a $5,000 budget for a project that would typically take 250 hours to complete. You remember from a previous project that your web designer spent 50 hours in Photoshop when you only thought it would take him 30 hours. You can adjust your budget to set up estimates closer to reality, serving as proof for the client if necessary.
Avoiding work overload
You can avoid overworking by accurately estimating how much time your employees need on specific tasks and projects. You will no longer take on projects, realize the deadline can't be met, and then be forced to make your employees work overtime. This will create unnecessary frustration that can totally be avoided.
You can free time for valuable work and discover workflow inefficiencies as well. Through this, the whole purpose behind automatic tracking is to reveal the most productive activities, thus helping the team members that need more support and finding out under what conditions they perform their best.
Prioritizing important tasks
There are important tasks, urgent tasks, and also non-essential ones. You want your team to focus on what's important and take care of the urgent problems, but few of them are truly urgent.
If you know exactly how everyone in your team spends their time, you can spot early on if one of your employees is spending too much time on a non-important task. Let them know what your expectations are so they can realign their priorities.
More productivity by avoiding time drains
Some of your employees will spend much time on Facebook or compulsively check their email. That makes you wonder how much time they spend productively and how much they lose due to behavioral patterns. And it's not like they waste time on purpose—well, maybe sometimes—but that's not the point. Many would be surprised to find out the truth about their work performance.
Most of them get into habits they aren't even aware of. Then, they wonder where the time has gone by at the end of the day. This is where an automated time tracking app like PaymoPlus is useful. It can help them become aware of their bad habits and replace them with better ones. This will help your employees become more productive and feel better about themselves and their work. After all, if they can't acknowledge they have a problem, they can't fix it, right?
Less frustration for employees
Many people find the need to start and stop a timer quite irritating. Some are heavy multitaskers, so it is quite inconvenient for them to remember to maintain the timer between tasks. Others forget about it or simply get distracted by other activities like reading articles or checking social media.
With an automated time tracker, your team members can install, open, and forget about it. It'll automatically start recording their activities every time they boot up their computer. Their work will be instantly pulled in. This way, they can forget about the timer and match everything up at the end of the day. Likewise, they will no longer need to put fabricated estimates in their timesheets when they realize they forgot about the timer.
Help coordinate your business
Managing a team is not a walk in the park, but with automatic time tracking, managers get a helping hand when monitoring what employees are working on. This method can help leaders capture worked hours, allocate the right resources, improve productivity rates, set accurate estimates, adapt to budget changes, and identify bottlenecks.
They can even get full control of all these activities as they are the ones who can approve a timesheet (provided the used tool has a timesheet approval system). But here's the gist: you don't need such a feature to monitor your team. You can look at their timesheets any time and see if their work hits the mark. Automatic time tracking tools create this kind of smart timesheets, making them available immediately at the end of the day.
TIP: Though not like automatic time tracking, employee time tracking software still has its own advantages in keeping an accurate record of time records, like locking timesheets or clocking in work in various ways. Find the best that suits you in our previous list.
The lack of complementary features is now a strong no when there are complete project management solutions for managing a project from A to Z. On top of time tracking, freemium project management solutions outbest competitive tools that don't offer project billing software, for instance.
We believe automation is the future of time tracking. That is why we came up with our own automated time tracker to meet the needs of even the most difficult of employees.
PaymoPlus Use Case
As an alternative to Paymo's time tracker, PaymoPlus is an automated time tracking app that records everything that's happening on your employees' desktop in detail—files, apps, and browser tabs—letting you know exactly how much time they've spent on each activity.
If you often work with multiple projects simultaneously, this is the tool for you. Start this app and let it run in the background while doing your job. At the end of the day, match the activities to the right project & task, and you're ready to go home.
Before you start tracking time with PaymoPlus, remember you can create Rules to cut down on admin time. Set them to automatically match an activity containing a specific word to a project. This way, you won't have to do this manually when you finish work.
While writing this article, I used the tool for two days to show you exactly how it records desktop activities. I also wanted to show you how to use the data to enhance your work. I will also explain each step you need to take and how to interpret the recordings.
Who can use this tool?
It's for freelancers, individuals, and team members (in-office or working remotely) who want to improve their productivity and become motivated. Managers might want to implement automated time tracking tools among their employees. This would help them monitor their activity and see if they're slacking off.
Note: If you fancy the idea of becoming a project manager, check out this reference guide that outlines steps, advice, and resources on how to get into project management without a degree.
Prerequisites
You need a Paymo account to log in. Don't worry, though. You can now get a free account if you're a freelancer or individual and use PaymoPlus also for free.
Create a free Paymo account, download PaymoPlus, and see how easy it is to track all your time.
You can always configure the time tracking options from the Settings area in your Menu under the File tab.
The flow of the automated time tracking tool
When you start the app, add your account credentials—username and password—to use the tool. Then, select the project, task list, and specific task you're working on.
The tool works offline too, so you don't have to worry about not having a good Internet connection or being out of the office.
To start tracking your time, click the Recording button in the upper-right corner. You can choose to hide the entries under 10 or 30 seconds and 1, 5, or 10 minutes. This ensures that you'll only see the most important tasks. However, the entries will not be deleted. To see the full list of activities again, choose the "none" option from the Hide entries under section.
Remember that PaymoPlus records all activities, not just the browser-related ones. It tracks the apps you're using, documents you're writing, and pictures you see, whether in-browser or on desktop.
This can help you see which tools you're using most often, which resources are useless, the people who bring the most value to the team, and even the leading causes of your lack of productivity.
Let's take the following case:
You've spent an entire day tracking your time with PaymoPlus. After you finish work, you match each activity to a project or task. If you've wasted more than half of your day on social media, memes, and videos of funny cats, that is obviously where the issues of your productivity lie.
What can you do?
Stop going to these websites or entirely block them from a specific browser. So next time you find yourself searching for cats on Facebook, use this social media network to research a topic you're working on. If these methods fail, try to limit the time you spend slacking off or delay the fun after finishing your tasks.
Scared of your privacy being invaded?
There is no need to worry about that. You have full control of the tasks you keep in the report, and the app doesn't take screenshots of your desktop. We know how much some employees hate those—we hate those too. That's why we came up with a solution that can please both workers and employers alike.
Meanwhile, you can freely do your job even if you're a serious multitasker. Let it run in the background and do the time-tracking for you. All you need to remember is to pause, log out, or exit at the end of the day.
Now that's easy!
If you leave the automatic tracker to record your activity, you might come back to work the next day and find out that those hours have been counted as Away Time. No need to panic. You can delete these time entries by right-clicking on them.
In fact, with a simple right-click on a particular activity and delete action, you can remove any task from the recordings or view more details.
You can divide your final activity into relevant work tasks and unrelated tasks, like social media. Keep in mind that there is nothing wrong with sometimes taking a few minutes as a break from work. Your social media activity could indicate that you're researching a topic, or maybe you work as a social media manager. YouTube can be used to learn more about a subject or even to take some seconds to unwind so you'll clear your mind and start work again.
Relevant activities should be decided with your manager because all jobs have different kinds of tasks and websites that should be allowed for use. Also, involve your team in what is acceptable and what is not.
But there's more to automatic time tracking than just an overview of the time spent on different apps. You can find out if you're wasting too much time writing an article, daily team meetings, chats, or research in general. You can even gather this data and compare it to your past performance.
The best part of using a tool like PaymoPlus? You won't have to remember what you did the previous day. The tool creates timesheets with your entire activity when you pause the timer, log out, or exit.
No worries, though. You can always delete an entry if you've spent a bit too much time on nonproductive activities that day.
The tool works intuitively, so you can use the classic SHIFT + DELETE key combinations if you want to delete two or more tasks simultaneously.
Did you match an activity to the wrong task? You can right-click on the activity and choose Unlink. This basically works like the Undo function, except you can use it whenever you notice a mistake, be it today or one month after you've matched them up.
If you're getting lost in all of the activities, filter the data to find the ones that interest you the most. This can help you find all the work-related tasks:
And the not-so-work-related ones:
The results
You have successfully used the tool once you have all your work hours logged. Assuming you take a few minutes to analyze your past activity, you'll also start seeing the results in increased productivity and better task management.
This is a part of what my first day looked like after work: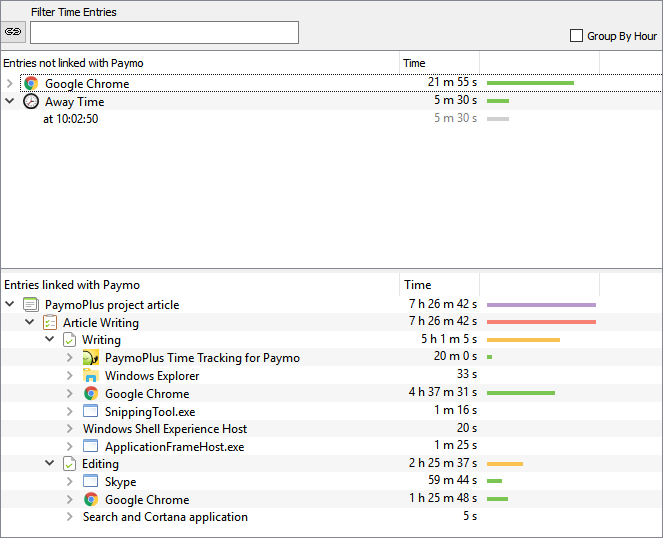 I spent most of the day writing this article. Second, came the editing of our list of 10 time-tracking tools. I spent the rest of my workday talking to my team members on Slack and Skype.
I gave a lot more attention to PaymoPlus—mainly to take the screenshots for this blog post. In your case, you just need to open it once when you start work and close it when you leave. I used it to manage my tasks, create other activities for my colleagues, and communicate with them so there wouldn't be any misunderstandings. Using the Paymo project management app took me only 6 minutes and 40 seconds on a busy day.
Surprisingly, I found out I was spending less time writing the article than I had initially thought. I expected most of my first day's hours to be allocated to the process of writing. The truth is I spent only one hour and 31 minutes writing that day. The rest of my time? Well, I used it for research and to talk with my colleagues.
I was even more amazed to see that I gave less time to write this article than to edit the previous one.
Based on the first day's results, I fixed my problems on the second day. I spent around 3 hours and 12 minutes writing in between searches for the Winter Olympics 2018, research, content curation, and the usual daily team meetings.
Sounds great! So, how can I get it?
Glad you've asked! Get PaymoPlus free from our download page and see how it can help you.
How to track your time in Paymo
If you're uncertain whether automatic time tracking is suitable for you and your team, give it a good try for a week or two to see its effects on productivity and employee accountability. Or apply the Pomodoro technique, initially developed by Francisco Cirillo to help students with the study part if they want to run a timer on their desktop.
To maintain a happy work environment, ask for your team's feedback. Find out how they feel about a virtual tool monitoring their work. Help them understand the purpose of automatic time tracking.
If you believe that your friends or co-workers could benefit from automatically tracking their time, please share this article with them.