If you find yourself in the same shoes and need to ensure you're on track with your projects, monitor their progress. One way of maintaining full control over them from a single place is through time reports.
Despite their name, they highlight so much more than just the amount of time you spent on a project or task. A time report can show who worked on a project, how much money was spent, and what tasks had to be completed.
But, what are time reports?
Time reports are visual summaries built on the tracked time to offer an overview of how your project team spends time, money, and resources. These can be paper-based or come as part of a complete digital solution. In project management, you can create time reports after you finish a project or on the go to keep clients informed at every step.
To help you understand the benefits of time reports for your projects, we used real examples from our own project management tool named Paymo:
Time reports benefits
Keep clients up to date with real-time data and improve communication
A good communication plan for teams and clients can save you valuable time. Not notifying your client about an issue might make them ask you to go over specific tasks right when you thought you were done with the project. Having to fix problems, in the end, will only cost more money and time. You could spend these on more important duties such as product/service launch or maintenance.
In Paymo, you can generate two different kinds of time reports:
Static reports – great for one-time reports or insights over a specific period of time
Live reports – provide constant updates on timesheets and change every time someone accesses them
You can share these time reports with your clients or key sponsors by giving them a permalink to the report. Paymo users will find this below any report.
Permalink for clients
They'll be able to analyze the information you provide, spot potential problems, and suggest changes. Also, they can print the report or turn it into a PDF, CSV, or Excel file.
Time report after exporting
The export option lets you send a report in a file format of your choice. This way, anyone can access them, regardless of computer or Internet speed.
Export option in Paymo
Alternatively, clients can retrieve these time reports from the client portal.
In addition to improving client communication, offering transparency when it comes to projects increases their trust too. They'll see exactly what the team has worked on, how long, and how this translates into money.
See your time reports in real-time from anywhere and at any time
Provided you're using a cloud-based project time tracking software or a top project management tool; you'll see the best reports as they adapt every time you complete a new task. Even when working with a remote team. This makes it easier for any client to access the data they need whenever they want to check project progress or look for improvements.
Note: project management tools are comprehensive in order to ensure successful project completion. Try, for example, any of these tools: Kanban apps to Gantt charts, time trackers, and widgets to make work data visual.
Stay on budget
Money is a sensitive issue. No client wants to find out that the funds allocated for a project are running out. With reports, they can see exactly how much of the initial budget has been spent. This helps you find out if you should limit your costs to keep up with your finances.
Not to mention that virtual time reporting tools can sum up all your billable hours and automate the accounting for you. Free invoicing software is best for freelancers, teams, and small businesses that don't have to budget to invest in expensive accounting services. Another online invoice tool to consider is the invoice builder, which is a great option when your company is small.
There's nothing wrong with that. We actually advise you to learn how to send invoices to your clients, which mistakes to avoid, and the benefits of invoicing.
Time report showing spent budget
Save time
Automating the creation of time reports can help you redirect your time to more valuable tasks. Any virtual time reporting tool can do that in your place in a matter of seconds. In fact, digital reports are much easier to personalize and filter as they can be changed even after being created. And the best part is that you can re-use templates from previous projects to avoid the lengthy process of manually setting up a new report every time.
When it comes to tasks, you'll manage the time you spend working on them better. Time reports can help you identify what activities took longer than expected based on the summed-up hours. With the data you have gathered, you'll also make better time estimates for the following projects.
Plan and distribute tasks to avoid overbooking or underbooking
Time reports give you an overview of what employees are working on so you can see who has too many tasks to complete or who is slacking off. This will help employees save energy by focusing on the tasks that really matter.
In this sense, the possibilities of personalizing your time reports are endless. You can customize these to suit your exact needs and help you see quickly if tasks are evenly distributed among your team. In the example below, you can see who worked on a project, for how long, and on which tasks:
TIP: An employee time tracking software with a common timesheet and time clock for employees can render similar results but not as detailed as a time report. Still, if you need a simple system for tracking employee working hours, check out this list of best timesheet software.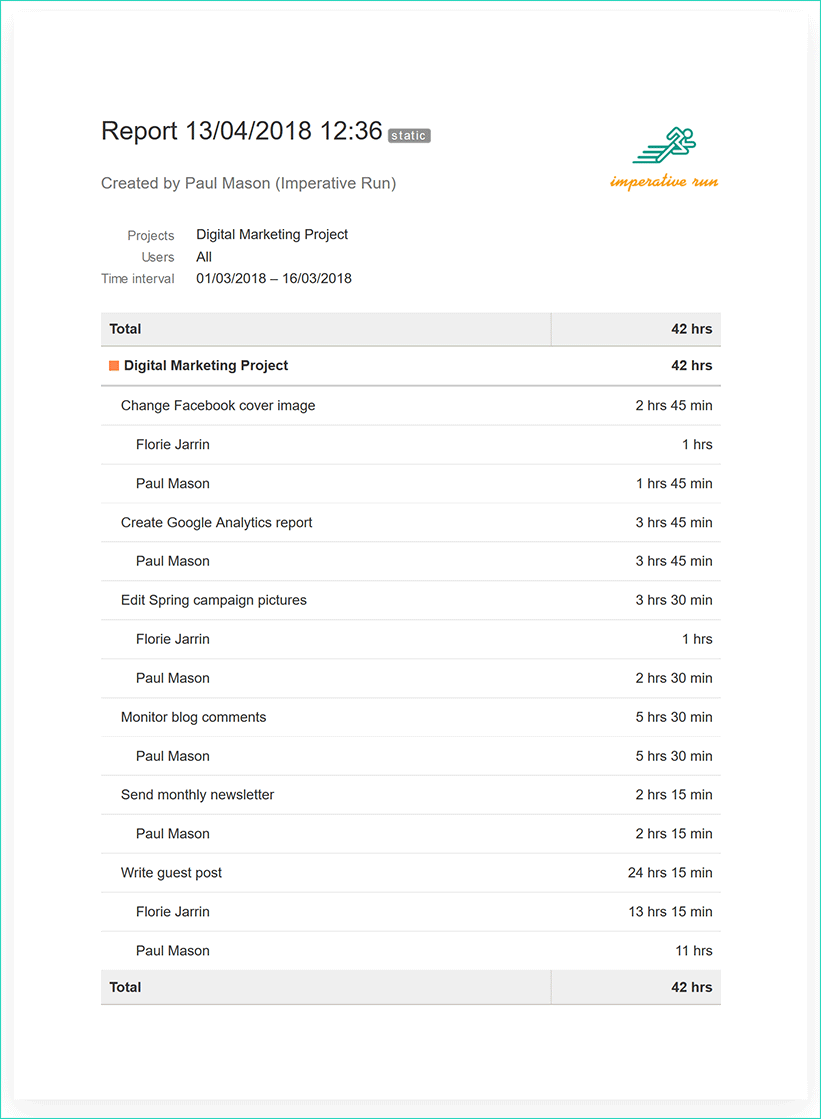 Time report for managing employees
Increase productivity
An overview of your work can show you if you've been wasting time on unnecessary or less valuable tasks. Without a time tracking and reporting system in place, you're more likely to overlook minor details and problems created due to a lack of time management. It's one of those procrastination solutions that I tried, and it's what worked great in overcoming task aversion.
Learn to set goals such as reducing your time on idle activities like browsing social media or watching YouTube videos. Additionally, discuss time reports in meetings to see what went well and what you can fix for better results. Having these reports on hand also increases the employees' accountability, makes them aware of the importance of time, and helps them reach their goals.
Another great way to increase your focus is to timebox your efforts using the Pomodoro Technique®, which advocates for alternating manageable chunks of work with frequent breaks.
Tip: If you're looking for apps or software to increase focus, browse the best Pomodoro apps, including our own native Pomodoro timer.
Keep all information in one place
An online time reporting tool usually means using a single screen or dashboard without switching between multiple apps, tabs, or views. Having the possibility to look at all your data at a glance lowers the time you spend looking for the information you need.
We've created a complex report for two different projects and several tasks, users, time entries, and days.
Complex time report
You can use this particular time report when a general manager or CEO asks you, as a project manager, to provide a detailed report on all the work hours that went into specific projects. This example shows how it is done according to project, task, employee, and time.
Note: if you're on your path to becoming a project manager, here is a good reference guide on how to transition into project management, along with steps, examples, and resources.
Employing time reports can reduce the hours spent analyzing a project's status. Also, they help with identifying potential mistakes that could cause severe problems if left unfixed. Considering all benefits, think about what your project, team, and clients truly need.
To put it briefly, time reports sum up everything that goes in and out of a project. By shifting your project analysis to time reporting, you add valuable hours to your workday. Otherwise, you would spend these collecting the necessary data from dozens of other sources.
This way, you bring all your information in one place. If you opt for a digital solution, you can even minimize time spent on creating paper-based time reports by hand. Time tracking is essential for task management, especially when working in a performance-driven company.
Let us know how you think time reports can help you by sharing this article on social media.
First published on April 18, 2018.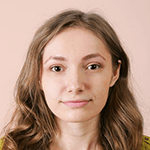 Alexandra Cote is a SaaS content writer and strategist with a passion for workplace productivity, social media marketing wonders, conversion rate optimization, artificial intelligence, and keyword research. Reach out to her via LinkedIn.