Work-life balance has always been promoted as the ultimate goal to strive for.
We're constantly guided to find a middle ground between our careers and relationships outside of work, while few talk about how unrealistic this expectation is.
In this maze of contrasting opinions, how can you find what works best for you?
The only option is to analyze your current work-life relationship and create your own belief system. But first, let's look at the facts for a bit.
The current state of work-life balance
For a broad definition, think of work-life balance as a superior state of mind you reach when you've accomplished everything that you've ever wanted, both in your career and personal life.
A quick search on Google and you'll be lured into thinking that to achieve a healthy work-life balance, you must, by all means, achieve it in all aspects of your life. An average of 38.6 hours spent at work, 49.4 minutes for commuting to work, and a healthy 40 hours of sleep, and you're left with roughly 79 hours to run your errands and spend time with your family every week.
Not to mention our most productive hours of the day are while we're at work, so most of us get home and binge on Netflix. But we still have weekends, right? Not really. Some of us have multiple jobs or side hustles, putting in approximately 5.4 hours of work each day of the weekend.
Experience shows that many of us procrastiwork instead of recharging over the weekends. Read this article about solutions to procrastination.
Work-life balance has never been more blurry in today's changing work environment, as explained by the Great Resignation statistics. Employees and supporters of better work-life balance shower us with benefits we yearn for but so often won't be able to get: reduced stress levels, increased happiness, and more meaningful relationships. At least not at the same time.
COMMON WORK-LIFE BALANCE TIPS
Disconnect from work at home
Stop checking your email on weekends and during holidays
Close mobile notifications when not in the office
Take control of your time
Have regular breaks
Stay fit
Wake up early
Make the most of the time when at work (or don't procrastinate)
Know when to stop working
Say no to the extra workload
Create your own rules to simplify your life
One thing that work-life balance advocates get right is that it is truly important for us not to get lost in our work and forget about our own well-being. But are all of their tips on how to balance work and life realistic?
The short answer: some. While getting rid of physical disruptors such as your phone or laptop that constantly send you notifications is fairly easy, blocking your thoughts just can't be done.
You can't expect to completely unplug and forget everything that's going on at work when you know you've got an upcoming deadline and incoming calls with different clients, each used to doing things their own way. I also deal with great ideas that pop into my mind each evening, so I unavoidably have to write them down instantly, or else I'll forget them and waste brain power the next day trying to come up with something better.
In an attempt to eliminate the pressure of "balance," others replace the concept with "work-life harmony," "work-life integration," or "work-life blend." Sadly, all these sugar-coated terms continue to emphasize the idea that there might be some sort of conflict between the two.
Work always seems to be "the bad guy who's keeping you away from your family." Few bring in the importance of finding a job you love, opening a business with your best friend or spouse, taking a year off, becoming a digital nomad, or simply finding happiness in your daily activities at work.
Unfortunately, there's still a slight stigma against those who choose to work according to their own terms. As 9-5 has become the standard for people with a "decent" job, you'll inevitably start to feel guilty or like you're missing out on the good things during the weekend if you choose to work during the weekend.
Companies, too, are not yet prepared to tackle all of their employees' needs when it comes to "balancing" work and life, even more so, to trust them in the process. There are just too many policies and regulations that increase bureaucracy and costs in the end.
Offering remote work options or work-from-home days receives a vote of confidence and is a trend these days, but employers still face hurdles when it comes to monitoring whether their employees are actually engaged at work or not. Sure, this can be done with an automatic time tracking tool, but it only solves the employer's problem. In my experience, a Pomodoro timer app might be more employee-friendly and help with focus, but it's just like a drop in a bucket.
What's easy to use and absolutely necessary in a remote work setting—especially for freelancers, content writers, and graphic designers—is using a tested and reviewed invoice management tool. Regardless of whether you're self-employed or not, another option is using an invoice generator with signature capability (sometimes mandatory for your role and the nature of your work).
If you're unfamiliar with invoicing terms or don't know what an electronic invoice is, read our guide that outlines all that, plus the benefits of invoicing. Also, invoicing along with resource allocation are part of work management software, allowing project managers and freelancers to carry out their activities.
Note: If you're looking for time and task tracking, these are the best time tracking tools that offer real-time accurate reports. If you're tracking time to make HR work easy, adopt any of these online timesheet software.
The employee, on the other hand, still wants to be able to take a 4-hour break at noon or have an extra free day once in a while. And how can you create a work schedule that works for you if your boss wants you to be in the office for 8 hours? No work-life balance to discuss here…
Another often-mentioned piece of advice to help you keep your work-life balance in check is to stay healthy. Sure, free gym memberships from your company are nice. But what if you like working out in the afternoons like me and 19% of people because you don't have enough energy in the morning? Waking up at 5 a.m. is not an option either. Just look at all the YouTubers who've attempted this challenge but failed to understand that they also have to go to bed earlier to pull it off. Plus, a few of us are proven to be night owls naturally anyway.
Luckily, steps in this direction are currently being made. Take TotalWellness which lets employees work out whenever they want to during the work schedule, or scroll down to see what other companies are doing to assure the wellness of their employees.
If speaking to your team manager and asking for a flexible schedule isn't an option, the only thing left is to work on your well-being at a mental level.
What can you do instead of striving for the ideal work-life balance?
The truth is, the whole idea of a good work-life balance was built around the universal worker. When reality kicks in, you suddenly realize we all think differently about how we'd like to spend our days. Some of us want to put in 3 full days of work just to have the rest of the week for ourselves, while others would like to work 3 hours each day to keep themselves going.
Set your own (achievable) priorities — define what balance is for you
Not everyone is career-focused, just like not everyone dreams of having a large family or a house on the beach. According to Carl Jung, there are 16 common personality types, each with its own version of success. Pair this up with all of our distinct backgrounds and upbringing, and you've got 7.7 billion people, each and every one of them with a unique perspective on life goals.
As humans, our energy is limited, though. That's why effectively managing time is and will always be a hot topic. Eventually, though, we all have to accept that we can't have it all, no matter how good we are at our craft. It goes without saying that focusing on one goal will steal our attention and time from another target we might have, making work and life balance impossible:
As we age, we're prone to change our priorities in accordance with what holds our attention at that particular time. For example, in your early adult years, you might have more time, energy, and grit available to put into growing a successful career. Once you start building a family, work-related issues take a step back. This being said, our priorities eventually tilt the balance of our lives towards one single area of interest.
So if you're a fan of Jack Ma, who's made headlines for his strong support of encouraging work for 12 hours/day, or take Tim Ferris' 4-hour workweek to heart, know that your work style is part of your personality and lifestyle.
What companies are already doing for the well-being of their employees
We've previously discussed how important simple things like taking a break every now and then are good for your own productivity and overall work results. Don't take it all on yourself though. Managers should be interested in promoting the well-being of their workers rather than imposing a false work-life balance expectation since employee happiness is positively correlated with company performance.
For inspiration on what to do to ensure the well-being of your employees, I've talked to 8 managers to see how they're doing it for their teams:
"Well-being in my understanding isn't only about being healthy and productive. As CEO of a company, I want my employees to feel happy and enjoy their work. For that purpose, we hired a special person – a *happiness manager.* Her main responsibility is to ensure that employees feel satisfied with their work conditions, feel comfortable at their workplace, and happy in general. I also *created a wellness-friendly environment* in the office. We have space for yoga and organize corporate yoga workouts as we want our employees to pursue their physical activity goals.
Finally, a manager is always *a role model for the employees*. I have my own healthy routine that I promote in my company and on social media. From flying yoga and air gymnastics to a particular sleeping routine. I also don't allow myself to come to work in a bad mood or irritated. I believe that my employees are looking up to me hence I have to set an example for them." – Victoria Repa, CEO and Co-Founder @BetterMe
"As the owner, I know my employees need support. I meet with each of their therapists weekly. Checking in with them helps me understand and assess their stress level at work as well as hear about their hobbies and goals. I can get a feel for where they are and their mental wellness. They can speak to me about the needs they have as well. Weekly meetings with each employee go a long way. I'm also showing them the type of relationship I want them to recreate with their clients." – Katie Ziskind, Owner @Wisdom Within Counseling
"One thing we do to make sure we encourage openness between us and our staff is to make sure each member gets a guaranteed time slot once a week at minimum to discuss anything they like. This is a time slot where they know they can count on being able to talk to us and get everything off their chest. I believe this is important for employee well-being because it can be incredibly frustrating and even daunting to track down a busy manager to discuss an important problem. If they're caught up with work on their own tasks, you can come off as being annoying or getting in their way. This leads them to bottle up their problems and in turn become resentful and turn on the business." – Mark Webster, Co-founder @Authority Hacker
"Many managers say they value feedback, but employees tend to notice a pattern of feedback not actually being used to shape future decisions and/or departmental processes. Feedback is a two-way street. As a leader, if you want your feedback valued, you have to show that you value the input that comes from your employees. Nothing drives an employee to another company or into a cycle of apathy faster than not feeling valued. I try to check in as frequently as possible without coming across as overbearing. I don't want to accidentally give off the impression that I don't trust them to adequately complete work." – Barbara Hernandez-Taylor, Head of Product Marketing @Azuga
"I like to have snacks in the office which save my employees time in the mornings and get them through to the lunch hour. Flexible working hours, especially for anyone that has school pick-up duties, keep employees less stressed with a work-life balance. Personally, I look out for my employees' health through regular one-on-one meetings where I check in on their feelings and they can voice any concerns. I find team-building activities, such as a dinner out or golf, really bring the employees closer together. That translates back into positive wellbeing and ease of communication within the office." – James Norquay, Director of Content Marketing @Prosperity Media Group
"We're a purpose-based organization. We give every employee a $500 donation to the charity of their choice. And we're heavily involved in animal rescue. We'll even pay for employees and a plus-one to fly to Mexico and bring two rescue dogs back. We also give employees real skin in the game. Every full-time, part-time, and contract employee is included in a profit-sharing program. And our media buyers receive commissions, which is also unusual in the industry." – Tracy Call, Founder and CEO @Media Bridge Advertising
"We focus on improving company culture because we know that satisfied employees lead to higher productivity and less turnover. One of the best things we've done is to create a new position called the Director of Happiness. The main goal of this position is to increase engagement from employees and enhance our company's culture. We focus on identifying the core values we want our company to align with. We also support transparency and display recognition for reaching goals on a large screen that is in the center of our office. In addition, we celebrate birthdays with catered lunches and set up a monthly meeting where we recognize the success of each section of the company, which is followed by free lunch and games." – Joseph Giranda, Director of Commercial Relations @CFR Rinkens
"Beyond work-life balance, the well-being of my team is imperative to me, so there are several things that I do to ensure it. However, my number one priority at all times is making sure that they are in the right role. I don't know how many times I have hired a content writer, only to find out that he or she is a rock-star link builder or vice versa. I keep an eye on everyone's progress, and if they show interest or excel in a particular area, then I allow them to pivot." – Andrea Loubier, CEO @Mailbird
Back to you
Overall, I think we can all agree that mental health should be our top priority—even before you get involved in your first job. Once you acknowledge this, the constant strive to balance life and work becomes merely a fairytale not rooted in reality.
If you're considering a fresh start, such as a project management career, breaking into this career path has never been easier. Check out our reference guide that outlines steps and advice on How to Become a Project Manager.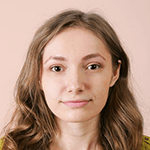 Alexandra Cote is a SaaS content writer and strategist with a passion for workplace productivity, social media marketing wonders, conversion rate optimization, artificial intelligence, and keyword research. Reach out to her via LinkedIn.