Whether you work on an hourly basis with your clients or project-based, recording your work hours boosts job productivity and profitability. For this reason, timesheet software allows you and your employees to log time entries to increase job performance.
In the first half of this guide, we will review the top 5 best timesheet software along with their core features, while in the second half, we will explain in detail what timesheets are and how they can help your team and business. Let's go!
Paymo – Timesheet
Paymo started out as a standalone time-tracking and invoicing app that gradually developed into a full-fledged project management software.
The focus on time-tracking is still there though. Logging time is as simple as ever. Click and drag anywhere on the timesheets area to relog your time either as a duration or interval. Just mention the project and task, leave notes, and you're done. The time entries will show up as time entries color-coded by project, so you can better distinguish between them.
Besides adding time entries like this, you can also add them in bulk for one person over the span of a week. Speaking of weeks, the timesheet comes with several views. Active timers allow you to see all running timers in parallel at the same time. Quite ideal in a remote setup, since you don't have to constantly check in on your team. The rest are the daily/weekly/monthly views, plus the Agenda one for filtering time entries in a spreadsheet.
In itself, the timesheet area is highly customizable. If you go to Settings, you can change the snap interval to range from 5 to 30 minutes, and choose whether to display the task or project name first on a time entry card. There's even a folded vs. unfolded view of your time entries for monitoring purposes, so you can view them without any free "time windows" one after another.

Paymo Timesheets
As for reporting, there are static and live reports which update themselves automatically every time someone opens them. Cherry on top, they are fully customizable. Choose which parameters to show up on the report and in which order to get as much detailed information as possible. When done, share them with your clients or team, export as a PDF/Excel/CSV file, or print them as a last resort.
Besides manually logging time entries, Paymo's intuitive time-tracking module offers several ways to record time. There's an in-app stopwatch in the lower-left corner of the collapsable menu. A desktop widget with Idle Time Detection in case you've been AFK and forgot to clock out. An automated time tracker called Paymo Plus, which does automatic time tracking for you. Just leave it running in the background and pair the time entries with their related tasks in Paymo. And a mobile app timer, that can prove helpful if you're working on the go. A built-in Pomodoro timer is available as well.
NOTE: For those who want to work or study in increments of 25 minutes read our most recommended Pomodoro apps.
Paymo lets you turn timesheet data into an invoice with just a few clicks and get paid accurately thanks to its accounting module. Choose between 85+ currencies when billing your clients and 15 language templates that can be personalized (either via CSS/HTML or the WYSIWYG builder) to better reflect your own brand. In return, your clients can send you the money online via PayPal, Stripe, and Authorize.net. Pack these with the estimates and expenses, and you've got yourself more than a timesheet add-on.
Speaking of project management tools, Paymo provides a resource scheduling module to work alongside your timesheets. You can schedule employees, see their current workload, and manage employee time off by leave type (sick leave, maternity/paternity leave, unpaid time off, sabbaticals) along with their subsequent (non)billable hours.
All-in-all, Paymo ticks the boxes on all timesheet software criteria. A time entry approval feature would be great, allowing you to submit entries that are later approved by managers. The benefit is that there are fewer errors and better time allocation. Another way to minimize or avoid erroneous or double entries is to lock time entries, which Paymo does not have just yet.
Pricing:
free plan: for 1 user
starter: for 1 user, at $5.95/user/month
small office: $11.95/user/month
business: $24.95/user/month (minimum 5 users)
Platforms: web, iOS, Android, macOS, Windows, Linux
2. ClickTime
ClickTime – Timesheet
ClickTime is an online timesheet software that helps you schedule and allocate employee time as well as create reports and employee analyses.
ClickTime features three main views: day, week, and timesheet. Day and Week View are similar in functionality, allowing you to track your time using a stopwatch, manually or offline. Somewhat similar to adding bulk time, Quick Day copies time entries from a specific date, duplicating entire workdays. Pay attention though – after you hit Quick Day you can still undo them, but if you save the changes, the entries become locked. The only way to edit the entries is to switch to Quick Week and manually edit/delete them. As for Quick Week, you cannot undo your action, so you have to be careful not to make any logging mistakes.
As for reporting, ClickTime's "Business Intelligence and Analytics" feature offers over 80 reports for time-usage trends, insights, and visualizations. If you're not content with what they offer, you can create your own templates from scratch. The option to set lockdown permission hides sensitive data from employees (you can include or exclude certain employees as well as grant bulk access to them).
When it comes to scheduling, ClickTime allows you to allocate your employees' resources, see their available work hours, and schedule them to maximize their productivity. In addition, employees can track billable and non-billable hours. They can either use the in-built time tracker or add time entries manually.
Having said this, with online timesheet software comes the need for more flexibility when correcting past data (wrong task, hours, or project). Moreover, the time entries are too rigid and you cannot enter overtime easily. If you try to enter overtime, it will notify you that you logged over the maximum number of hours.
The bottom line is that ClickTime works great as a  company timesheet software, with advanced tools for managers and admins and reports which you can export in various formats. If you only need the analytics feature, then ClickTime is the software for you. Still, its competitors offer great invoicing tools and other project management features around the same price range.
Pricing:
free plan: no
starter: $12/user/month
team: $16/user/month
premier: $28/user/month
enterprise: custom
Platforms: web, iOS, Android
3. TSheets
TSheets – Timesheet
TSheets (now QuickBooks Time) is a timesheet software option that provides employee time tracking and invoicing. TSheets is a good fit for businesses that need strong reporting for audit trails. In a sense, it is the digital timesheet software version of the traditional timesheet reporting: tracking attendance, as it offers GPS location tracking, real-time coordination, and geofence time tracking.
One way to make sure your employees clock in and out is to use the Time Clock Kiosk, which has biometric functions like facial recognition for better security if you are operating outside of the office or working remotely. In addition, it offers geofencing, reminding employees to clock in or out of their workplace or even automatically once they are in/out of bounds. If your business runs on rosters and shifts, this feature is extremely helpful.
Idle time detection is a much-needed feature. Why? While testing TSheets for its review, I may have forgotten to clock out. Oopsie! So you can imagine an entry worth a few hundred hours. Granted, a pop-up prompted a confirmation for clock-out since the timesheet was well over the maximum 10 hours.
When it comes to employee monitoring, TSheets offers a Who's Working widget, which gives a real-time map view of who is working and where. It promises increased accountability as more employees and teams are working remotely and find it inconvenient to keep checking in with their manager, which could interrupt their workflow.
As for resource scheduling, TSheets doesn't allow you to schedule future time either for yourself or your employees, which is problematic if you want to manage future project estimates or upcoming work shifts. The reporting module offers great features such as Tardies, Scheduled versus Worked, reports by pay period, by date range, and so on. All the data is useful for payroll management and auditing, which TSheets is strong on. Nevertheless, it has no invoicing option, so depending on your business, TSheets might or might not be a good fit.
So, TSheets is by no means a simple timesheet software. It offers great features such as GPS location tracking, real-time coordination, and geofence time tracking at a hefty price. If you need less invasive timesheet features there are plenty of other timesheet reporting software to consider.
Pricing:
free plan: no
freelancer: $15/single user/month
simple start: $25/user/month
essentials: $50/user/month
plus: $80/user/month
Platforms: web, iOS, Android
4. Harvest
Harvest – Timesheet
A great timesheet software option is Harvest, which offers many integrations and timesheet solutions such as time tracking, expense reporting, and invoicing for small business needs.
Harvest is good when it comes to timesheet management. The Day View and Week View are very similar in design, the only visual difference is the number of rows (one box for daily, seven for weekly). It seems that Week view is great for adding time in bulk and taking a quick glance at your week before submitting the timesheet for review. Both views allow you to copy rows from your most recent timesheet. In addition, it has automatic reminders, prompting you and your employees to log work hours until a specific date.
While it's great that Harvest has an in-built timer, finding it can be a hassle. You have to toggle Day View to access the timer. If you're like me, always using the Week View, you'll spend quite a while figuring out where the timer is. There's a browser extension, desktop app, and mobile version, making it easier to access the timer without having to access the web app.
When it comes to accounting, Harvest has a wide range of features. You have the option to send retainer fees or create estimates so that your clients can have a rough estimate of your services. In addition, there are multiple billing rates to match every type of work (flat fees, hourly rates) so you can create invoices for billable and non-billable hours. And an automatic invoicing option, which allows you to turn billable time into invoices and then send it to your clients via email. In return, you can see when the clients have viewed or paid the invoice.
Plus, there's a wide selection of visual reporting that enables you to support your team and keep projects running smoothly. You can enter the workload capacity for each team member in terms of the number of hours per day/week.
One downside is that it lacks real-time employee monitoring. While you can keep tabs on your team's workload capacity, there is no real-time monitoring to see what everyone is working on at that particular time. For other project management features such as scheduling, resource management, and team collaboration, you will need its sister app, Forecast. This one helps you estimate the workload better, but it comes at an extra buck out of your pocket.
To sum up, Harvest is the kind of timesheet management software that's really cool – if you only need it for timesheets, invoicing, and billing. If you don't have the extra budget to include Forecast, consider investing in a more robust project management software.
Pricing:
free plan: one user, two projects
pro: $12/user/month
Platforms: web, macOS, iOS, Android
5. Hourstack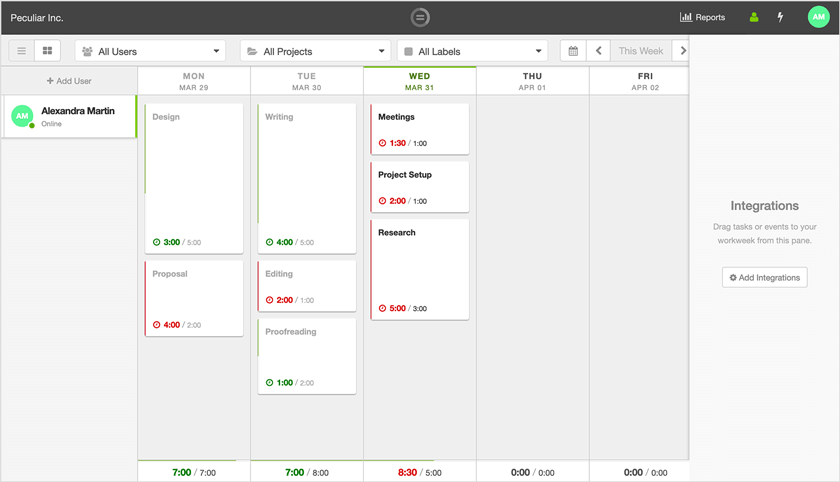 Hourstack – Timesheet
Hourstack is an online timesheet software option that offers basic time tracking and reporting features to monitor time across multiple workspaces.
Hourstacks's Kanban-like dashboard stands out as its top feature. The dashboard is intuitive and user-friendly, allowing you to create time entries and drop them much like stickies on a Kanban. One distinct feature is that each entry has its own "allocated" and "actual" time. Why this is valuable is that by consistently logging your hours, you get better at estimating, planning, and executing your tasks. Moreover, there's a rollover function (for the next day, week, or month) to move your tasks to a later date, but you have to pay attention if you are using it retroactively – "Next Day" refers to your current workday. Although you can't add time in bulk, you can duplicate a specific task but only for the same day.
Like most web-based timesheet software, you can manage multiple workspaces, export your data, and manage teams. After you set up teams and assign user roles, availability, and permissions, Hourstack allows you to easily create custom reports which highlight allocated hours vs. actual hours, along with entries, labels, and projects. You have the option to generate reports around users, teams, projects, labels, or none of the above.
While the feature to add actual versus allocated hours is great, the stopwatch could use an upgrade. There's no dedicated panel for it, so finding it for quick access is tricky. You can pause it except when you complete your task, and it eventually accumulates in a single time entry no matter how many distractions or breaks you take. Some employees, like me, might want to see detailed time-tracking activity to improve their work habits or performance.
Hourstack is your basic timesheet software option if you don't really need advanced timesheet tools. While Hourstack is a good project management software option, it would be great if it offered more payroll and accounting features, such as invoicing, estimates, and expenses. As it lacks most payroll management features, it comes at a steep price for the team and enterprise plan if you compare it to its competitors that already offer strong accounting features.
Pricing:
free plan: no
personal: $7/single user/month
professional: $15/user/month
enterprise: custom
Platforms: web, iOS, Android
Software comparison chart
Having said all this, here is a timesheet software comparison chart for a recap of their best features.
Core features when looking for timesheet software
What is a timesheet?
A timesheet is a physical or virtual tool that allows you to record and keep track of your worked time. That means that, as an employer, you'll be able to see exactly how many hours each employee has worked for.
Timesheets were formerly known as time books. They were first used in the 19th century in the form of a paper sheet that included tasks, workdays, and work hours written on it. Employees would stamp them through time clock machines each time they arrived or left work. These were essential in determining a worker's wage.
What a time book looked like. Metcalfe's "Systems of cost accounting", 1885.
What is the purpose of a timesheet?
In a work environment, their main use is for payroll, human resource management, and accounting. Timesheets work like a database that contains all the needed time entries for employers to pay workers fairly. These also provide proof of your work if you don't have another similar solution in place yet.
You can also use timesheets in project management. Knowing how much time your team spends on tasks can help you spot time management problems and improve your manner of working. Time tracking is one of the best methods for accurate time reporting, especially when working in a team.
Paired with other methods and tools, timesheets increase transparency. More people will see how long you've worked, how many breaks you took, and when you took a day off. In the case of virtual timesheets, like project management tools or time tracking software, project managers can see what the others have worked on and for how long.
By counting the exact hours spent on tasks, you'll also calculate the cost of the project, your employees' engagement rate, and how many resources you'll need.
Online tools can allow you to add time according to a specific project or task:
Add time in bulk in Paymo
Get started with timesheet tracking. Sign up for a free Paymo trial.
Employees can even use them to improve their productivity. They'll be able to see exactly how many hours they've spent on a task and visualize how they spent time on a daily basis.
Increased transparency and objective data can help you gain the trust of your employees. They will no longer question whether the others are working as much as them or if managers pay them less than they deserve.
One of the most important advantages of timesheets and the reason for their widespread use is the fact that they allow all workers to work equal hours.
For typical 8-hour schedules, it'll be mandatory for all employees to add daily hours that match that threshold. Ideally, everybody's going to work for the exact same period of time as the other team members.
Companies can benefit because managers will get an overlook at where their money is going and how they divide spendings. As a result, they can lower costs or stop investing money in areas where it doesn't make economic sense and redirect those funds for more profitable activities.
Moving on to the importance of time for payroll and accounting. If you get paid based on billable hours, a timesheet will be your first piece of proof that you can show to justify your earnings. Freelancers and hourly workers can use these timesheets to compare their previous time entries among each other or to make realistic estimates for future projects.
Digital versus paper timesheets
Compared to paper timesheets, you're less likely to lose data with cloud-based online tools.
Covering yourself with all the papers? Most of these store your data securely on servers or in the cloud for many years to come and can even make searching through all the clutter easier.
Believe it or not, some companies are still using paper-based timesheets. This is because physical timesheets have their advantages like saving costs and keeping the entire process simple.
However, the downsides are the employees are likely to lose these timesheets and thus end up with no evidence of their work to show to their supervisors. Also, it's much harder to search through archived timesheets than through software. The latter sorts all documents according to your preferences so you'll identify what you need faster.
Pairing electronic timesheets with advanced project management or invoicing tools can ease the managers' work. To better understand when you should invoice and the benefits of invoicing, read our invoicing 101 guide.
These tools make archiving, reporting, and billing easier through automated tools and processes.
Online timesheets also let you see your worker's hours in real-time without having to wait for the paper documents to go through the HR department until they'll finally get to you. In this way, you'll cut a lot of the useless time wasted as they move from one department to another.
The most important benefit of digital timesheets is that they usually come with a time tracking solution. This allows employees to monitor the exact hours they spend on specific tasks or projects, making the entire time tracking process easier.
Some tools automatically transform your worked hours into timesheets and reports. This will help you save time on organizational tasks and dedicate more attention to what is important for your project in the long run.
Similar to other tools, the best online employee time tracking software will immediately add the time logs tracked with their stopwatch into your timesheet. In case you're afraid you'll forget to start and stop the time watch, you can add time manually or in bulk. However, these two timekeeping solutions are not as accurate when it comes to estimating worked hours as tracking time in real-time using a stopwatch is.
Choosing one option depends on how willing you are to invest in a digital system or if you just want to stick with the classic paper-based process. Take into account the needs of your team and existing HR systems. For accurate results, test both options for a month to see which one will fit your organization.
Consider if you want a simple timesheet to help you calculate salaries or a complete solution to register and monitor your time. Before implementing any of these, think about whether you'll be using it internally or sending timesheets to your clients.
Your team's characteristics are also important. Some of your employees could be working remotely. Being outside of the office means they don't get such easy access to your papers. If you're not using virtual timesheets, you'll have to send them via postal mail or come up with a separate solution for these workers.
On the other hand, if your team is small, you might not even need a solution with lots of features. A simple tool could do the job for you. However, as your company grows you'll need to reconsider the use of timesheets and other tools. These will help you work more efficiently and cope with the increased workload.
How does a timesheet work?
Companies ask employees to use timesheets to monitor the time they spend on and off work. Employers can approve timesheets or ask for proof to see if a worker has spent the added time productively.
The entire procedure is very simple. Employees add their exact work time, breaks, or vacation days according to every day of the week. The data is then sent to the HR managers or registered into the system in the case of software tools. Lastly, it will be added to the archive or receive the approval of the employees' managers before being stored.
Most companies will tell you exactly when and how you should complete your timesheet. For this purpose, they create timesheet policies. These documents contain the information you need including which tool you're supposed to use, how your time is checked, and when you're supposed to send the timesheets. For instance, your company might want you to complete your timesheet at the end of each day or at the end of a full workweek.
Having the duty of adding work time on a regular basis increases work accountability. Employees will be the ones responsible for adding and monitoring their own time. This prevents people from wasting time as you can ask them to validate the work they claim to have finished. In this way, they will be less likely to waste time on non-productive activities.
Here's what a digital marketing team member's weekly timesheet could look like: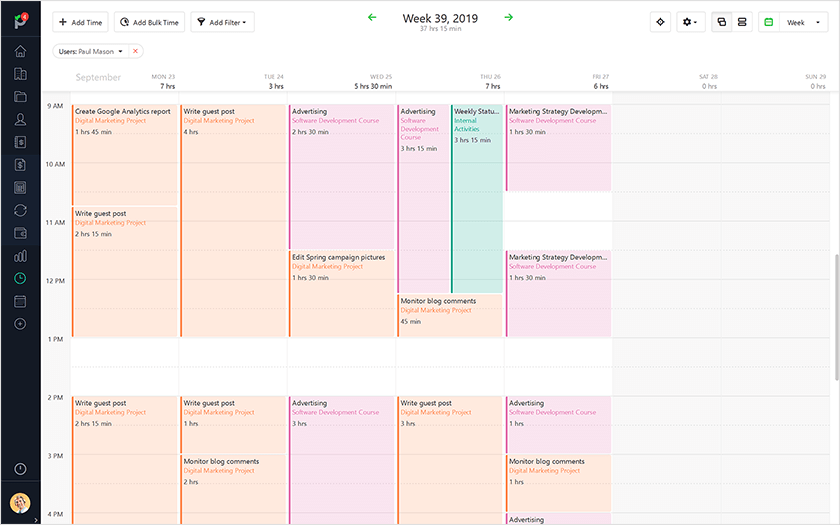 In our example, the team member is working on both short and long-term tasks from three different projects. We took the classic case of a general 9-to-6 workday with a one-hour break. Notice how some days are dedicated to a single project while during the other days activities are divided according to priority or client requirements.
I now know what timesheets are and how I can benefit from them, but when should I use them?
If you're not sure how often you should use a timesheet, think about your company's needs. Usually, organizations use timesheets for payroll. This means that they actually only need the timesheet once a month. But, employees wouldn't be able to remember what they've done each day after such a long time has passed. For this reason, there are roughly five types of timesheets you can choose from:
Daily timesheets – employees log their time at the beginning and end of each workday
Weekly timesheets – employees log their time for all five workdays at the end of every week
Biweekly timesheets – workers send in their work hours every two weeks on a specific day
Monthly timesheets – employees send their timesheets every month on a date you chose
Semi-monthly timesheets – workers can send their timesheets twice a month
If you're hesitant to bring timesheets into your organization, remember that using these doesn't have to be complicated. Online apps make it even easier to add work time if their interface is simple and they come with instructional guides or videos. Shifting from paper-based timesheets to virtual ones shouldn't be hard if you test all the tools that match your needs.
Conclusion
If you're hesitant about bringing timesheets into your organization, remember that timesheets don't have to be complicated. Most timesheet software comes with instructional guides or videos that make it even easier to add time entries and manage everything you need.
Shifting from paper-based timesheets to digital ones is crucial in the day and age of teleworking. You can read other timesheet software reviews online or refer to the top 5 timesheet software list provided in the first part of the article. Test them out and see which one works best for you.
Found this article useful? Please spread the knowledge and share it with your teammates and followers.
First published on April 14, 2021.