What if I told you your future relies on planning? We're all striving to develop and gain more skills, achieve career success, and, overall, be happier with the work we're doing. But the road to reaching your professional goals consists of a series of steps you need to systematically go through. In the end, you're entirely responsible for your career, even if the company you work for takes care of your training or sends you to a conference.
So ask yourself: when was the last time you thought of planning your professional growth?
Whether you want to make a career change, find a job that makes you happier, or just learn new skills, pick a starting point.
Why is professional growth and development so important?
Professional growth—or professional development—essentially refers to gaining new skills and work experience that can help you reach a goal in your career. And since we're going through an ever-changing job market, keeping yourself up-to-date with trends will give you a better chance to distinguish yourself from others for years to come.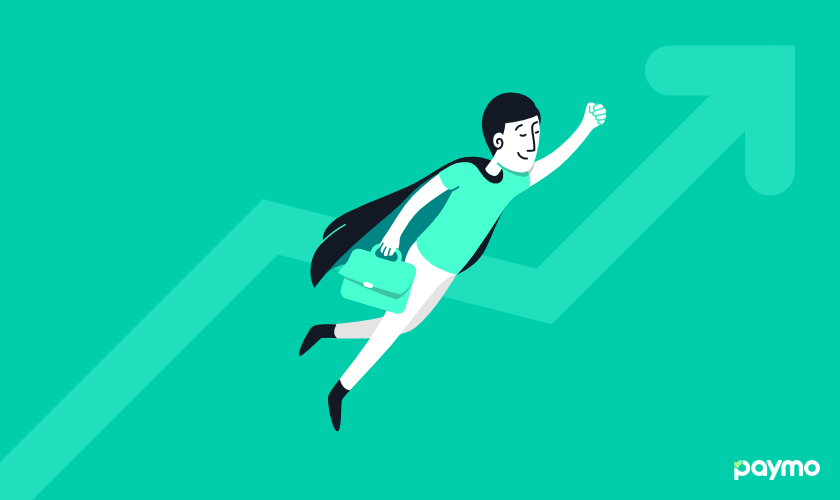 If that's not good enough motivation, just remember that jobs you'd previously start in your 20s and retire from are no longer the case. Technologies and the world, in general, are advancing so fast that you'll only be able to keep up the pace if you continually develop yourself both on a professional and personal level. The fact is, the average time employees spend at their first job is just 15 months, and this trend is not prevalent just among youth, with 32% of workers aged 40-48 likely to switch jobs within a single year.
To make you more resilient on the job market, we'll have a look at all of the straight-to-the-point steps you need to cover while you're planning your professional growth.
What to include in your professional growth plan
First, establish your purpose. This is any goal that will motivate you throughout the whole process and give you that much-needed boost to build your professional growth plan. Maybe you want to keep a job, earn higher pay, or just gain more popularity in your network.
Let's break it down and see what to pay attention to:
Focus on long-term goals
You've probably got a list of small goals you already want to work on, but your main target should be the long-term ones. Simon Sinek places the idea of success (regardless of your purpose or experience) on simply answering one question: Why? This question is good for those who have problems with procrastination and can't seem to overcome the pattern of working on low-impact minutiae instead of the Big Thing.
Having a supreme purpose in mind before beginning anything and tailoring your life around it is how all great leaders and companies have managed to make a name for themselves.
This same motivation applies when you're setting your professional growth goals. Let's say your main goal is to develop solid skills for the long run, like learning a couple of programming languages or developing your analytical thinking. Have a look at yearly studies that highlight all the up-and-coming jobs or skills. If you're up for a job that will still be around in 20 years, consult this list from Business Insider. For a closer look at jobs according to your country, there's also this insightful report from the World Economic Forum.
In both cases, jobs like Financial Managers or Applications Software Developers exist in the present too. What will change is the degree of skills needed and the environment. Apps, for instance, will be built for new and perhaps more challenging devices, requiring new programming languages and maybe even robot assistants. Meanwhile, jobs directly dealing with humans, such as nurses or physicians, will likely remain similar with extra help from new tech.
If you really want to avoid robots from stealing your job, focus on your soft skills. Strong communication skills, empathy, and emotional intelligence are just a few of the human traits that are hard to mimic (at least for now). The good news is that, in 2019, creativity finally made it to LinkedIn's list of top skills for the future.
Analyze job descriptions
In your search for a new job or career, look at all requirements for the specific role you will take on next. Otherwise, you'll work hard to learn new tools and techniques without the reassurance that these will pay off.
Job descriptions are a go-to place to check for skills you need to develop. Requirements can vary from one company to another, though. Certain employers prefer to tailor job descriptions to their own internal policies, so analyze (don't skimp) at least 20 job descriptions to find out the overlapping ones. Websites like Indeed, LinkedIn, or Glassdoor are your best friends, in this case, pointing out the skills that are hot and in demand.
As a side note, Glassdoor provides estimates of salaries and possible interview questions too.
Consider your personal expectations
I'm sure you have that one thing you must get no matter what: a friendly work environment, top-notch tech, better pay, longer lunch breaks, insurance for you and your family, you name them.
Having a clear understanding of what you're expected to do at work, getting proper training and equipment, and being allowed to work on what you're best at are just three of the most common expectations that can make you happy, according to this study.
So ask yourself a couple of questions before you pursue a new position or career altogether:
Do you want to work in a team or solo?
What's the ideal size of the company you want to work for?
What benefits are you looking to get?
For instance, if you prefer to work in a quiet environment and don't want to interact with too many people on a daily basis, a work-from-home job might be right for you. Speaking of which, three years post-pandemic, and people are still figuring out how to work remotely, reading up on blogs about strategies, tips, pros and cons.
Look for new opportunities yourself
Not all jobs are created equal. While software developers will likely be flooded with messages from recruiters, this is not as common with other roles such as office assistants, accountants, and even human resource professionals. So while most of the time jobs won't come at you, it's your duty to do the search.
Beyond having a full-time job, lie other career opportunities too. Start a blog on Medium, open an Etsy shop, get your best friend and record a podcast together, or start that YouTube channel you've always wanted. Even better, go rogue and become a  freelancer. There are endless ideas, you just have to start pursuing them.
Also, consider the option of furthering your education or exploring the project manager career path. To learn why breaking into pm might be a good idea, read this reference guide.
And this takes us to the next step of your professional growth path.
Take on challenges when you have time to practice
Pursue one of the side gig ideas I've mentioned above, or learn a new skill that can help you find either a more enjoyable job or one that will be in high demand in the future. It will take some time to make them your own, especially if you have a 9-to-5 job, so the sooner, the better.
But steer away from obsolete skills. 60% of young people are still preparing for jobs that will be replaced by automation in the future like data entry and assembly-line production. Besides the risk of technology taking over your work, there's also the happiness factor. Explore multiple career options until you find the path that's right for you. If you're unhappy with your current job position and would rather be doing something else, a career change is definitely a decision you can consider.
So when do you know it's time to change jobs?
Along with obvious reasons like skills that are no longer in demand (see what we've discussed about automation above) or moving to a different country, there are a few common subtle factors:
You're not evolving or getting any promotions
You're not enjoying the company of your colleagues or there's a tense atmosphere in your office
The job no longer aligns with your values
You'd rather be working on something else
The stress is taking over your personal life too
You can't wait for weekends to come and you live for those 2 days
You're making excuses to go to work later or leave earlier
You often feel overwhelmed with your workload and have no room for taking any breaks
Assess the training opportunities you have
Many of us need someone to supervise and guide us through our learning process. The right people and environment can 10x your skills and career. Start by pursuing a formal training opportunity in your area. As a rule of thumb, look for accredited professional development organizations, whether they're in your area or just a few miles away. These are often recognized by potential employers and offer accredited learning materials you can use in your future career.
Depending on your industry, there are websites that help you find these official learning opportunities. For project management, English teaching, and just any career path education you choose to pursue.
You can go for a full program offered by an accredited institution or university or even online courses like the ones provided by FutureLearn or edX.
Use what you are learning
Learning doesn't end when you finish acquiring new skills. You need to use everything you've read or practiced during training. Teaching others is the best way to teach yourself a new concept or master any upcoming skills. You can start your own project and share your knowledge via a blog or video or join an NGO to lend a hand to a good cause.
Chances are you'll forget what you don't use simply because forgetting is in our nature. Technology is ever-evolving, forcing us to constantly keep up with its changes. So, taking a data science course now and only using what you've learned ten years from now will be impossible without consistent practice.
This is why many organizations require their members to attend training events and conferences throughout their entire life in order to keep their membership and right to work in the field. PMI®, for instance, allows its project manager members to renew their certifications only if they earn professional development units (PDUs).
Brush up your digital skills, adopt a new project management tool, anything from time management, e.g., an automatic time tracker, to task management, e.g., a Kanban tool.
This ensures professionals can stay updated with any changes and will be ready for all challenges the future workplace might bring.
Find a coach
A mentor can bring enough experience and knowledge so you won't make the same rookie mistakes they did. Guidance is often offered as advice on how they handled similar issues in the past or red flags to pay attention to.
This brings me to the importance of asking for honest feedback. Keep mentoring sessions relaxed and goal-oriented, so you'll get constructive criticism that will only help you grow and identify the skill area you need to improve further. For example, you could have the necessary hard skills and knowledge to do your job but lack soft skills like time management or active listening.
Where to find a mentor or coach, though? Start inside your company. Look for managers whose work and character you respect, but not the direct ones, so they aren't biased. Then continue your search outside at a professional association within your field.  Regardless of where you'll get them, make sure both your values and "gut feelings" resonate—you can't start a relationship on a compromise.
Join professional groups and associations
The best way to get accurate feedback on your work is to have multiple people analyze your efforts and results. Sure, one mentor is great, but in the end, you'll be delivering results for more than just one person. Professional networks give you the right environment to grow correctly. Plus, extra perks like access to exclusive training events, discounts, updated learning materials, and the chance to meet influential people in your field. Think of your network connections as your key professional support, and always surround yourself with the right people.
You probably already know the leading organizations and associations in your field. For project management, PMI® offers access to local chapters you can join. The same is valid for local chambers of commerce and merchant associations, ethical education providers, more general business networks, the American Advertising Federation, the American Marketing Association, and many more. If you'd rather keep networking informal and not adhere to any community, you can join groups on LinkedIn, find meetups around you, or use a tool like Opportunity to connect to other professionals.
Useful professional growth resources
We have already discussed why professional growth is essential to reaching your career goal. You probably have a professional growth plan by now, and you're looking for resources, free or paid. There's an endless list of resources available on the internet, so you can find a selection of professional growth resources here.
Professional growth blogs worth reading
Ramping up your reading list with one of these career inspiration blogs. These are just a few that I found to be interesting. Should you have another suggestion, I would be happy to list them down below.
Professional growth speakers 
We all need a little motivational speech at times, just enough to give you a boost. If you haven't found your favorite professional growth speaker yet, I am happy to introduce you to these professional speakers that will kindle change and growth through their presentations.
Professional growth courses
Of course, you can opt for more specific ones that would suit your career path. However, I find these ones suitable for everyone.
Ted Talks Professional Development  
If you have never listened to a TED Talk, I think it's about time. If you're looking for some inspiration on how to grow your career, these are by far the best TED Talks to listen to. You can watch them on your phone, tablet, or laptop, on your daily commute, or chilling with a drink in hand.
Professional growth books
These great career development books are a must-read for everyone looking into professional growth.
If you know any other professional growth resources, feel free to tell us about them, and we'll take a look at them as soon as possible.
Professional growth through social media
Building networks is one thing, but creating a solid personal brand is a slightly different aspect of your professional growth goals. Social media platforms like Instagram, Twitter, LinkedIn are good places to showcase your own brand, tell stories, and make the connections I mentioned in the previous professional growth area. Professional growth for employees is absolutely crucial in light of the changing work environment brought by the Great Resignation of 2021.
Use them with a few things in mind, though:
Choose your social media channels to match your image (for example, Instagram for designers and LinkedIn for business owners)
Update your accounts regularly
Do not participate in any conflictual topics
Join groups specific to each social media network
Keep your voice consistent on all channels
Take inspiration from what others are doing but never copy
Post your work on a regular basis. Frequency = trust.
Become a lifelong learner
Just because you're preparing for a new career or learning a new skill now doesn't mean you'll be able to apply it in tomorrow's job market. In my experience, it takes time and effort to reap the benefits of that new skill you are honing. To keep myself accountable, I use time-tracking software to log all those hours when I'm learning something new.
In fact, 54% of employees see continuous training as being essential to their professional development. And they've never been so right. It's your duty to grow and further advance your career.
Here are the latest statistics on employee training and why it's important for companies to constantly invest in employee development.
If you think the effort is too high to reach the top 1%, you don't actually need to. The path to the top 5% is much more accessible with less effort than you'd imagine, according to Seth Godin.
Leave time for your personal life too
We're all caught up with deadlines and the pressure of developing ourselves. That's why you're here in the first place. Because you want more from your career. But it's so easy for us to get swamped in the daily shenanigans (clients, meetings, demos) and forget about the things that matter the most to us. The same old "I'm too busy with work" excuse might work at first. In a couple of months, though, you won't be hearing any calls from your friends asking you for a night out and your kids will find a new best friend who's not going to be you.

And it's not just our interactions with other humans that suffer. Your health can be seriously damaged. Burnout is a common reality many hard workers face, but so few try to prevent it. Start by reading this guide to recovering from burnout even if you're not feeling any symptoms yet. Just to be sure, you won't ever head in that direction.
Take regular breaks (and make these your newest work habit) even when you don't want to because you're too caught up with work. Reserve 1-2 hours each day for your hobbies. Go for a run, draw something, or just watch your favorite TV show. After all, being happy at work also means you've got the hang of your personal life.
Final thoughts
Remember that the first step to professional growth is to anchor yourself in a central goal. From there, reverse engineer the process and guide your entire learning process towards it in accordance with future market demands. Take time to go through each step and enjoy the ride while you still can.
Now back to you. What new skills have you learned in the past six months? Are they supporting your professional growth and that goal we were talking about?
First published on September 2, 2020.