When the clutter & chaos in your project are looming because your team's overall efficiency is dead or barely convulsing, perhaps the time has come to replace your old mates – off with the sticky notes and opt for a unified project management tool for team collaboration and flawless workflow.
As discovered in one of the recent PM studies, three-quarters of project managers still use paper, spreadsheets, and other disjointed tools, and only 35% of PMs are happy with the maturity level of their project management system.
Since most managers are dissatisfied with their existing systems, there has been an increased demand for robust automated PM solutions. The project management software market is projected to surpass $20 billion by 2032 at a CAGR growth rate of 13.1% in 2022.
So, clearly, PM tools are the future, and they can promote better team collaboration.
How exactly?
See below and then scroll down to grab the list of the best project management tools for improving the collaborative potential of your team.
Here's how project management tools enhance team collaboration. Consider the seven ways a project management platform can supercharge teamwork and become a prime mover of continuous improvement.
1. Faster, centralized communication
Did you know that roughly one-third of projects, 29% to be exact, fail due to poor communication?
86% of employees claim that ineffective communication and a lack of collaboration are the two major reasons for their failures at the workplace.
Indeed, the biggest challenge is to have all team members on the same page, especially when it comes to remote employees.
"Remote teams are particularly dependent on centralized communication," believes Carter Seuthe, author at Credit Summit.
"That's when online collaboration tools become handy to effectively communicate with coworkers. Our remote team of finance writers and editors uses collaboration software with an instant messaging system to centralize communications in one place and gain quicker and easier access to essential pieces of information," Carter says.
In fact, the bulk of project management platforms offer in-built chats or third-party integrations with messengers like Slack, DingTalk, or Skype—no name a few—for faster, better organized, and centralized conversations between team members.
You can start a real-time discussion with the relevant employees responsible for the task.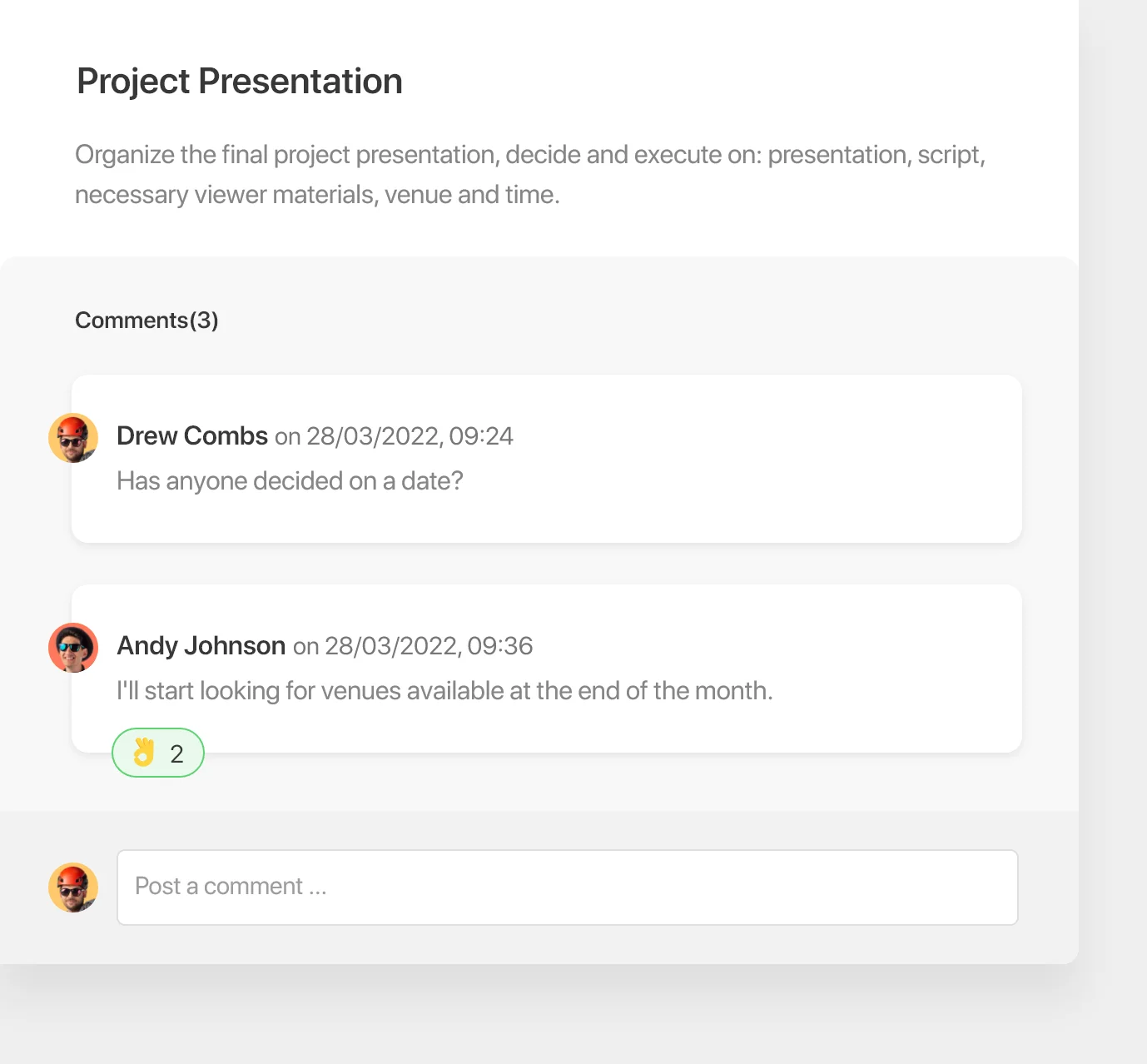 It's also worth mentioning that there's a clear interdependency between team communication and customer relations. So by improving the overall team communication and collaboration, you can achieve customer success. Needless to say that better teamwork can increase the customer satisfaction level by 41% and boost sales by 27%.
2. Better prioritized and assigned tasks
By choosing a web-based task management solution, you can benefit from such features as task list creation, task assignment and management, commenting, deadline reminders, and more.
Tasks lists can be grouped, while projects are neatly structured.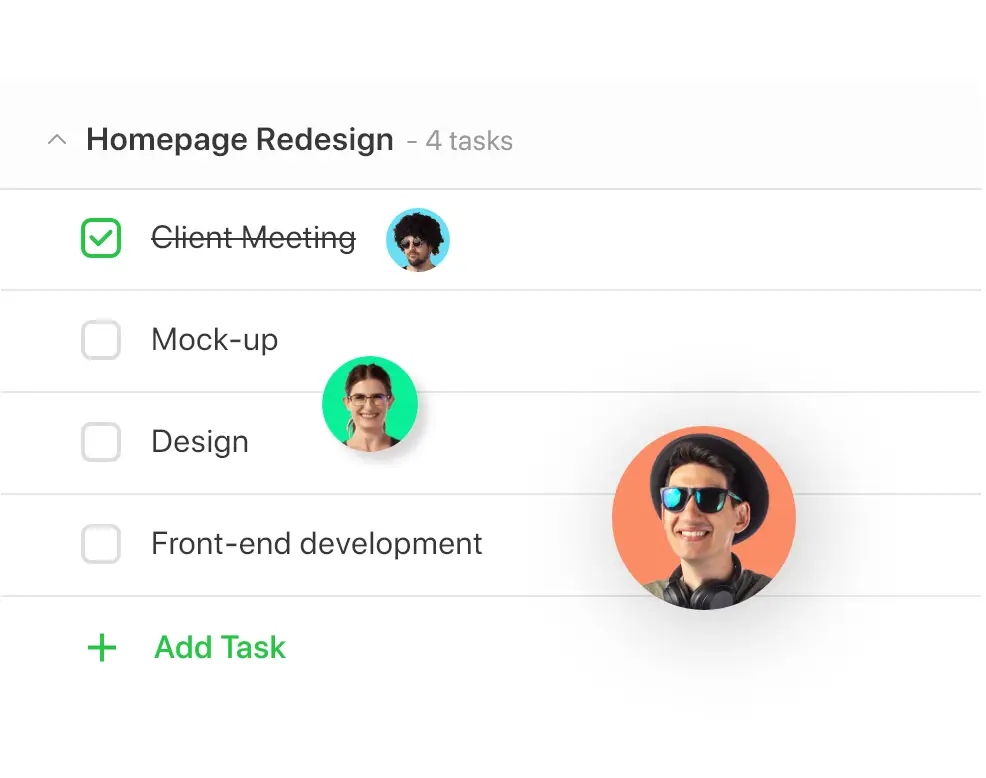 You can also organize tasks logically by sorting out assignments based on the team roles.
One more indispensable feature of such task management tools is setting Priority levels to avoid confusion and let the team handle tasks one by one.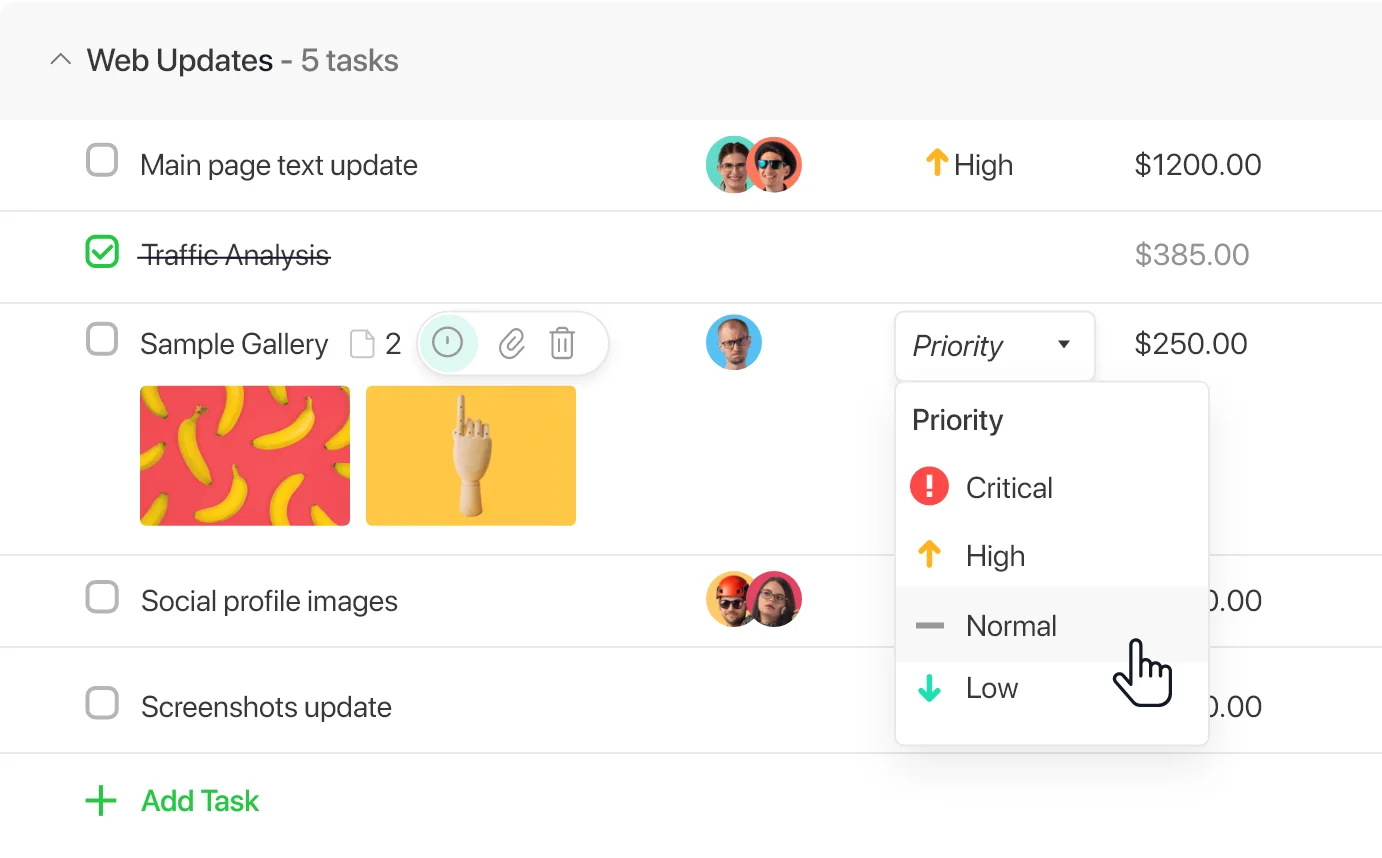 "Task prioritization in the PM system can help your staff focus on the most significant tasks by making them the highest priority during a workday," notes Mark Pierce, CEO, Colorado LLC Attorney.
"With the project management software, we have seen a 29% improvement in prioritizing and scheduling the work of our managers, assistants, and law professionals throughout the day. It has also become easier to assign tasks to lawyers in accordance with their level of expertise, availability, working hours, etc.
Significantly, our employees have reported less stress and anxiety for uncompleted tasks or missed deadlines," Mark emphasizes.
As a matter of fact, people who create task lists are 21% more likely to hit their deadlines.
3. Aligned dates, times, and resources
You enable smart team scheduling by setting dates and times and aligning them with employees' working hours. For example, you can easily see who's underbooked or overbooked and who has a couple of free hours and is open for work.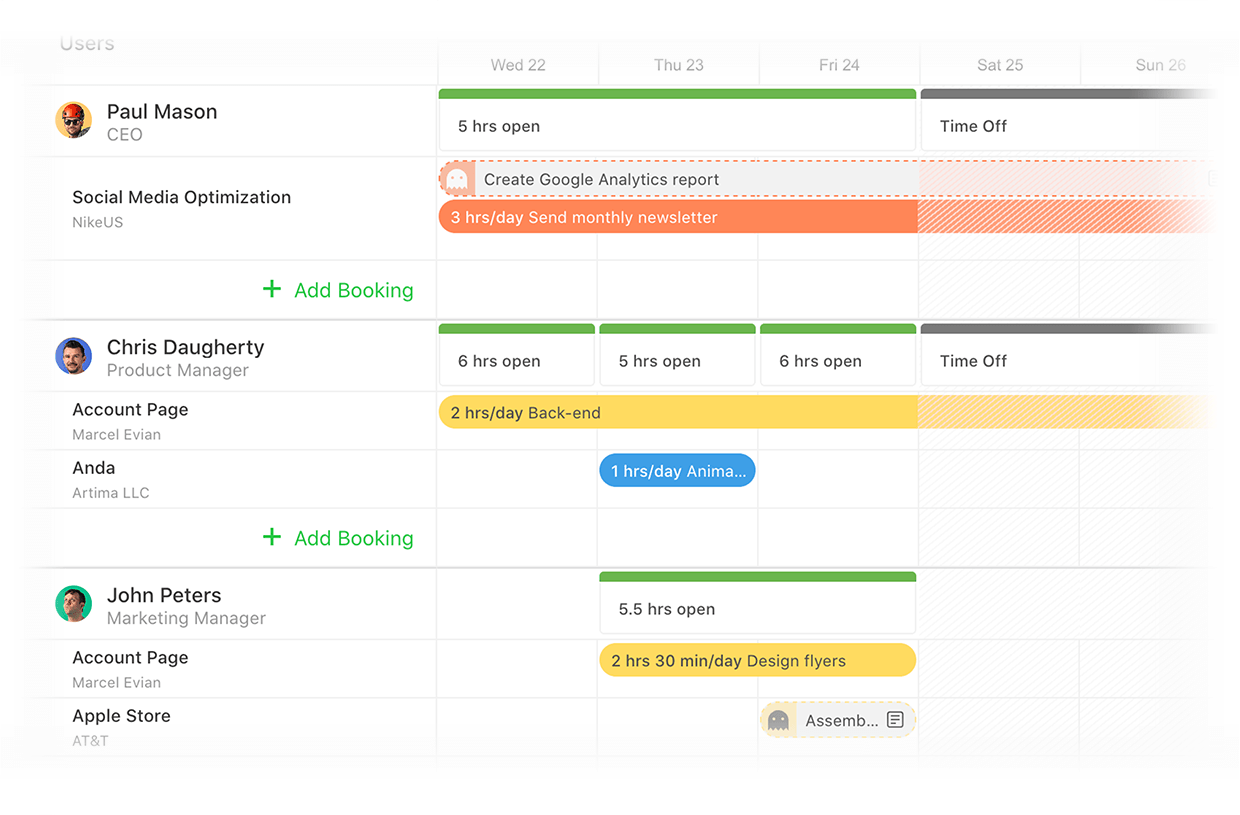 You've got a "who-does-what-and-when" visualization so that the employee schedule and the project timeline run synchronously, and there's no overlapping of employees or tasks.
4. Optimized file management
The best project management applications simplify file management with drag-and-drop interfaces. They may also enable file proofing and reviewing the older and newer file versions.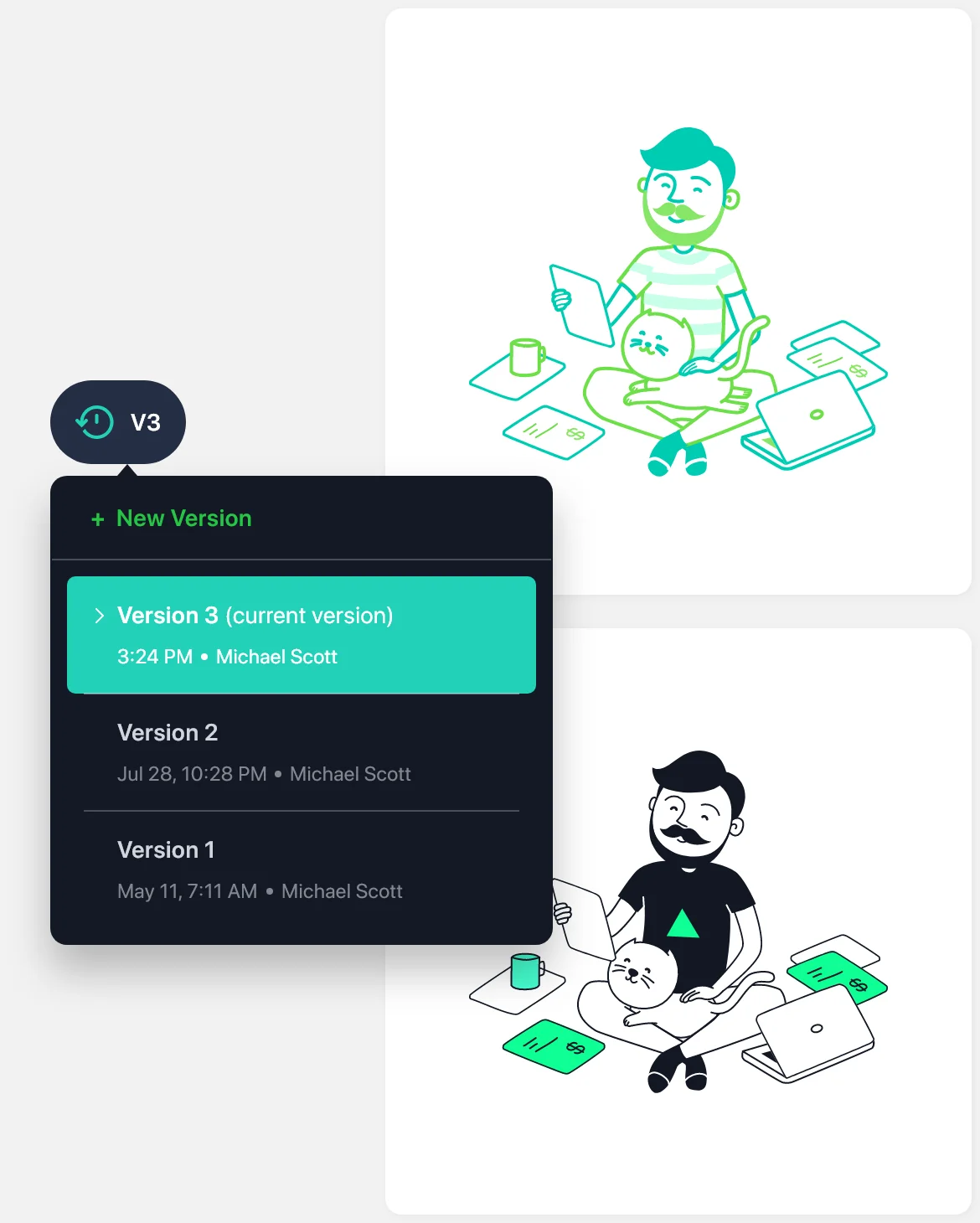 According to Anthony Martin, Founder and CEO at Choice Mutual, "File management optimization is imperative for financial services, in particular.
Apart from using software for reducing file sizes and conserving storage space, we have recently transferred our documents into a multi-functional project management application without having to switch between several file locations anymore. It helps us share and collaborate on reports more consistently across the team and find them easier whenever required."
5. Real-time progress monitoring
With a Kanban board feature, for instance, you can track, analyze, and speed up your team's progress. It allows monitoring the amount of work completed so far, what is yet to be done, and where your employees are stuck right now. Identifying and removing bottlenecks is as simple as 1-2-3 with a panoramic view of projects.
If you're using a PM tool for a customer service team, real-time progress tracking can help you understand how support agents manage customer service tasks, how fast they do that, and what room for improvement remains.
Some project management tools send automatic in-app or email notifications whenever a new change is made, namely when someone posts a comment or marks a task as completed.
Paymo, Wrike, or ClickUp, for example, offer such extra features as live analytics and reporting.
On top of that, they provide an opportunity for visualizing (e.g., pie or bar charts), exporting, and sharing reports, along with the general overview of the healthiness of each element in the client-project-user trio.
6. Improved employee performance and productivity
Project management platforms are linked to 77% of highly-performing projects.
By making clear to-do lists, dividing tasks into subtasks, and visualizing workflow via a Gantt Chart, for example, you can boost team productivity even during the busiest times.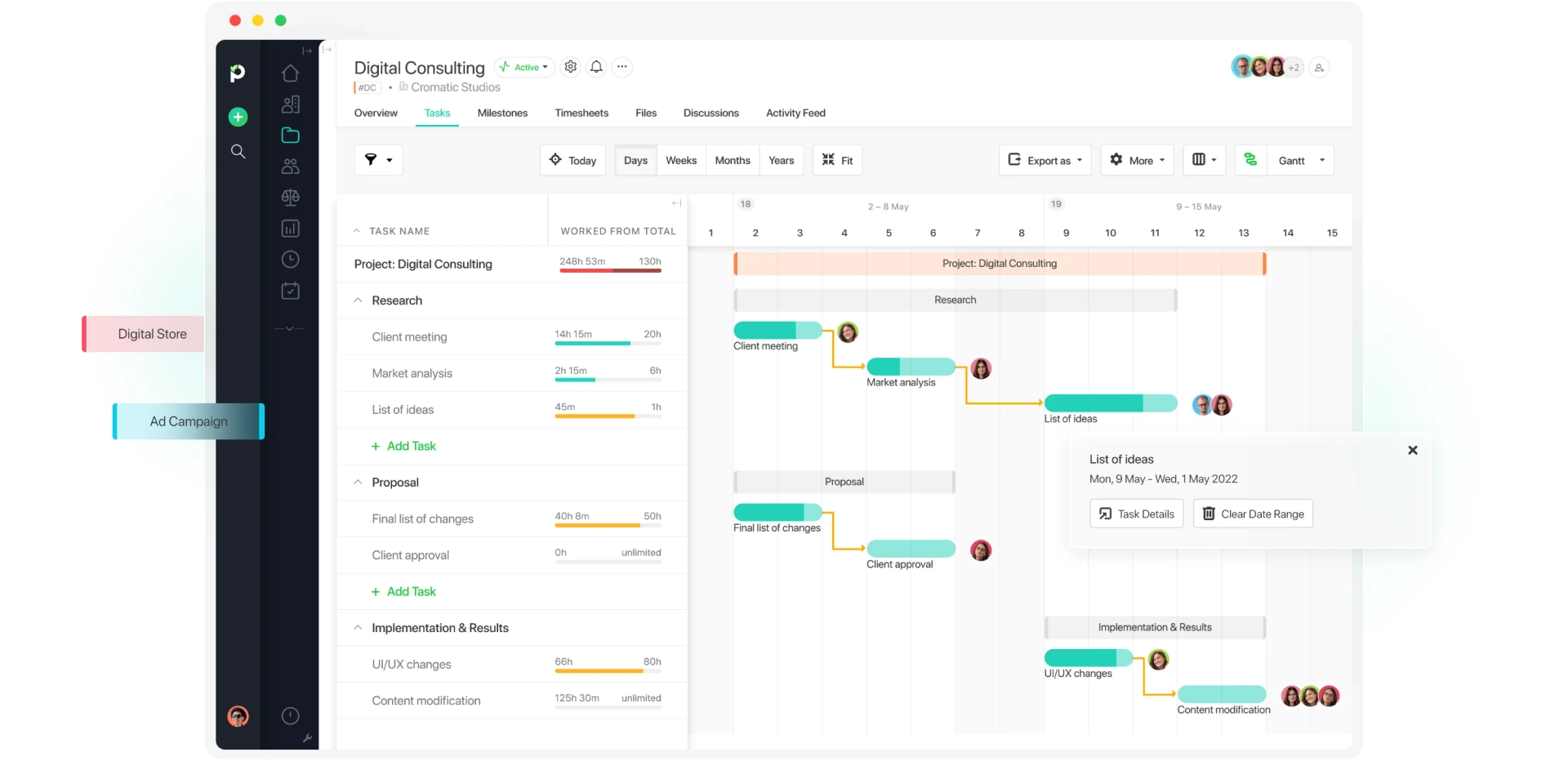 What's more, project time tracking can optimize employee engagement and improve teamwork.
In the Paymo app, users can add time manually or automatically by setting a time tracker to capture their work in detail and perform tasks in the most convenient way for them to match their working style.
7. Proactive planning
Insufficient and improper planning is one of the warning signs of project failure.
By having a shared, clear vision of project stages, setting expectations and dependencies between tasks, and taking a proactive approach to financial operations, your team can build resilience to failures.
A PM system allows you to proactively work towards eliminating the risk of missing out on important milestones. With Paymo, you can set up alerts and draw your team's attention to specific events during the lifetime of your next project.
Taking into account your previous project records, you can see a broader picture of what can be improved in the future and get the most out of your project management software.
Types and Examples of Project Collaboration Tools for Teams
The teamwork apps market has seen the highest growth rate among collaboration tools – 60%.
There are hundreds of PM tools for teams that can be divided into two major categories: paid and free project management software.
Then they can be grouped by business needs and the preferred system of work management. Alternatively, there are PM platforms that have all the functions under one roof.
Check the lists of software solutions for peculiar PM needs and then move on to the five best project management platforms with multipurpose and all-inclusive toolkits.
Employee Collaboration Software for Specific Needs
Take a look at the most commonly used teamwork applications narrowed down to particular features and functionality based on the purpose of usage, project management methodologies and frameworks, and other factors.
To-do lists for teams
Any.do Teams
Taskade
Todoist
Project portfolio management tools
Microsoft Project
Changepoint
Planview
Agile PM tools
AgileZen
LeanKit
Pivotal Tracker
Social collaboration tools
Top 5 Tools for Project Management
As 95% of PMs still use two or even more tools for managing projects, there may be a disconnection between team members, workflows, and applications.
That's when all-in-one project management platforms become indispensable for flawless work management. They may offer additional features like invoices and estimates management or leave planning for employees.
Here's a list of the best apps for PMs:
Paymo
Basecamp
Wrike
Teamwork Projects
Quire
Consider some other great PM tools that help project managers and their teams collaborate more efficiently and smoothly.
Power Up Your Team Collaboration with an Effective Project Management Tool
Now it's time to choose the best project management platform to enhance your employees' overall productivity and output.
Eliminate work mess, take control over tasks, and achieve total alignment of processes with all-in-one software for managing projects. Discover new possibilities for team collaboration with Paymo and keep your finger on the pulse of your project performance.
First published on January 31, 2023.
Rachel Melegrito
Content Writer
@Rachel Ann Melegrito
Rachel Melegrito left her career as a university instructor to become a full-time content writer. She is also a licensed occupational therapist and a budding SEO strategist.