Slack has undoubtedly become the leading team collaboration tool in the past few years. Its ease of use and smooth learning curve has made it a favorite for 10+ million daily end users and still counting. It's a work management solution for teams collaborating daily and relying on constant real-time communication.
But while Slack is leading the collaboration pack, it really only does this, namely, help teams communicate better regardless of their location.
For all your other needs, try Slack apps.
Whether you want to get your team's feedback, be notified for each new task, or just keep the fun going in your team, chances are there's already a Slack app that can do that for you.
But with so many to choose from, we've decided to give you a hand. After testing dozens of Slack apps over two weeks, here are 36 of the best Slack integrations and bots to help you meet your objectives related to business, projects, and teams from a single workspace:
Note: You can only add up to 10 Slack apps for free accounts. If you want more, you'll need to upgrade your Slack plan.
Stay productive!
This shared calendar is a free Slack app that allows you to keep your events and tasks organized. You'll receive notifications prior to an event and daily or weekly summaries of all your calendar entries to a channel of your choice based on the rules you've set.
You'll also be notified if an event is canceled altogether and whenever a change occurs to an event, so you don't miss its exact start date or location.
Paymo – task management and time tracking directly from Slack
Paymo is a work and project management solution that brings everyone on your team on the same page. Besides the clean and modern interface, the app also offers a strong set of features for planning, scheduling, and invoicing your work. For example, you can create invoices from timesheets and bill them to your clients – it's automatic and as simple as a few clicks. Read our blog article for an informative invoicing software comparison of free tools. If that sounds complicated, use an invoice generator, which is like an online form builder for invoices.
The Paymo for Slack app comes in handy when you want to track work time, create tasks, add files to your projects, or get notified about your Paymo tasks. All this translates into less manual work and more time to focus on your craft.
You'll need a trial or paid Paymo account to use this integration.
Slack Scheduler – quickly schedule your Slack messages
Slack Scheduler allows you to schedule any message in Slack to be sent in the future. For teams working in different time zones, scheduling messages allows you to communicate more effectively by avoiding late-night pings and ensuring important messages are seen. Scheduling messages also have the added benefit of letting you batch your Slack time, and for founders, you can now schedule important announcements to go out at specific times.
Simple Poll – get your team member's opinions the classic way or anonymously
Simple Poll is a polling app created specifically for use in Slack. To set up one, use a single /poll command according to the following pattern /poll "Question?" "Option 1," "Option 2," "Option 3". Users can then cast their votes by simply clicking on the number of the option they want to choose.
For instance, here's what a poll for the /poll "Which day works best for you for the Christmas party?" "15" "16" "17" "20" command would look like:
The paid version also allows you to create anonymous polls or limit the number of votes a person can give.
Pocket – focus now, save some things for later
Did a teammate just share an interesting article or video, but you don't have time for it right now? Pocket lets you save it for later when you have more time. Everything you save will be waiting for you in your Pocket account that can be accessed from your phone, tablet, or computer.
The Pocket Slack app only works with messages containing links. If there's something else you want to check out (for instance an image that needs to be reviewed), just use Slack's default Remind me about this and Star message features.
Harvest – track time and budgets
Harvest is an employee time tracking software that helps multiple employees clock in and get their time management skills under control. To better manage your logged hours, their Slack app allows users to start and stop their timers, see what other team members are working on, and check stats on your time budget without having to reopen the app again. All this with a couple of easy-to-remember slash commands like /harvest start or /harvest budget. (Harvest is one of the many time tracking software available, so take your time to find one that fits your business needs)
You'll need a trial or paid account to use this Slack app.
Any.do – a personal assistant to tell you what tasks you need to take care of
The Any.do Slack bot helps you manage your daily tasks in a conversational manner. There's no need for commands here. Just type in a question you have like "What are my tasks?" and the bot will guide you to make sure you're on track with work.
You can also use this Slack bot to add new tasks, assign existing ones to a colleague, or even send yourself reminders. All entries will then be displayed in the desktop version of Any.do, but it's sure more fun to have a smart bot let you know of all that.
Asana – manage and track your and your team's work
If you're already using Asana to manage your projects, tasks, and teams, you'll find their Slack app handy when it comes to reducing time spent moving from one tool to another. The Asana-Slack integration lest you turn conversations into tasks, change the status of an activity, receive notifications to a channel of your choice, link a project to a channel, or just create a new task with a simple /asana create command:
Monday – team and project management
Monday offers a collaborative workspace for you to plan and manage teams and tasks. Through their Slack app, you can sync conversations across the two platforms, get updates in your Slack channels based on a set of rules you establish and monitor each change as soon as it happens.
To create rules for the type of info you want to receive in Slack, you'll first need to head to the Integrations section of your Monday account. From here you'll be able to set the notifications you want to receive or action you need as a result of an update, for instance: When an update is posted to Web Design Project, send it to #general.
Alternatively, you can also link a channel to one of your projects or create tasks directly from Slack through the /monday-pulse slash command.
To use this Slack app, you'll need a trial or paid account.
NOTE: For a bigger picture and a better understanding of project management tools and how they work, check out this comparison.
Communicate before you get to work!
Standuply – stand-up meetings, reviews, text-voice-videos, and polls
Want to skip the dreaded stand-up meetings that can take an hour off your day? The Standuply app for Slack is your very own digital Scrum master who runs asynchronous meetings via text, voice, or video to track team performance.
You'll first need to go to the Standuply desktop app and choose from a series of reports like Classic Standup report, Retrospective report, Kanban Standup report, and many more. These will be automatically sent to users based on the time you've chosen and later displayed as reports in a channel of your choice. Take the classic standup meeting questions for example:
The default Standuply Slack app only allows you to run reports and manually create a standup meeting report. For other actions such as creating polls or adding follow-up messages, check out their other Slack apps: StandupIy-Ping, Poll-StandupIy, StandupIy-Voice, StandupIy-Video, and StandupIy-News.
Donut – team member onboarding made fun
The Donut app for Slack lets you send your new employees the information they might need to start their new job or just connect them to an onboarding buddy who can introduce them to the company, its policies, and maybe some good restaurants where they can grab lunch.
But it's not just for new hires. You can also connect members of different teams who've never met or talked before. Invite 2 or 3 employees for a cup of coffee or even a donut. This way they can get to know each other better and form a friendship. Plus, you'll improve your company's culture and increase employee retention.
Yes, even if you're working remotely.
TimeBot – time off request bot, tracking, and notifications
It's an HR bot for your Slack workspace! What can it do?
Manage, review, and approve requests for time off straight from Slack
View planned days off to avoid conflicts
Track daily arrivals by exact hour
Every info you add is recorded automatically by the bot and made available at all times in your Slack account.
PigeonBot – send emails from your Slack channel
A colleague's productivity can be ruined if you bother them with messages that don't demand immediate attention. PigeonBot lets you send emails from Slack using an /email command to discuss the matters that can wait.
This free Slack bot also lets you email to yourself or to another email account just like a regular email service complete with subject line and a way to view your inbox emails in your own Slack channel. You can even send an email to the PigeonBot support team with the /email support command. A nice touch.
Lunch Train – plan lunches and join the crew
What's for lunch? Who wants to get burgers? Are we eating yet? Hangry!!! These are all questions and problems the Lunch Train app can fix. Suggest a restaurant, get everyone's input, and remind your team members when it's time to get going. And it's more fun than arguing about the next station. Oh, the puns!
Sure, Slack is great when it comes to chatting. But a Slack Calls feature is available for when you just can't seem to understand what the other is saying and need to have a video call with them or share your screen.
Slack Calls is also available with Standard, Plus, and Enterprise Grid plans. If you're on the free plan but still need to share your screen, try the Dead Simple Screen Sharing app. It does exactly what it names says: helps you share your screen with your colleagues. Type in the /screenshare command and voila, you'll get a link similar to the one below which you can share with anyone:
Skype – a classic video calling solution
You can display your Skype username on your profile for your colleagues to contact you, without letting them guess it or add someone else with a similar username instead.
Besides this, you can also use it to make calls directly from Slack. Install the integration, type in the /skype command on a private channel (belonging to the user you want to contact), add a user, and you'll get a link to immediately start a call in Skype:
Mio – chat better, together.
Mio's technology solves a common problem that exists today — too many siloed messaging apps. You can create a universal channel in Slack to send channel messages and DMs to users in Microsoft Teams and Webex.
Key Features:
Respond to customers, partners, and vendors in real-time: work as you normally do in Slack channels.
Chat in one place, not all over the place: reduce the number of guest accounts and messaging apps you switch between.
Finish projects faster: Mio enables seamless cross-app messaging with external contacts in the background: you might even forget they don't use Slack.
Get work done with 3+ companies in one universal channel: chat with 2, 3, 4, or more companies in a single universal channel across Slack, Microsoft Teams, & Webex.
Google Drive – a must-have for sharing files
Now it's true I've left this for later in this list, but the fact is the Google Drive app is actually the first one you should connect to your workspace. Here are the things this Slack app will help you do:
Create new Docs, Slides, or Sheets files
Import files from your Drive into a channel or private message
Search within the Google Drive files you've previously shared on Slack
Offer instant access to a file you share within a group/channel
Receive Slack updates whenever a change happens in Drive
Directly leave an answer to comments you get notified about
For data nerds!
Statsbot – data analytics done in Slack
This Slack bot sends regular updates for specific metrics based on the data you have gathered through tools like Google Analytics, New Relic, or Mixpanel.
You'll receive alerts whenever an important event happens in your database (e.g. products are out of stock or user activity is unusually low) and get visual overviews of your data in Slack which you can share with your colleagues.
And the app is free regardless of the number of data requests you make or alerts you get.
SurveyMonkey – send polls and collaborate on surveys
If you're looking for a tool to help you collaborate on surveys you create for your customers, create opinion polls, and pick the menu for today's lunch. And you'll have 3 Slacks apps in one so you're not getting closer to exceeding your free plan's integration limit. Personally, I think this app is one of the best ways for getting your colleagues to review a survey before you launch it. It helps you send your link to an entire public channel and get the feedback you need without getting excuses like I didn't see the link or I wasn't told about this task:
To use all SurveyMonkey features, create as many surveys as you need, and collaborate on them via Slack you'll need a trial or paid account.
Brand24 – online mentions delivered to your Slack
Save time by having the Brand24 app deliver the data you'd otherwise manually check each day directly to your Slack channel of choice. You'll get a summary of all brand, company, people, and even keyword mentions from all types of online content. Like this example for "remote work" and "working remotely":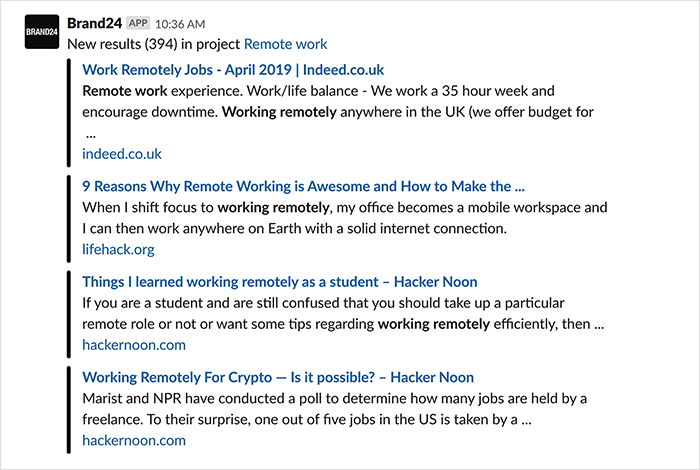 Try creating a different channel for these mentions as they tend to be delivered quite often so they might do more harm than good.
To use this tool and its Slack app, you need a trial or paid account.
InfluencerBot – track Instagram influencer profiles and analyze reports
With so many influencers around it can be difficult to target the right ones. InfluencerBot does this in your place in 3 simple steps:
Track the Instagram profiles you're interested in
Monitor the keywords for that specific profile
Receive details from the bot regarding each post including the number of likes and comments
AppFollow – keep track of your app activities
AppFollow for Slack provides one of the easiest ways to monitor your app-related activities. You'll get details like new reviews, ratings, keywords, sales, downloads, user acquisition reports, and more delivered to your Slack workspace. Almost effortlessly.
Keeping things fun!
BirthdayBot – remembers birthdays for you
A simple and friendly Slack bot that can remind you of any upcoming birthdays instead of the classic Facebook. You can also add their hire dates to celebrate the time they've been on your team.
Giphy – the GIFs you've been waiting for
There are no default gifs on Slack, but we all love them. So what better place to look for them than Giphy? Their free Slack app lets you share your favorite gifs directly from a channel conversation. Just type in the /giphy command followed by a keyword and you'll get a random gif delivered to any channel. Click on Shuffle until you find the perfect one and hit Send to publish it on the channel.
HeyTaco! – give virtual tacos and bring a smile to a colleague's face
Got something to celebrate? Give a taco! Want to bring more fun to a boring channel? Give a taco! That's really what this Slack bot does: it helps you give tacos. Lots of them. And it can throw some random jokes or recommend a good song or hot sauce. Regardless of its simplicity, current users are praising it for helping teams strengthen their bond and showing their appreciation for each other.
@must-read – make sure you never miss the important things
Came across something a colleague shared that you wanted to check but didn't get the chance right then? To save you from scrolling aimlessly looking for what you wanted to read, the @must-read Slack app lets you create reading lists for the stuff that matters. Type in feed and all your must-reads will show you with no effort.
A classic game to help you make decisions. For non-serious stuff obviously.
Lots of other purposes!
RSS – subscribe to any URL
Getting RSS feeds through email might not be as convenient as receiving them on a Slack channel. With the free RSS Slack app you'll receive in-channel updates in real-time for as many feeds as you like.
GrowthBot – marketing, sales, and growth info delivery
Your next best marketing buddy, this Slack chatbot was developed by the HubSpot team to become a virtual marketing assistant for you. You can ask simple questions about different keywords, analytics, or other trends and get an immediate response.
Diggbot – find new web content via Digg
Let's be real. When you're caught up with work you just don't get enough time to curate great content. The Digg bot for Slack processes multiple pieces of content as soon as they are published and has their editors pick the best ones which you'll later get within Slack. News, trends, any topics really.
Clever Google Ads – link your Google Ads account with Slack
Receive daily metrics and manage your Google Ads account from Slack. This should make your life a bit easier and, as its creators say, "save you enough time to enjoy that morning coffee you love so much". Once you link the Google Ads account you want to work with, you'll receive stats and graphics directly on your Slack chat. You're saving your precious time as you don't have to enter Google Ads account every day. You can also set your own reminders about important things to do in order to stay organized and on top of your account.
Lucidchart – collaborate on creating flowcharts, mind maps, network diagrams, and more
The Lucidchart Slack app lets you invite your colleagues to collaborate on creating a chart of your choice through a single /lucidchart slash command. After integrating the two platforms, you'll also be able to share a link directly from Lucidchart's Share dialog to Slack.
Dribbble – pull Dribbble shots into your Slack channel
The Dribbble-Slack app lets you search for Dribbble images directly from your Slack workspace according to keyword and even color. Here's what the search result for /dribbble #8de86e looks like:
UptimeBot – website monitoring
This Slack bot notifies you immediately in case of downtime, slow performance of the website, or even if your SSL certificate or domain name expires soon so you can take action as soon as any issues occur. And it works for any website really.
Markup Hero – lightning-fast screenshots and annotations
Markup Hero enables people to capture ideas, communicate clearly, and save time. Tell stories with easy-to-use image annotation tools and access to all your markups with one click, then make edits on the fly.
---
One last thought
Haven't found the Slack app you need? The Slack App Directory is ever-growing, so make sure you check it out now and then to discover new Slack apps and bots that could ease your work. Bear in mind that although we regularly update this article, tool features and pricing might differ due to constant product changes.
Slack is a great tool for managing your team. If you've just started out your career as project manager, and you're still grappling with where to start and what pm skills you should focus on, read this complete guide.
First published on April 11, 2019.