Over the last decade, the idea of working remotely has been appealing to many 9-to-5 workers even if they like the office environment. Why? Remote work allows employees to schedule the workday for focus and productivity, keep a work-life balance, and eliminate stress at work.
With the outbreak of the COVID-19 pandemic, when quarantines and lockdowns have pushed millions of people around the world to work from home, interest in working remotely has grown.
According to remote work statistics, a hybrid WFH model has experienced a sharp rise of 42% beginning March 2020 in the U.S. As a result, it has also affected the future of remote work, so the number of people working remotely is predicted to grow:
This means small business owners and business consultants should be prepared for the remote workplace in the future. It's also important to start using technology in remote work as it is a great way to make remote work more productive.
In this article, you will learn about the importance of using various tools for remote teams and find the list of the top 12 remote team tools suited for SMBs, freelancers, and creatives.
Why Should Remote Teams Use Various Tools?
Remote team management differs from managing a traditional team, so it's no wonder that more and more business owners and managers seek out actionable tools to blur the boundaries between remote team members.
Here are the top three reasons for remote teams to use various tools during the working process:
Boost employee efficiency: Tools for remote teams make any working process easier for all team members. A better process means that employees get an opportunity to work more efficiently.
Manage a remote team successfully: Effectively managing and working in a remote team spread out all over the world can be daunting. Thus, remote team tools are here for successful remote team management.
Keep up with the trends: New technologies appear daily during the digital age to help internet users improve their lives. Using tools for remote teams is another trend that is taking the world by storm, so if you know how to help your team members with the right tools, not only does it improve employee productivity, but it also allows you to keep up with the trends and stay ahead of the curve.
With the right tools for remote teams, both business owners and freelancers can improve team collaboration from signing the contract to the final invoice.
Here are the most important six tool types for remote teams:
Collaboration Tools help team members stay in touch, work together on important projects, and make the process more efficient.
Project Management Tools help teams accomplish short- and long-term projects by organizing and managing tasks.
File Storage Tools organize files and folders so that all team members can access them remotely.
Time-tracking Tools record time team members spend on accomplishing tasks and projects.
Billing and Invoice Tools help individuals create invoices, follow up with payments, and automate billing.
Productivity Tools improve the working process, so that team members work more efficiently and faster on their tasks.
1. Collaboration Tools
Whether you're a freelancer or a team member, you're more likely to work with one or more individuals to accomplish the same common goal or objective. The purpose of collaboration tools is to help people collaborate and work together more efficiently.
Paymo

Paymo is a full-fledged project management platform with strong project management, invoicing, and time-tracking modules. It offers a great way to plan collaboration, communicate, and manage work under the same roof.
This tool has a user-friendly and intuitive design that makes it easy to collaborate with your remote team even if you haven't used Paymo previously.
It also allows team members to assign tasks and task dates, setting priorities so that other employees can work on the most important tasks first.
Team members can track their time in timesheets, and then generate invoices based on them. If you don't know what an electronic invoice or why generating invoices automatically is important, read this guide on sending invoices right.
Pros:
The team scheduler feature helps users view workload and see the current status of tasks as well as communicate with team members in real-time.
An all-in-one tool for remote teams has a variety of features like project accounting, task, and resource management, and reporting and invoicing.
The tool allows users to customize the configuration and tracking of projects for more efficiency.
Cons:
The free account isn't the best option for collaboration with other team members as its features are limited.
Pricing: starting at $4.95/mo, free version available.
Trello
Trello is one of the most popular collaboration tools that help users organize their workflow with simple boards, add labels, and keep track of task progress with ease. Since it's a visual app, it's a good solution for many people, as most are visual learners.
One of the best things about Trello is the ease of use for all users. For example, you can automate repetitive tasks, add custom buttons, or set due dates with one click.
Pros:
User-friendly and intuitive website design enables users to make the most of the collaboration tool.
You can add board guests and therefore collaborate with freelancers or outside clients on the same projects and tasks without giving the full administrative control that comes with Workspace membership.
Many integrations with other popular platforms for remote teams like Slack, Jira, etc.
Cons:
The tool isn't a good option for remote teams that have to handle big projects as it can be hard to keep track of all boards and teach all members to use them the right way.
Pricing: starting at $3/mo, free version available.
2. Project Management Tools
When working on the same project with a group of people, it's a good idea to use project management tools that can help to organize project activities, track progress, and work more efficiently with your teammates.
I'll briefly describe two of them here, but you can read this in-depth article to see how these contrasts with other top project management tools.
Monday
Monday is a simple yet effective work operating system that allows remote teams to manage projects on one shared platform and get access to all tasks, progress updates, and budget approvals. It has an impressive feature set (Gantt chart, Kanban, docs, etc.), so Monday can be a good solution for small and medium businesses, too.
Pros:
There's a great variety of pre-made templates for managing projects of all sizes and niches.
This tool offers a 14-day free trial with no credit card needed, which means your remote team can test it out before signing up for its paid plan. You can also request a demo.
You can visualize real-time data with dashboards to perceive information easier.
Cons:
Reaching out to the customer support team isn't easy, even though it can be important when working on time-sensitive projects.
Pricing: starting at $8/mo, free version available.
Asana
Asana offers users a virtual workspace for remote teams to collaborate on the same project. It allows project managers or business owners to create and delegate tasks, set deadlines, and track progress. With an advanced inboxing feature, all team members can communicate with each other on the platform that helps to manage short- and long-term projects with higher efficiency.
Pros:
The tool has all important features like boards, calendars, and reporting to manage projects from start to finish.
Asana keeps all information on tasks in one space, making task collaboration easier for all members.
It has a user-friendly design that helps to understand which team members are responsible for each task whenever you need it with ease.
Cons:
This tool doesn't have an option to track the time spent, so it can be hard to measure employee performance and delegate additional tasks unless you integrate it with other time tracking tools.
Pricing: starting at $10.99/mo, free version available.
3. File Storage Tools
No matter your business niche, practically every company has many business documents like business plans, agreements, and invoices that team members may need to access from their remote workplaces.
Thus, the demand for cloud file storage solutions has grown.
Dropbox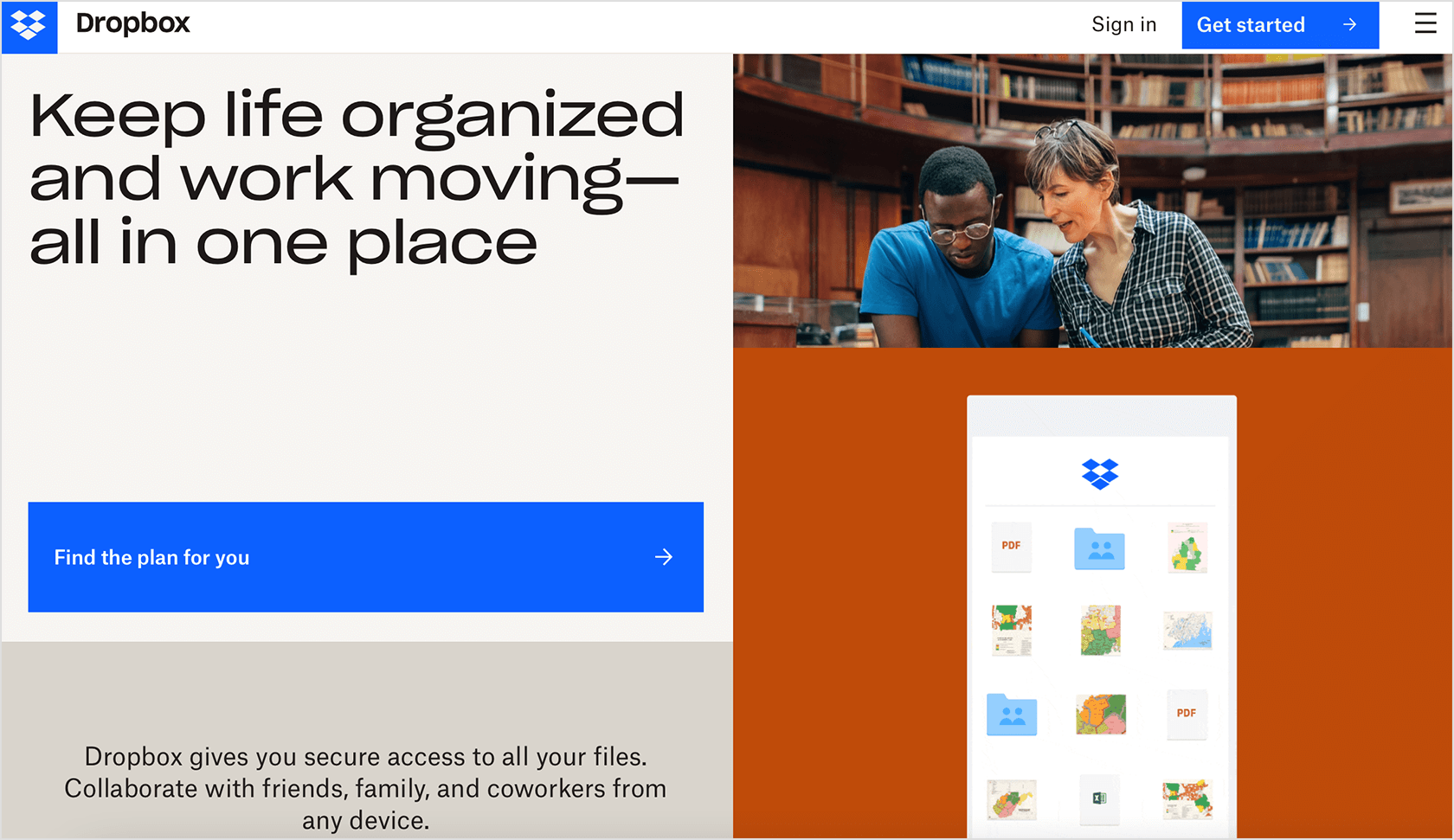 Dropbox is one of the most popular file hosting services on the market, with a user-friendly interface that makes it easy for users to store and share files with team members. This tool has all features to easily organize files in folders and add tags to filter relevant documents.
Pros:
Ease of use for remote teams as the tool makes it easy for users to give access to files.
You can synchronize data across all devices and get access to it wherever you are.
It's easy to recover files or folders that you accidentally deleted.
Cons:
A free plan includes only 2 GB of storage, so it's not a good option for companies that store large amounts of data.
Pricing: starting at $16.58/mo, free trial available.
MacKeeper
MacKeeper is a tool that offers iOS memory cleanup so that users can store important data without clogging their devices with extra stuff. It has many features to help Mac users enjoy their iOS devices, and one of its features is to store important data and clean the memory when needed.
Pros:
The fast cleanup feature allows users to set automated cleaning to eliminate the files that serve no purpose.
The tool checks out and offers to delete duplicate files to clean more space on your Mac.
It offers additional features that can help to protect your iOS devices like VPN, ad blocker, and antivirus.
Cons:
The free version is limited, allowing users to make one memory cleanup.
Pricing: starting at $10.95/mo, free version available.
4. Time Tracking Tools
Remote work can be full of distractions that decrease performance unless your remote team uses employee time tracking that allows team members to record time spent on accomplishing tasks and therefore stay focused on the task at hand.
But first, read this in-depth article to see how Paymo contrasts other top time-tracking apps. I'll briefly describe two of them:
Toggl
Toggl is a simple time tracking solution for individuals or teams of all sizes that sends reports on time spent and therefore helps to improve performance. It works and syncs across various devices like browsers, desktop or mobile apps, and a Chrome extension.
When working in remote teams, HR managers and team leaders can access visual data in various file formats to measure an individual's performance.
Pros:
Easy-to-use time tracking software sends reports in different formats like Excel, CSV, or PDF.
The tool can automatically notice inactivity if the user forgets to stop the tracker.
It offers solutions for freelancers, small and large businesses.
Cons:
It can be daunting to add new clients or projects to your dashboard when managing a remote team.
Pricing: starting at $8/mo, free trial available.
RescueTime
RescueTime is a time tracking tool that monitors computer use and tracks active programs and windows, computer activities, and website visits to help users analyze the time spent throughout a day. Its reporting tool allows users to understand their daily habits better and boost productivity.
Pros:
The activity-tracking feature allows users to understand how exactly their teammates work on a day-to-day basis.
The tool can set alerting rules for individuals to help users save time when they start procrastinating.
Various pricing models (monthly, annual, and quote-based subscriptions) help businesses of all sizes manage their budgets.
Cons:
Poor UX/UI design makes it challenging to make the most out of the tool.
Pricing: starting at $6.50/mo, free trial available.
5. Billing and Invoice Tools
Every business deals with finances, so it's no surprise that billing and invoice tools help remote teams ensure timely collection of payments without making mistakes. Similar to Paymo's robust invoicing module, these no-brainer tools also help create professional invoices, send payment follow-ups, and keep track of expenses. In addition, I'll quickly mention these two:
Invoice2Go
Invoice2Go is an easy-to-use and straightforward invoice system for small remote teams. This tool also has options like expense-tracking and reporting, so it's an affordable choice for micro and small business owners. The company allows potential customers to test their tool for free to ensure it's the right fit for their business needs.
Pros:
There's a good number of ready-to-use invoice templates that you can customize with a few clicks.
Performance reports help track annual and monthly sales, revenue, and balance automatically.
The tool supports invoice alerts via email, SMS, WhatsApp, or Facebook Messenger.
Cons:
Pricing: starting at $5.99/mo, free trial available.
Square
Square is invoicing software that offers templates to customize for your business needs and wants. It helps improve the appearance of your invoices and customer-facing receipts from your Square account. It also allows you to choose the payment method and settings to make invoices regularly.
Pros:
Easy-to-use invoicing software has pre-made templates to automate the invoicing process.
Various additional POS features like inventory, reporting, data collection, payment options, and more.
The tool offers both Square solutions and third-party technologies.
Cons:
High pricing compared to other invoicing software, which can be high-cost for freelancers and small business owners.
Pricing: starting at $20/mo, free version available.
6. Productivity Tools
Keeping a work-life balance when working remotely means staying focused and productive is essential. As a result, teammates and freelancers seek out handy productivity tools that can help to improve the working process.
SignalHire
SignalHire is a contact information finder that helps users find valid contact information like email addresses, phone numbers, and social media profiles. It's not a typical tool for remote teams.
Still, it can be handy for businesses of all sizes and niches during the recruitment strategy and help teammates find contact information outside of the organization when finding outreach opportunities, growing a network, or sending cold sales pitches.
Pros:
It's possible to make contact finding easier as this tool allows users to find email addresses in bulk, up to 1000 contacts at a time.
Users can start a free trial to find contact information online with ease.
The tool has Chrome & Firefox extensions that allow users to make the process easier and faster.
Cons:
The free version gives only five credits per month.
Pricing: starting at $39/mo, free trial available.
PomoDoneApp
PomoDoneApp is an app for tracking your workflow with the help of the Pomodoro technique. It helps to choose and track specific tasks or projects and sort information using custom tags. This tool also allows users to set up, start, stop, and pause the timer, giving users time to keep a work-life balance for maximum productivity.
Pros:
You can connect the tool with a great variety of task or project management software, including Paymo.
This tool is available on iOS, Android, Linux, and Windows which means all remote workers can use it on the go with ease.
Chrome extension allows people to use the Pomodoro timer and create tasks right from the browser (Mac or Windows).
Cons:
Not user-friendly design makes it difficult to understand how to use the tool for maximum efficiency.
Pricing: starting at $2.48/mo, free version available.
If you're interested to learn more about Pomodoro Apps, here's a detailed list of the most popular ones.
Conclusion
Remote work is becoming the norm, so it's no wonder that the variety of tools for remote teams has evolved, too. Today, companies of all sizes can use technologies that suit their needs and wants, helping employees make the working process more manageable.
Once you've found the best tools for remote teams, it's a good idea to let your team members know about these apps so that they can make the most out of technologies. For example, suppose you send onboarding videos to your newly-hired employees.
In that case, you can include all relevant information on tools your remote team members use to boost their productivity and performance.
Finding the right tools for remote teams can be an arduous task, but I hope that this article can help you choose tools that can work best for your organization. Although I believe that this article should save hours of research, you're welcome to suggest tools that I've left off the list.
Hugh Beaulac is a content strategist behind the AssignU project who has been working remotely for five years. Hugh has been helping SMBs with digital marketing strategies, sharing his tips and tricks on business growth.