Following the email marketing trifecta of sending the right message at the right time to the right person is of utmost importance if you want your emails to work. One of the best ways to do so is by using the power of email automation. It helps you to send out triggered emails based on the subscriber's behavior and get better conversions.
In this article, we will shed light on the advantages of triggered emails, how they can enhance subscriber engagement, and the most important triggered email workflows in your strategy.
Let's start with the definition of triggered emails.
What is a Triggered Email?
An automated email sent in response to a particular behavior or action taken by the subscriber is known as a triggered email. To send these trigger-based emails, you have to define specific rules. When a user meets these conditions, they will receive the triggered email.
A study by GetResponse has revealed that triggered emails show a 38.03% open rate and a 6.76% click-through rate. These figures go to show that triggered emails work a lot better when compared to newsletters.
Triggered Emails vs Newsletter performance. Image Source.
Now, you must be wondering how triggered emails can contribute to enhancing your marketing strategy.
Importance of Sending Triggered Emails
Triggered emails will let you reach out to the customers according to their position in the buyer's journey. This will, in turn, guide their path to conversion.
As these emails impart a hyper-personalized experience to the users, they are more likely to make a purchase. After all, 80% of customers are more likely to purchase when brands offer personalized experiences.
Once you set the trigger rules and email workflows, the automation tool will deploy the relevant emails without any manual intervention. Consequently, it will give you enough time to focus on the business growth and drive better profitability.
With the help of triggered emails, businesses can give a leg up to their customer retention efforts.
Behavior-based emails will build brand reputation and boost customer loyalty.
With that, you must be pretty convinced that investing in triggered emails can be quite lucrative for your business. So, let's have a look at the kind of triggered emails that can be used in your business.
Welcome emails
Whenever you get a new user on your email list, they must receive a welcome email. A report by Experian has revealed that welcome emails show a high open and click-through rate. This is because your subscribers wait for these emails as soon as they sign up.
Welcome emails have a high open rate
Welcome emails provide a scaffold to introduce your brand and let the subscribers know who you are. You can share your products with the subscribers and get them to make the first purchase.
Or perhaps if you're marketing for universities, you can send the triggered emails to prospective students, new enrollees, and alumni. The welcome email can either make or break your brand reputation. So, make sure you pay attention to the tone, copy, and visual elements used in these emails.
It is advisable to send a series of two to three welcome emails. This serves two purposes. Firstly, it will allow you to convey all the necessary information without overwhelming the readers. Another thing is that your subscribers are flooded with too many emails each day. They will likely miss out on your email if you send a single welcome email. Therefore, a sequence of welcome emails works best to draw the subscriber's attention and stay on the top of their mind.
Here's how Sur La Table sends a series of two welcome emails.
While the first one incentivizes the new user with a 15% discount coupon code and all their offerings, the second email talks about their journey and mission statement.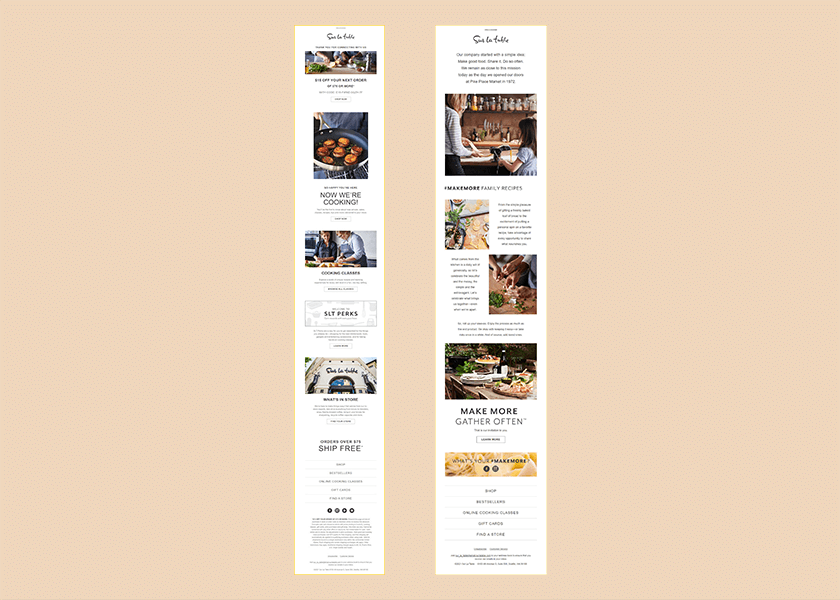 "Sur la Table" sends two welcome emails. Image source.
Browse Abandonment or Product View Abandonment Emails
Browse abandonment emails are sent to users browsing through your website but did not add anything in the shopping cart. As these subscribers have shown some level of purchase intent, it is a great idea to get them back to your website.
You can either do this by paid search retargeting, paid social media retargeting, or an email created exclusively for them. Out of these three, the first two can get quite expensive for an average marketer. On the other hand, you can send triggered emails at a much lower cost while imparting a personalized experience.
According to Omnisend, browse abandonment messages drove a 124% increase in open rates and 26% of the yearly email revenue, which accounted for slightly over 2% of their annual email sends.
Asos sends out an effective browse abandonment email with an engaging copy, and attractive visuals of the products searched for.
An effective browse abandonment email. Image source.
Marketers can also use this opportunity to highlight product recommendations and upsell or cross-sell to the customers. This will also help to increase the average total value of the purchase and boost your ROI. If needed, you can also offer discounts to increase the likelihood of conversions.
Just make sure that your copy sounds like a friendly reminder and not a pushy sales pitch. You can use catchy headlines like "Winter Wear on your mind?" or "Did you like something you saw?" that will instantly capture the reader's attention.
Cart Abandonment Emails
For any eCommerce business owner, cart abandonment is the most unfortunate event. It isn't very pleasant when someone adds products to the cart and then just leaves. Statista has reported that 88.05% of online shopping carts were abandoned in March 2020.
To overcome this blasphemy, cart abandonment emails can come to your rescue. Abandoned cart emails will be automatically deployed when a customer leaves the product in the cart without completing the purchase.
Just like welcome emails, you must send out a series of two to three cart abandonment emails to recover the lost sales.
ASICS has nailed the cart abandonment email strategy by sending out a sequence of two emails.
The subject line of the first email: Did you leave something behind?
In this email, they have simply reminded the user of the product abandoned in the cart. The visuals are attractive enough to grab the subscriber's eyeballs and bring them back to the store.
A reminder of a product abandoned in a cart. Image source.
The subject line of the second email: Don't get left in the dust!
The second email of the series follows the same theme as the first one and includes their popular products that the customer might be interested in.
The second email from the same campaign. Image source.
Here are some tips to make cart abandonment emails work:
Include customer reviews and testimonials in the emails. It will leave a positive impact on the purchase decision of the users.
Use an interesting copy with relevant visuals. You can also experiment with humor or tap on the emotional instinct to drive conversions.
Create a sense of urgency and trigger FOMO in the customers. Phrases like "Hurry", "Limited stock", "Offer valid for today only", and "Time is running out" work like a charm.
Give special discounts or free shipping offers that would tempt the customer to complete the checkout process.
Get the creative juices flowing and think out of the box to stand out in the subscriber's inbox.
Re-engagement Emails
Due to the competitive bottleneck in the marketplace, your customers might move on to the competitors and stop engaging with your emails. To win back these dormant customers, you have to send out triggered re-engagement emails. These emails work as follow-up messages that can help you revive the dead leads.
According to a study, most business owners like to send their re-engagement emails between 31 to 60 days or more than 91 days of disengagement.
Timing re-engagement emails
There are several reasons why a subscriber stops engaging with your emails.
It can either be due to your send cadence, irrelevant copy, boring email designs, or simply because your customer's preferences have changed over time.
Re-engagement emails must be an indispensable part of your triggered email workflow as it is far more cost-effective than investing in customer acquisition efforts.
Acquisition vs. Retention stats. Image source.
Ian Brodie has said a beautiful statement that holds true while drafting your re-engagement emails.
"Think like a fish, not a fisherman."
This implies that you must put yourself in the subscriber's shoes before formulating your re-engagement email strategy. The most popular tactic is to send out a series of more than four re-engagement emails before removing the users from your list.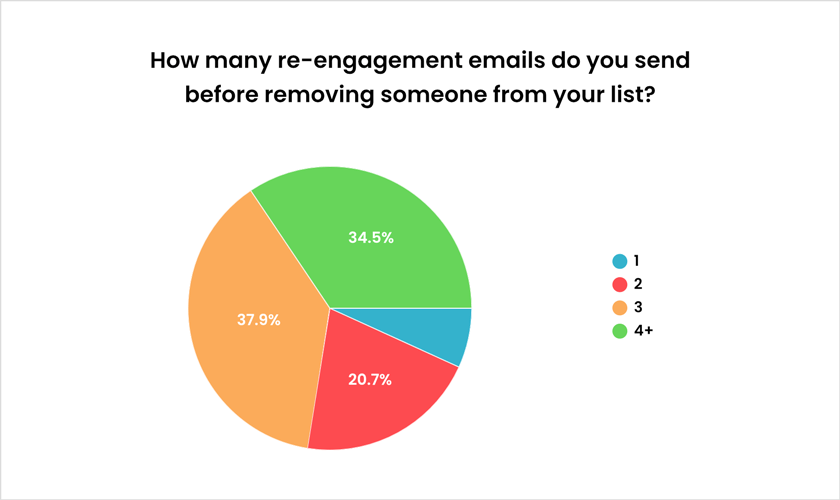 The number of re-engagement emails sent
Let's understand with an example. Clear sends out two re-engagement emails to bring back the unengaged client. In the first email, they have highlighted the latest updates that the customer might have missed. In addition, they have also offered a $60 discount to persuade them to avail their services again.
The re-engagement email comes with a discount. Image source.
The second email works as a final reminder of the offer. The headline "Your offer takes off tonight" and the CTA "Don't miss out" are the perfect combination to generate urgency and engage the clients.
A final reminder about the offer. Image source.
Birthday/ Anniversary or Milestone Emails
eCommerce businesses sending birthday emails to their customers observe a 45% open rate, 12% click-through rate, and 3% conversion rate. These emails will make the customers feel special and increase customer retention. They will also support your word-of-mouth marketing efforts and help you acquire customers. You can send out a personalized gift coupon according to the customer's preferences.
See how Nike has done it with a visually rich email and a GIF that perfectly matches the birthday mood.
A visually rich email. Image source.
Alternatively, you can also use these emails to pique the subscriber's curiosity with a mystery offer.
You can even send out a simple "Happy Birthday" greeting to make the subscribers feel that you care for them. Curology sends out a sweet and straightforward birthday email to its subscribers.
A simple "Happy Birthday" greeting. Image source.
Just remember that your subscribers are receiving birthday emails from several brands. So, get innovative with your birthday email designs and stand out in the crowded inbox of the subscriber.
The same applies to milestone emails. You can thank your customers for their continuous support and contribution to your brand.
For instance, when a customer completes a year with your company, you can send out an email that shares their journey so far.
Southwest Airlines sends out a mid-year summary to their subscribers. It shares some interesting facts and statistics about the subscriber's last six months. Such customer appreciation and gratitude emails go a long way in building loyalty and customer retention.
An email with interesting and useful stats. Image source.
Transactional Emails
Transactional emails are sent after a customer makes any 'transaction' with your company.
For example, transactional emails are sent when a prospect registers for a webinar, when a client downloads something from your website, or when a customer places an order. As your customers are excited to know the order status, order confirmation emails enjoy an open rate of around 60%.
Take a look at this "Order shipped" email by Amazon. They have used this opportunity to promote relevant products in addition to the important order details.
Wrapping Up
Setting up a triggered email sequence can get time-consuming but it is worth the effort as it helps to increase customers. With these emails, you can send tailored emails to everyone, regardless of their lifecycle stage. Just bear in mind that you monitor the metrics of these emails regularly and keep optimizing them for best results.
Author Bio: Disha Bhattworks as a Content Strategist at Email Uplers. She is a dentist, who has found her calling in words & technical subjects. She loves to pen down travelogues and romantic short stories in her free time.