A project can be either a huge success or a colossal flop. The stakeholders' choices in the initial stages determine the project's direction. These choices include budget allocation, team composition, and even success indicators.
In most cases, when a project fails, we automatically assume that it was due to bad management since project managers are responsible for setting up the project for success. Sadly, most projects fail because project managers lose control and miss a few things through the project management phases.
This article will discuss how project managers can keep track of their projects' progress by developing a good project initiation checklist. A good checklist ensures smooth project execution.
With the help of a checklist in the initial stages of your project, you can put measures in place to ensure successful project completion. To do that, you need well-thought-out items for your checklist. Here are some you cannot afford to leave out:
1. Identify your goals
Reasonable goals are the cornerstone of any project, making them the first item any project manager should address in their project initiation checklist. Your goals help you manage your project's growth to ensure it does not overwhelm you and keeps your team motivated.
Start with developing the main goals for your project with your stakeholders' input, then create sub-goals. Subgoals will help you achieve a goal at a time and guide you on what task should get done first.
For instance, if you manage a digital marketing project, you can increase web traffic as the primary goal. Some sub-goals can be starting a blog, increasing your paid ads campaigns, or linking your marketing channels to your website. You can develop a task list from the two sub-goals to help you achieve each one.
There is a lot of advice about what your project objectives and goals should look like. However, I recommend you take a SMART approach.
SMART goals are objectives that are Specific, Measurable, Attainable, Relevant, and Time-bound. This approach allows you to see the finer details of your goals, helping you determine what you should do to achieve your objectives.
2. Know the risks and challenges
Risk management is one of the essential skills a project manager should possess. Putting possible risks on your project initiation checklist helps save your project from bleeding money later on.
For instance, if you are working on a content project, one of the challenges you might face is the huge workload that might overwhelm your writers. You can consider hiring freelance writers and budget for it early enough to tackle scope creep.
If you are a small business owner, you might face a cash flow challenge as you grow. This means you might lack the necessary funds to pay the bills and retain your employees. Identifying the challenge will help you start looking for a financial solution early.
In whatever line of work you are in, you can identify your risks and challenges early with the help of risks-identifying frameworks like the SWOT analysis (Strengths, Weaknesses, Opportunities, Threats) and the RAID evaluation (Risks, Assumptions, Issues, and Dependencies).
The two frameworks allow you to break down your project and identify potential risks, so that predictable challenges won't catch you off guard. It also helps you prepare a mitigation or prevention plan to deal with these risks. Plus, engage your entire team, since they are familiar with their tasks and subsequent risks.
3. Choose the right tools
There are tons of project management tools and software available today. Getting the right tools will lighten workloads and make it easy to keep track of your team's progress.
First, the tools should be specific to each team member's expertise. For instance, if you are working on creative projects, a considerable part of your team will be creatives. That means you will require the best equipment for your camera crew and good editing software for your editing team.
You also need to implement a project management platform that fits your team's workflow and makes it easy to keep track of each employee's work progress.
Source: Statista
Secondly, ensure you get your team's approval before making purchases or subscriptions, even with a budget cap. Failure to do so might result in a frustrated project team not functioning to its fullest potential.
4. Assign the tasks and responsibilities
The first step should be listing the project tasks when assigning project roles and responsibilities. This way, you'll know how to assign roles according to people's skills and how to identify missing skill sets. Do this in the project's initial stages so you have enough time to acquire the talent you need.
You can create a Gantt chart to track project progress and timelines. This type of chart will also let you identify task durations and dependencies. For example, in the Gantt chart below, you can start Task "Copywriting" and Task "Editing" at the same time, but they should be finished before Task "On-page SEO" can start:
Gantt Charts in Paymo
To create a team and build a good workflow, you need to assign roles in a hierarchy that suits the size of the projects. If you are working with a new team, you will need to create a RACI matrix that identifies Responsible, Approver, Consultant, and Informant team members for each task. Here is a sample RACI matrix that you can adopt in your projects: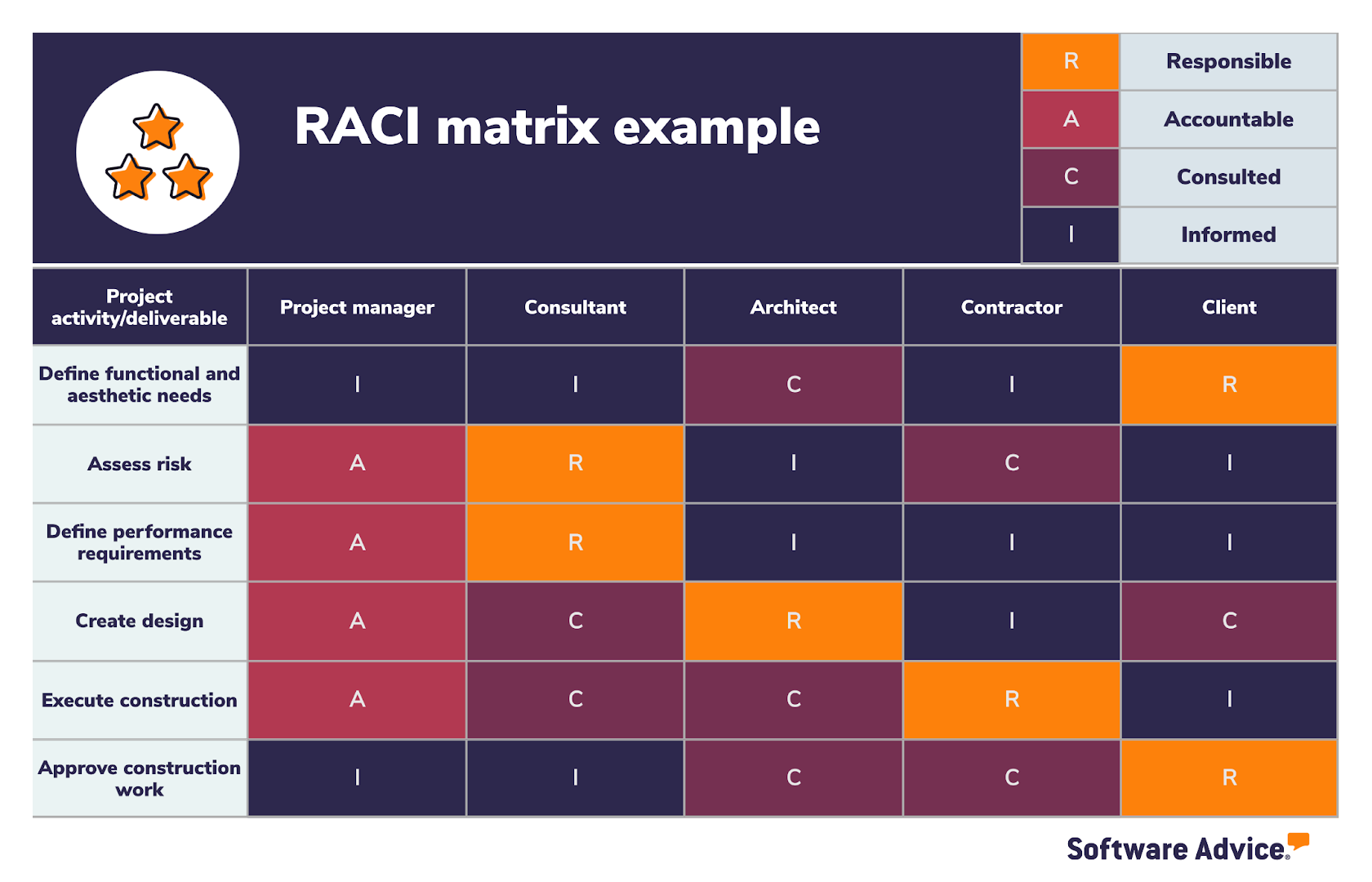 Source: Softwareadvice
The RACI matrix helps identify the project's key activities and functional areas, so that project managers decide on the team's role—if these aren't clearly defined. You can also adjust the matrix to accommodate the support team.
5. Set KPIs
A successful project is the end goal for every project manager, so it is crucial to keep track of each milestone that leads you to complete the project successfully.
But tracking milestones requires key performance indicators (KPIs).
KPIs give you specific measures of progress that help you assess project performance and growth. They also help you revise specific approaches for each task to ensure the successful completion of the project.
Good KPIs align with your project's ultimate goal and are agreed upon by all stakeholders. If you are looking to set good KPIs for your project, here are some general ones you can start with:
Return On Investment (ROI). If you're a marketer, you can measure your marketing campaigns' ROI and compare it to the standard 5:1 ratio
Timelines and deadlines. How many tasks were completed within the allocated timelines?
Customer satisfaction. Evaluate and compare negative vs. positive feedback.
Number of milestones. If you are a small business owner, a sample KPI could reach X sales in a given period.
Remember, the benefit of KPIs is that they point toward the direction of the project. Assess how you are doing regularly. This way you can adjust or troubleshoot underperforming KPIs for individual tasks or celebrate if you've surpassed your goals.
6. Monitor your performance
All the tools, matrices, and frameworks mentioned above can help managers with project monitoring, but more hands-on and personal options are available.
You can do frequent check-ins with every team member for their progress. Create a safe space that will allow them to make suggestions on what would improve their work.
Finally, you can also try real-time monitoring through time tracking software. The software is most appropriate for remote team members. You can track their desk time and compare it to their performance.
If you can master the art of the team's performance, you can tackle any challenges early on. That means you can save time and complete the project on time.
7. Improve the process
All the points mentioned above will help build a successful project. However, they will be useless if you do not apply them in your future processes. Every project team should be ready to make corrections and make the necessary adjustments to ensure project success.
Do a project post-mortem, and see what you can learn from it. For instance, if team members are lagging, see whether there's a bottleneck. Schedule meetings to troubleshoot and provide a safe space for the team to speak up. That will boost your employees' performance and project timelines.
Also, remember that nothing is cast in stone. If something in your project management plan is not working for your team, let it go!
Conclusion
A project initiation checklist is not just an ordinary task list. Every project should have one that not only guides you along the way, but helps you figure out how to solve the challenges in every phase.
A good project initiation checklist should include your goals, possible risks and challenges, getting the right tools for your team, team roles and performance, good KPIs, and constant revision.
If a project manager can execute these points, they are guaranteed project success.
First published on May 24, 2022.
Allie Decker
Head of Content
@Omniscient Digital
Allie has spent over a decade writing content that's been bookmarked by entrepreneurs, small business owners, and digital marketers worldwide—from more than 100 high-converting articles for HubSpot to contributions with the folks at Entrepreneur, Hotjar, and Foundr.