No man is an island. The same goes for any design asset.
You can't expect to create a great landing page, newsletter, or ad campaign without asking for and receiving advice from various stakeholders. Advice that needs to be actionable and contextual at the same time.
That's why we're introducing file proofing & versioning – a more direct way to leave feedback on images in Paymo.
With file proofing, you'll be able to accurately pin-point design changes and create comment threads for each update. While the version control will show you how each design asset has evolved from version #1.
Which teams can use file proofing
Basically, any team whose reviewers need to provide clear feedback in a centralized place, without resorting to extra communication channels that might dilute their initial input. The new tool is ideal for:
Highlighting changes on design mockups
Accelerating marketing review processes
Kick-starting product launches
How to use file proofing
When you're ready to leave feedback on a design asset, follow the next steps:
1. Open a task.
2. Click on any of the following task attachments:
This will prompt the file proofing & version control interface, with the Versioning History in the upper left corner and the Annotations in the upper right one.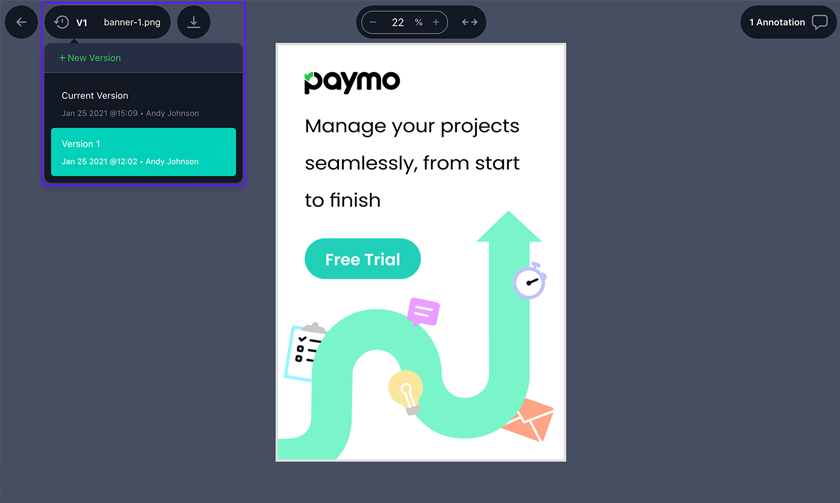 Version control – Paymo
3. From Annotations, you can see any existing comments, reply to them in the same thread, or leave a new comment.
To leave a new comment, open Annotations →   Click on the desired area of the image to pinpoint a markup about the future changes. All users assigned to the task will be able to see the comment.
File proofing – Paymo
NOTE: You can also show or hide the resolved Annotations under the annotations panel.
File annotations toggler – Paymo
FAQ
Q: Is file proofing available for attachments on task comments?
A: Yes, just make sure to click on the image to open the file proofing interface.
Q: Are PDFs and GIFs supported?
A: Not at the moment, but will be included in future releases.
Q: At which plans is file proofing available and does it cost extra?
A: File proofing is available under the Small Office and Business plans, at no extra cost.
Start proofing today in Paymo
We're happy to turn Paymo into a project management app with file versioning and version control, something we hope all our creative agencies will enjoy ????
It's time to request, comment, and review designs in a collaborative place, not just your projects. Take proofing for a spin today in any of the paid plans or try it for free during your trial.