When working from home, things tend to get…frazzled, to use a polite word.
In between calls and meetings, you get to tend to your chores, spend more time with your family, and take a nap during breaks. Yet you still want to be notified of important work as it happens, despite having more control over your environment.
What's the best way to see the big picture, while staying focused at the same time?
Meet our new mobile app for iOS and Android that allows you to work from anywhere.
From time tracking to project management app
In May 2019, we introduced our mobile app to help you track time and manage your own tasks, as an individual. Work is dynamic in nature though, hence the need for a truly mobile-first experience similar to the one on the web became clearer day after day.
That's why we've made a complete design overhaul, launching improvements that will allow you to collaborate and work together with your team. No matter where you are.
Here are a few of the main highlights.
See your and your team's tasks at a glance
If you don't plan out your day, you will often get sucked into other people's agenda. Well, not anymore. Home gives you quick access to all your and your team's tasks, which can be sorted after their project, due date, priority, or progress in a Kanban board.
Paymo mobile app – Home
Projects and clients, now kiss!
Tasks might be the building blocks of work, but projects and clients add structure to the whole business. Get all your projects & clients at your fingertips, along with a full breakdown of their budget and status (for projects), solvability and contacts (for clients) once you click on them.
Paymo mobile app – Project Overview
Plan ahead with rich task details
Let's face it: projects fail because of poor documentation. It's the nitty gritty that gets work done. Assign multiple users, set start and end dates, estimate hourly budgets, even add subtasks with the new rich task details. You'll make your team's life much easier when it comes to deliverables. They'll thank you later.
Paymo mobile app – Task Details
Collaborate without CCs and chat threads
Conversations might start in an email, but continue somewhere else. Comment on both tasks and projects, attach files, and mention only the most relevant people without spamming the rest. You can even use the rich text editor and emoji reactions to speed up the feedback process.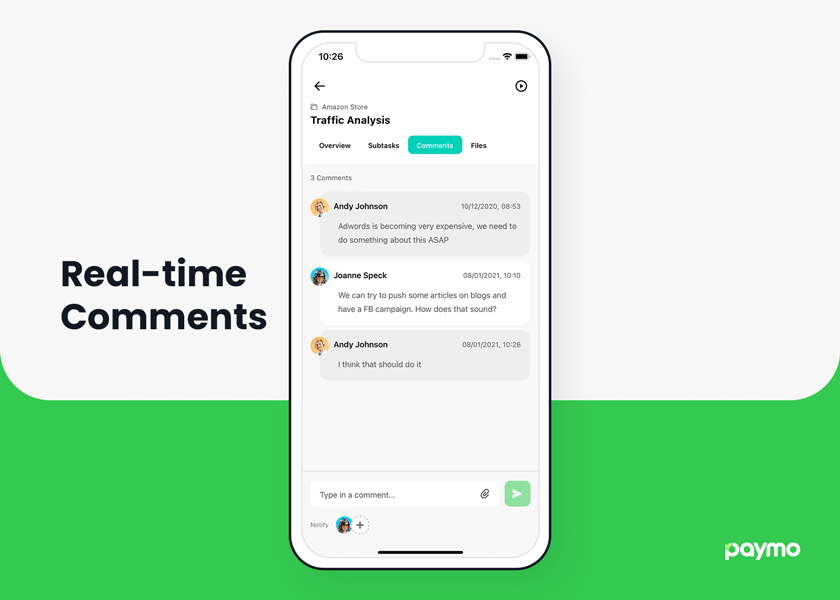 Paymo mobile app – Comments
Track time now, never miss a billable hour again
Make your projects profitable once more. Track time via the stopwatch or add it manually. For convenience, quickly resume timers with a tap on the play button under Recents Tasks, or edit the time entries that show up in chronological order under Timesheets. Simple as that!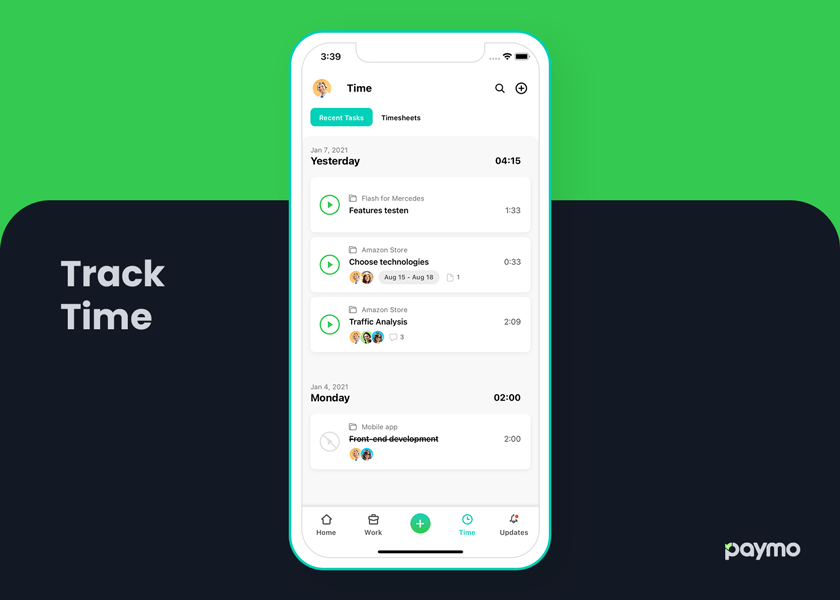 Paymo mobile app – Time tracking
Quick actions for those with little time to spare
When pressed against time, use the Quick Add button to add tasks, projects, or time entries on the go. You can also swipe on a task to the right to complete it, or toggle through a task's status once you click on it. It's small details like these that when added up, make a huge difference over time.
Paymo mobile app – Quick Add button
Keep a pulse on project updates
Want to finish your day, but feel like something's missing? Ditch stress and anxiety for push notifications. These help you keep a pulse on everything new about a project, without having to question colleagues. When you don't need them, simply turn them off for the rest of the day.
Paymo mobile app – Notifications
Find anything without digging through the entire app
Having a hard time searching for a task, only to reach a comment or download an image? That's just backwards. The new Search lets you find any desired item in seconds. For this reason, we've made it visible and easy to access across the whole app, in the top right corner.
Paymo mobile app – Search
iPad and tablet support
We didn't forget about our customers who are working on construction sites or remote locations. The new mobile app is fully available in landscape mode on both iPad and Android tablets. This will prove useful when following the progress of tasks under Home > Progress.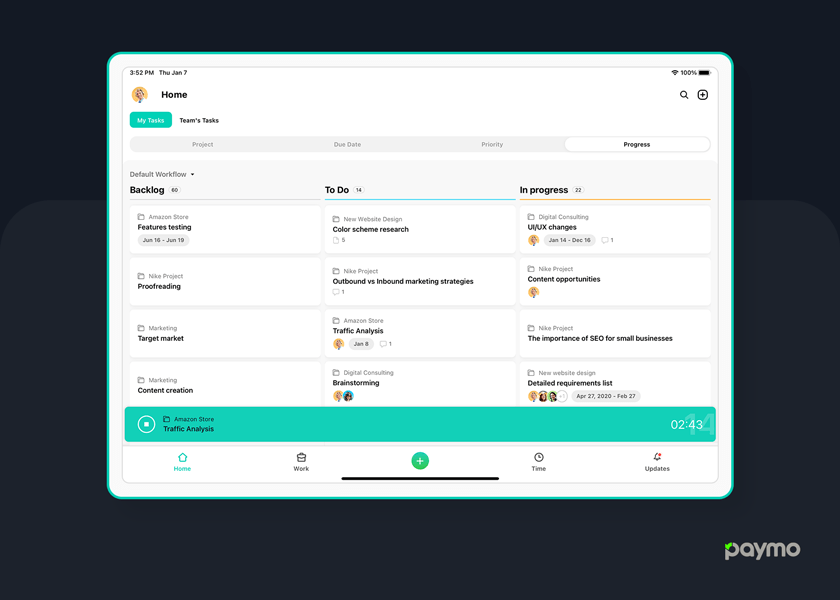 Paymo mobile app – iPad & Android tablet support
What's next
We hope this transforms the way you work with your team and gets you much closer together, even if you're miles apart from each other.
This is just the beginning, as we're looking to add expenses and link tracking in the close future. So stay tuned! In the meantime, you can learn more about it on our help page.
As you break into the new Paymo project management mobile app, we'd love to know your feedback and improvements that could make you work smoother. Feel free to write any suggestions in the in-app bubble chat ????