Part of the Archaius Creative team
Company: Archaius Creative
Speakers: David Aguilar (CEO)
Year of foundation: 2013
Employees: 11
Number of active projects/month: 90
Years using Paymo: 2
Starting out
Archaius Creative has been in business since 2013, but their story dates back to 2010 when CEO David Aguilar started freelance video editing right after graduating college. He got his foot in the industry with a few local wedding videographers who introduced him to their networks. Slowly, but steadily, David built up more clientele than he could handle alone, many who are still working with them today. To meet this demand, he did what many would regard as impossible: he trained his friends and family on how to do video editing. And so, Archaius Creative was born.
Soon enough though, challenges started to rise, as they had no previous experience on how much it would cost them internally to complete a project. To put it in David's words:
Without that knowledge, we were guessing at how much to charge for our services – typically under-charging and operating at a loss. We also found it incredibly difficult to track projects through the various stages of production. This meant that details were falling through the cracks and we were providing a customer experience unacceptable to our standards.
Turning point
At this early stage, they were mainly struggling to collect data to create an accurate pricing policy. Much of the initial pricing was based on David's freelancing experience, which didn't take into account overheads like renting an office, payroll taxes, and employee equipment.
Prior to Paymo, Archaius Creative used multiple tools to manage their studio. These tools worked at the beginning, but didn't deal with the post-production aspects of a growing studio: tracking project progress and handling client expectations. Plus, they didn't appeal to their senses "since as creatives we're all more visually inclined", notes David. What they ultimately wanted was to accurately scale up their time estimations in relation to the client's requirements and specified budget.
Brianna, one of Archaius Creative's video editors, in action
By using Paymo, we were able to see exactly how long each part of the process took, how much we paid our employees for those tasks, and then how we'd need to build profit into a final quote in order to stay in business. We also clarified our offerings by splitting our services into three distinct levels of work: Fundamental, Standard, and Expert. Each of these tiered package levels provides a progressively deeper dive into each of our post-production services.
Onboarding
The team was able to fully transition from the previous tools in only a matter of days, thanks to Paymo's various task views and visual charts which "helped our right-brained team members view data and analytics with ease and enjoyment!", exclaims David.
They first created logins for all the employees, then added all their current clients' information to be able to tie projects to them. Next, they populated projects with all their common task lists and tasks, and assigned the persons who usually complete them.
Once this was done, they filled in the details for all the open projects. All the completed tasks were marked off, while the ongoing ones from their previous project tracking tool were assigned team members who started from the very beginning tracking time against them.
After this point, any new project that came in was immediately generated within Paymo. The determining factor to move over was automation:
We've found it helpful to create projects that can be populated with our predetermined task lists – since many of our projects go through the exact same phases every time. We can also assign users different hourly rates and have those calculate against a project budget as we're clocking time.
David Aguilar, CEO Archaius Creative
He advises fellow creatives who want to use Paymo to map out their processes and identify the steps they go through on a routine basis. Only in this way they can start tracking time against their new projects as soon as possible – provided they run an agency-based business model.
Practical for every team member
Time tracking and budget monitoring are not the only features Archaius Creative is making use of. In fact, different features appeal to different persons on the team.
For example, David relies mostly on Paymo's Time Reports. They offer him a sneak peek into each team members' productivity and how work is progressing towards the allocated budgets – two aspects each creative agency owner should be aware of.
Based on the data I can easily see on Paymo, I can make educated decisions about shifting employees onto different project types, discuss issues with their turnaround, or offer raises for high performance. These reports also help me to determine which markets to target based on their profitability, which need price adjustments, or if there are any that we should no longer pursue.
Video editors, on the other hand, count heavily on the Files and Discussions area, where supervisors leave any client-related feedback to help them deliver an accurate and effective first cut. Meanwhile, project managers use the Project Statuses feature to get a quick snapshot of the workload for each department.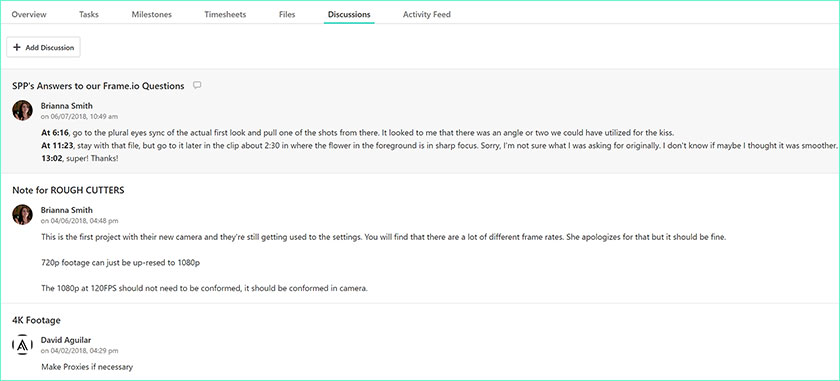 Discussions Tab in one of Archaius Creative's projects
Sticking to their mission
This is what Paymo does for Archaius Creative. It allows them to focus on their mission and on what they do best: top-tier video editing and world-class customer service.
Although the project delivery time remained about the same, David admits that happiness at work has improved, creating a stress-free environment.
The quality of life and open communication have been the biggest benefits Paymo has brought to our company.
Before Paymo, Archaius team members communicated about project updates verbally and through email and chat. Too many channels made it difficult for anyone on the team to know exactly in what phase a project found itself. They were rarely on the same page, with tensions running high inside the office and outside with their clients.
The situation has changed for the better, with David being grateful for having gained that laser-focus back, allowing them to execute day-in and day-out on their mission.
Now, team members don't have to waste their creative energy wondering when or how to contribute to a project, they can instead invest that energy into their actual craft which makes the work day that much more productive and our offerings to clients that much stronger.
Are you also part of a creative team that finds it difficult to track projects through all their stages?
Sign up for Paymo's free trial to improve your way of working and collaborating.