Company: Kunder
Speakers: Luis Hernan (Chief Operations Officer), Manuel Ibáñez (Chief Commercial Officer)
Year of foundation: 2013
Employees: 50
Number of active projects/month: 8
Years using Paymo: 3
From the beginning
Kunder started out in 2013 as a three-person Software as a Service (SaaS) company with one idea: to provide companies with feedback tools for their clients. They soon realized though that their prospects weren't interested in such platforms, yet they were in need for high-quality tailored software development. This led to a pivot and opportunity soon started to knock on their door. The tipping point was when Banco de Chile, one of Chile's largest banks, contacted them to develop a small solution. After proving their worth, the bank asked them for help on their mobile app. The project was a success and from then on work flowed in from various financial institutions.
Challenges
Volume-wise, the projects did increase indeed, but so did the challenges. "We were not being able to fulfill the requirements in time and we didn't know why we weren't able to do so," says COO Luis Hernan, who handles all projects and project managers at Kunder.
Clients would come in and ask for a project, but the commercial department didn't know how much current capacity they had. Hence they couldn't give a start date for the project. Luis at the operations was the only one in possession of this information. If he was on a sick leave or not available, the whole department would have to wait for him – which caused the client impatience.
Another problem that came up was the work schedule. Before Paymo, developers at Kunder had a free schedule, which meant they could spend more time on a task than the initially allocated budget. This confused project managers, as they didn't know if someone was behind or on schedule for a project. "We had our doubts and it was harder to see if they were working the time they should", notes Luis.
The Kunder team at work
Solution
One year passed by like this, and Kunder knew that they needed to get a grip on the situation. After a thorough research, Paymo was the most viable solution to keep their high volume of projects up and running.
Kunder uses Paymo since 2014 to track their developers' time, plan tasks and schedule their workload. They went one step forward too and used Paymo's API to customize the solution to their own workflow. Thus several matrixes have been created to point out a user's work velocity, his attendance, as well as the project's delivery speed. The platform "gives us eyes", to quote CCO Manuel Ibáñez, "to see what's going on with all the projects".
Paymo also helps Kunder see how much capacity they have at any given time, through the Team Scheduling feature. Users get scheduled in advance, having thus a big picture over the team's usage. This improves the communication between the operations and commercial department, as they are both on the same page when drafting project estimates. Manuel remarks:
I know what to tell to our clients and how to manage our commercial speech with them, as well as be able to give them information about the schedule of our new projects.
Another benefit is that they know exactly what kind of developers they need. A project might require more front-end or back-end developers, depending on the case. Or perhaps additional workforce. Paymo helps Kunder see if they're understaffed or not, and how their staff is distributed.
Meanwhile, developers are now using their time more efficiently, as they know exactly what is to be expected from them. They are not wasting time as before when it sometimes took 1 day to complete a 2h task. Likewise, they don't nag the project managers so often over requirements, as these are all specified in the Task details. In this way, uncertainty gets removed, making space for a harmonious collaboration between project managers and developers. Luis says that "They do what is written now, and if they're not sure about what to do they will ask the project manager. Before it was like asking them all the time, so if the project manager went into a meeting, they would probably waste an hour or two because he wasn't there."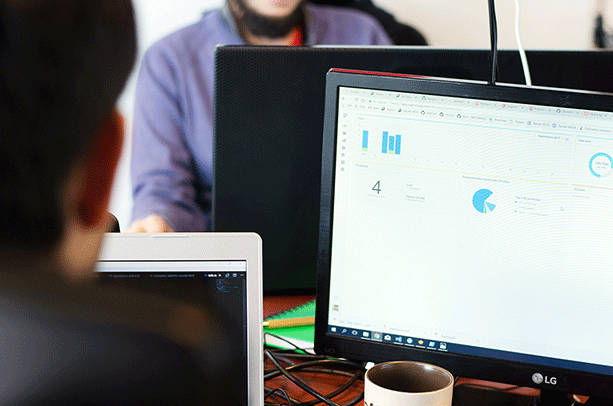 Paymo Dashboard on a monitor at Kunder
Scaling up
Thanks to the time tracking module, project managers from Kunder save considerable hours when managing developer teams. In return, they can tackle more projects at the same time.
Now project managers can do this, like 3 or 4 projects at a time, without it they could do 2 at most.
The work atmosphere is more relieved too, as developers are more independent regards their work. They operate tasks under the circumstances specified in the task management module. Project managers simply have to plan their tasks in advance, then check the work statuses. All this assures team happiness at the operational level, which leads to increased efficiency.
Fast forward to 2017, Kunder now employs 50 people and specializes in building transaction systems for financial institutions, being the only "Ionic" Trusted Partner in Chile and one of three present in South America. Luis concludes:
So far Paymo is the foundation because it affects the eyes of the operations department. Without Paymo I cannot handle a company of this size. If we want to have another office, Paymo will be the standard.