Aligning the triad
At this point, AMZ Advisers was facing a serious risk – that of losing their clients, decreasing their margins, and working with a bloated team just because of their unavailability to deliver projects on time.
In an attempt to patch missing deadlines and inconsistent budgets, Mike hired additional talent for each team. But this only added to the initial chaos – all to Rob's detriment, the project manager, who jumped back and forth between team members to keep things afloat.
This was a clear sign that something was needed in place to provide a better synergy between the two teams rather than having him pull all the strings alone.
So they embarked on a journey that every agency has to go through at least once in their lifetime: the search for the "perfect" project management tool. Perfect for their workflow, of course.
As Mike recalls:
"Prior to using Paymo, we were using a program called Meistertask. Our account managers would create tasks that needed to be done and my business partner responsible for project management would have to assign tasks to subcontractors and employees to get them done. Account management and the content teams had no visibility into what the other was doing, what the timelines were or what other upcoming projects were there other than my partner. It made our deadline forecasting terribly inaccurate causing us to frequently miss deadlines."
He goes on to say:
"Paymo seemed to really fit our needs so we started using it soon after we discovered it. It felt very intuitive. The other app we tried just didn't work well from a navigation standpoint and Paymo was easy to get my head around."
Fortune makes it that they stumbled upon a YouTube video, that convinced them to try out Paymo:
"The single most important criteria that led us to deciding to go with Paymo was the features. The team scheduling, task timer and board view helped our project management improve drastically. We knew that these tools would add a ton of value for our business and was exactly what we went out looking before we discovered Paymo." says Mike.
Ramping up
The process of getting Paymo up and running was extremely quick. The free trial and a demo with a customer success rep was enough for Rob to decide that this was the right tool not just for himself, but for the whole team.
By far, the most useful feature from a project management standpoint is the Team Scheduling module:
"The scheduler helped our account managers to easily access the output from completed tasks, know exactly who to go to for any revisions, and schedule new projects with the available content team members."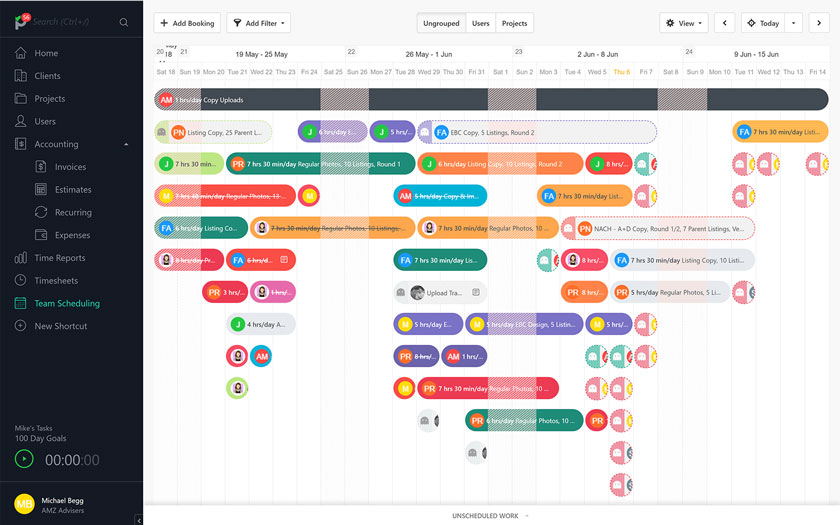 At the same time, the designers and content writers are much more aware of how they're spending their time without causing any delays in the project pipeline.
For an extra level of clarity, the content team uses the Board View to see exactly what tasks they've been assigned to, which are still open, and if there are any directions in the form of task descriptions or attached files on how to complete them.
They also reference further feedback, guidelines, and comments in Paymo when their Slack channels get too crowded, to make sure no detail is lost or missed during conversations with the account managers.
The Bottom Line
Looking back at when they were on the verge of losing clients, Mike, Rob, and their team can now stop worrying if they have enough bandwidth to take on new and engaging projects.
To put it in Mike's words:
"Paymo has really helped us increase our productivity. We've seen a 33% increase in the number of total projects handled per week compared to the last quarter. Mainly because we were better able to see who was available for projects. It reduced the downtime for every member of our content team – and that results in us getting more high quality content down for our clients."